Serbia Open R5: Five players share the lead 4.5/5
Five players - Petrosyan, Shevchenko, Stamatis, Sanal and Indjic share the lead 4.5/5 at the conclusion of Round 5 at Serbia Open 2021. There were no decisive games among the top five boards. Among the Indians, Nihal, Pranav, Arjun and Raunak - all four of them drew their respective games. Pranav continues his impressive run as he drew with GM Vugar Asadli. Top seed of the tournament, GM Vladimir Fedoseev reduced the gap by winning his game and took his score to 4.0/5. Only four rounds left and, it is still anybody's tournament to win. Round 6 starts today at 1:30 p.m. IST. Photo: Rupali Mullick
Fedoseev is back at the top
All games of top five boards ended in draws. Only two games ended decisively among top ten boards. It allowed the top seed Vladimir Fedoseev to reduce the gap as he won his game against IM Harshit Raja and moved to 4.0/5.
Aleksandrov - Nihal: 0.5-0.5
Nihal made a short draw in just 18 moves against GM Aleksej Aleksandrov (BLR).
Pranav - Asadli: 0.5-0.5
Pranav Vijay made a solid draw with GM Vugar Asadli (AZE). He kept trying to create some chances but his opponent Asadli, did not budge.
Arjun - Agmanov: 0.5-0.5
Arjun kept creating chances for himself against IM Zhandos Agmanov (KAZ). Only in the final moments of the endgame, Agmanov blundered.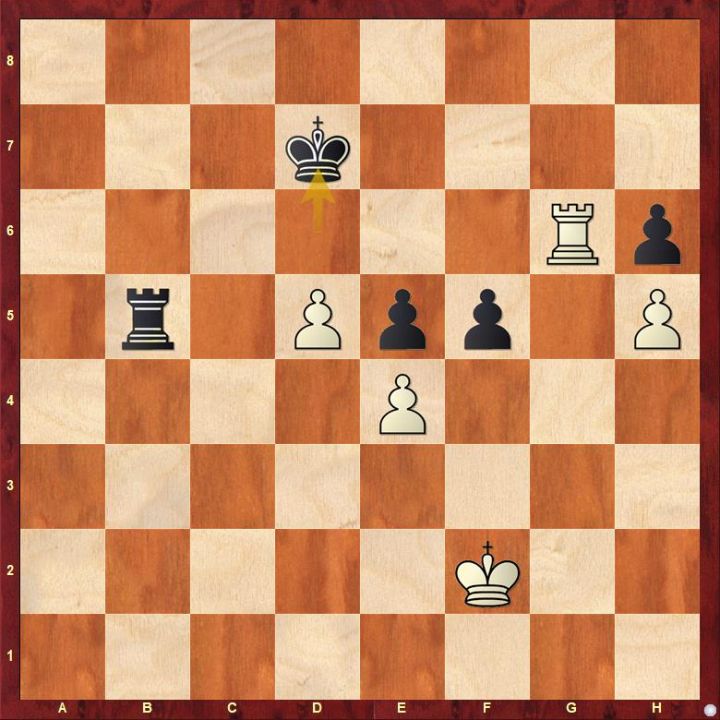 51...Kd7 is a mistake as now White is completely winning. Find out how. What should have Black played instead?
White made the mistake of playing 53.Rh8. Black went 53...Kd6 and saved the game. What was the winning continuation for White in the above diagram?
Ozenir - Raunak: 0.5-0.5
Raunak was in complete control against IM Ekin Baris Ozenir (TUR).
30...Qd7 does a double attack on both c6-rook and the h3-pawn. It would have maintained Black's advantage for a bit longer. The text 30...d4 is a good practical decision which eventually allowed Black to maintain his advantage.
Fedoseev - Harshit: 0.5-0.5
IM Harshit Raja overcame a difficult middlegame against the top seed of the tournament - GM Vladimir Fedoseev (RUS). He managed to equalize in the endgame.
If you have to take either b4 or e5-pawn, which one would you take? 38...g5 was a good choice too. 38...Qxe5 was played which is still okay but after 39.Kf2, Black must defend the pawn - 39...b5 and everything is fine. Things fell apart after 39...Qa1 as White took the b6-pawn 40.Nxb6.
For more photos, click here.
Highlights
Here is an interesting finish from Round 5
Replay Round 5 games
Round 5 results
Round 6 pairings
Links
---