Serbia Open R8: Nihal gains sole lead 7.0/8 and breaks into World Top 100
Nihal Sarin soared into World Top #100 as he crossed 2650 in the live ratings list to become World #90. What a way to achieve that as he gained sole lead 7.0/8 by scoring a hat-trick of victories and he is still undefeated. He will face the top seed of the tournament, Vladimir Fedoseev in the final round. Apart from Fedoseev, Bernadskiy and IM Aditya Mittal are also tied at second place 6.5/8. Aditya is playing phenomenal chess as he racked up five consecutive victories including the last three against GMs. He would definitely like to score his maiden GM-norm and make a podium finish. Round 9 starts today at 1:30 p.m. IST. Photo: Official site
Aditya ascends to the top
Nihal Sarin completed a hat-trick of wins in Round 8 against Kovalenko to take the sole lead 7.0/8. IM Aditya Mittal has been extremely impressive as he scored five consecutive victories including a hat-trick of wins against GMs as he moved to share second place 6.5/8, heading into the final round of the event. Pranav and Arjun are at 6.0/8 each respectively. Pranav became an IM and also made his maiden GM-norm.
Nihal - Kovalenko: 1-0
When an opportunity is presented, Nihal seizes every bit of it. He already had a good position, but it was time to maximize his advantage.
White's intention behind 28.c4 is to open the e-file and invade with the battery of rooks on e7. 28...dxc4 was met with 29.bxc4, however 29.d5 exd5 30.Re7 was an interesting continuation for White.
Kovalenko blundered an exchange 35...R8c3. Find out why it is a mistake. With this win, Nihal gained sole lead 7.0/8 and broke into World Top 100.
Safarli - Pranav: 0.5-0.5
Pranav continued his momentum and held GM Eltaj Safarli (AZE) to a solid draw.
20...b4 forces White to give up two minor pieces for a rook and a pawn. It wasn't easy by any means for Pranav but he managed to hold his ground and make a draw, taking him one step closer to the IM-title and his maiden GM-norm.
Aditya - Postny: 1-0
GM Evgeny Postny (ISR) got himself in a cramped position in the middlegame against IM Aditya Mittal.
Black needed to defend the b6-pawn 19...Nbd7 and everything would have remained fine. However, 19...axb5 only makes things difficult for Black as the c-file opens and b6-pawn also drops. Aditya is not going to let go of these chances. He converted it comfortably and picked up his fifth consecutive win of the event.
Blohberger - Arjun: 0-1
Arjun Erigaisi got back to his winning ways as he beat IM Felix Blohberger (AUT) convincingly.
Arjun got a fantastic position in the middlegame and after 22...Ra5 White is in deep trouble. There is no good escape.
Pap - Puranik: 0-1
GM Misa Pap (SRB) went wrong in the endgame which cost him the game.
White needed to play 44.Rb6 immediately to have some fighting chances, but 44.Rb1 lost a valuable tempo and Black went on to win the game.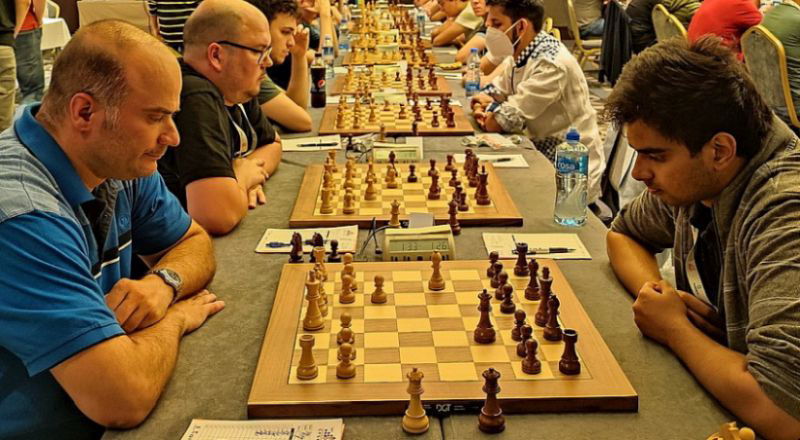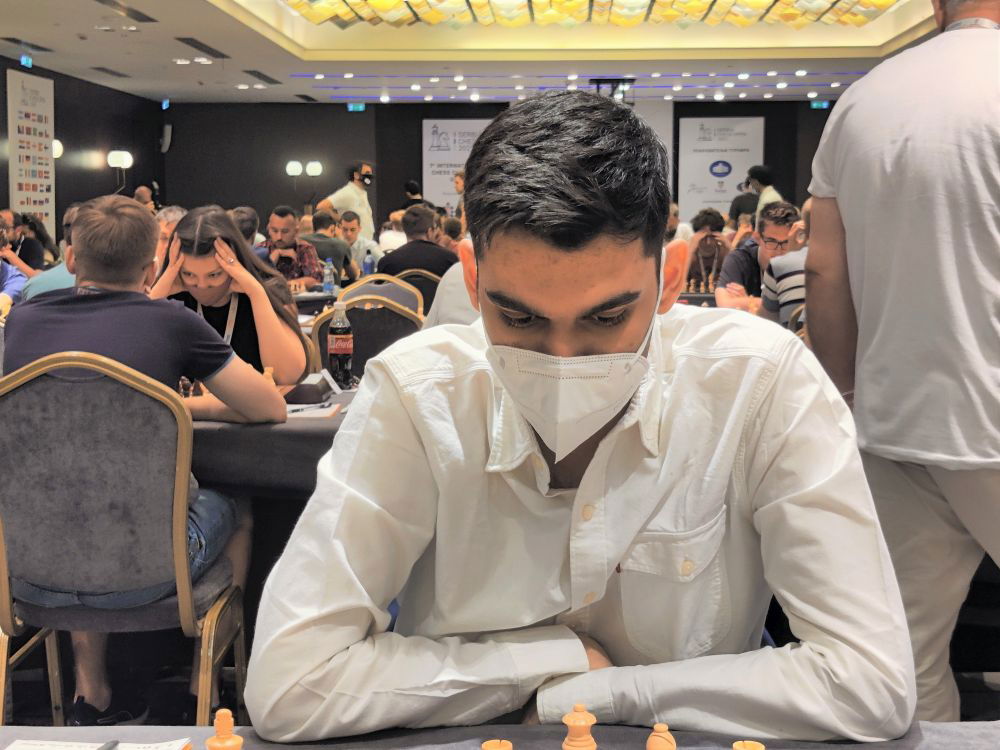 Highlights
Here are a few interesting finishes from Round 8
Replay Round 8 games
Round 8 results
Round 9 pairings
Links
---