Serbia Open R6-7: Nihal and Kovalenko emerge as the leaders 6.0/7
Nihal Sarin is aiming to score his second consecutive tournament victory and gain maximum momentum before starting his World Cup campaign. GM Igor Kovalenko (LAT) and Nihal are the only two players in the lead 6.0/7 at the conclusion of Round 7 at Serbia Open 2021. They will inevitably face each other in the penultimate round of the event. Kovalenko defeated Arjun in the seventh round. Pranav V and IM Aditya Mittal are just a half point behind the leaders at 5.5/7 each respectively. Both of them are poised for a strong finish and in a quest for their maiden GM-norm. Round 8 starts today at 8:30 p.m. IST. Photo: Rupali Mullick
Pranav and Aditya in pursuit
Nihal Sarin and Igor Kovalenko won both of their respective round 6 and 7 games to share the lead 6.0/7. They will now face each other in the penultimate round. Pranav Vijay remains the only untitled player among the top 50 boards. He drew with Fier and Suleymanli to climb to 5.5/7, a half point behind the leaders. IM Aditya Mittal is the only other Indian with 5.5/7 among the 15-players who are in pursuit. He scored two impressive victories against GM Velimir Ivic and GM Branko Damljanovic.
R6: Nihal - Iskandarov: 1-0
Nihal outplayed his opponent GM Misratdin Iskandarov (AZE) with a fantastic positional play in the endgame.
25.Nb5 makes sure d6-pawn falls and then Nihal beautifully maneuvered his knight and converted his extra pawn advantage into a win.
Bharath - Postny: 0.5-0.5
IM Bharath Subramaniyam H held GM Evgeny Postny (ISR) to a draw.
Fier - Pranav: 0.5-0.5
Pranav held Brazil no.1 GM Alexander Fier to a draw.
Lazov - Arjun: 0-1
IM Toni Lazov (MKD) made an ambitious which backfired terribly.
13.f4 break actually weakens White's own king instead of launching a successful attack on Black king. Find out the best continuation for Black. The position eventually liquidated into a rook and few pawns endgame where Black had two extra pawns, thus White resigned.
Raunak - Agibileg: 0-1
Raunak Sadhwani lost to IM Uurtsaikh Agibileg after the former played a bit passive.
White played 37.Nd1 which made things difficult. Instead, White should have taken on d4 immediately 37.Nxd4. Eventually, White lost an exchange and Black converted it into a win.
Aditya - Ivic: 1-0
IM Aditya Mittal scored a fine victory over GM Velimir Ivic (SRB).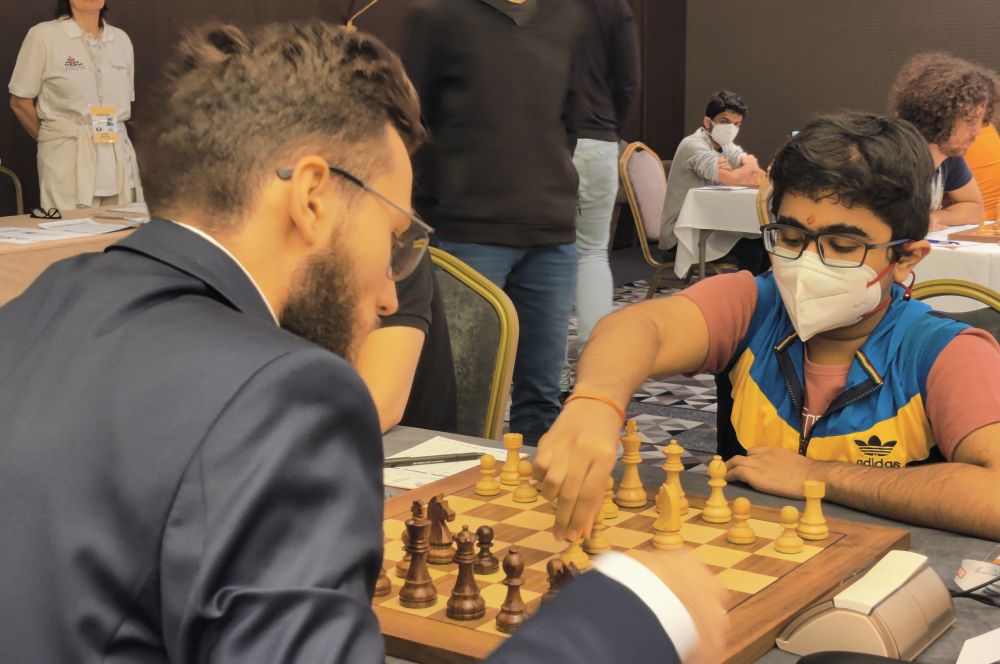 Abhimanyu - Boucquet: 1-0
Abhimanyu Puranik scored an academic victory against CM Emile Boucquet (BEL).
15...Nxd5 is a mistake as White gets to do a thematic attack. Find out the winning continuation for White.
R7: Arjun - Kovalenko: 0-1
Arjun Erigaisi played boldly against GM Igor Kovalenko (LAT) in the middlegame which completely exposed his king.
White went wrong in the endgame when he played 30.Ng3. Instead, 30.Rxa4 is suggested by the computer to be the best continuation for White. It is certainly not easy to find in a practical game when the clock is ticking down.
43.Qxc7 would have been a better try for White to prolong the fight instead of the text 43.Qb3 which allowed Black to regain control.
Sanal - Nihal: 0-1
Nihal Sarin scored his second consecutive victory of the day, this time against GM Vahap Sanal (TUR).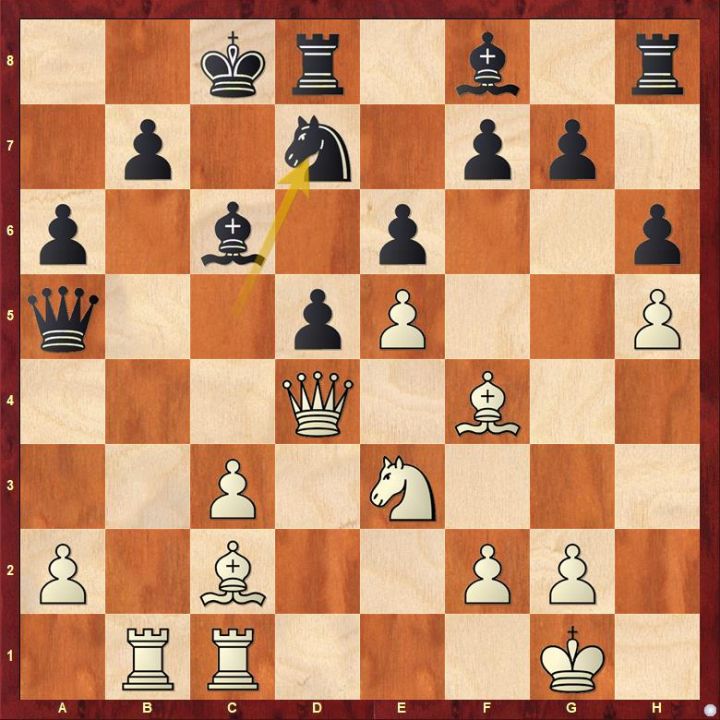 To understand Nihal's strength, you have to figure out the reason behind 21...Nd7, a backward move which is necessity in this position is something we do not often consider.
It's time to deliver the finishing blow. Find out the winning continuation for Black in the above diagram.
Pranav - Suleymanli: 1-0
Pranav made a fantastic escape with his king and moved to the other side of the board to provide safety against IM Aydin Suleymanli's (AZE) attack.
Pranav used both of his minor pieces to make a blockade and did not waste any move to prepare for his onslaught. It is time for White to capitalize on the advantage. Find out how.
Damljanovic - Aditya: 0-1
IM Aditya Mittal scored his second consecutive victory of the day. His seventh round victim was GM Branko Damljanovic (SRB).
White has already sacrificed a bishop at b2, thus he needed to maintain the attack on the kingside and avoid further piece exchange. 22.Nxh5 is a mistake as Black happily takes it 22...Bxh5 23.Qxh5 Qd7 and there is nothing to worry anymore. Try to find out what was the better continuation for White in the above diagram. Aditya converted his material advantage into a victory comfortably.
Kuzubov - Bharath: 1-0
IM Bharath Subramaniyam's momentum got halted by GM Yuriy Kuzubov (UKR).
Bharath got into trouble early in the middlegame as he lost a few tempi due to his queen getting attacked repeatedly like a pinball. Kuzubov liquidated into a queenside majority double rook endgame with an extra pawn. He converted his advantage into a win comfortably.
For more photos, click here.
Highlights
Here are a few interesting finishes from Round 6 and7
Replay Round 6-7 games
Round 6 results
Round 7 results
Round 8 pairings
Links
---