Outstanding Nihal Sarin wins Serbia Open 2021 Masters
Nihal Sarin once again delivered a stellar performance to win Serbia Open 2021 Masters. He scored an unbeaten 7.5/9 and finished a half point ahead of the strong field. He had decisive advantage against Fedoseev in the final part of the endgame, but he decided to make a draw because it was enough for him to win the event. To deliver two consecutive 2780+ performance, storm into World no.88 and India no.5 in the live ratings list, just days before FIDE World Cup 2021 is something to cause shivers for his opening round opponent at the biggest World Cup in history. Photo: Rupali Mullick
Two in-a-row for Nihal
Nihal Sarin once again delivered a 2780+ performance, crossed 2650 and won his second consecutive tournament. He remained undefeated for 18 consecutive tournament games in Serbia. He is currently ranked World no.88 and India no.5 with a live rating of 2655.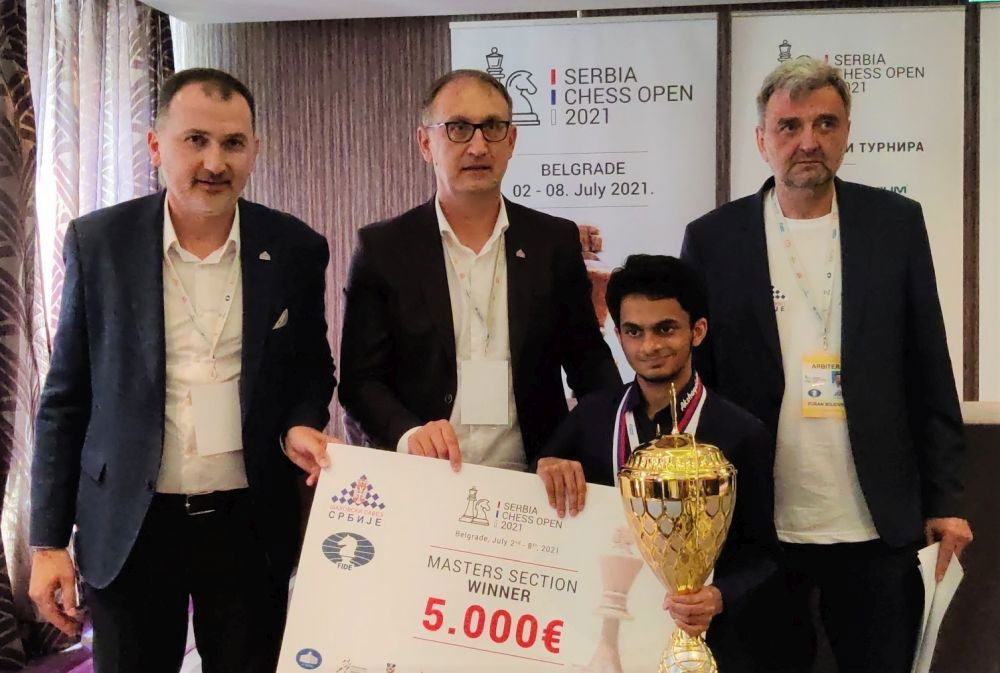 Fedoseev - Nihal: 0.5-0.5
Nihal gained advantage in the final moments of the endgame against Fedoseev (RUS). When he realized a half point was enough for him to win the tournament, he made a draw.
White needed to play 34.Nd3 to control the e5-square and prevent Black from getting e5 easily. 34.Qd3 allowed Nc4 and now the e5-idea cannot be stopped. After 35.Kg1 Black played g6 to prepare for e5 break.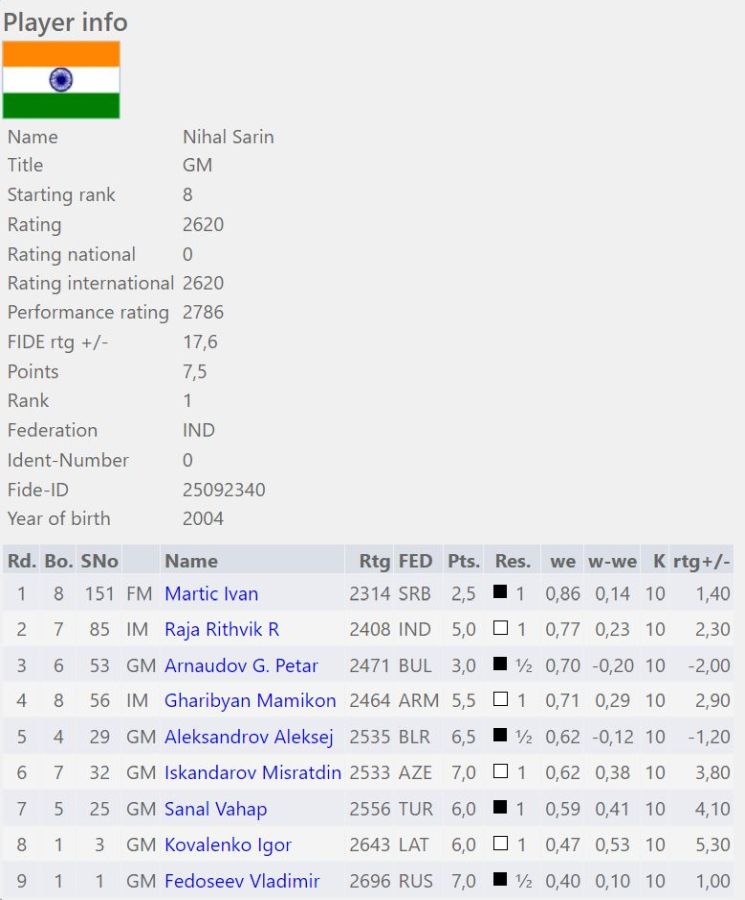 Aditya - Bernadskiy: 0.5-0.5
IM Aditya Mittal made a short 16-move draw with GM Vitaliy Bernadskiy (UKR).
Pranav - Shevchenko: 0-1
GM Kirill Shevchenko (UKR) had decisive advantage in the game until he made a mistake which Pranav caught easily.
Black needed to play either 47...Kg7 or Ke5. Both would have been fine, but 47...Rb6 allows White to get back in the game using tactics 48.Nd5+ Kg7 is forced because 48....Bxd5 will be met with 49.Rxh6+ and it's a skewer, now it should be a comfortable draw for White.
50...Kg8 is a mistake because the pawn wedge at f6 is going to be the cause of demise for Black after 51.Nc8. The only way for Black to save the game was to push the kingside pawns 50...g4 or h5. A win would have given Pranav a fifth place finish but eventually he lost the game.
Arjun - Nenezik: 1-0
GM Arjun Erigaisi scored a comfortable win against IM Marko Nenezik (SRB).
Things have gone terribly wrong for Black as the position looks crumbling after 19.f3.
Abhimanyu - Muradli: 1-0
GM Abhimanyu Puranik scored a fine victory against IM Mahammad Muradli (AZE).
For more photos: Round 9 and Prize distribution ceremony.
Highlights
Here are a few interesting finishes from Round 9
Replay Round 9 games
Round 9 results
Final Standings
| | | | | | | | | | | | | | | | | | | |
| --- | --- | --- | --- | --- | --- | --- | --- | --- | --- | --- | --- | --- | --- | --- | --- | --- | --- | --- |
| Rk. | SNo | | | Name | FED | Rtg | Pts. | TB1 | TB2 | TB3 | TB4 | Rp | n | w | we | w-we | K | rtg+/- |
| 1 | 8 | | GM | Nihal Sarin | IND | 2620 | 7,5 | 0,0 | 46,5 | 40,25 | 6 | 2786 | 9 | 7,5 | 5,74 | 1,76 | 10 | 17,6 |
| 2 | 6 | | GM | Petrosyan Manuel | ARM | 2632 | 7,0 | 0,0 | 49,5 | 41,00 | 5 | 2719 | 9 | 7 | 6,03 | 0,97 | 10 | 9,7 |
| 3 | 1 | | GM | Fedoseev Vladimir | RUS | 2696 | 7,0 | 0,0 | 49,5 | 39,50 | 6 | 2731 | 9 | 7 | 6,57 | 0,43 | 10 | 4,3 |
| 4 | 12 | | GM | Shevchenko Kirill | UKR | 2605 | 7,0 | 0,0 | 47,5 | 39,25 | 5 | 2730 | 9 | 7 | 5,56 | 1,44 | 10 | 14,4 |
| 5 | 10 | | GM | Bernadskiy Vitaliy | UKR | 2606 | 7,0 | 0,0 | 47,5 | 39,00 | 5 | 2636 | 9 | 7 | 6,61 | 0,39 | 10 | 3,9 |
| 6 | 45 | | GM | Sadikhov Ulvi | AZE | 2490 | 7,0 | 0,0 | 45,0 | 34,25 | 6 | 2699 | 9 | 7 | 4,59 | 2,41 | 10 | 24,1 |
| 7 | 21 | | GM | Erigaisi Arjun | IND | 2567 | 7,0 | 0,0 | 44,5 | 37,00 | 6 | 2670 | 9 | 7 | 5,89 | 1,11 | 10 | 11,1 |
| 8 | 32 | | GM | Iskandarov Misratdin | AZE | 2533 | 7,0 | 0,0 | 44,5 | 33,75 | 6 | 2679 | 9 | 7 | 5,28 | 1,72 | 10 | 17,2 |
| 9 | 30 | | GM | Warmerdam Max | NED | 2535 | 7,0 | 0,0 | 43,5 | 37,00 | 6 | 2648 | 9 | 7 | 5,75 | 1,25 | 10 | 12,5 |
| 10 | 64 | | IM | Aditya Mittal | IND | 2438 | 7,0 | 0,0 | 40,0 | 33,00 | 6 | 2626 | 9 | 7 | 4,88 | 2,12 | 10 | 21,2 |
| 11 | 29 | | GM | Aleksandrov Aleksej | BLR | 2535 | 6,5 | 0,0 | 49,5 | 37,50 | 4 | 2653 | 9 | 6,5 | 5,02 | 1,48 | 10 | 14,8 |
| 12 | 4 | | GM | Ter-Sahakyan Samvel | ARM | 2643 | 6,5 | 0,0 | 47,5 | 36,75 | 4 | 2644 | 9 | 6,5 | 6,40 | 0,10 | 10 | 1,0 |
| 13 | 13 | | GM | Safarli Eltaj | AZE | 2604 | 6,5 | 0,0 | 46,0 | 34,50 | 4 | 2612 | 9 | 6,5 | 6,29 | 0,21 | 10 | 2,1 |
| 14 | 18 | | GM | Asadli Vugar | AZE | 2574 | 6,5 | 0,0 | 45,5 | 34,25 | 5 | 2603 | 9 | 6,5 | 6,10 | 0,40 | 10 | 4,0 |
| 15 | 52 | | IM | Nikitenko Mihail | BLR | 2472 | 6,5 | 0,0 | 45,5 | 33,25 | 4 | 2673 | 9 | 6,5 | 4,05 | 2,45 | 10 | 24,5 |
| 16 | 47 | | IM | Kourkoulos-Arditis Stamatis | GRE | 2485 | 6,5 | 0,0 | 44,5 | 33,00 | 6 | 2622 | 9 | 6,5 | 4,85 | 1,65 | 10 | 16,5 |
| 17 | 49 | | IM | Makhnev Denis | KAZ | 2480 | 6,5 | 0,0 | 44,0 | 33,50 | 5 | 2620 | 9 | 6,5 | 4,80 | 1,70 | 10 | 17,0 |
| 18 | 109 | | FM | Damjanovic Vuk | SRB | 2369 | 6,5 | 0,0 | 43,5 | 30,25 | 6 | 2487 | 8 | 5,5 | 4,22 | 1,28 | 20 | 25,6 |
| 19 | 15 | | GM | Puranik Abhimanyu | IND | 2589 | 6,5 | 0,0 | 42,5 | 33,50 | 5 | 2551 | 9 | 6,5 | 6,76 | -0,26 | 10 | -2,6 |
| 20 | 7 | | GM | Pichot Alan | ARG | 2630 | 6,5 | 0,0 | 42,5 | 29,75 | 6 | 2554 | 9 | 6,5 | 7,12 | -0,62 | 10 | -6,2 |
| 21 | 22 | | GM | Perunovic Milos | SRB | 2567 | 6,5 | 0,0 | 41,5 | 31,25 | 5 | 2532 | 8 | 5,5 | 5,83 | -0,33 | 10 | -3,3 |
| 22 | 31 | | GM | Zanan Evgeny | ISR | 2535 | 6,5 | 0,0 | 41,0 | 30,75 | 5 | 2550 | 9 | 6,5 | 6,30 | 0,20 | 10 | 2,0 |
| 23 | 51 | | GM | Nestorovic Nikola | SRB | 2477 | 6,5 | 0,0 | 38,0 | 30,00 | 5 | 2492 | 9 | 6,5 | 6,30 | 0,20 | 10 | 2,0 |
| 24 | 3 | | GM | Kovalenko Igor | LAT | 2643 | 6,0 | 0,0 | 52,0 | 35,75 | 5 | 2646 | 9 | 6 | 5,89 | 0,11 | 10 | 1,1 |
| 25 | 9 | | GM | Indjic Aleksandar | SRB | 2607 | 6,0 | 0,0 | 48,0 | 32,00 | 4 | 2627 | 9 | 6 | 5,71 | 0,29 | 10 | 2,9 |
| 26 | 113 | | | Pranav V | IND | 2366 | 6,0 | 0,0 | 47,5 | 31,00 | 4 | 2646 | 9 | 6 | 2,69 | 3,31 | 20 | 66,2 |
| 27 | 5 | | GM | Hovhannisyan Robert | ARM | 2632 | 6,0 | 0,0 | 46,0 | 31,50 | 4 | 2560 | 9 | 6 | 6,64 | -0,64 | 10 | -6,4 |
| 28 | 25 | | GM | Sanal Vahap | TUR | 2556 | 6,0 | 0,0 | 46,0 | 31,00 | 4 | 2560 | 9 | 6 | 5,91 | 0,09 | 10 | 0,9 |
| 29 | 40 | | IM | Erenberg Ariel | ISR | 2506 | 6,0 | 0,0 | 44,0 | 31,00 | 5 | 2556 | 9 | 6 | 5,38 | 0,62 | 10 | 6,2 |
| 30 | 28 | | GM | Bjerre Jonas Buhl | DEN | 2546 | 6,0 | 0,0 | 44,0 | 30,00 | 5 | 2573 | 9 | 6 | 5,61 | 0,39 | 10 | 3,9 |
Links
---