Alexandr Predke wins Svetozar Gligoric Memorial Masters, Koustav Chatterjee second
GM Alexandr Predke scored an unbeaten 8.5/9 and finished a full point ahead of the field to win Svetozar Gligoric Memorial Masters 2022. IM Koustav Chatterjee scored sole 7.5/9 to finish second. GM Nikita Petrov secured third place scoring 7/9. It was a successful event for the Indian contingency as S Rohith Krishna became the latest International Master of India, by scoring his final IM-norm. Vaibhav Jayant Raut and Ilamparthi A R scored their maiden IM-norms. The total prize fund of the tournament was €12500, €9950 for Masters and €2550 for Amateurs. Top three prizes were €2000, €1500 and €1000 respectively. Photo: Official site
Rohith Krishna, Ilamparthi and Vaibhav Raut score IM-norms
FM S Rohith Krishna earned his final IM-norm to become India's latest IM. He scored his second IM-norm at Serbia Masters 2022. We will have a separate article on Rohith's journey towards the IM title. IM Neelash Saha, IM Pranav Venkatesh and GM Arjun Kalyan are the remaining top 10 finishers at fourth, seventh and ninth place scoring 6.5/9 each.
Koustav - Pranav, Round 5
White already had fantastic position - space advantage, well coordinated pieces, yes even the a4-knight is attacking the c5-pawn and strong pawn center. 21.e5 just slowly disintegrates Black's position. 21...fxe5 22.fxe5 Nb6 23.Nxb6 Qxb6 24.g4 Bf4 25.e6 Black is completely lost positionally.
Merab - Neelash, Round 7
25.Rd6 would have been enough for a draw. However, 25.Nxb6 is a mistake which allows Black to win. Find out the correct continuation for Black.
FM S Rohith Krishna (2326) made a short work of GM Merab Gagunashvili (GEO, 2569).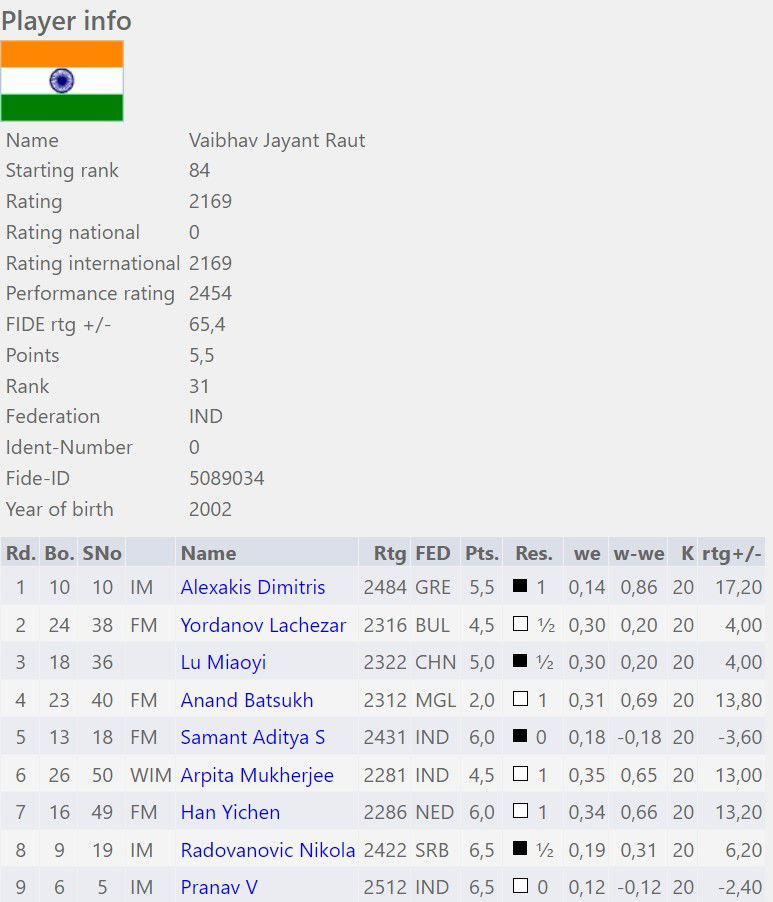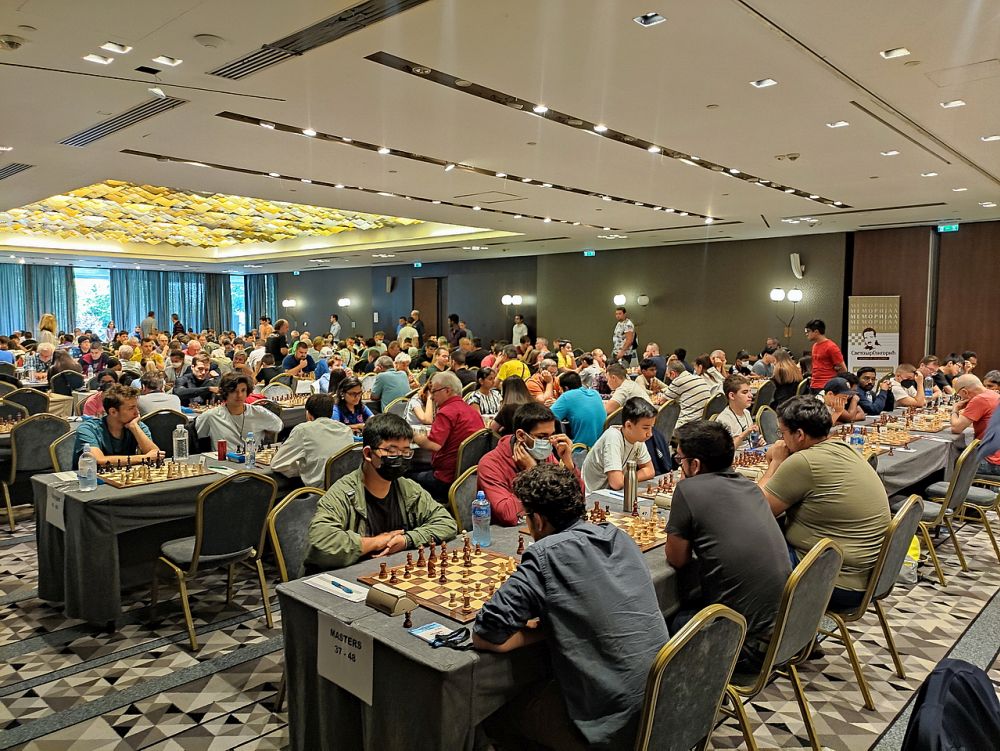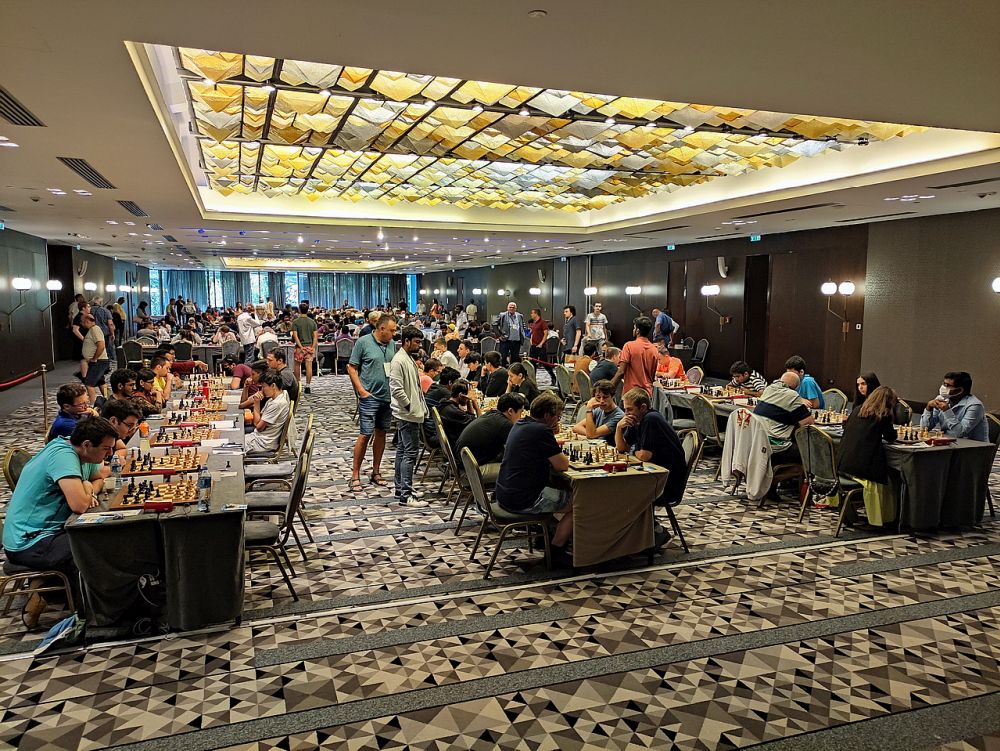 A total of 145 players including 9 GMs, 19 IMs, 2 WGMs and 6 WIMs took part in the Masters section from 28 countries across the world including India. The tournament was organized by Association Svetozar Gligorić from 17th to 23rd July 2022 at Belgrade Metropol Palace hotel, Serbia. The nine-round Swiss league tournament had a time control of 90 minutes/40 moves + 15 minutes for whole game, 30 seconds increment from move no.1.
Replay Round 1-9 games
Round 9 results
Final standings
| | | | | | | | | | | | | | | | | | | |
| --- | --- | --- | --- | --- | --- | --- | --- | --- | --- | --- | --- | --- | --- | --- | --- | --- | --- | --- |
| Rk. | SNo | | | Name | Typ | sex | FED | Rtg | Pts. | TB1 | TB2 | TB3 | n | w | we | w-we | K | rtg+/- |
| 1 | 1 | | GM | Predke Alexandr | | | FID | 2688 | 8,5 | 0,0 | 48,5 | 49,00 | 9 | 8,5 | 7,40 | 1,10 | 10 | 11,0 |
| 2 | 9 | | IM | Koustav Chatterjee | | | IND | 2485 | 7,5 | 0,0 | 46,5 | 37,75 | 9 | 7,5 | 5,53 | 1,97 | 10 | 19,7 |
| 3 | 3 | | GM | Petrov Nikita | | | RUS | 2558 | 7,0 | 0,0 | 48,5 | 40,00 | 9 | 7 | 6,61 | 0,39 | 10 | 3,9 |
| 4 | 16 | | IM | Neelash Saha | | | IND | 2446 | 6,5 | 0,0 | 49,0 | 34,25 | 9 | 6,5 | 4,96 | 1,54 | 10 | 15,4 |
| 5 | 4 | | IM | Makarian Rudik | | | RUS | 2533 | 6,5 | 0,0 | 46,5 | 36,75 | 9 | 6,5 | 6,76 | -0,26 | 10 | -2,6 |
| 6 | 19 | | IM | Radovanovic Nikola | | | SRB | 2422 | 6,5 | 0,0 | 45,0 | 34,25 | 9 | 6,5 | 6,12 | 0,38 | 10 | 3,8 |
| 7 | 5 | | IM | Pranav V | | | IND | 2512 | 6,5 | 0,0 | 45,0 | 32,75 | 9 | 6,5 | 6,57 | -0,07 | 10 | -0,7 |
| 8 | 14 | | IM | Stoyanov Tsvetan | | | BUL | 2450 | 6,5 | 0,0 | 44,5 | 32,50 | 9 | 6,5 | 6,00 | 0,50 | 10 | 5,0 |
| 9 | 6 | | GM | Arjun Kalyan | | | IND | 2499 | 6,5 | 0,0 | 43,5 | 32,25 | 9 | 6,5 | 6,32 | 0,18 | 10 | 1,8 |
| 10 | 15 | | GM | Atalik Suat | | | SRB | 2446 | 6,5 | 0,0 | 43,0 | 32,75 | 9 | 6,5 | 6,52 | -0,02 | 10 | -0,2 |
| 11 | 20 | | IM | Shahil Dey | | | IND | 2402 | 6,5 | 0,0 | 41,0 | 31,50 | 9 | 6,5 | 6,38 | 0,12 | 10 | 1,2 |
| 12 | 35 | | FM | Rohith Krishna S | | | IND | 2326 | 6,0 | 0,0 | 50,0 | 32,50 | 9 | 6 | 3,34 | 2,66 | 10 | 26,6 |
| 13 | 26 | | FM | Erdogmus Yagiz Kaan | | | TUR | 2373 | 6,0 | 0,0 | 46,5 | 30,50 | 9 | 6 | 4,56 | 1,44 | 20 | 28,8 |
| 14 | 12 | | IM | Maksimovic Bojan | | | BIH | 2465 | 6,0 | 0,0 | 46,5 | 29,50 | 9 | 6 | 5,71 | 0,29 | 10 | 2,9 |
| 15 | 18 | | FM | Samant Aditya S | | | IND | 2431 | 6,0 | 0,0 | 45,5 | 32,00 | 9 | 6 | 6,00 | 0,00 | 10 | 0,0 |
Links
---