Nihal Sarin - The second highest paid player in the history of Indian chess?!
It is clear that Vishy Anand is the highest earning chess player in the country. But who is the second biggest? Well, it seems like it is Nihal Sarin, after the 15-year-old signed a major long term sponsorship agreement with Akshayakalpa, an organic milk and milk products based company in Bangalore. The amount of sponsorship is kept as a secret for now, but backed by our analysis we feel that it could be somewhere between Rs.75 lakh to Rs.1 crore (between US$ 100,000 to US$140,000) per year. Why did Akshayakalpa decide to sponsor Nihal, what do Nihal and his team members feel after this agreement and how will this money be utilized? All of this and much more.
15-year-old Nihal Sarin signs a long term sponsorship agreement with Akshayakalpa
Chess is a sport that looks very affordable in nature. You need a chess board, pieces, a table and two chairs and you are good to go! That's how most of people enter the sport. However, once you start improving, get a FIDE rating, win tournaments, start increasing your Elo, become an IM and eventually a GM, you realize that the amount of costs to sustain your passion have been mammoth. While becoming a GM entails a lot of costs, you can imagine how expensive it would be for GMs to try and become the best chess players in the world. You have to travel all around the world to play in tournaments, the cost of which could run into lakhs. You need a good trainer who constantly helps you to improve. Seconds and helpers who are continuously working behind the scenes trying to find new ideas often give you the edge needed to outwit your fellow super GMs. Apart from this you have the technological costs of a powerful computer, softwares, perhaps servers to have your own powerful engines and what not! For the young prodigies of Indian chess who have become GMs in the early teens it is quintessential that they find sponsors who could support their chess careers and help them in their journey to become the best chess players in the world. For one of India's finest young talents Nihal Sarin, the third youngest player in the world to breach the 2600 Elo mark, new avenues have been unlocked as he has signed a long term sponsorship contract with Akshayakalpa.
The amount that Akshayakalpa would be sponsoring is currently kept as a secret. The Sportstar, however reported that this was the biggest sponsorship deal for an Indian chess player after Vishy Anand. We have a feeling that this amount could be close to Rs. 75 lakh to one crore (between US$ 1,00,000 to US$1,40,000) per year. ChessBase India spoke to the CEO of Akshayakalpa Shashi Kumar who said, "We have long term view in mind as we are confident that with our support, Nihal will grow from strength to strength." This isn't the company's first big foray into the world of chess. In 2018 Akshayakalpa had spent nearly Rs.40 lakh to organize the biggest prize money state championship in the history of Indian chess with the total prize fund of Rs. 10 lakh.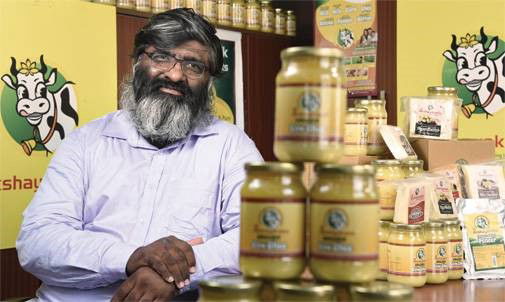 So why is Akshayakalpa investing in Nihal's chess career? Shashi Kumar clarifies, "Akshayakalpla has invested nine years in perfecting the model for producing and supplying organic milk that is nutritious by nature. What separates Akshayakalpa is the superior milk procurement process we have which results in organic milk that retains its original nutrients. This is key for the cerebral and physical growth of young children. We are focused on expanding our presence in Bengaluru, and enter new cities like Chennai which we did some days back, and other South Indian metros in the near future. Nihal, his story, and his tournament performances as he journeys towards the highest level is a great way for us to present our brand and its qualities to Indian youngsters and parents. Nihal will be our Brand Ambassador as we present our brand to the youth and the parents in Bengaluru and Chennai with activations in various media platforms. Associating with his chess playing persona will help us reach and engage with new potential customers, allowing us to communicate what are the benefits of our Organic Milk and Organic Milk products to young children and parents."
Mr. Anand Yadwad, Marketing Head of Akshayakalpa, said, "Nihal already uses Akshayakalpa products and he is a great fan of our Curd and Ghee. We at Akshayakalpa are fond of his natural talent. We are very happy about this Organic development of Akshayakalpa supporting Nihal and Nihal endorsing our products."
Speaking on the occasion, Mr. Toni Pinto, General Manager – Finance, commented, "Akshayakalpa as a brand has now begun to expand its presence in South Indian metros, chiefly Bengaluru and Chennai. We have concrete plans to enter cities like Hyderabad in the near future. Nihal, with his fast-growing chess career, is a great way to present our brand to the Indian youth as he goes from strength to strength."
How did Nihal feel about this development? Speaking to ChessBase India, the youngster said, "I was surprised to learn that the food that we eat costs more to produce than what we pay to the farmers. Akshayakalpa is a model that can change that. In the process of procuring Organic Milk, the company is making real difference to the lives of young children like me. I am honoured to be Akshayakalpa's Brand Ambassador and will strive to help the company transform lives by spreading its brand on the global stage by doing what I love to do – play chess."
How will the money that Nihal receives from Akshayakalpa be used? Priyadarshan Banjan, Nihal's manager, says, "To launch and thereafter sustain a rocket in the upward trajectory, you need rocket fuel which is very costly and not easily accessible. Akshayakalpa backing Nihal is precisely that from the viewpoint of his long term chess growth. We are working towards achieving some process goals and Akshayakalpa's backing will be the main contributor towards helping us carry out these processes – training, seconds, tournaments, infrastructure, etc."

"This is a great step forward for Nihal and his team", says Srinath. "Akshayakalpa is just perfect Brand for Nihal to endorse as he really identifies with the importance of the work Akshayakalpa is doing, besides our training base being in Bengaluru. Nihal also loves Akshayakalpa products - especially the set curd and ghee."
Nihal's sponsorship deal with Akshayakalpa just goes to show chess is progressing in our country. The corporates can see the value of investing in a 15-year-old youngster who is dubbed by many as a future World Champion. This news can only confirm that it is a great time to be a talented Indian chess player!
More about Akshayakalpa:
The chess playing CEO of a huge agricultural company says no to corruption
Rs.10 lakh! Biggest ever state championship in the history of our game
---