Sanan Sjugirov wins Belgrade GM Tournament 2022, Nihal Sarin second
Nihal Sarin scored 5.5/9 to secure second place at Belgrade GM Tournament 2022. Sanan Sjugirov scored 6.5/9 and finished a full point ahead of the field to win the tournament. He won €5000 cash prize. Velimir Ivic and World Rapid 2021 champion, Nodirbek Abdusattorov scored 5.5/9 each. Since Nihal beat both of them, he was placed second. Ivic and Abdusattorov secured third and fourth place respectively. Nihal earned €3500 cash prize, Ivic got €2500. The tournament ten top GMs across the world including Czech Republic no.1 David Navara. The average rating of the tournament was 2651. Photo: serbiachess.org
Nihal performs at 2731
Round 1: Nihal - Ivic: 1-0
Nihal Sarin started the tournament with a victory over Serbia no.2 Velimir Ivic.
Sometimes a minute mistake make a huge difference. 28...Nc6 would have allowed Black to go 29...Nd4 if White took the d6-pawn with the rook. However, 28...Ng6 removes the choice to block the d-file after 29.Rxd6. The game quickly liquidated into a rook, knight and few pawns endgame - 29...Rxd6 30.Qxd6 Qxd6 31.Rxd6 Bxe4 32.Kf2 Bxf3 33.Kxf3. Black is inevitably going to lose either a6 or c5-pawn. The rest is just a matter of technique which Nihal converted with ease.
Round 3: Nihal - Abdusattorov: 1-0
Nihal scored a fantastic win over the reigning World Rapid champion, Uzbekistan no.2 Nodirbek Abdusattorov.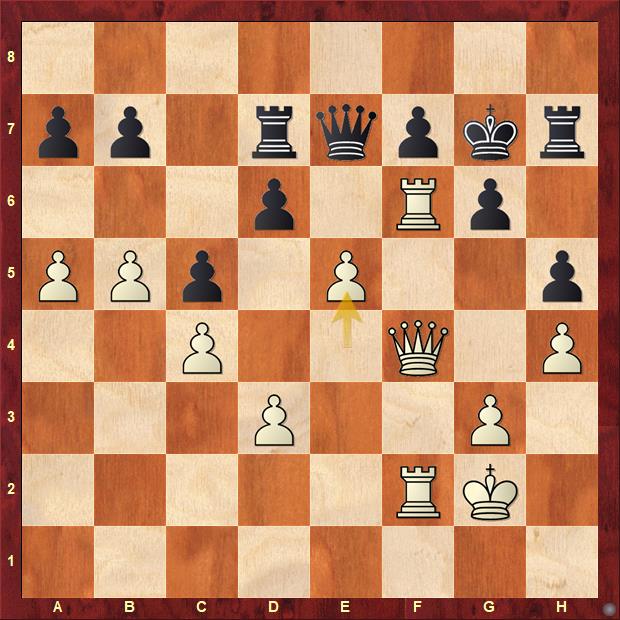 White already had an incredible position. 38...Rh7 allowed the beautiful 39.e5. Black is lost no matter whichever way he decides to take on e5. If Black decides not to take on e5, White will capture d6. White is winning one way or the other.
Round 8: Nihal - Indjic: 1-0
Serbia no.3 Aleksandar Indjic decided to sacrifice a pawn in the queen and rook endgame.
26...Qc6 would have continued the fight. 26...h5 dropped the b7-pawn without enough compensation 27.Rxb7 h4 28.gxh4 a5. There was not enough counterplay on the kingside for Black. Nihal went on to win the game.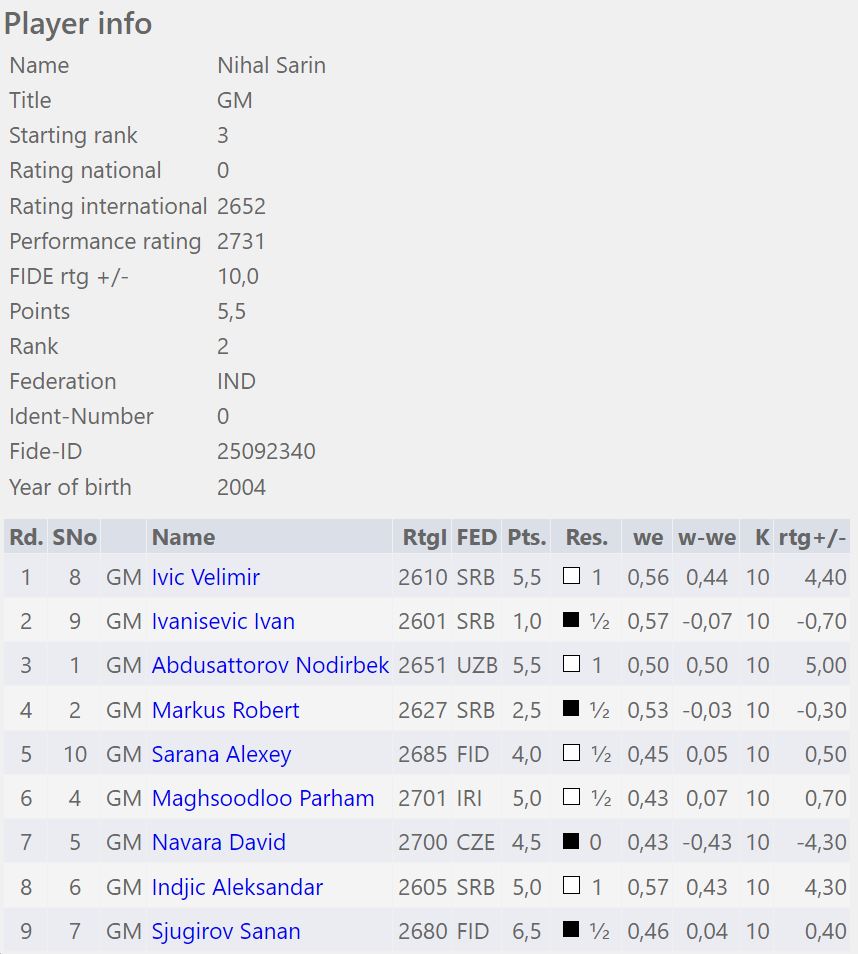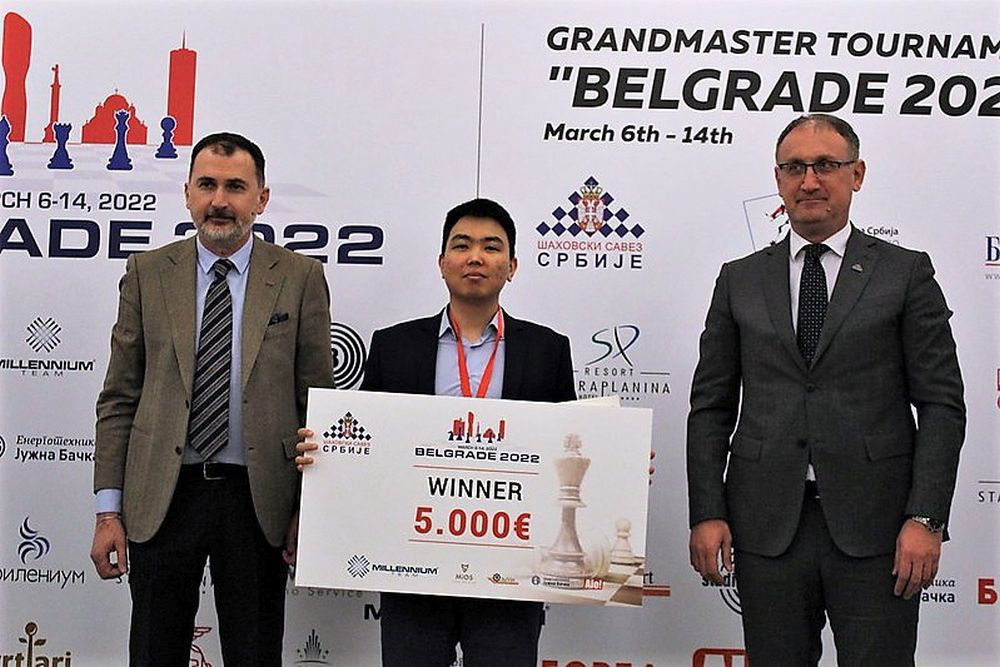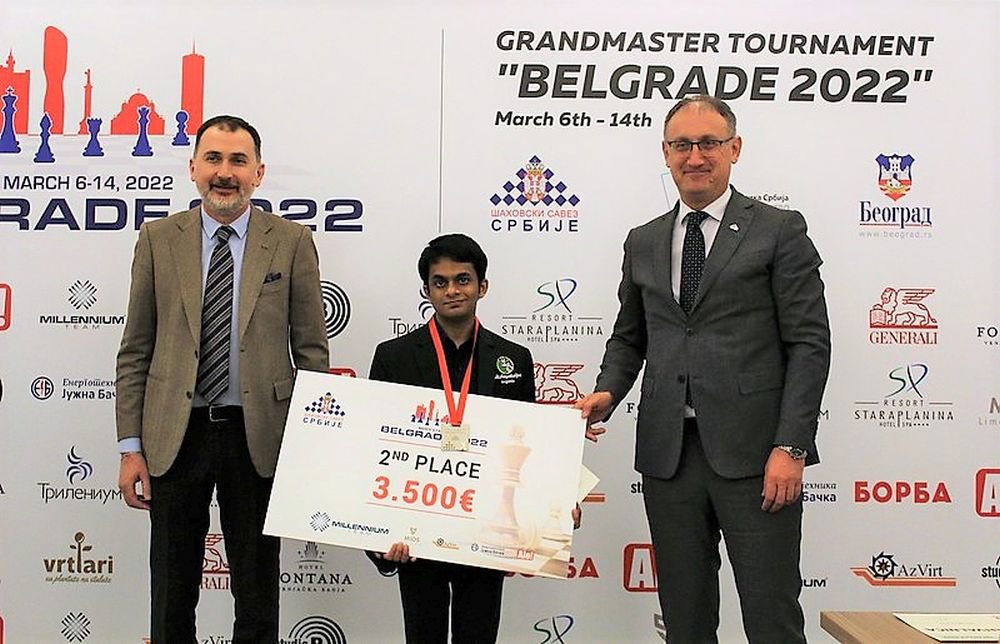 The tournament was organized by Serbia Chess Federation. It took place at Belgrade, Serbia from 6th to 14th March 2022. Time control of the tournament was 90 mins for 40 moves + 30 mins each including 30 seconds increment from move no.1
Replay Nihal's games
Final Standings
| | | | | | | | | | | | | | | | | |
| --- | --- | --- | --- | --- | --- | --- | --- | --- | --- | --- | --- | --- | --- | --- | --- | --- |
| Rk. | SNo | | Name | FED | RtgI | Pts. | TB1 | TB2 | TB3 | Rp | n | w | we | w-we | K | rtg+/- |
| 1 | 7 | GM | Sjugirov Sanan | FID | 2680 | 6,5 | 0,0 | 27,25 | 4 | 2814 | 9 | 6,5 | 4,89 | 1,61 | 10 | 16,1 |
| 2 | 3 | GM | Nihal Sarin | IND | 2652 | 5,5 | 2,0 | 25,50 | 3 | 2731 | 9 | 5,5 | 4,50 | 1,00 | 10 | 10,0 |
| 3 | 8 | GM | Ivic Velimir | SRB | 2610 | 5,5 | 0,5 | 21,00 | 3 | 2736 | 9 | 5,5 | 3,94 | 1,56 | 10 | 15,6 |
| 4 | 1 | GM | Abdusattorov Nodirbek | UZB | 2651 | 5,5 | 0,5 | 19,75 | 5 | 2731 | 9 | 5,5 | 4,49 | 1,01 | 10 | 10,1 |
| 5 | 6 | GM | Indjic Aleksandar | SRB | 2605 | 5,0 | 1,0 | 18,75 | 3 | 2699 | 9 | 5 | 3,87 | 1,13 | 10 | 11,3 |
| 6 | 4 | GM | Maghsoodloo Parham | IRI | 2701 | 5,0 | 0,0 | 19,50 | 3 | 2689 | 9 | 5 | 5,18 | -0,18 | 10 | -1,8 |
| 7 | 5 | GM | Navara David | CZE | 2700 | 4,5 | 0,0 | 16,75 | 3 | 2646 | 9 | 4,5 | 5,18 | -0,68 | 10 | -6,8 |
| 8 | 10 | GM | Sarana Alexey | FID | 2685 | 4,0 | 0,0 | 14,75 | 2 | 2604 | 9 | 4 | 4,98 | -0,98 | 10 | -9,8 |
| 9 | 2 | GM | Markus Robert | SRB | 2627 | 2,5 | 0,0 | 11,25 | 0 | 2488 | 9 | 2,5 | 4,18 | -1,68 | 10 | -16,8 |
| 10 | 9 | GM | Ivanisevic Ivan | SRB | 2601 | 1,0 | 0,0 | 4,00 | 0 | 2306 | 9 | 1 | 3,79 | -2,79 | 10 | -27,9 |
Links
---