Vladislav Bakhmatsky wins 38th Cappelle la Grande Open, Nihal Sarin second
Nihal Sarin drew his last two games against the eventual champion IM Vladislav Bakhmatsky (UKR) and GM Martin Petrov (BUL). The draws in the first two rounds affected his tie-breaks. It was later recovered a lot by scoring five consecutive victories. Nihal tried too hard in the last round which almost cost him the game, but he somehow managed to split the point. Thus he managed to secure the second position and his opponent, Petrov was placed third according to the tie-breaks. The total prize fund of the tournament was €12000. The next edition is announced to take place between 18th and 25th February 2023. Photo: L'Echiquier Cappellois
Eight players score 7.0/9
Seven players headed into the final round with a score of 6.5/8. The top three boards ended in a draw. Two decisive results on board no.4 and 8 allowed them to catch up with the rest.
Round 8: Bakhmatsky - Nihal
Nihal had a short 21-move draw against the eventual champion IM Vladislav Bakhmatsky (UKR) in the penultimate round.
Round 9: Nihal - Petrov
Nihal pushed too hard for an advantage against GM Martin Petrov (BUL) in the final round.
13.h5 is an ambitious idea. Unfortunately for White it does not work as there is not enough compensation for the sacrificed knight. 13...dxc3 14.Bxc3 Nxb3+ 15.axb3 e5 is how the game continued. The game was drawn in another five moves.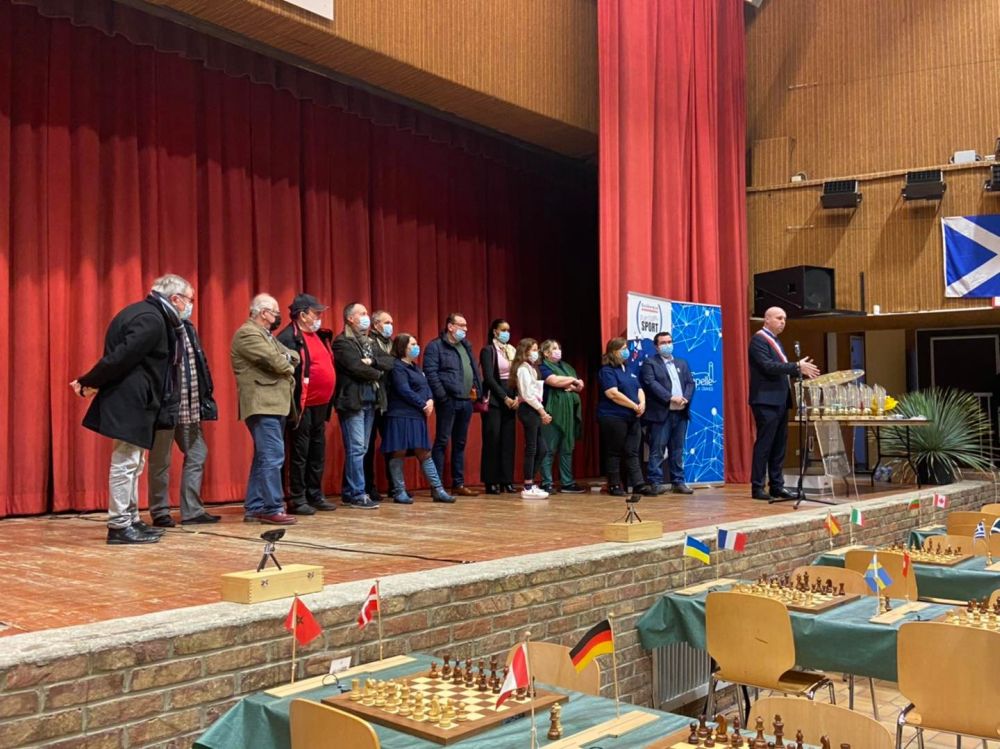 A total of 322 players including 13 GMs, 23 IMs, a WGM and 6 WIMs took part in this tournament organized by L'Echiquier Cappellois. The event is taking place at Palais des Arts at Cappelle la Grande, France from 12th to 18th February 2022. The nine-round Swiss league had a time control of 90 minutes + 30 seconds increment for the first 40 moves, then 30 minutes + 30sec/move for the rest of the game.
Replay Nihal's games
Round 9 results
| | | | | | | | |
| --- | --- | --- | --- | --- | --- | --- | --- |
| Scale | Points | blanks | | Res. | Black | | Points |
| 1 | 6½ | NIHAL SARIN | 2656F | X-X | PETROV Martin | 2542F | 6½ |
| 2 | 6½ | ZWIRS Nico | 2461F | X-X | FEDORCHUK Sergey A. | 2605F | 6½ |
| 3 | 6½ | THYBO Jesper Sondergaard | 2592 F | X-X | BAKHMATSKY Vladislav | 2443F | 6½ |
| 4 | 6½ | LOISEAU Quentin | 2465F | 0 - 1 | NIKOLOV Momchil | 2501F | 6 |
| 5 | 6 | BELLAHCENE Bilel | 2509F | X-X | IVANOV Mike | 2302F | 6 |
| 6 | 6 | DIMITROV Radoslav | 2487F | X-X | MAEREVOET Sim | 2375F | 6 |
| 7 | 6 | TERNAULT Mathieu | 2355F | X-X | SOCHACKI Christophe | 2485 F | 6 |
| 8 | 6 | SONG Julien | 2352F | 1 - 0 | NGUYEN Piotr | 2401 F | 6 |
| 9 | 5½ | SONIS Francesco | 2542F | X-X | GIREL Joseph | 2394 F | 5½ |
| 10 | 5½ | DARDHA Daniel | 2541F | 1 - 0 | PICEU Tom | 2336F | 5½ |
Final standings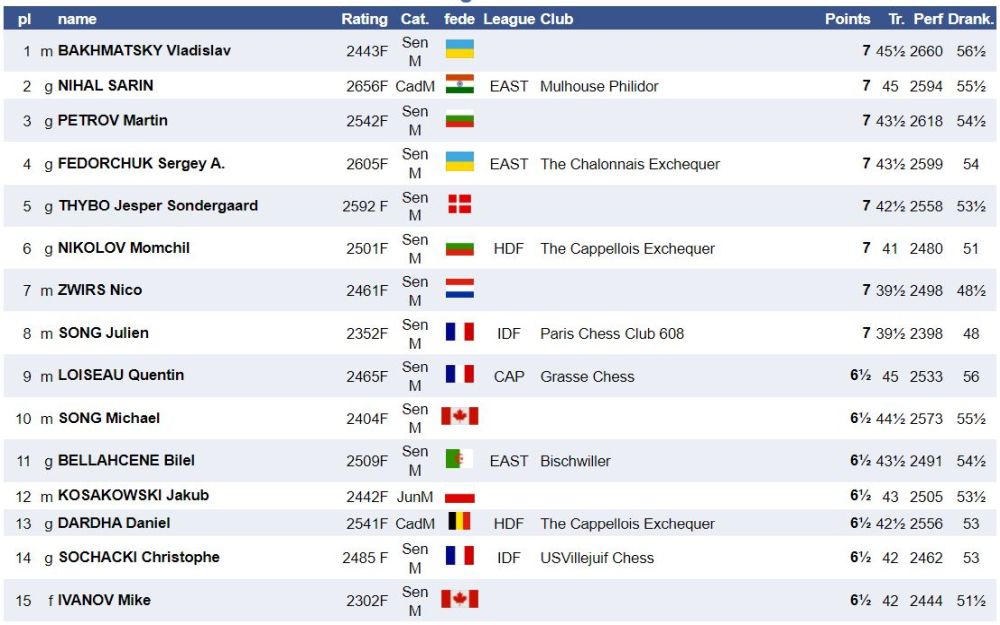 Links
---