14-year-old Nihal Sarin's blitzkrieg in Saint Petersburg!
Nihal Sarin is well known for his blitz skills, but no one really gave him a chance at the World Blitz Championship. With a rating of 2506, the 14-year-old started as the 139th seed. With 4.0/8 Nihal's start was slow, but as the rounds progressed and players started blundering from the lack of stamina, Nihal was getting stronger with every passing game. When the 21st round of blitz ended, the youngster was hungry for more! He had already scored 13.5/21, beating seven opponents above the rating of 2600 and three above 2700! His Elo performance was 2777 and he gained 151 Elo points. He finished eleventh, way ahead of all Indian players including Vishy Anand. In this article we tell you all about Nihal's performance, analyze a few of his blitz games and also share with you an anecdote that reveals the secret of Nihal's success.
14-year-old Nihal Sarin gave one of the best performances of his chess career at the World Blitz Championships 2018 in Russia. Out of the 21 rounds he played, he won eleven games, five draws and five losses! The players he beat were Adly Ahmed (2675), Aryan Tari (2608), Salem Saleh (2645), Klementy Sychev (2594), Falko Bindrich (2639), Alexander Motylev (2609), David Paravyan (2629), Le Quang Liem (2749), Nikita Vitiugov (2696), Gawain Jones (2722) and Alexander Zubov (2750). That's seven wins over 2600+ opponents and three wins over 2700+ rated. Nihal performed at an Elo of 2777 and gained 151 Elo points taking his blitz rating to 2657!
This helped Nihal finish eleventh on the final ranking list ahead of players like Mamedyarov, World Rapid Champion Dubov, Boris Gelfand and our very own Vishy Anand.
Final rankings after 21 rounds
Rk.
SNo
Name
FED
RtgI
Pts.
TB1
TB2
TB3
K
rtg+/-
1
1
GM
Carlsen Magnus
NOR
2939
17,0
2962
256,0
264,0
20
14,6
2
32
GM
Duda Jan-Krzysztof
POL
2694
16,5
2930
257,0
265,0
20
123,6
3
2
GM
Nakamura Hikaru
USA
2889
14,5
2845
260,5
270,0
20
-17,0
4
3
GM
Aronian Levon
ARM
2858
14,0
2833
260,0
268,5
20
-10,0
5
11
GM
Svidler Peter
RUS
2770
14,0
2831
264,5
274,0
20
35,0
6
4
GM
Nepomniachtchi Ian
RUS
2846
14,0
2817
254,0
262,5
20
-11,8
7
12
GM
Karjakin Sergey
RUS
2759
14,0
2800
255,5
265,0
20
22,8
8
9
GM
Andreikin Dmitry
RUS
2777
13,5
2799
258,5
268,5
20
15,8
9
6
GM
Artemiev Vladislav
RUS
2825
13,5
2796
257,5
266,0
20
-10,2
10
14
GM
Giri Anish
NED
2751
13,5
2779
254,5
264,0
20
19,4
11
139
GM
Nihal Sarin
IND
2506
13,5
2777
246,0
255,5
20
151,6
12
52
GM
Matlakov Maxim
RUS
2653
13,5
2760
255,5
265,0
20
63,8
13
13
GM
Mamedyarov Shakhriyar
AZE
2754
13,5
2754
249,5
259,5
20
3,0
14
31
GM
Vitiugov Nikita
RUS
2696
13,5
2743
249,5
257,5
20
28,8
15
18
GM
Dubov Daniil
RUS
2743
13,5
2706
231,5
241,0
20
-16,6
16
15
GM
Fedoseev Vladimir
RUS
2750
13,5
2674
228,5
238,0
20
-34,8
17
36
GM
Korobov Anton
UKR
2677
13,0
2743
232,5
240,0
20
37,4
18
22
GM
Gelfand Boris
ISR
2722
13,0
2728
248,0
257,5
20
5,8
19
39
GM
Dreev Aleksey
RUS
2675
13,0
2703
237,5
245,5
20
18,8
20
38
GM
Adly Ahmed
EGY
2675
13,0
2702
239,0
247,0
20
17,6
For many, this performance by 14-year-old Nihal would come as a surprise. Not to forget that this was a debut for Nihal at the World Blitz Championships. But for me this performance didn't come out of the blue. First of all Nihal's talent has never been in doubt. Secondly all of us have seen his online blitz skills where he has even impressed players like Hikaru Nakamura with his speed and quick calculations. However, the episode that stands out in my memory and convinced me that there is absolutely nothing that can stop Nihal from becoming the best in the world, happened on the last day of the Tata Steel Chess India 2018. At the end of the Rapid play where Nihal got to play against some of the best players in the world, I made my way to Nihal Sarin's room in Taj Bengal. I wanted to interview the young lad about his games at the event. I rang the bell to the room and his mother Shijin opened the door. In the room were members of team Nihal - Priyadarshan Banjan (his manager), GM Srinath Narayanan (his friend cum coach). Nihal's mother, Srinath and Priyadarshan all welcomed Amruta and me to the room and made us feel comfortable. Little Nihal was sitting right there but didn't really lift his gaze from the computer screen. He was busy crushing his opponents in online blitz.
I setup my laptop and microphone and made sure that there was good lighting for the interview. Meanwhile Nihal had finished his blitz game and came next to me. As I was about to begin my interview, I noticed that there was a slight technical problem with the settings. I asked Nihal to give me a minute! The moment I said that the young boy jumped towards his laptop and started playing another game of online blitz! As he began winning he called all of us to witness his fine "cheap trap" that he had set to beat his opponent. A satisfied Nihal sat next to me once again and the interview began! While talking about his nine games against the best players in the world, Nihal was completely focused. He spoke with great enthusiasm and told us about many of the plans and ideas that he had seen in the games to hold players like Anand, Harikrishna, Mamedyarov and others to a draw. When the interview ended it was quite late in the night. We wished everyone in the room a good night and were about to leave, but Nihal insisted that we should stay back and see one of the variants of chess that he loves to play - the atomic chess! It didn't matter that atomic chess had nothing to do with the normal rules of the game. Nihal thoroughly enjoyed the pieces blasting and vanishing from the chess board and had developed his own theory for the variant! He made me, a semi-retired chess player, also take the mouse and start making moves. His enthusiasm and love for the game was infectious!
As I closed the door to Nihal's room that night, I knew for sure that stopping Nihal as a chess player is simply impossible. The reason is very simple the boy just loves chess more than anything else in his life. He loves chess beyond measure and he can practice it anytime of the day and discuss it with just about anyone! It's true that victories make him happy and defeats sadden him, but he doesn't feel this variance in emotion because of the result. It's usually because he has played a fine tactic or missed an idea which he thinks he should not have. That's the reason why at the recently concluded Sunway Sitges 2018, when he lost to IM Krishna Teja rated nearly 230 points below him, Nihal congratulated his opponent after the game and told him that he had played well. Such maturity at the age of 14 is rare.
Nihal's best games from the World Blitz Championship 2018
By GM Srinath Narayanan
I think Nihal's game against Vitiugov should take the cake. Clean outplay of a 2700 GM. Very strong and clean games against Adly and Salem. I think he dominated the entire game in these duels. The win against Gawain Jones was no accident. He has beaten me like that hundreds of times. He got into seconds in a lot of these games but showed amazing resourcefulness and tactical awareness. Relatively clean win against Tari also, although maybe it was a little bit too easy for Nihal. It's also notable how he keeps getting better towards the end. For most people it's the opposite, their play tends to decline as things progress.
Jones was doing very well here when @NihalSarin set a clever trap. To quote Robert De Niro in Ronin "Lady, I never walk into a place I don't know how to walk out of". #wrbc2018 #chessstpetersburg pic.twitter.com/OZjzDFa1kC

— Jaideep Unudurti (@Unudurti) December 30, 2018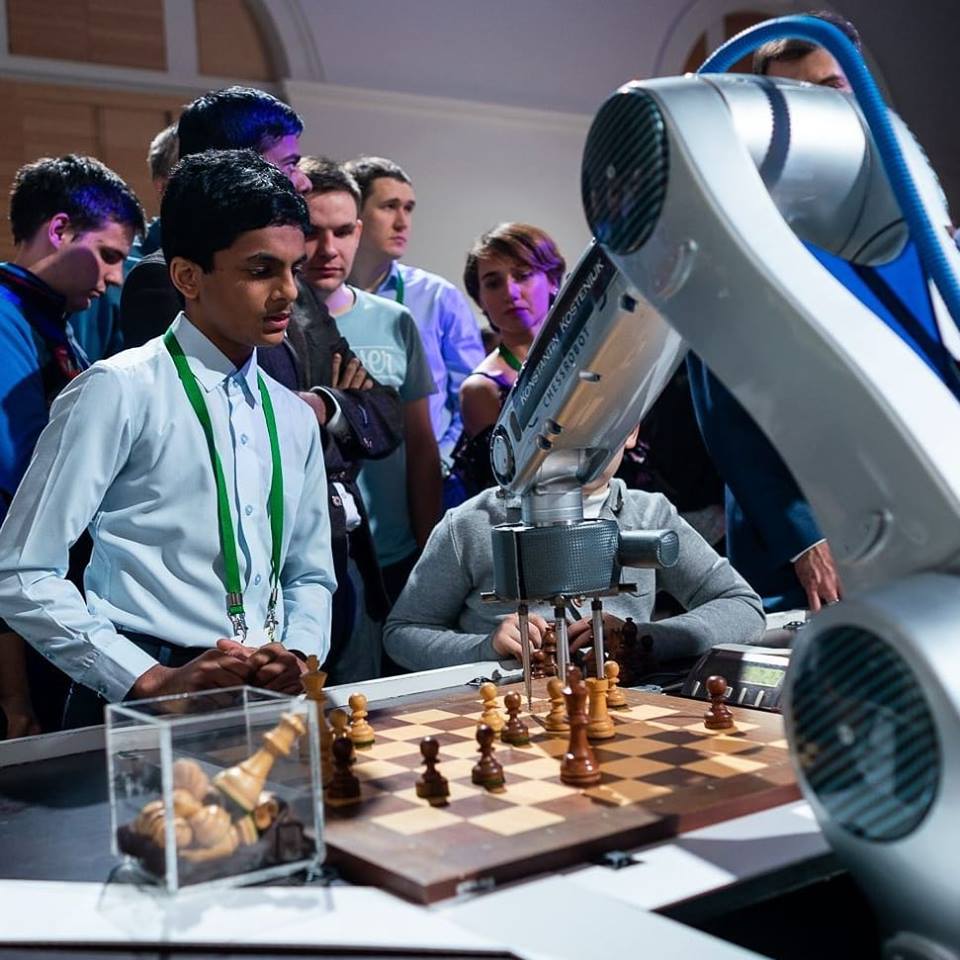 The hero for us Indians is @NihalSarin what a performance.... Dynamites come in small packages.... Proud of this young gun! Atta Boy!! #WRBC2018 #champion @delhidynamite64 @ChessbaseIndia

— Vishal Sareen (@vishalsareen) December 30, 2018
What a performance @NihalSarin !! You played the monsters of chess and finished in the top 15 at @worldrapidblitz. Infact, finishing ahead of @vishy64theking is an extremely impressive performance. Well done and keep giving your best!! @ChessbaseIndia @chess24com

— Vijay Kakarparthi (@vkakarparthi) December 30, 2018
---