Jules Moussard wins Djerba Chess Festival Masters 2023, Nihal Sarin third
Jules Moussard defeated Maxime Lagarde 2-0 in the final to win Djerba Chess Festival Masters 2023. Nihal Sarin topped the group stage with an unbeaten 5/7, followed by Jules and Aryan Tari at 4.5/7 each. The 44th Olympiad individual Gold medalist, Nihal lost to Maxime 0.5-1.5 in the Semifinal. He faced Tari in a 3rd-4th place match which the teenager won 1.5-0.5 to finish third. The total prize fund of the entire festival was over €15000 (49500 TND). The top three prizes were €3000 + cup (9900 TND), €2000 (6600 TND) and €1000 (3300 TND) along with Gold, Silver and Bronze medal each respectively. Photo: Djerba Chess Festival
An All-French Final
The Masters section was divided into two stages - Group and Final. The eight players in the Masters section played a round-robin rapid tournament with a time control of 15 minutes + 10 seconds increment. Both Maxime Lagarde (FRA) and Romain Edouard (FRA) ended up having the same score 4/7. The former won the Playoffs and set up a clash with Nihal in the Semifinals.
Check out the winner Jules Moussard's thoughts after winning the tournament here (French audio).
Runner-up - Maxime Lagarde (FRA) | Photo: Djerba Chess Festival
Sebag - Nihal, Round 6
Nihal decided to sacrifice his queen against France no.1 woman, GM Marie Sebag (2380). 13...Nxc2 14.e5 Nh5 15.Qd2 Nxe1 16.Bxd8 Nxf3+ 17.Bxf3 Bxf3 18.gxf3 Raxd8 and White has a queen for Black's rook and knight. Computer recommends 18.Bxc7 Bxd1 19.Qxd1 dxe5 20.dxe5 which no human would prefer to play as White.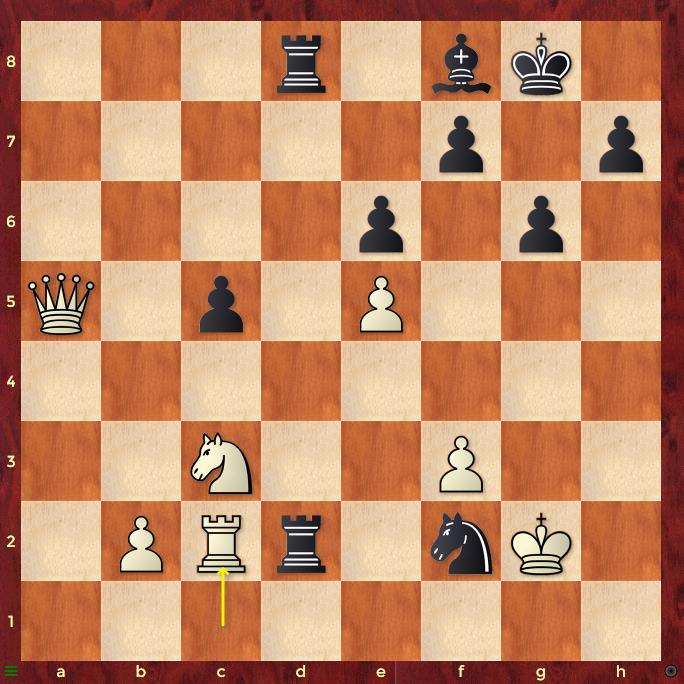 Things started to go Black's way after 29.Rc2 Rxc2 30.Qxd8 Ne4+ 31.Kf1 Nxc3 32.bxc3 Rxc3. Only Black was in a position to push for a win. He did for sometime but then he missed a couple of good opportunities.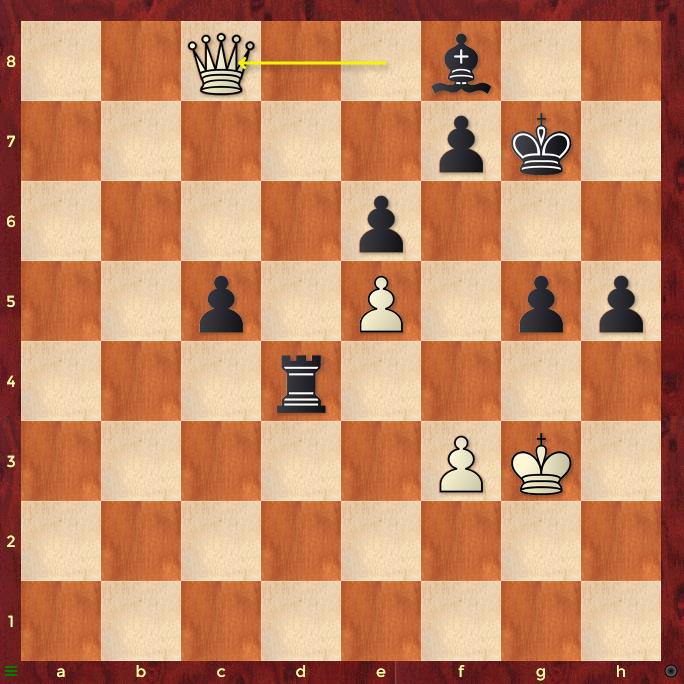 Find out the correct winning plan for Black. The game eventually ended in a draw after 103 moves.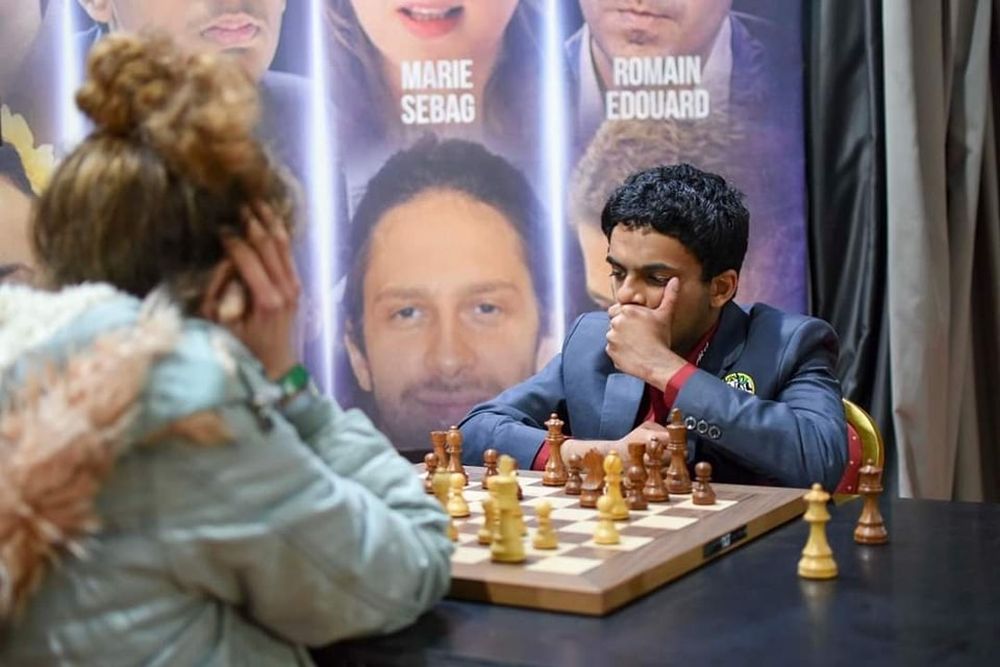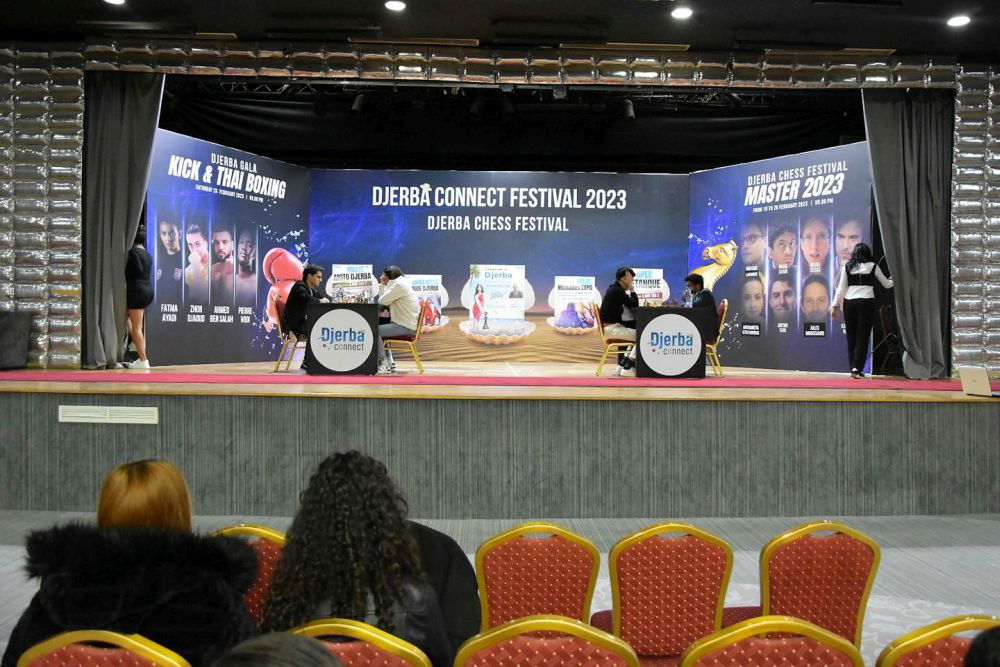 Replay all available Group stage games
Final standings in Masters Final
Final standings in Masters Group stage
| | | | | | | | | | | |
| --- | --- | --- | --- | --- | --- | --- | --- | --- | --- | --- |
| Rk. | SNo | | Name | FED | RtgI | Pts. | TB1 | TB2 | TB3 | TB4 |
| 1 | 4 | GM | Nihal Sarin | IND | 2678 | 5 | 0 | 0 | 15,25 | 3 |
| 2 | 6 | GM | Moussard Jules | FRA | 2604 | 4,5 | 0 | 0,5 | 15,75 | 3 |
| 3 | 8 | GM | Tari Aryan | NOR | 2529 | 4,5 | 0 | 0,5 | 13,50 | 2 |
| 4 | 7 | GM | Lagarde Maxime | FRA | 2639 | 4 | 4 | 0 | 10,25 | 3 |
| 5 | 2 | GM | Edouard Romain | FRA | 2575 | 4 | 5 | 0 | 12,25 | 2 |
| 6 | 3 | GM | Sebag Marie | FRA | 2380 | 2,5 | 0 | 1 | 6,00 | 2 |
| 7 | 1 | GM | Stefanova Antoaneta | BUL | 2374 | 2,5 | 0 | 0 | 7,75 | 2 |
| 8 | 5 | IM | Njili Kamel | TUN | 2351 | 1 | 0 | 0 | 4,25 | 0 |
Links
---