MPL 48th National Women R9: Divya increases her sole lead
WGM Divya Deshmukh increased her sole lead by a full point by defeating Sunyuktha C M N. Just like the previous edition, Divya is now full point ahead of the field heading into the penultimate round of MPL 48th National Women Chess Championship 2022. WGM Mary Ann Gomes is the sole player trailing her by a half point at 7/9. She is followed by seven players at 6.5/9 each including the top seed WGM Vantika Agrawal. WGM Srija Seshadri missed a win against WIM Sakshi Chitlange. WIM Isha Sharma held IM Soumya Swaminathan to a draw. She will now face Divya in the penultimate round. Round 10 starts today at 10:30 a.m. Photo: Chess Association Kolhapur
Sunyuktha scores a WIM-norm
Sunyuktha C M N (TN) earned her maiden WIM-norm by scoring 6/9 with a performance of 2226. She is already gaining 86.6 Elo rating points. Samriddhaa Ghosh (WB) and the current National Sub-Junior Girls champion, Tejaswini G (TN) are the only two untitled players at 6/9 along with eight others.
Sunyuktha - Divya: 0-1
Sunyuktha C M N (TN, 1820) sacrificed a pawn to gain control in the center against WGM Divya Deshmukh (MAH, 2347).
Since White had played 12.c5 Bxc5 13.Nb3 Bb6 14.e5 Nfd7 15.Qe4 f5 16.exf6 Nxf6 now White had to go for 17.Bf4 to ensure that Black does not get total control of the center. 17.Qh4 was played e5 and Black gained a firm grip in the center and it can be said that Black is positionally winning.
Mary - Vantika: 0.5-0.5
Top seed of the tournament, WGM Vantika Agrawal (DEL, 2352) had a good opportunity against WGM Mary Ann Gomes (PSPB, 2320).
Instead of 26...hxg3+, Black could have continued building up her attack on the kingside 26...Rh8 27.Kg1 Qf5 28.Rd3 Rc2 to create winning chances.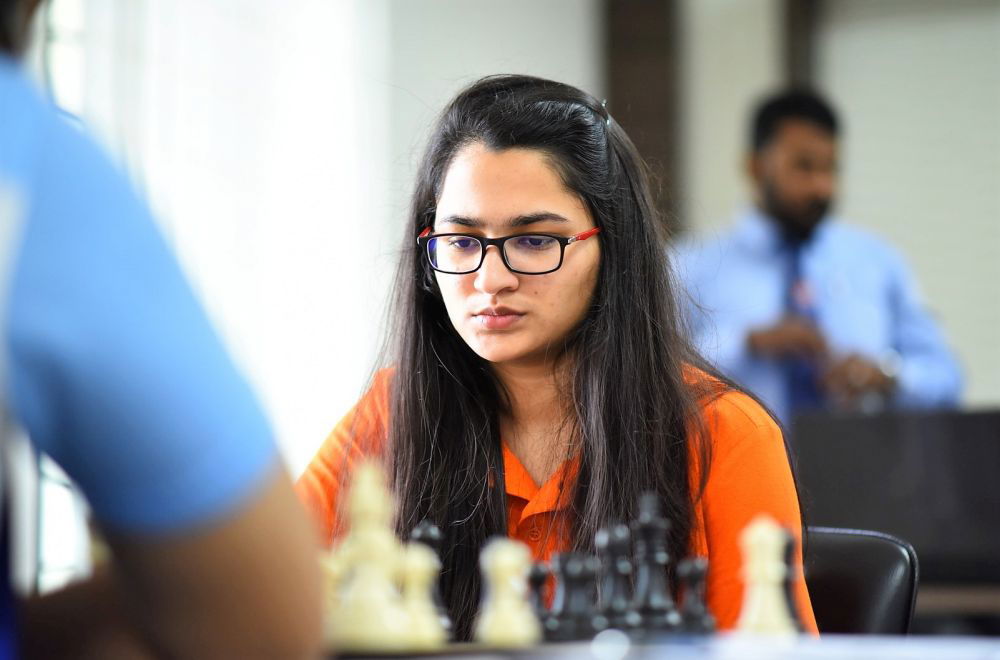 Sakshi - Srija
30.h3?? is a blunder. Find out the winning continuation for Black which WGM Srija Seshadri (TN, 2204) missed against WIM Sakshi Chitlange (MAH, 2213).
A total of 102 players including 3 IMs, 7 WGMs and 12 WIMs are taking part in this tournament organized by Chess Association Kolhapur. The event is taking place at Sanjay Ghodawat University, Kolhapur, Maharasahtra from 26th December 2022 to 5th January 2023. The 11-round Swiss league tournament has a time control of 90 minutes for 40 moves followed by 30 minutes with an increment of 30 seconds from move no.1
Replay Round 9 games
Round 9 results
Standings after Round 9
| | | | | | | | | | | | | | |
| --- | --- | --- | --- | --- | --- | --- | --- | --- | --- | --- | --- | --- | --- |
| Rk. | SNo | | Name | sex | FED | RtgI | Club/City | Pts. | TB1 | TB2 | TB3 | TB4 | TB5 |
| 1 | 2 | WGM | Divya Deshmukh | w | IND | 2347 | Maharashtra | 8 | 49,5 | 54 | 47,75 | 0 | 7 |
| 2 | 4 | WGM | Gomes Mary Ann | w | IND | 2320 | PSPB | 7 | 48,5 | 53,5 | 39,25 | 0 | 6 |
| 3 | 1 | WGM | Vantika Agrawal | w | IND | 2352 | Delhi | 6,5 | 48 | 52,5 | 36,25 | 0 | 4 |
| 4 | 8 | WIM | Chitlange Sakshi | w | IND | 2213 | Maharashtra | 6,5 | 48 | 52 | 36,75 | 0 | 5 |
| 5 | 3 | IM | Soumya Swaminathan | w | IND | 2322 | PSPB | 6,5 | 44,5 | 48,5 | 33,25 | 0 | 5 |
| 6 | 5 | IM | Kulkarni Bhakti | w | IND | 2319 | Goa | 6,5 | 44 | 48,5 | 34,00 | 0 | 5 |
| 7 | 11 | WGM | Srija Seshadri | w | IND | 2204 | Tamil Nadu | 6,5 | 44 | 48 | 30,75 | 0 | 6 |
| 8 | 9 | WIM | Sharma Isha | w | IND | 2212 | Karnataka | 6,5 | 43,5 | 47,5 | 33,00 | 0 | 5 |
| 9 | 15 | WGM | Varshini V | w | IND | 2141 | Tamil Nadu | 6,5 | 42 | 46 | 32,25 | 0 | 5 |
| 10 | 40 | | Sunyuktha C M N | w | IND | 1820 | Tamil Nadu | 6 | 49 | 52,5 | 33,00 | 0 | 5 |
| 11 | 17 | WFM | Shah Vishwa | w | IND | 2128 | Maharashtra | 6 | 45 | 48,5 | 28,50 | 0 | 5 |
| 12 | 45 | | Ghosh Samriddhaa | w | IND | 1778 | West Bengal | 6 | 45 | 48 | 30,50 | 0 | 4 |
| 13 | 10 | WIM | Arpita Mukherjee | w | IND | 2211 | West Bengal | 6 | 44 | 49 | 32,50 | 0 | 5 |
| 14 | 22 | WFM | Deodhar Vrushali Umesh | w | IND | 2108 | Maharashtra | 6 | 44 | 47,5 | 29,00 | 0 | 6 |
| 15 | 6 | WIM | Mahalakshmi M | w | IND | 2257 | RSPB | 6 | 43 | 47,5 | 30,25 | 0 | 4 |
| 16 | 21 | WFM | Nimmy A.G. | w | IND | 2110 | Kerala | 6 | 43 | 46,5 | 27,25 | 0 | 4 |
| 17 | 14 | IM | Mohota Nisha | w | IND | 2197 | PSPB | 6 | 42,5 | 47 | 31,00 | 0 | 4 |
| 18 | 33 | WFM | Bhagyashree Patil | w | IND | 1920 | Maharashtra | 6 | 42 | 44,5 | 26,75 | 0 | 5 |
| 19 | 7 | WIM | Pujari Rucha | w | IND | 2229 | Maharashtra | 6 | 41,5 | 45 | 29,25 | 0 | 5 |
| 20 | 47 | | Tejaswini G | w | IND | 1773 | Tamil Nadu | 6 | 39 | 42 | 26,25 | 0 | 5 |
Round 10 pairings
Links
Chess Association Kolhapur: Official site, and facebook
---