MPL 48th National Women R3: Sakshi, Aashna, Vrushali and Bristy make a perfect start
Top four boards ended in a draw in the third round of MPL 48th National Women Chess Championship 2022. WIM Mounika Akshaya (AP), WFM Vishwa Shah (MAH), Nimmy A G (KER) and Rutuja Bakshi (MAH) held their higher rated opponents WGM Vantika Agrawal (DEL), WGM Divya Deshmukh (MAH), WGM Mary Ann Gomes (MAH) and IM Bhakti Kulkarni (Goa) to a draw each respectively. Both Divya and Bhakti had great chances to score a win, yet they were unable to capitalize on their chances. WIM Aashna Makhija (DEL), WIM Sakshi Chitlange (MAH), WFM Vrushali Umesh Deodhar (MAH) and WCM Bristy Mukherjee (WB) scored a win each to make a hat-trick. Round 4 starts today at 10:30 a.m. Photo: Maharashtra Chess Association
Top four games end in a draw
Out of 11 boards, only four games ended decisively and the leaders emerged. Three of them are from Maharashtra - WIM Aashna Makhija, WIM Sakshi Chitlange and WFM Vrushali Umesh Deodhar. All three scored convincing wins. IM Nisha Mohota imploded against her statemate from West Bengal, WCM Bristy Mukherjee as the former miscalculated and blundered her knight on the tenth move.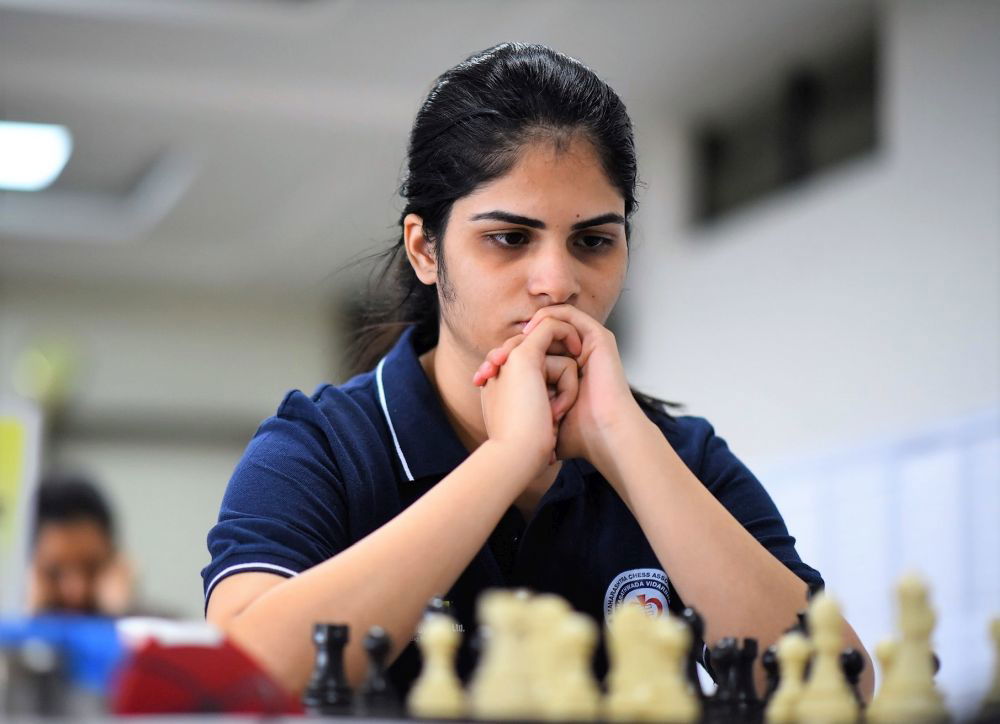 Mounika - Vantika: 0.5-0.5
WIM Mounika Akshaya (AP, 2135) opted for the Closed Sicilian against the top seed WGM Vantika Agrawal (DEL, 2352).
Black had to do something here. If she didn't go for 14...d5, perhaps White would have gone 15.d4 in the next move and things would have become difficult for Black. Thus, 14...d5 15.Bxc5 dxe4 16.Rad1 exd3 and now 17.fxe5 Nxe5 18.Nf4 b6 19.Bd4 would have given White a slight edge. Instead, White took a relatively safer approach 17.Qxd3 Qxd3 18.Nxd3 e4 19.Nf2 and the game meandered into a draw eventually.
Divya - Vishwa: 0.5-0.5
WGM Divya Deshmukh (MAH, 2347) had a good opportunity in the opposite color bishop endgame against her statemate, WFM Vishwa Shah (MAH, 2128).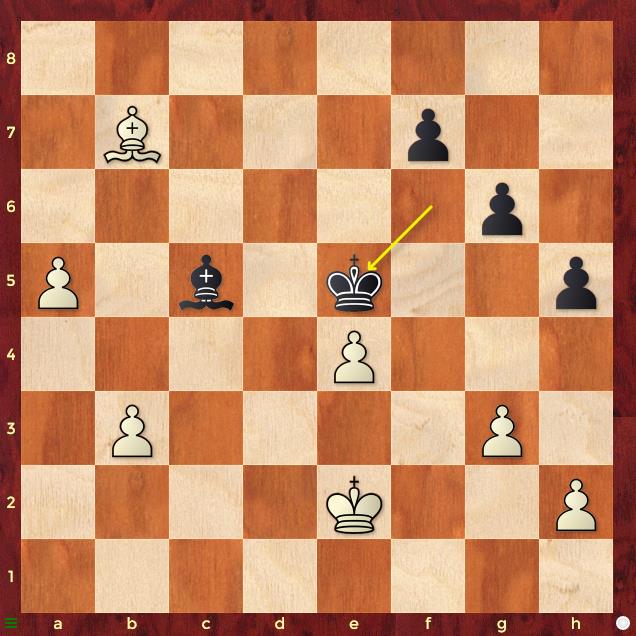 White has connected passed pawns on a and b-files. 53.h4 would have been the first correct step towards victory. 53.Kd3 f6 54.Bc6 g5 55.Be8 h4 and Black managed to move all her pawns to the dark squares. 56.gxh4 gxh4 57.h3? White still could have made an attempt 56.Kc4 Ba7 57.Kb5 and so on. 57.h3 shut all those options Bb4 58.a6 Bc5 now White can no longer win this.
Mary Ann - Nimmy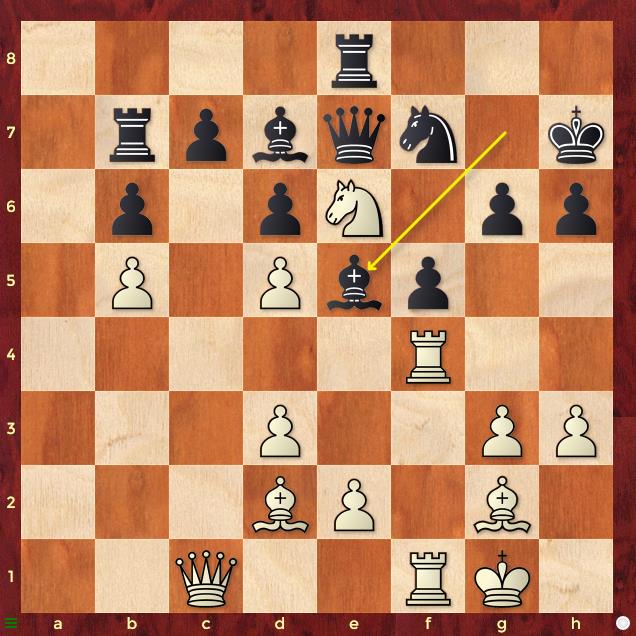 WGM Mary Ann Gomes (PSPB, 2320) found the beautiful 27.Ne6. After 27..Be5 she needed to continue as per the demand of the position 28.e4 Bxf4 is not a problem 29.exf5 Bxd2 30.fxg6+ and White is winning. The game continued 28.R4f3 Bxe6 29.dxe6 Qxe6 and White's chances dissipated.
Rutuja - Bhakti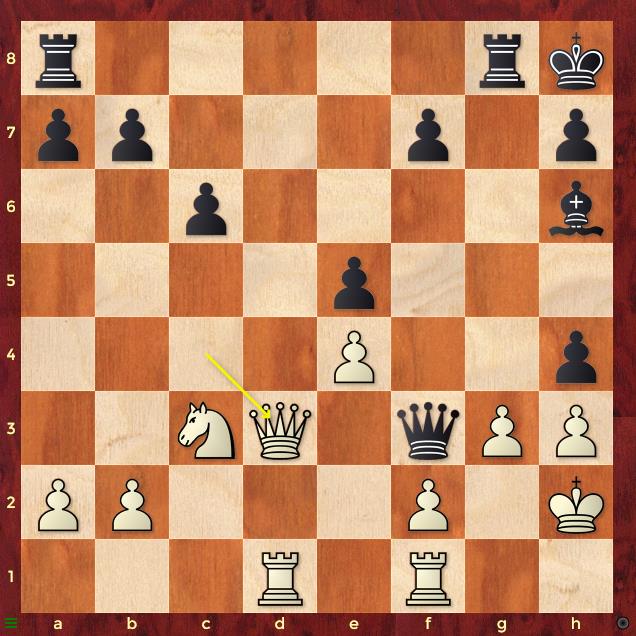 IM Bhakti Kulkarni (Goa, 2319) is not in a good form as it became evident when she missed 23...Rxg3! 24.Qxf3 Rxf3 would have given Black an important pawn. Eventually she got a decisive advantage in the queen endgame against Rutuja Bakshi (2127).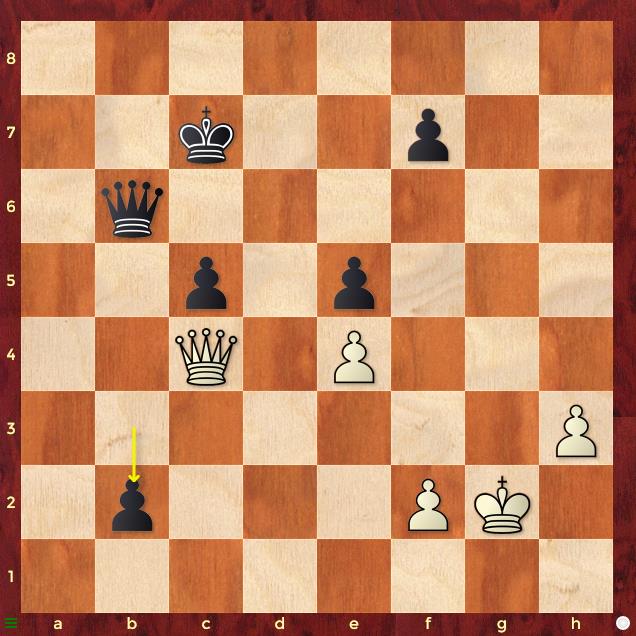 Well Black was completely winning the queen endgame, until she played 65...b2. That's when White got her chance to salvage a half point 66.Qxf7+ Kb8 67.Qg8+ Kc7 68.Qf7+ Kc6 69.Qd5+ Kb5 70.Qb3+ and Black cannot get out of the perpetual check without conceding the b2-pawn. Thus, the game ended in a draw.
Aashna - Rucha
Black made an incorrect sacrifice on g4 - 13...Nxg4 14.hxg4 Bxg4 15.Kg2 Qc8 16.Rh1 Bh5 17.Ne2 Bg4 18.Qd2 Nb7 19.Bh6 Bf6 20.Rag1 d5 21.Kf1 Nc5 and we reach the above position. White is poised to crash through on Black's kingside. Find out the winning continuation.
Vrushali - Srija
White is making some deadly threat of playing 32.e6. 32...Bd2 was the only way to save the game 33.e6 Bxe1 34.exd7 Rf1+ 35.Kg2 Ba5. Instead, Black opted for the obvious choice 31...Be3+ 32.Kg2 Rf2+ 33.Kh3 Bd2 34.Re4 Nf8 35.Rb8 R7f5 36.e6 Rh5+ 37.Rh4 Rxh4+ 38.gxh4 and it's over.
A total of 102 players including 3 IMs, 7 WGMs and 12 WIMs are taking part in this tournament organized by Chess Association Kolhapur. The event is taking place at Sanjay Ghodawat University, Kolhapur, Maharasahtra from 26th December 2022 to 5th January 2023. The 11-round Swiss league tournament has a time control of 90 minutes for 40 moves followed by 30 minutes with an increment of 30 seconds from move no.1
Replay Round 3 games
Round 3 results
Round 4 pairings
Links
Chess Association Kolhapur: Official site, and facebook
---