MPL 48th National Women R10: Can Divya repeat history?
WGM Divya Deshmukh drew with WIM Isha Sharma to stay half point ahead of the competition heading into the final round. Unlike the previous edition, Divya does not have a huge lead. If she draws her final round game against IM Bhakti Kulkarni and WGM Mary Ann Gomes beats WIM Rucha Pujari then, it will all come down to tie-breaks to decide the winner of MPL 48th National Women Chess Championship 2022. Since 2011, all new champion have won it at least twice in-a-row. Mary (2011-2013), IM Padmini Rout (2014-17) and Bhakti (2018-19). Divya has to overcome the previous two-time winner to become a two-time winner of this prestigious championship. Final Round 11 starts today at 9:30 a.m. Photo: Chess Association Kolhapur
Mary keeps things interesting
WGM Mary Ann Gomes (PSPB) defeated WGM Srija Seshadri (TN) to ensure the tournament stays interesting till the very last round. She is the only player who can catch up or overtake WGM Divya Deshmukh (MAH). WGM Vantika Agrawal (DEL) and IM Bhakti Kulkarni (Goa) are at 7.5/10 each, followed by eight players at 7/10.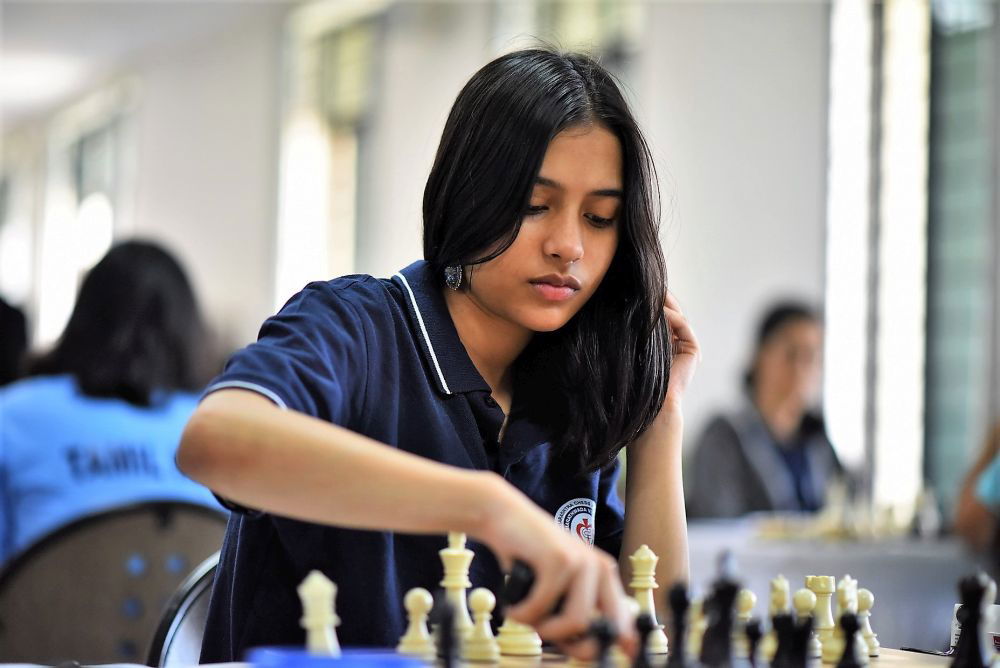 Isha - Divya: 0.5-0.5
WGM Divya Deshmukh (MAH, 2347) could have won her game against WIM Isha Sharma (KAR, 2212) and maintained her full point lead heading into the final round.
White had to save her knight 27.Ne5 Qd5 28.Nxf7. However, 27.Rc1 could have resulted in a loss of material after Bd4. Now, there is no safe way to save the knight. Once it is moved, Rh8 skewer drops the bishop at h6.
Srija - Mary: 0-1
WGM Srija Seshadri (TN, 2204) did not take pawn wedge at f3 at the right time. Later on, it played a key role in WGM Mary Ann Gomes (PSPB, 2320) earning her a full point.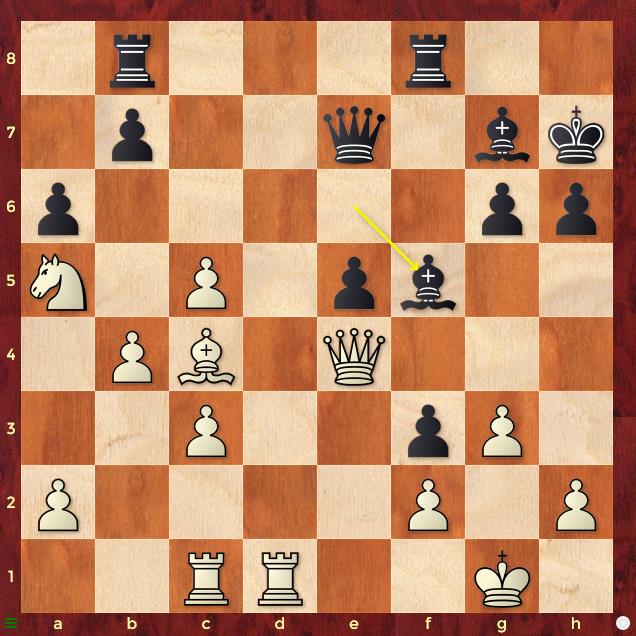 The best time to take the f3-pawn was now. White probably didn't take 25.Qxf3 is due to discover attack Bc2. However, after 26.Qe3 Bxd1 27.Rxd1 White is doing fine as she would have had enough compensation in the form of two pawns for the lost exchange. The game continued 25.Qe1 e4 26.Bf1 h5 27.Nc4 h4 28.Ne3 hxg33 29.hxg3 Be5 30.Rd5 Qg7 31.Nxf5 gxf5 32.Bh3 Rbe8 and White's position fell apart in a hurry.
Vantika - Soumya
IM Soumya Swaminathan (PSPB, 2322) perhaps will question her choice of going with Modern Benoni against WGM Vantika Agrawal (DEL, 2352). The former just could not get out of the gate and Vantika had no trouble outplaying her.
Find out the winning combination for White after 39...Nh5.
A total of 102 players including 3 IMs, 7 WGMs and 12 WIMs are taking part in this tournament organized by Chess Association Kolhapur. The event is taking place at Sanjay Ghodawat University, Kolhapur, Maharasahtra from 26th December 2022 to 5th January 2023. The 11-round Swiss league tournament has a time control of 90 minutes for 40 moves followed by 30 minutes with an increment of 30 seconds from move no.1
Replay Round 10 games
Round 10 results
Standings after Round 10
| | | | | | | | | | | | | | |
| --- | --- | --- | --- | --- | --- | --- | --- | --- | --- | --- | --- | --- | --- |
| Rk. | SNo | | Name | sex | FED | RtgI | Club/City | Pts. | TB1 | TB2 | TB3 | TB4 | TB5 |
| 1 | 2 | WGM | Divya Deshmukh | w | IND | 2347 | Maharashtra | 8,5 | 60,5 | 66 | 55,25 | 0 | 7 |
| 2 | 4 | WGM | Gomes Mary Ann | w | IND | 2320 | PSPB | 8 | 60 | 65,5 | 49,75 | 0 | 7 |
| 3 | 1 | WGM | Vantika Agrawal | w | IND | 2352 | Delhi | 7,5 | 59 | 63,5 | 45,50 | 0 | 5 |
| 4 | 5 | IM | Kulkarni Bhakti | w | IND | 2319 | Goa | 7,5 | 55 | 59,5 | 43,50 | 0 | 6 |
| 5 | 8 | WIM | Chitlange Sakshi | w | IND | 2213 | Maharashtra | 7 | 58,5 | 63,5 | 44,00 | 0 | 5 |
| 6 | 10 | WIM | Arpita Mukherjee | w | IND | 2211 | West Bengal | 7 | 56 | 61 | 42,50 | 0 | 6 |
| 7 | 17 | WFM | Shah Vishwa | w | IND | 2128 | Maharashtra | 7 | 56 | 60 | 37,75 | 0 | 6 |
| 8 | 9 | WIM | Sharma Isha | w | IND | 2212 | Karnataka | 7 | 55,5 | 60,5 | 41,00 | 0 | 5 |
| 9 | 21 | WFM | Nimmy A.G. | w | IND | 2110 | Kerala | 7 | 53,5 | 57,5 | 36,50 | 0 | 5 |
| 10 | 15 | WGM | Varshini V | w | IND | 2141 | Tamil Nadu | 7 | 52,5 | 57,5 | 39,75 | 0 | 5 |
| 11 | 7 | WIM | Pujari Rucha | w | IND | 2229 | Maharashtra | 7 | 52,5 | 56,5 | 39,75 | 0 | 6 |
| 12 | 14 | IM | Mohota Nisha | w | IND | 2197 | PSPB | 7 | 51,5 | 56,5 | 39,25 | 0 | 5 |
| 13 | 3 | IM | Soumya Swaminathan | w | IND | 2322 | PSPB | 6,5 | 58 | 62,5 | 37,75 | 0 | 5 |
| 14 | 11 | WGM | Srija Seshadri | w | IND | 2204 | Tamil Nadu | 6,5 | 56,5 | 60,5 | 34,50 | 0 | 6 |
| 15 | 55 | | Dakshita Kumawat | w | IND | 1656 | Rajasthan | 6,5 | 51 | 55 | 33,00 | 0 | 5 |
| 16 | 36 | | Mrittika Mallick | w | IND | 1867 | West Bengal | 6,5 | 50 | 54 | 30,75 | 0 | 6 |
| 17 | 38 | | Femil Chelladurai | w | IND | 1824 | Tamil Nadu | 6,5 | 48,5 | 52,5 | 32,25 | 0 | 5 |
| 18 | 40 | | Sunyuktha C M N | w | IND | 1820 | Tamil Nadu | 6 | 59,5 | 63,5 | 36,00 | 0 | 5 |
| 19 | 45 | | Ghosh Samriddhaa | w | IND | 1778 | West Bengal | 6 | 56 | 59 | 32,75 | 0 | 4 |
| 20 | 62 | | Saniya Rafique Tadavi | w | IND | 1569 | Maharashtra | 6 | 55,5 | 59 | 32,50 | 0 | 5 |
Round 11 pairings
Links
Chess Association Kolhapur: Official site, and facebook
---