MPL 48th National Women R1: Dakshita defies Soumya
14-year-old Dakshita Kumawat (RAJ) held the former National Women's champion, IM Soumya Swaminathan (PSPB) to a draw. The teenager played solid out of the Trompowsky opening and did not make any significant mistake throughout the game. The Asian U-12 double Gold medalist, Saparya Ghosh (WB) got herself a good opportunity to split the point with WGM Srija Seshadri (TN) in the final moments of the rook endgame. Unfortunately, she was unable to seize her opportunity. 13-year-old Jagadale Ishwari held her statemate from Maharashtra, WIM Mrudul Dehankar to a draw. Round 2 starts today at 10:30 a.m. Photo: Aditya Sur Roy
No easy start for the top seeds
The days of first round means a warm-up game for the seeded players are long gone. The lower rated players pack quite a punch. If you become too relaxed, they will seize their opportunity to upstage their stronger opponents.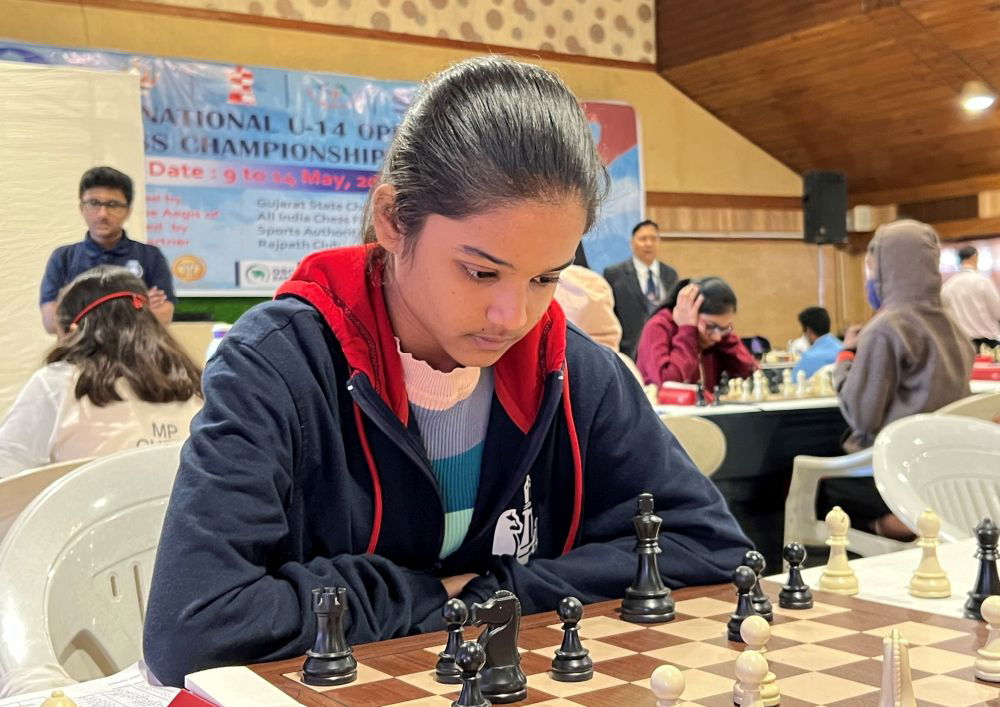 Dakshita - Soumya: 0.5-0.5
The reigning Rajasthan State Under-15, Under-19 Girls and Women's champion, 14-year-old Dakshita Kumawat (1656) opted for the Trompowsky opening against the former National Women's champion, IM Soumya Swaminathan (2322). The teenager played confidently and ensured that she never loosen the grip of the position.
Saparya - Srija
Despite WGM Srija Seshadri (TN, 2204) having the upper hand in the endgame, her opponent, double Gold winner at the Asian Youth U-12 Girls, Saparya Ghosh (1563) continued her fight and almost managed to draw the game. The f3-pawn seems to run away to the promotion square. The only way for White to save the game was 49.Rb7+ Kd6 50.Rb6+ Kd5 51.Rb1 and prevent the pawn promotion.
A total of 102 players including 3 IMs, 7 WGMs and 12 WIMs are taking part in this tournament organized by Chess Association Kolhapur. The event is taking place at Sanjay Ghodawat University, Kolhapur, Maharasahtra from 26th December 2022 to 5th January 2023. The 11-round Swiss league tournament has a time control of 90 minutes for 40 moves followed by 30 minutes with an increment of 30 seconds from move no.1
Replay Round 1 games
Round 1 results
Round 2 pairings
Links
Chess Association Kolhapur: Official site, and facebook
---