MPL 48th National Women R2: Sunyuktha shines against Isha
Sunyuktha C M N (TN) scored a clinical victory over WIM Isha Sharma (KAR) in the second round of MPL 48th National Women Chess Championship 2022. WCM Bristy Mukherjee (WB) defeated her statemate WIM Arpita Mukherjee (WB) after the latter missed a checkmate combination. Reigning Telangana State Women and Junior Girls champion, Sarayu Velpula held WIM Mahalakshmi M (RSPB) to a draw. A total of 22 women are at 2/2 including the top two seeds WGM Vantika Agrawal (DEL) and the defending champion, WGM Divya Deshmukh (MAH). Round 3 starts today at 10:30 a.m. Photo: Maharashtra Chess Association
Bristy swindles Arpita
Sunyuktha C M N (TN) played a model game against WIM Isha Sharma (KAR).The West Bengal State Junior Girls 2021 champion, WCM Bristy Mukherjee defeated WIM Arpita Mukherjee for the second time in 3.5 weeks. Rutuja Bakshi (MAH) seized her opportunity against CM Aparajita Gochhikar (ODI).
Isha - Sunyuktha: 0-1
Sunyuktha C M N (TN, 1820) launched a very simple yet devastating attack on WIM Isha Sharma's (KAR, 2212) king.
Whether White takes on b4 or not, there is no good way to prevent the onslaught which Black has planned. 21.cxb4 Rxb4 22.b3 Na3+ 23.Kb2 d5 opening up the bishop's path. 24.exd5 will be met by e4! Hence, 24.Qc3 Qxc3+ 25.Kxc3 Rc8+ 26.Kb2 Rc2+ 27.Ka1 dxe4 28.Bg4 Rd4 29.Ne3 Bb4 and White resigned as Bc3# threat is unstoppable.
Bristy - Arpita: 1-0
WCM Bristy Mukherjee (WB, 1817) opted for the Bird's opening 1.f4 against WIM Arpita Mukherjee (WB, 2211). It quickly transposed into a Stonewall structure. Despite having an advantageous position for the better part of the game, Arpita missed a simple checkmate combination.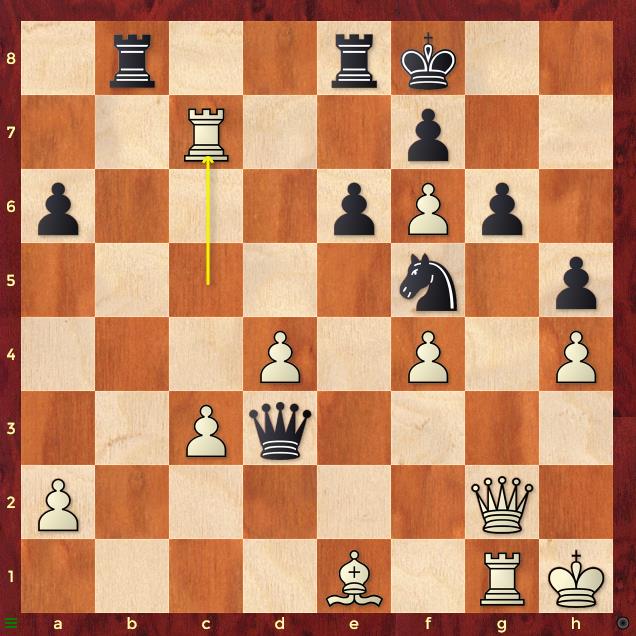 34.Rc7 has one threat 35.Rxf7+ Kxf7 36.Qxg6+ Kf8 37.Qg8#. 34...Ne3 would have defended the g6-pawn and Black would have been out of trouble after Ng4. She completely overlooked and enabled White's idea 34...Rb1 35.Rxf7+ and Black resigned.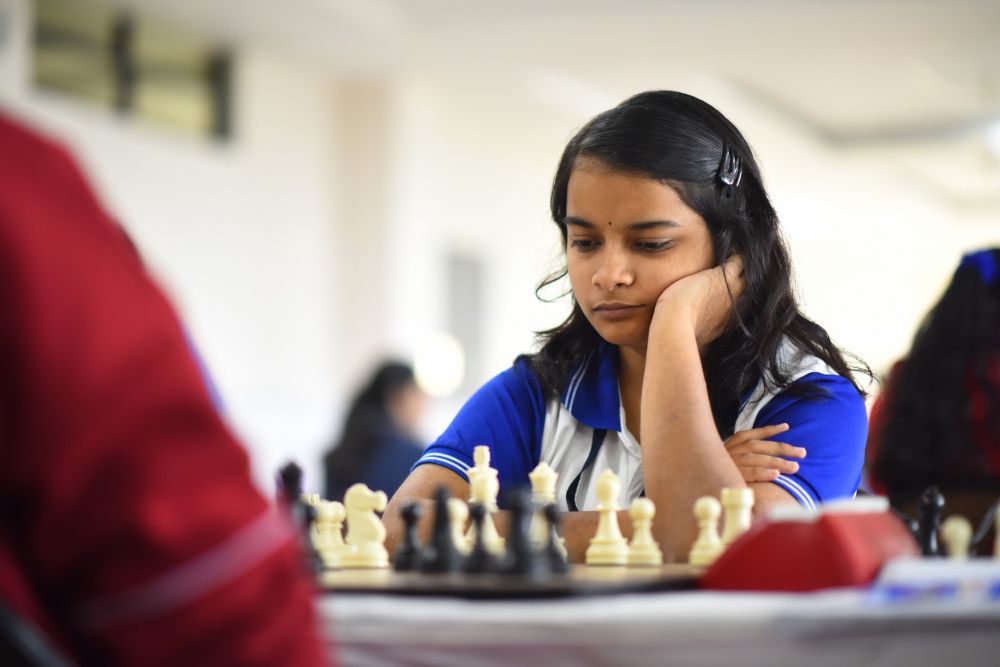 Aparajita - Rutuja
Sometimes letting things go is the best thing to do. Here White should have let the d2-rook go 32.Kh1 Rxd2 33.Nxh6+ Kg7 34.Qxg5+ Kh8 35.Qh4 and both players would have been forced to repeat moves and make a draw. However, 32.Rdf2 self-pinning the rook allowed Black to go 32...Rxf5 33.Bxf5 Bxf1 34.fxg5 Nd1 and White cannot save the rook.
A total of 102 players including 3 IMs, 7 WGMs and 12 WIMs are taking part in this tournament organized by Chess Association Kolhapur. The event is taking place at Sanjay Ghodawat University, Kolhapur, Maharasahtra from 26th December 2022 to 5th January 2023. The 11-round Swiss league tournament has a time control of 90 minutes for 40 moves followed by 30 minutes with an increment of 30 seconds from move no.1
Replay Round 2 games
Round 2 results
Round 3 pairings
Links
Chess Association Kolhapur: Official site, and facebook
---