MPL 48th National Women R8: Divya dethrones Mary
WGM Divya Deshmukh showcased her endgame prowess against WGM Mary Ann Gomes in the eighth round of MPL 48th National Women Chess Championship 2022. Divya has taken sole lead 7/8. Mary is the sole player in the chase at 6.5/8. She is closely followed by six players at 6/6. They are - WIM Sakshi Chitlange, WGM Vantika Agrawal, Sunyuktha C M N, IM Soumya Swaminathan, WIM Isha Sharma and WGM Srija Seshadri. Untitled Sunyuktha is having a great event. She defeated WIM Rucha Pujari convincingly and will now face the tournament leader Divya in Round 9 which starts today at 10:30 a.m. Photo: Chess Association Kolhapur
Divya closes in on retaining her crown
Apart from Sunyuktha, Maharashtra's very own Saniya Rafique Tadavi scored a big win over WGM Swati Ghate (LIC). She moved to 5.5/8. Samriddhaa Ghosh (WB) is the only other untitled player at 5.5/8. She was winning against WGM Varshini V (TN). However, she decided to allow a draw by perpetual check.
Divya - Mary: 1-0
Generally, Rook and minor piece endgame even being a pawn down is considered to have very less winning chances. However, the king's position apart from the coordination of the other pieces can also make a huge difference. Something like that is what happened between WGM Divya Deshmukh (MAH, 2347) and WGM Mary Ann Gomes (PSPB, 2320).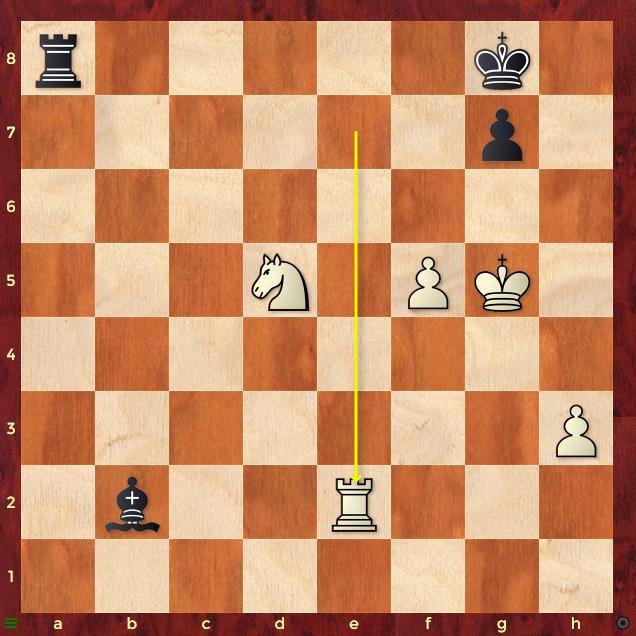 Black has to make a critical choice - Where to move the bishop safely? There are four options - a1, a3, c1 and d4. Which one is the best and why? Try to find out. The game continued 50...Bd4 51.Re4 Bb2 and Black went on to lose the game.
Rucha - Sunyuktha: 0-1
Sunyuktha C M N (TN, 1820) scored a huge win over WGM-elect WIM Rucha Pujari (MAH, 2229).
49.Qe6 Qxe6 50.Rxe6 would have kept the game going. However, 49.f5 turned things in Black's favor Kh7 50.Re6 Bd5 51.Re1 Qc7+ 52.g3 and now White's king is much weaker than Black's.
Varshini - Samriddhaa
Samriddhaa Ghosh (WB, 1778) was completely winning against WGM Varshini V (TN, 2141). She just needed to run away with the king 34...Kf8 35.Qh6+ Ke8 36.Qe3+ Qe5 White is out of checks and the knight cannot be saved either. Instead, Black allowed perpetual check 34...Kh7 35.Qh5+ Kg8 36.Qg5+ Kh7 37.Qh5+ Kg8 and it ended in a draw.
A total of 102 players including 3 IMs, 7 WGMs and 12 WIMs are taking part in this tournament organized by Chess Association Kolhapur. The event is taking place at Sanjay Ghodawat University, Kolhapur, Maharasahtra from 26th December 2022 to 5th January 2023. The 11-round Swiss league tournament has a time control of 90 minutes for 40 moves followed by 30 minutes with an increment of 30 seconds from move no.1
Replay Round 8 games
Round 8 results
Standings after Round 8
| | | | | | | | | | | | | | |
| --- | --- | --- | --- | --- | --- | --- | --- | --- | --- | --- | --- | --- | --- |
| Rk. | SNo | | Name | sex | FED | RtgI | Club/City | Pts. | TB1 | TB2 | TB3 | TB4 | TB5 |
| 1 | 2 | WGM | Divya Deshmukh | w | IND | 2347 | Maharashtra | 7 | 40 | 43,5 | 37,75 | 0 | 6 |
| 2 | 4 | WGM | Gomes Mary Ann | w | IND | 2320 | PSPB | 6,5 | 38,5 | 42,5 | 32,75 | 0 | 6 |
| 3 | 8 | WIM | Chitlange Sakshi | w | IND | 2213 | Maharashtra | 6 | 37,5 | 40,5 | 29,00 | 0 | 5 |
| 4 | 1 | WGM | Vantika Agrawal | w | IND | 2352 | Delhi | 6 | 36 | 39,5 | 28,25 | 0 | 4 |
| 5 | 40 | | Sunyuktha C M N | w | IND | 1820 | Tamil Nadu | 6 | 35,5 | 38 | 27,75 | 0 | 5 |
| 6 | 3 | IM | Soumya Swaminathan | w | IND | 2322 | PSPB | 6 | 35 | 38,5 | 27,75 | 0 | 5 |
| 7 | 9 | WIM | Sharma Isha | w | IND | 2212 | Karnataka | 6 | 34 | 37,5 | 26,75 | 0 | 5 |
| 8 | 11 | WGM | Srija Seshadri | w | IND | 2204 | Tamil Nadu | 6 | 34 | 37,5 | 25,50 | 0 | 6 |
| 9 | 20 | WIM | Makhija Aashna | w | IND | 2123 | Maharashtra | 5,5 | 38,5 | 42 | 25,75 | 0 | 5 |
| 10 | 17 | WFM | Shah Vishwa | w | IND | 2128 | Maharashtra | 5,5 | 36 | 38,5 | 23,50 | 0 | 5 |
| 11 | 14 | IM | Mohota Nisha | w | IND | 2197 | PSPB | 5,5 | 34,5 | 38,5 | 26,00 | 0 | 4 |
| 12 | 5 | IM | Kulkarni Bhakti | w | IND | 2319 | Goa | 5,5 | 34,5 | 38 | 25,25 | 0 | 4 |
| 13 | 21 | WFM | Nimmy A.G. | w | IND | 2110 | Kerala | 5,5 | 34,5 | 38 | 23,25 | 0 | 4 |
| 14 | 45 | | Ghosh Samriddhaa | w | IND | 1778 | West Bengal | 5,5 | 33 | 35,5 | 23,00 | 0 | 4 |
| 15 | 15 | WGM | Varshini V | w | IND | 2141 | Tamil Nadu | 5,5 | 32 | 35,5 | 23,00 | 0 | 4 |
| 16 | 62 | | Saniya Rafique Tadavi | w | IND | 1569 | Maharashtra | 5,5 | 31,5 | 34 | 21,25 | 0 | 5 |
| 17 | 10 | WIM | Arpita Mukherjee | w | IND | 2211 | West Bengal | 5 | 36,5 | 40,5 | 25,00 | 0 | 4 |
| 18 | 6 | WIM | Mahalakshmi M | w | IND | 2257 | RSPB | 5 | 35,5 | 39,5 | 23,50 | 0 | 3 |
| 19 | 22 | WFM | Deodhar Vrushali Umesh | w | IND | 2108 | Maharashtra | 5 | 35,5 | 38 | 20,50 | 0 | 5 |
| 20 | 39 | WFM | Potluri Supreetha | w | IND | 1823 | Andhra Pradesh | 5 | 34,5 | 37 | 20,25 | 0 | 4 |
Round 9 pairings
Links
Chess Association Kolhapur: Official site, and facebook
---