MPL 48th National Women R7: Mary Ann maintains her sole lead
WGM Mary Ann Gomes defeated IM Soumya Swaminathan to maintain her sole lead 6.5/7 at MPL 48th National Women Chess Championship 2022. Defending champion, WGM Divya Deshmukh won against WIM Aashna Makhija to stay in the hunt 6/7. Mary will face Divya in the eighth round. Three women including the top seed are at 5.5/7 each. They are - WIM Sakshi Chitlange, WGM Vantika Agrawal and WIM Isha Sharma. WGM-elect Sakshi scored quite possibly the best win of the round against IM Bhakti Kulkarni. The former did not let her opponent get out of the gate and won the game in just 24 moves. Round 8 starts today at 10:30 a.m. Photo: Chess Association Kolhapur
Divya in pursuit
How do you know that everyone is giving their best shot and no one wants anything less than the best? The results of the top 12 boards can attest to it as there were not a single draw in those games. Only two draws occurred among the top 15 boards.
Mary - Soumya: 1-0
Just when it seemed like that the game between WGM Mary Ann Gomes (PSPB, 2320) and IM Soumya Swaminathan (PSPB, 2322) was heading towards a draw, the latter erred.
35...f6 allowed White to pin the bishop on the e-file 36.Re2 Kg6. Now White needed to go 37.Nf5! Re8 38.Rg2+ Kh7 39.Rg7+ Kh8 40. Rxb7 and White is winning. Time trouble possibly made it difficult to find the continuation. Hence, White opted for 37.c5 a humane approach of solidifying the knight at d6. 37...f5 38.Nxb7 Rxb7?? Black need not capture the knight to stay in the game. 39.Rxe6+ Kf7 40.Rxc6 now White is winning due to have two extra pawns.
Divya - Aashna: 1-0
WGM Divya Deshmukh (MAH, 2347) defeated WIM Aashna Makhija (MAH, 2123) to stay in the hunt for her title defense at 6/7.
Sakshi - Bhakti: 1-0
WIM Sakshi Chitlange (MAH, 2213) made a short work of IM Bhakti Kulkarni (Goa, 2319) in 24 moves. The latter could not get out of the gate as she erred early in the game 12...Ne4.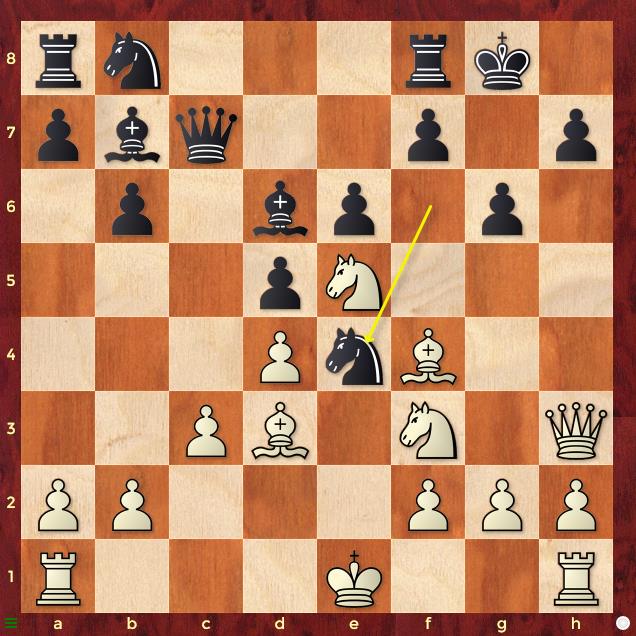 12...Ne4 is simply not the right time to play. 13.Bxe4 dxe4 14.Ng5 and Black's kingside is crumbling. There is no good defense. 14...f6 15.Qxe6+ Kg7 16.Ngf7 g5 17.Bxg5 Rxf7 18.Bh6+! Kg8 19.Nxf7 and White won the game in another five moves.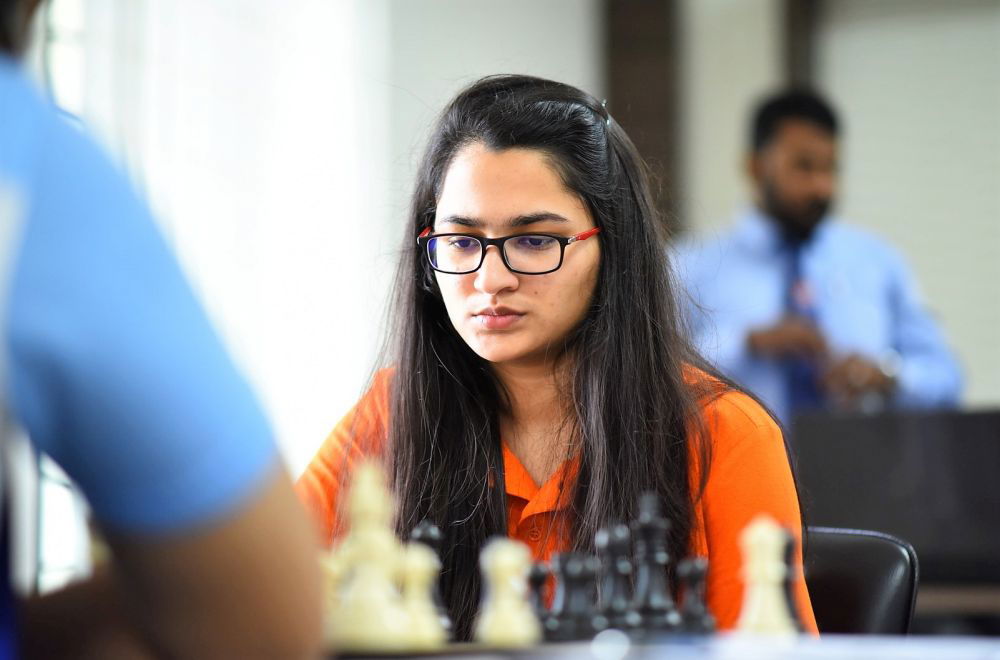 A total of 102 players including 3 IMs, 7 WGMs and 12 WIMs are taking part in this tournament organized by Chess Association Kolhapur. The event is taking place at Sanjay Ghodawat University, Kolhapur, Maharasahtra from 26th December 2022 to 5th January 2023. The 11-round Swiss league tournament has a time control of 90 minutes for 40 moves followed by 30 minutes with an increment of 30 seconds from move no.1
Replay Round 7 games
Round 7 results
Standings after Round 7
| | | | | | | | | | | | | | |
| --- | --- | --- | --- | --- | --- | --- | --- | --- | --- | --- | --- | --- | --- |
| Rk. | SNo | | Name | sex | FED | RtgI | Club/City | Pts. | TB1 | TB2 | TB3 | TB4 | TB5 |
| 1 | 4 | WGM | Gomes Mary Ann | w | IND | 2320 | PSPB | 6,5 | 27 | 30 | 27,75 | 0 | 6 |
| 2 | 2 | WGM | Divya Deshmukh | w | IND | 2347 | Maharashtra | 6 | 28,5 | 32 | 27,00 | 0 | 5 |
| 3 | 8 | WIM | Chitlange Sakshi | w | IND | 2213 | Maharashtra | 5,5 | 29 | 32 | 24,25 | 0 | 5 |
| 4 | 1 | WGM | Vantika Agrawal | w | IND | 2352 | Delhi | 5,5 | 27,5 | 31 | 23,25 | 0 | 4 |
| 5 | 9 | WIM | Sharma Isha | w | IND | 2212 | Karnataka | 5,5 | 24 | 27 | 20,25 | 0 | 5 |
| 6 | 20 | WIM | Makhija Aashna | w | IND | 2123 | Maharashtra | 5 | 31 | 33,5 | 21,00 | 0 | 5 |
| 7 | 3 | IM | Soumya Swaminathan | w | IND | 2322 | PSPB | 5 | 27 | 30 | 19,75 | 0 | 4 |
| 8 | 40 | | Sunyuktha C M N | w | IND | 1820 | Tamil Nadu | 5 | 27 | 28,5 | 19,50 | 0 | 4 |
| 9 | 14 | IM | Mohota Nisha | w | IND | 2197 | PSPB | 5 | 26,5 | 30 | 20,75 | 0 | 4 |
| 10 | 39 | WFM | Potluri Supreetha | w | IND | 1823 | Andhra Pradesh | 5 | 26 | 28,5 | 18,25 | 0 | 4 |
| 11 | 5 | IM | Kulkarni Bhakti | w | IND | 2319 | Goa | 5 | 25 | 28,5 | 19,25 | 0 | 4 |
| 12 | 11 | WGM | Srija Seshadri | w | IND | 2204 | Tamil Nadu | 5 | 25 | 27,5 | 17,50 | 0 | 5 |
| 13 | 45 | | Ghosh Samriddhaa | w | IND | 1778 | West Bengal | 5 | 24,5 | 26,5 | 17,50 | 0 | 4 |
| 14 | 15 | WGM | Varshini V | w | IND | 2141 | Tamil Nadu | 5 | 24 | 27,5 | 18,75 | 0 | 4 |
| 15 | 7 | WIM | Pujari Rucha | w | IND | 2229 | Maharashtra | 5 | 24 | 27 | 18,50 | 0 | 4 |
| 16 | 44 | WIM | Chandreyee Hajra | w | IND | 1779 | West Bengal | 5 | 22 | 24,5 | 17,50 | 0 | 4 |
| 17 | 41 | WCM | Bristy Mukherjee | w | IND | 1817 | West Bengal | 4,5 | 29 | 31,5 | 19,25 | 0 | 4 |
| 18 | 10 | WIM | Arpita Mukherjee | w | IND | 2211 | West Bengal | 4,5 | 28,5 | 31,5 | 19,00 | 0 | 4 |
| 19 | 17 | WFM | Shah Vishwa | w | IND | 2128 | Maharashtra | 4,5 | 28 | 30,5 | 16,50 | 0 | 4 |
| 20 | 6 | WIM | Mahalakshmi M | w | IND | 2257 | RSPB | 4,5 | 27,5 | 31 | 19,25 | 0 | 3 |
Round 8 pairings
Links
Chess Association Kolhapur: Official site, and facebook
---