Divya Deshmukh clinches MPL 48th National Women Chess Championship 2022 convincingly
WGM Divya Deshmukh defeated IM Bhakti Kulkarni in the final round to become a clear champion at MPL 48th National Women Chess Championship 2022. This is her second consecutive National Women title where she remained undefeated and finished a full point ahead at 9.5/11. WGM Mary Ann Gomes won against WIM Rucha Pujari to finish second scoring 9/11. Top seed of the tournament, WGM Vantika Agrawal overcame IM Nisha Mohota to finish third with a sole 8.5/11. Since 2011, every single National Women's champion won the event at least twice in-a-row and Divya maintained that record. Photo: AICF
Divya domination continues
The top five boards had decisive results in the final round. No tie-breaks were required to determine the podium finishers. Three WGMs secured the first, second and third place.
Divya - Bhakti
IM Bhakti Kulkarni (Goa, 2319) made a correct sacrifice of her bishop for two pawns. 31...Bxc3! 32.bxc3 Rxc3 33.Rb5 Rc2 34.Re1 and now Black needed to defend the e7-pawn with Kf8 and prevent any possibilities of counter-attack. Instead, 34...b2 35.Rxe7+ Kf8 36.Rxh7 Kg8 to prevent Rh8+ skewer. 37.Rhb7 Rd8? 38.Rxb2 and it's over for Black.37...Rf2 would have still continued the fight. With this win, WGM Divya Deshmukh (MAH, 2347) became National Women champion for the second consecutive edition.
Mary - Rucha
22.d4 is only a good move if Black takes it with the c5-pawn. 22...Rxd4 23.Rxd4 cxd4 24.Nd5 Qd8 and Black avoids a double pawn on the f-file. However, Black made an incorrect capture 22...cxd4 which allowed 23.Nd5! Qb7 24.Nxf6+ gxf6 25.Ng4 e5 26.Nxh6+ and the knight returned to d5 via f5-e7. The knight played a key role in earning white a victory. This win allowed WGM Mary Ann Gomes (PSPB, 2320) to finish second with a 9/11 score.
Nisha - Vantika
Black's position is so good that both 22...Nd3 and Nf3+ works. WGM Vantika Agrawal (DEL, 2352) went for the more solid one 22...Nd3. She need not take a risk in the final round and it was positionally winning. 22..Nf3+ is the more interesting one. Vantika went on to win the game and finish third with a score of sole 8.5/11.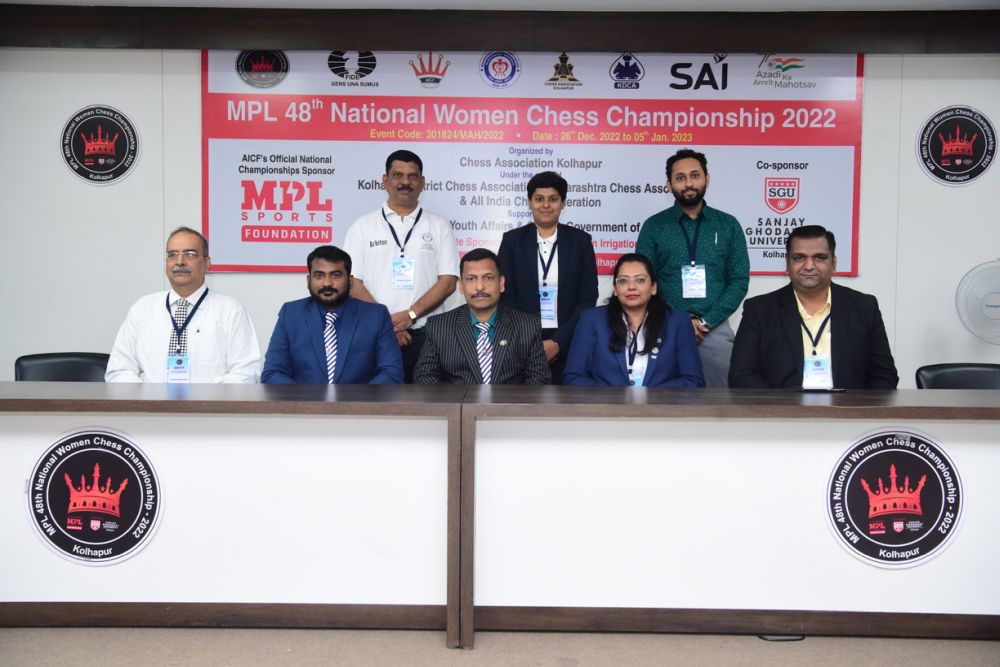 A total of 102 players including 3 IMs, 7 WGMs and 12 WIMs took part in this tournament organized by Chess Association Kolhapur. The event was held at Sanjay Ghodawat University, Kolhapur, Maharasahtra from 26th December 2022 to 5th January 2023. The 11-round Swiss league tournament had a time control of 90 minutes for 40 moves followed by 30 minutes with an increment of 30 seconds from move no.1
Replay Round 11 games
Round 11 results
Final standings
| | | | | | | | | | | | | | |
| --- | --- | --- | --- | --- | --- | --- | --- | --- | --- | --- | --- | --- | --- |
| Rk. | SNo | | Name | sex | FED | RtgI | Club/City | Pts. | TB1 | TB2 | TB3 | TB4 | TB5 |
| 1 | 2 | WGM | Divya Deshmukh | w | IND | 2347 | Maharashtra | 9,5 | 74,5 | 81 | 69,25 | 0 | 8 |
| 2 | 4 | WGM | Gomes Mary Ann | w | IND | 2320 | PSPB | 9 | 73 | 79,5 | 62,25 | 0 | 8 |
| 3 | 1 | WGM | Vantika Agrawal | w | IND | 2352 | Delhi | 8,5 | 72,5 | 77,5 | 57,75 | 0 | 6 |
| 4 | 8 | WIM | Chitlange Sakshi | w | IND | 2213 | Maharashtra | 8 | 71 | 76,5 | 54,25 | 0 | 6 |
| 5 | 9 | WIM | Sharma Isha | w | IND | 2212 | Karnataka | 8 | 70 | 75 | 53,00 | 0 | 6 |
| 6 | 5 | IM | Kulkarni Bhakti | w | IND | 2319 | Goa | 7,5 | 70,5 | 76 | 48,25 | 0 | 6 |
| 7 | 3 | IM | Soumya Swaminathan | w | IND | 2322 | PSPB | 7,5 | 69,5 | 74,5 | 47,00 | 0 | 6 |
| 8 | 11 | WGM | Srija Seshadri | w | IND | 2204 | Tamil Nadu | 7,5 | 68,5 | 73,5 | 44,00 | 0 | 7 |
| 9 | 10 | WIM | Arpita Mukherjee | w | IND | 2211 | West Bengal | 7,5 | 68 | 73,5 | 49,50 | 0 | 6 |
| 10 | 15 | WGM | Varshini V | w | IND | 2141 | Tamil Nadu | 7,5 | 63 | 68 | 45,25 | 0 | 5 |
Links
Chess Association Kolhapur: Official site and facebook
---