National Premier 2017 Round 12: Aravindh or Lalith?
What a grand finale we have at the National Premier 2017. In the penultimate round Lalith beat S.L. Narayanan with the black pieces - a fantastic feat. Aravindh, on the other hand, powered through time pressure to get the full point against Himanshu Sharma. With both of them on 8.5/12, and one and a half point ahead of the pack, we are sure to have a new National Champion! Who will it be? Your guess is as good as mine. We will have to wait for the games to begin at 10 a.m. on 10th of November. But for now we will take you through all the action that took place in the 12th round. Report from Patna.
Lalith and Aravindh lead with 8.5/12

At the start of the eleventh round we had two leaders: Lalith Babu and Aravindh Chithambaram, both of 7.5/11. Going into the twelfth round it was clear that Aravindh had the best chance to forge ahead. The Chennai lad faced the out of form Himanshu Sharma with the white pieces. On the other hand Lalith Babu had a tough challenge in the form of S.L. Narayanan and that too with the black pieces. Let's have a look at these two crucial games one by one.
S.L. Narayanan vs Lalith Babu
When S.L. Narayanan played his pawn to e4, we expected Lalith to reply with 1...c6. However, today was solid as a rock and went for 1...e5. Although Narayanan was prepared until the 16th move, it didn't make much of a difference as the position was not so sharp.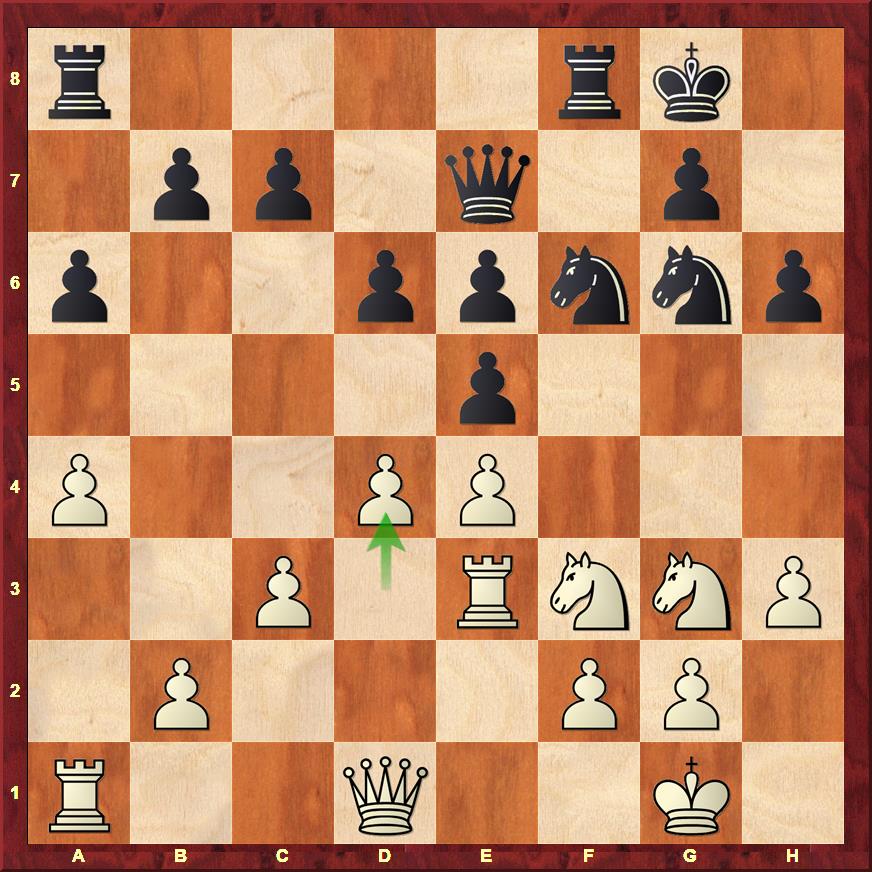 Lalith made sure that White went nowhere with his play. At the same time he started to pile up pressure. First he doubled his rooks down the f-file, and then he began to probe with his queen and knight on the kingside. Meanwhile Narayanan didn't make any real headway on the queenside or the centre. The critical moment was reached when the Kerala boy pushed his f-pawn:
It was a game that Lalith was very happy about. "I am just glad that I am beating these guys (Narayanan, Aravindh)", says Lalith after the game. Lalith Babu is already gaining 16 Elo points from the tournament, which is quite a fine result. We caught up with him after the game:
Aravindh Chithambaram vs Himanshu Sharma
The other crucial game of the day was between Aravindh Chithambaram and Himanshu Sharma. Himanshu played the Petroff. It was the first time he did in his chess career it seems. Aravindh chose a relatively safe line in which he would get a slight edge and where he can keep pressing. This turned out to be the right choice as Himanshu was unable to show accurate play and let White pieces come all over his position.
Here's one position that shows you how talented Aravindh is. After the game Aravindh told me that he had two options here. One was to take on g5 with Nxg5 and the other was to take on d5 with the queen - Qxd5. "I think the computer will prefer Qxd5, but I went for Nxg5, because humanly it is much more safe." When I came back home and checked with the engine, everything that Aravindh said was 100% correct! Qxd5 was a tad better move, but Nxg5 wasn't bad at all and much more easy for humans to play as it is forcing in nature. This shows that Aravindh can understand not only the dynamics of the position so well, but also computer assessments and choosing the best practical solution. A true product of the modern chess era!
Replay all the games of round 12
Previous reports:
India's strongest tournament National Premier 2017 is here!
R1: Deepan carries his Challengers form to the Premier
R2: How to beat Ruy Lopez Exchange
R3: Capablanca's theorem helps Aravindh
R5: Shete scores a stunning win
R6: Aravindh Chithambaram is the sole leader
R8: Winning this tournament is not Aravindh's aim
R9: Lalith Babu throws the tournament wide open
R10: Can Lalith win his maiden National Premier title
Hindi coverage by Niklesh Jain:
नेशनल प्रीमियर-R1- दीपन के प्यादों में उलझे हिमांशु
नेशनल प्रीमियर R-2- जब राजा निकला घूमने !
अरविंद - अर्घ्यदीप की पहली जीत
नेशनल प्रीमियर R-4 - अब आया खेल का मजा !
नेशनल प्रीमियर-R-5 : उलटफेर अभिजीत कुंटे हारे
नेशनल प्रीमियर-R-6 -अरविंद निकले सबसे आगे !
नेशनल प्रीमियर-R-7-विश्राम के बाद :जमकर हुए प्रहार
नेशनल प्रीमियर-R-8 -अरविंद के कदम खिताब की ओर
नेशनल प्रीमियर-R-9-ललित के कमाल से अरविंद बेहाल
नेशनल प्रीमियर R10 -ललित का विजयरथ क्या दीपन रोकेंगे !
नेशनल प्रीमियर R11 :रोमांचक हुई खिताब की दौड़
---