National Premier 2017 Round 3: Capablanca's theorem helps Aravindh!
A brief glance at the crosstable after round 3 convinces you how difficult the National Premier 2017 is. Four players are leading the tournament, but with a score of just 2.0/3. Each and every player is well matched and the event is providing some good fighting chess. In round three, two decisive games were also the most interesting ones as Aravindh managed to outfox Laxman in what Capablanca called was a theoretical edge for a side with the knight, Arghyadip Das scored a fine win against Deepan Chakkravarthy. A detailed report on round three.
Results of Round three:
Two decisive games each round seems to be the norm of the tournament. Today Aravindh Chithambaram was able to outplay Laxman and Arghyadip Das got the better of Deepan. Rest of the games ended in draws. Let's have a look at what happened in those games:
| | | | | | | | | | |
| --- | --- | --- | --- | --- | --- | --- | --- | --- | --- |
| Bo. | No. | Rtg | | Name | Result | | Name | Rtg | No. |
| 1 | 2 | 2503 | GM | Kunte Abhijit | ½ - ½ | GM | Swapnil S. Dhopade | 2516 | 14 |
| 2 | 3 | 2573 | GM | Aravindh Chithambaram Vr. | 1 - 0 | GM | Laxman R.R. | 2392 | 1 |
| 3 | 4 | 2310 | | Sammed Jaykumar Shete | ½ - ½ | GM | Karthikeyan Murali | 2578 | 13 |
| 4 | 5 | 2477 | GM | Deepan Chakkravarthy J. | 0 - 1 | IM | Das Arghyadip | 2434 | 12 |
| 5 | 6 | 2568 | GM | Sunilduth Lyna Narayanan | ½ - ½ | GM | Debashis Das | 2494 | 11 |
| 6 | 7 | 2525 | GM | Lalith Babu M R | ½ - ½ | GM | Himanshu Sharma | 2510 | 10 |
| 7 | 8 | 2415 | IM | Nitin S. | ½ - ½ | IM | Shyaamnikhil P | 2422 | 9 |
Aravindh Chithambaram vs Laxman
Capablanca devised a rule for the endgame that queen plus knight is better than queen plus bishop. If you think for a few minutes this makes complete sense. The queen can always move like a bishop (diagonally), but it can never move like a knight. Hence, the combo of a queen + knight is much more dangerous than that of a queen + bishop. To know this theoretically is one thing and to actually see this pan out in practice is quite another. In the third round of the Khadi India National Premier 2017 Aravindh managed to showcase this rule in praxis.
While this position is not winning by any stretch of imagination, Black has an unpleasant task ahead. Mainly because his king is also exposed. Slowly and steadily Aravindh kept probing and at the end was able to make a breakthrough.
In case you would like to study this endgame further we would heartily recommend you this DVD by Karsten Mueller where he covers the top of queen + knight vs queen + bishop.
Deepan Chakravarthy vs Arghyadip Das
Arghyadip started off with the Petroff. A clear indication that he would be happy with a peaceful result. And why not! He had the black pieces and his opponent has been in good form lately. But I think the Petroff was a very wise choice against Deepan. Mainly because Deepan has been playing pretty active chess recently. It was a good idea to let him call the shots. And such is the nature of Petroff, if you overstretch, you land up in trouble! This is exactly what happened.
d5?! When you see a move like d5 it seems like an extremely thematic move because after Nbxd5 Nxd5 cxd5, you can blockade with your own knight on d4 and this seems like putting a lot of pressure on Black. But after...
...Re4 it became clear that White was not only a pawn down but also under pressure! With Rc8-c4 coming up, Arghyadip went on to collect the full point.
I have this belief that whenever you play a certain idea in chess it is motivated by something you have seen before. Take for example this game played at the 2015 National Premier where Deepan had the white pieces against Sahaj Grover: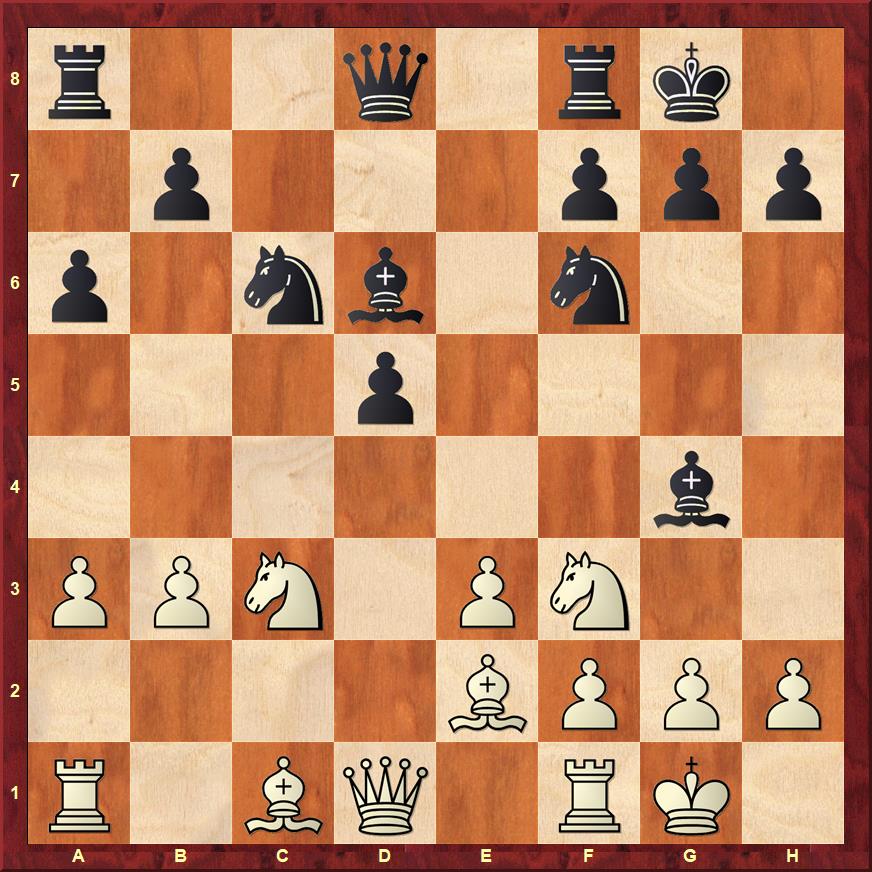 In this position with Black to play Sahaj sacrificed a pawn with d5-d4! and after exd4, he moved his queen to a5, ready to transfer it to h5! A very nice idea. Somehow Deepan's d4-d5 seemed to have been motivated by what he faced against Grover. The game is given below in full:
Kunte vs Dhopade showed that Swapnil was not in a good form at this event. Kunte's opening innovation turned out badly as he landed in a pawn down position with no real compensation. But he batttled on and near time pressure he not only found himself overcoming his troubles but also emerging with an extra pawn. However, it was not possible to win and the players settled for a draw.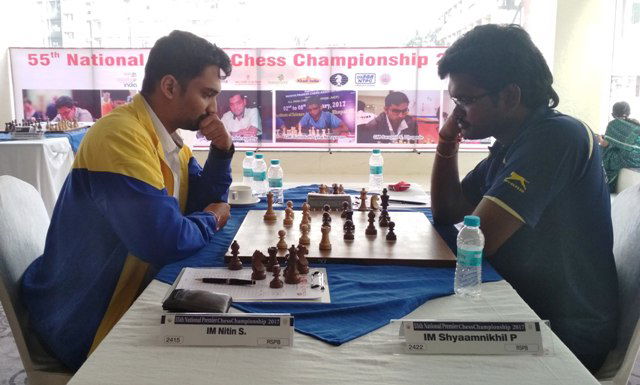 S.L. Narayanan vs Debashis Das was one of those typical games where Debashis came excellently prepared to the game and gave his opponent absolutely no chances to play for a win with the white pieces:
The last and the very surprising game of the day was surely Sammed Shete against Karthikeyan Murali. Sammed played the game really well and put the defending champion under great pressure. However, when the time came to cash in, he accepted a draw. Of course, we can all understand the initial jitters that Sammed is going through as this is his first national premier. But if he doesn't try in such position, leave alone converting them, he is going to face some big issues later on in the tournament. But in any case the boy has been impressive. Three draws in three games in his first National Premier is very encouraging.
Crosstable after round 3:
Previous reports:
India's strongest tournament National Premier 2017 is here!
R1: Deepan carries his Challengers form to the Premier
R2: How to beat Ruy Lopez Exchange
Hindi coverage by Niklesh Jain:
नेशनल प्रीमियर-R1- दीपन के प्यादों में उलझे हिमांशु
नेशनल प्रीमियर R-2- जब राजा निकला घूमने !
अरविंद - अर्घ्यदीप की पहली जीत
---