National Premier 2017 Round 8: Winning this tournament is not Aravindh's aim!
"Winning the tournament is not my aim. I just want to make good moves!" That's what Aravindh Chithambaram said after he beat S.L. Narayanan in the eighth round of the National Premier 2017. How can one beat a man with such an attitude? Aravindh sacrificed a piece and played some sublime chess to extend his lead by a full point over Lalith Babu and Arghyadip Das. This round had four decisive encounters, we bring you the analysis of the same. Round eight report by our authors Sagar Shah and Amruta Mokal from Patna, Bihar.

Chess as a game is difficult to understand, but chess players are even tougher to decrypt. Their emotions, feelings and behaviour that you see during a game depends a lot on the personality. For eg. a player walking in the tournament hall might be doing it because he is tensed, but it is also quite possible that he feels really happy with his position and just wants to loosen up. I have seen most of the participants playing at the National Premier 2017 at a close distance. In fact 13 out of the 14 players have been my opponents at some point or the other. I can say, I know each of them pretty well and in some way I did feel that the tension and pressure in the hall had increased as compared to the previous rounds. As each day passes we are coming closer to the end, and somewhere down each player has the hope that he could be the national champion!
Aravindh Chithambaram vs S.L. Narayanan
From the championship point of view, the most crucial game of the round was surely the one between Aravindh Chithambaram and S.L. Narayanan. Aravindh was leading the tournament with 5.0/7 and half point below him was S.L. Narayanan. When Aravindh opened the game with 1.e4 and his opponent replied with 1...e5, I felt that the game would end in a sedate draw. After all both the youngsters are tremendously talented. My feeling was further strengthened when we reached a position with a symmetrical pawn structure. Just when it seemed as if the players would agree to a draw soon, Aravindh unleashed an amazing piece sacrifice.
For Aravindh, the move Bxh6 was as natural as a baby's smile. Once the piece was sacrificed, White kept up the momentum, kept finding the best moves and S.L.Narayanan couldn't do much. After analyzing the game for some time I have come to the conclusion that Black is almost lost in the position. White's attack flows naturally.
After the game I had a small chat with Aravindh. While his calculations amazed me (check the video below), what was truly special was his approach towards the game. "Winning the tournament is not my aim," said Aravindh. "Making good moves is." Each and every young and budding player of our country should draw a leaf out of Aravindh's book. The lad loves to play chess and doesn't think too much about the results. A perfect attitude.
Karthikeyan Murali vs Shyam Nikhil
For Shyam Nikhil this tournament has been nothing special. With a -2 score, he hadn't won a game. However, he scored the biggest upset of the event as he beat the top seed and the two-time national champion Karthikeyan Murali with the black pieces in a Sicilian Najdorf.
The critical moment of the game happened in the above position. Black has just taken the bishop on d5. Now White had to take the knight on f4 and this would have led to a round about equal position. However, Karthikeyan took exd5 which was met with a very surprising refutation. Can you find Black's powerful move?
Karthikeyan and S.L. Narayanan were trailing Aravindh by half a point. With both of them losing Aravindh now has a one point lead over the field.
Arghyadip Das vs Himanshu Sharma
Arghyadip Das when he spoke to ChessBase India before the rest day said that he was happy to have a score of 3.0/6. His father was already present in Patna. His mother arrived on the rest day. The trio went to Nalanda and it seems that the trip has done wonders to Arghyadip's play. He played a fine game in the seventh round to beat Shyam Nikhil and now he downed Himanshu Sharma with the white pieces. Himanshu's choice of opening wasn't the best and Arghyadip built up his position slowly and steadily and never really gave his opponent any chances.
Sammed Shete vs Deepan Chakkravarthy
Sammed had been holding his own against the best players in the tournament in the first half of the event. In the last two rounds he lost against Aravindh Chithambaram and Swapnil Dhopade. Once you start to show some weakness in such a strong tournament, these sharks won't leave you alone. Deepan took advantage of this pairing and played the sharp Najdorf. Sammed was unable to navigate the complications so well and was left with a pawn down position. Deepan converted the position with quite some ease as his passed pawns rolled down the board.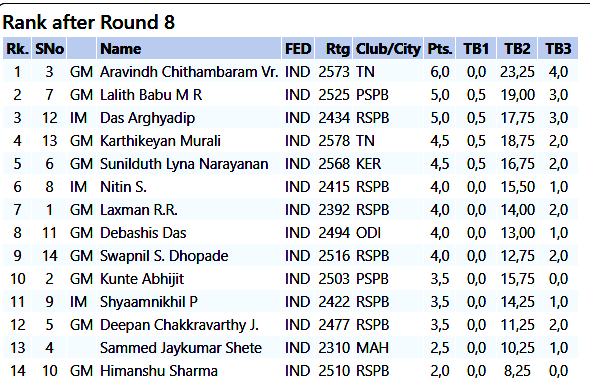 Previous reports:
India's strongest tournament National Premier 2017 is here!
R1: Deepan carries his Challengers form to the Premier
R2: How to beat Ruy Lopez Exchange
R3: Capablanca's theorem helps Aravindh
R5: Shete scores a stunning win
R6: Aravindh Chithambaram is the sole leader
Hindi coverage by Niklesh Jain:
नेशनल प्रीमियर-R1- दीपन के प्यादों में उलझे हिमांशु
नेशनल प्रीमियर R-2- जब राजा निकला घूमने !
अरविंद - अर्घ्यदीप की पहली जीत
नेशनल प्रीमियर R-4 - अब आया खेल का मजा !
नेशनल प्रीमियर-R-5 : उलटफेर अभिजीत कुंटे हारे
नेशनल प्रीमियर-R-6 -अरविंद निकले सबसे आगे !
नेशनल प्रीमियर-R-7-विश्राम के बाद :जमकर हुए प्रहार
नेशनल प्रीमियर-R-8 -अरविंद के कदम खिताब की ओर
---