National Premier 2017 Round 9: Lalith Babu throws the tournament wide open
Just before the ninth round began we received messages like: This tournament is meant to be Aravindh's, the youngster from Chennai is on fire, sublime play by the 18-year-old and so on. With one point lead and five rounds to go Aravindh was in the driver's seat. But Lalith Babu had some different intentions. He came to the game with great confidence and managed to show some very balanced play to outplay Chithambaram. With this victory the tournament is wide open once again. Aravindh and Lalith lead the event with 6.0/9. Right on their heels are Karthikeyan Murali, Arghyadip Das and S.L. Narayanan who are on 5.5/9. A detailed account of all the happenings from Patna.
"Having nothing to lose" is a good attitude to play chess with. When you having nothing to lose, you do not take much pressure and when you don't have the pressure, you are able to bring out the best chess within you. " The last time I won a tournament was 3-4 years ago. I am not looking to win this event," says GM Lalith Babu who was the hero of the ninth round of the Khadi India National Premier 2017.
Aravind looked unbeatable in the tournament and many experts felt that he was playing the tournament of his life. But the tame fashion in which he lost on Monday showed that he still has to work quite a bit on his consistency in the game.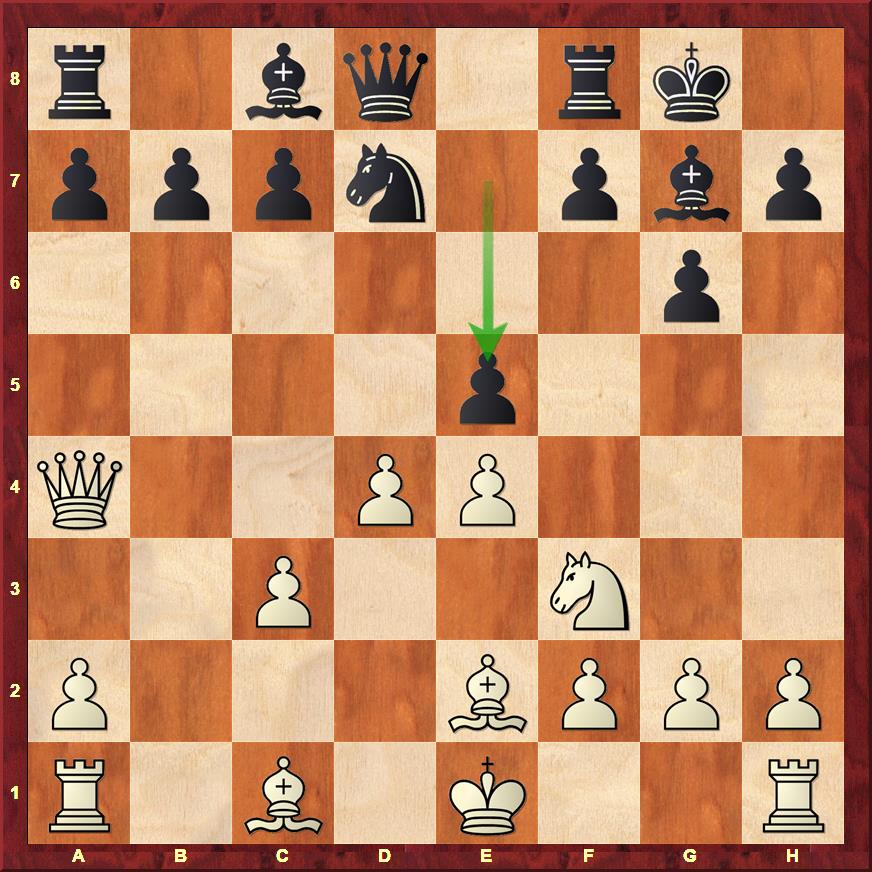 Deepan Chakkravarthy vs Swapnil Dhopade
Another game which caught everyone's attention was Deepan Chakkravarthy's fantastic victory against Swapnil Dhopade. Deepan played the two knights variation in the Caro Kann and we soon reached a position which resembled a lot like the Winawer Variation in the French.
The key to Black's position after the queen sacrifice was the pawn on d5. It's the only barrier between the white pieces and the black king. With the knight on e3 and the bishop on g2, the d5 pawn soon fell, the floodgates were opened and before you even knew it, Swapnil had to resign the game.
S. Nitin vs Abhijit Kunte
Abhijit Kunte is a player for whom I have great respect. In spite of being 40 years old, husband, father to two kids, employed with Petroleum, working with Lakshya Foundation to help chess players all over India, he still manages to play at a very high level. You don't see him blundering so easily. He did that against Sammed Shete in this event, but apart from that he was solid as a rock with seven out of eight draws.
But on Monday, Kunte was completely out of form as he blundered two pawns in one move and had to shortly resign against S. Nitin. The lad from Tamil Nadu had prepared a new idea against Abhijit's Sicilian Kan.
Himanshu Sharma vs Karthikeyan Murali
If there is someone for whom my heart goes out, it has to be GM Himanshu Sharma. Haryana's first grandmaster has faced five defeats at this event and is currently on 2.0/9. The mark of a true fighter is the one who can keep up his spirits even in such a situation. When Himanshu resigned his game against Karthikeyan, I walked up to him, just to strike a conversation. Himanshu did look a bit sad, but he shook my hand powerfully, like he does always and said, "Pata hai kal meine apne room-mate ko party di! Jeet mein to sabhi dete hai, meine socha haar ko manate hai!" (You know, yesterday I gave a party to my room mate. When someone wins you always celebrate, but I decided to celebrate my loss!)
In the Ruy Lopez Exchange, Himanshu got no real edge out of the opening. In fact, as the game progressed Karthikeyan's position kept getting better. He very smoothly converted the game into a full point.
S.L. Narayanan vs Sammed Shete
S.L. Narayanan played quite risky chess against Sammed Shete with the white pieces. He let his opponent build up a strong centre and hoped that he would get targets to attack. But Sammed was careful. He just stationed his pieces perfectly and before you knew it, S.L. Narayanan was already losing. The Kerala lad kept finding some tricks to keep the position going, but if Sammed would have been careful, he would have converted the position. As it turned out time pressure coupled with a lack of self belief led to Shete's downfall as Narayanan notched up a win.
No tournament can be successful without the arbiters. The team of (from left to right) Nitin Shenvi, Dharmendra Kumar, R. Anantharam and P.N. Rao are doing a fantastic job. When I reach the tournament hall in the morning, they are there with everything in place for the players right from scoresheets, to water bottles, to live broadcast. Prof. Anantharam is an embodiment of energy and tremendous love for the game of chess. He not only works as an arbiter here (he is the chief arbiter!), but he also writes daily reports for All India Chess Federation and other periodicals. At the age of 68 I wonder if I could ever be able to achieve even half of what he is doing right now! Dharmendra Kumar is and has been known in Indian chess circles as an arbiter, but with Bihar Chess on the rise and the state organizing such fine events, he will have to turn his attention towards the field of organization as well. A great asset to Indian chess!
Previous reports:
India's strongest tournament National Premier 2017 is here!
R1: Deepan carries his Challengers form to the Premier
R2: How to beat Ruy Lopez Exchange
R3: Capablanca's theorem helps Aravindh
R5: Shete scores a stunning win
R6: Aravindh Chithambaram is the sole leader
R8: Winning this tournament is not Aravindh's aim
Hindi coverage by Niklesh Jain:
नेशनल प्रीमियर-R1- दीपन के प्यादों में उलझे हिमांशु
नेशनल प्रीमियर R-2- जब राजा निकला घूमने !
अरविंद - अर्घ्यदीप की पहली जीत
नेशनल प्रीमियर R-4 - अब आया खेल का मजा !
नेशनल प्रीमियर-R-5 : उलटफेर अभिजीत कुंटे हारे
नेशनल प्रीमियर-R-6 -अरविंद निकले सबसे आगे !
नेशनल प्रीमियर-R-7-विश्राम के बाद :जमकर हुए प्रहार
नेशनल प्रीमियर-R-8 -अरविंद के कदम खिताब की ओर
नेशनल प्रीमियर-R-9-ललित के कमाल से अरविंद बेहाल
---