Vishy Anand back home...finally!
"This was a reminder to appreciate what we have, when we have it! Vishy Anand has seen many tough situations in his life, but the period between Mid February to first week of June, was perhaps the most testing of them all. Because of the Covid-19 pandemic Vishy was trapped in Germany for three months. Staying at his own place in Bad Soden Anand had to do the grocery shopping, cook food for himself and also find ways to keep himself in shape mentally and physically. He managed to do that and finally on 31st of May 2020 arrived back in India. Like a true champion, Anand took this event in his life as one of learning and shares his experience with us.
Back in Chennai, Viswanathan Anand looks forward to home food and bonding with son
The article was originally published on ESPN.in and has been reproduced here with their permission
After three months of self-isolation in the German town of Bad Soden and a week's quarantine at a Bengaluru hotel, Viswanathan Anand, suitably turned out in a face mask and shield, was back home in Chennai on Saturday. He still has seven more days of home quarantine to follow before he can join his nine-year old son, Akhil, for playtime.
The five-time world chess champion who'd left for Germany to show up for his club side Baden Baden in the Bundesliga chess tournament in March, was caught smack in the midst of a stray virus turning into a full-blown pandemic. With flight services suspended and India going under lockdown mid-March, his return to the country was stalled. "It was a unique and bizarre experience for me," Anand told ESPN after reaching Chennai. "It would have been one thing to have known in March that I'd be stuck somewhere till June. At every stage, a return home just seemed very near. I remember thinking in March that I'd be home in April, then that got pushed to mid-April, until I finally flew out only a week ago."
Anand's home in Bad Soden has usually functioned as a pre-match campsite, buzzing with seconds, with wife Aruna keeping the team well-fed, ahead of his World Championship matches. This time, he was at home by himself, fetching groceries, going for walks and putting together simple meals. Despite the global standstill, chess has been one of the few sports that's soldiered on and thrived during this period. Aside from the world body FIDE's efforts, reigning world champion Magnus Carlsen has turned out to be the organizational wizard of big-money online events.
"I got a chance to do some reasonable chess work, follow the tournaments that were happening, participate in one myself (Online Nations Cup) and did some commentary during the Candidates. I also found time to read up on a lot of stuff that I've been meaning to for a while and count myself fortunate to have been able to keep up a fairly good physical regimen during the time I was isolated at my home in Germany. As clichéd as it may sound, this was perhaps a reminder to appreciate what we have, when we have it."
On Saturday, Anand found his driver dressed in a PPE suit, waiting for him at the arrival gate of the Chennai airport and his favourite comfort food of Mullangi (radish) sambhar at the table back home. He's now looking to serve out the next seven days of isolation with home food, throwaway cutlery and a confined stay in his room.
"I'm looking to get out of isolation and have a chance to play with Akhil again. That's really what I'm looking forward to the most. We haven't been able to be with each other for a very long time. It's funny how our fondest memories now are of the time before this when we were free to do anything we wanted. Now under restrictions, paradoxically we will learn to appreciate every little thing much more and maybe that's the only silver lining."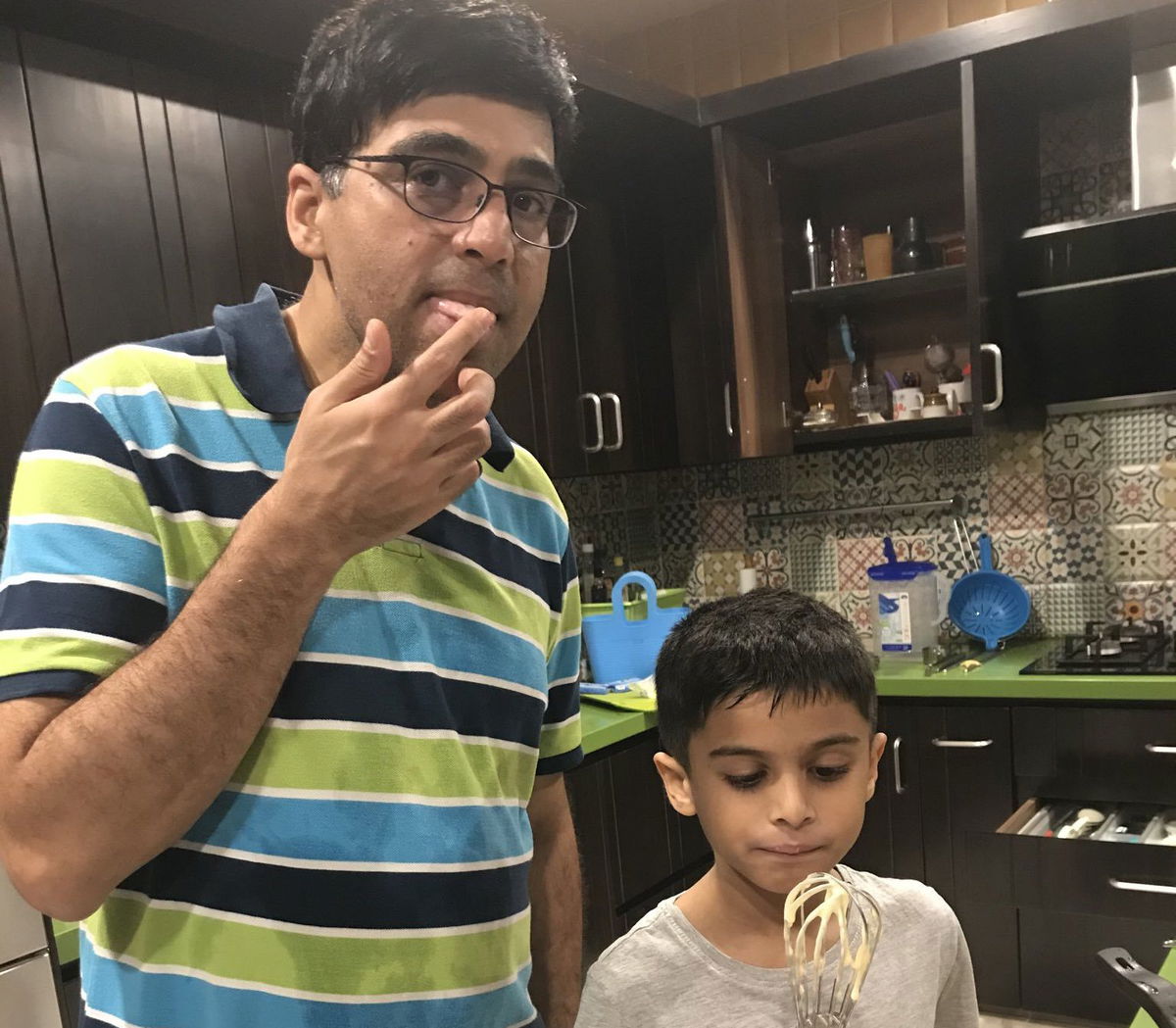 About the Author
Susan Ninan works at ESPN. She writes on different sports, chess and Vishy Anand being her favourites. In the past she has also worked for the Times of India.
---