Three days before his 50th birthday, Vishy is fighting it out in the German Bundesliga
Just three days before his big day - his 50th birthday, Vishy Anand is busy in Germany playing at the Bundesliga for his team OSG Baden Baden for the 2019-20 season. These were rounds three and four and Vishy played some very interesting chess to score 1.5/2 and help his team score wins over Solingen and SV Mulheim Nord. Especially exciting was Anand's win against Thomas Beerdsen, the Dutch youngster rated 2482, nearly 300 Elo points lower than Vishy. In a Sicilian Taimanov we saw a full blooded fight where Anand with the white pieces sacrificed a pawn and accepted an inferior pawn structure to attack Black's king! The entire game has been deeply analyzed along with Vishy's short draw against Markus Ragger.
It is the time of his life when Vishy could sit in his home in Kottarpuram, Chennai and look back at the glorious career. 11th of December is going to be Anand's 50th birthday and planning his birthday party, or just relaxing after a hectic year of chess could have been the most natural thing to do! But the Indian maestro loves to play chess and this he prefers over almost anything else! On 7th and 8th of December Anand flew down to Germany to play two games for his team OSG Baden Baden against Solingen and SV Mulheim Nord. He scored 1.5/2 with a draw against Markus Ragger (2670) and a win against Thomas Beerdsen (2482). Vishy's presence helped Baden Baden to win both their matches and stay on top of the leaderboard with 8 points.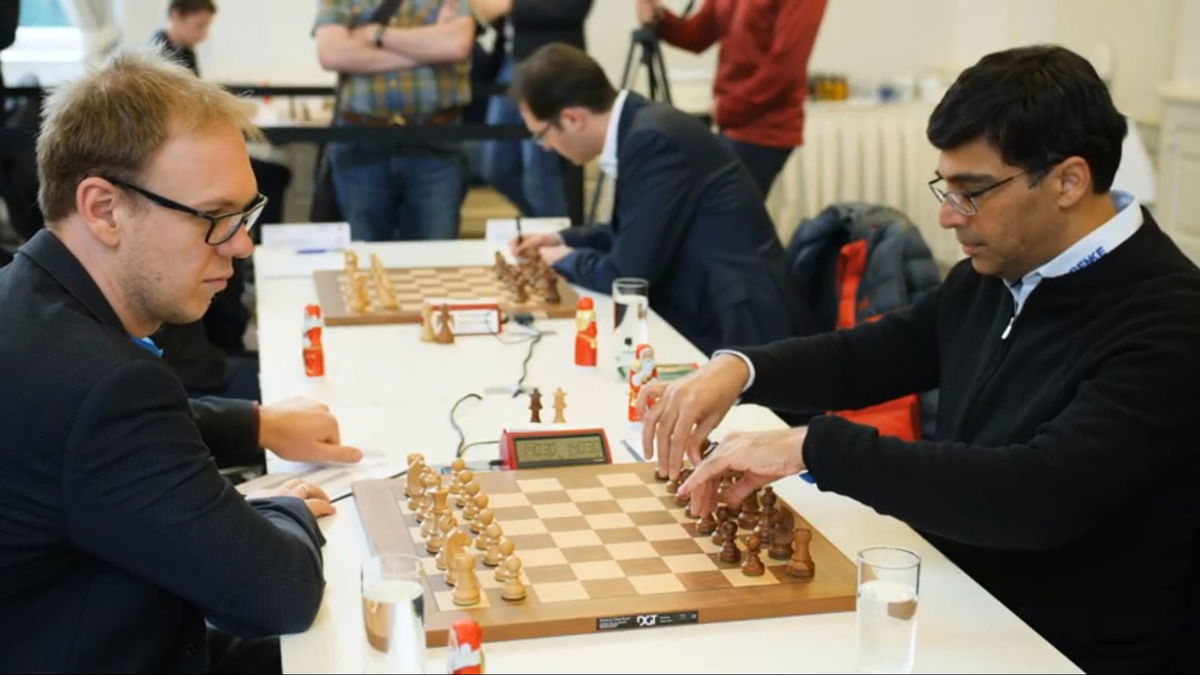 Vishy Anand vs Thomas Beerdsen, Round 4
The position clarified a bit and here Black had an important decision to make. He is a piece up, but losing one of his knights. Should he take on b5 or just play something else. It turns out that Nf6 was a stronger choice because after Rxd6 Re8 Black gets very good play. In the game, he took on b5 in the above position, but it turns out that the bishop pair combined with the active rook and king gives White the upper hand.
Vishy Anand will be back in Chennai for his 50th birthday. But the real bash will be on 13th of December when his book the Mind Master will be released in a public gathering.
---