How Vishy Anand is supporting young super talents of India through WACA
India has seen the rise of many fine chess players who have done exceedingly well in their junior years and have even become strong grandmasters, but have stumbled on their path towards becoming world class players. There was definitely something missing when it came to development of these talents. As on today, it is widely agreed in the chess world that India has the best crop of young talents with players like Gukesh, Arjun Erigaisi, Praggnanandhaa, Nihal Sarin, Raunak Sadhwani and many others. In order to ensure that their potential reaches the right destination, Vishy Anand decided to start off with the WestBridge Anand Chess Academy (WACA) in December 2020. How did it all begin? How does this academy function? And how has been the journey of WACA since inception? Get to know all of this and more in this article.
Vishy Anand - the Catalyst
It was the 8th of August 2022. The penultimate round of the Chess Olympiad 2022. India was up against Uzbekistan. The score was looking good for India. 2-1. Gukesh on the top board had been absolutely flawless at the event scoring 8.5/9. Now he was going to reach 9.5/10 with a completely winning position against Nodirbek Abdusattorov. And then it happened - something that has happened with almost all chess players in their life. You are winning, but you just can't finish off your opponent. You keep losing the thread of the game and before you know it, the game is already out of your grasp. Gukesh lost this game. What was even more painful for Gukesh was the fact that it was not just his individual defeat, but the team score also read 2-2, which meant that Uzbekistan got that crucial 1 match point. It helped them win the gold.
Just spare a thought for Gukesh. The boy played absolutely like a beast in the entire event, beating world class players like Caruana, Shirov, Sargissian and many more. And then this happens! It's like you have seen the highest of highs and lowest of lows in one event itself. Yet, as we moved to the next day 9th of August 2022, Gukesh confidently strode into the playing hall and took his chair against the German top board Vincent Keymer. Playing with the black pieces he confidently drew his game against his talented opponent helping India score a 3-1 victory over Germany and sealing the bronze medal. Gukesh also managed to take home the individual gold medal on board one. An absolutely stunning performance by the 16-year-old. As a person who tries to understand human psychology, it was a natural question to me after the event, to ask Gukesh - how did he recover from the loss in just a few hours. What happened? How could a boy who looked completely wiped out after his 10th round game, stroll in with absolute confidence in round 11. Gukesh replied, "I had a great talk with Vishy Anand sir after the game. He showed some examples from his games where he made very bad decisions - similar ones where he didn't know when to stop - the same thing that happened to me against Nodirbek. Just knowing that such a great person has been in a similar situation like me was comforting. After that I just started focusing on the next game."
The episode with Gukesh is an excellent example of the role that Vishy Anand plays with these youngsters. I find it very similar to what he has done with Indian chess. Once when Anand was in Pune for a training session in 2019, and a journalist asked him, "Do you take credit for the fact that India now has more than 60 GMs. You were the first one." To which Anand in his typical modesty replied, "You can call me a catalyst." Vishy's presence as an icon for Indian chess gave young talents a role model whom they could emulate. A man from our land who has dominated the world of chess for more than a decade was a big reason why so many youngsters took up to the sport in first place. And now when India is standing on the brink of becoming a power house and all the young talents like Gukesh, Arjun Erigaisi, Praggnanandhaa, Nihal Sarin, Raunak Sadhwani, R. Vaishali, Savitha Shri, Leon Mendonca and many more are doing exceedingly well, Anand once again has risen to the occasion and has taken a proactive measure to support these talents. If you look at what Vishy did with Gukesh - he rolled his years of experience into one motivating session and delivered it at the absolutely precise moment for it to have the maximum effect on the youngster. Talk about the right advice to the right person at the right moment!
When India 2 faced USA at the Olympiad 2022, it was a battle that everyone looked forward to with great excitement. You had arguably the strongest team ever in the history of chess with Fabiano Caruana on board 1, Levon Aronian on board 2, Wesley So on board 3 and Lenier Dominguez on board 4, take on an opposition with an average age of 17 years. It was India 2 who came out victorious with Gukesh and Raunak delivering impressive wins against Caruana and Dominguez. 3-1 was the final scoreline. While the head coach Ramesh, and the team seconds Stany and Arjun Kalyan played a key role in this victory, Vishy Anand was present. His insights were crucial to understand for the team as to which openings should be tried against these great players. Anand has played a numerous times against these world class players. He knows them inside out. Just pointing out their weaknesses and strengths can help the youngsters be aware of what they should be taking care during the game. During the Olympiad Anand visited the training room of the India 2 team on several occasions analyzing openings and in general just encouraging the players. It was a similar role he played when Praggnanandhaa played at the Tata Steel Masters 2022 in Wijk Aan Zee, Netherlands. In a field that had players like Carlsen, Mamedyarov, Rapport, Giri, Karjakin and more it was going to be a test of fire for 16-year-old Praggnanandhaa. It was Pragg's first ever classical super tournament. Apart from all his normal preparation, Pragg was also helped by Anand on how he should face the big guys. Pragg ended the tournament with a respectable performance of 5.5/13, with wins over Grandelius Nils, Vidit Gujrathi and Andrey Esipenko.
When Levon Aronian was in Kolkata for the Tata Steel Chess India Rapid and Blitz in 2021, he said, "With Vishy Anand as the mentor, India's rise to the top in the world of chess is all but guaranteed." Levon has been a top player in the world for many years now and he knows that one of the things which separates a top 10 player from these young talents is experience. When it comes to the speed of calculation, the tactical acumen, the opening knowledge, these youngsters are already right up there with the very best. It's the psychology and some of the knowledge gained over the years, that gives these world class players an edge. However, with Vishy mentoring the young Indian crop of talents on regular basis, that gap is filled in quite rapidly.
The genesis of WestBridge Anand Chess Academy
The WestBridge Anand Chess Academy was launched in December 2020. The first lectures took place in January 2021. Related to how it all began Vishy mentions about visiting the WestBridge office for a lecture during 2019 and when he was leaving Sandeep Singhal, the Managing Director of WestBridge came to see him off. "I had a chance conversation with him", says Vishy. He asked me if there was any project in which we could work together, and I said okay, I'll get back to you." WestBridge Capital is a highly experienced investment firm, managing over US$5.6 billion of capital, which focuses primarily on making investments in companies headquartered in, or with a significant nexus to India or South Asia, or led by Indian entrepreneurs or with business linkages to India, for the long-term, whether they are public or private.
After going back home Vishy continued to think about what he could do together with WestBridge. "As always, you look for inspiration from the past. There were 2 things that immediately came to my mind, which I noticed when I was growing up. One was the Botvinnik Chess Academy. So, Botvinnik used to have an academy where the top soviet players, (now many of them are in their 70s, but they were juniors then) used to come to Botvinnik and he used to have these classes. Famously, Anatoly Karpov came to his academy and Botvinnik said "This boy has no talent" [laughs]. The second one was the American fellowship called the Samford fellowship, where a person called Mr. Samford had this money put away. He said that every year he wants to support American Juniors, because American Juniors are unable to play chess competitively due to the demands of university and a job. You have to invariably adapt any old idea to the new times; my idea was to combine these two. I'll try to be like Botvinnik, setting some criteria to get people in, and also back them financially, allow them to dedicate themselves."
"We started in January 2021 with Gukesh, Pragg, Nihal, Raunak and Vaishali. Leon just sneaked in at December 30th in Budapest. He became a Grandmaster, and we got him in the first wave. Later on, Arjun joined and Savitha is joining now. For the first six months, my idea was: let's not lose any time with the pandemic, let's keep working so that when it ends, you're in better shape to compete. That's the only part of WACA which went according to plan. Because after that, they're overshooting my targets every single time. The results are very good, and the trainers are fantastic. My idea roughly was: Yusupov for endings, Gajewski for openings, and as usual, Sandipan for Middlegames. And then, we also have Boris Gelfand making some guest appearances – in fact, he's becoming more and more regular now."
Vishy Anand is an extremely busy person. He is still playing at the highest level. In fact as you read this in November 2022, he is ranked no.9 in the world! He is also the FIDE Deputy President. How does Anand manage to don so many hats and is still able to manage everything? Sandeep Singhal, the MD of WestBridge Capital mentions, "Anand is a very diligent person, most people don't know about it. He writes quarterly reports on each of the players. He formulates the goals and aims for the mentees of WACA." As always Anand likes to keep it simple. He says, "First of all, what you enjoy you typically find time for. My playing is helped by the fact that I can piggyback on a lot of material we make for them. As I said, it's not like I'm training some kids, these are top players in the world. So, working with them allows me to get some of my preparation done. Aruna helps out a lot with the other stuff. She says you should keep this habit of writing reports, and it's very useful! Because at some point I wanted to check, when did we aim for 2700 in the first time? Then I could read the old reports and realize that we had scheduled it for sometime next year. These reports are very nice, because it allows you to go back and check what you thought at that time."
Is Vishy happy with how things have shaped up with WACA? "We began with Vaishali, and Pragg, Nihal, Gukesh, Raunak and the last-minute addition was Leon. Then I noticed that Arjun is doing very well, I somehow missed him because he was a little bit older. I didn't put him in at first, but then I understood my mistake and he joined by April. Now Savitha has joined, so it's slowly filling up like that. Besides that, I see that an arbitrary line is always a bit awkward, and many of these classes can be shared with more. So we have more youngsters who join in these classes. Amongst the girls, there's Divya, Vantika, Bhakti who turn up regularly. Aditya Mittal, Karthikeyan Murali, there are some more who join in the classes. At the first wave, I would say I saw them as one collective group, and now I realize their individual challenges and opportunities are even getting different. Our program is now evolving, it's going to be more individualized in how we deal with them. It's a pleasant problem to have, because they have done so well!"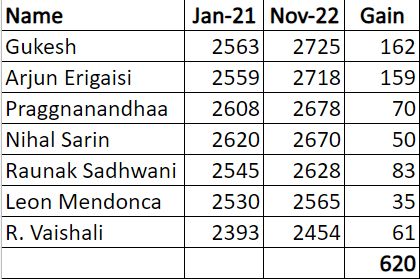 Vishy Anand on Gukesh
Sagar Shah: Vishy, a few words about Gukesh and his playing style. He's moving upwards the rating ladder, 2724 now, its' just amazing!
VA: Yes, in fact it was even higher because he peaked at 2735. But he did it so fast, he did it in 1 tournament what you're supposed to do in 3 tournaments. He just blasted past every target we had! I think for Gukesh, the strongest qualities are simply love of chess, so I'll tell you one story with that. Gajewski spoke to me once, he said "I was chatting with Gukesh, he had just finished the tournament in Menorca. He was at the airport, and he was already asking me what's a good line against the Ragozin!" Gajewski implied that he was already a bit tired of chess because he only had 4 days away from chess. But Gukesh only had 3 hours away from chess, but he was still working on chess all the time. It's a good story to show you how dedicated he is! He played in my opinion not the best choice against Fabiano, I would avoid it because it kind of plays to Fabiano's preparation. As he mentioned, Fabiano had one or two good ideas. Absorb them, counter-attack, hit back, and at the end it was just a masterpiece. It simply doesn't happen often that Caruana is outplayed like that. What I don't like is, he has started this thing of being the Indian in Spain. I said, Wait - that's my routine! You know. The Indian guy who's more at Spain than home; that's me! What are you doing with this thing [laughs] But you know, he started all his photos in Spain, being chucked in the swimming pool and chucked in the ocean and everything. Again, that's a nice coincidence that he has very strong connections with Spain. He seems to very happy there and plays well!"
Gajewski on Gukesh: Gukesh is very flexible, so he's really aggressive and he's a bit like Firouzja I would say. He's always looking for some kind of pressure, for some kind of complexity. He's making mistakes, but he's creating positions where his opponents would make more mistakes than he does. If you recall his game with Caruana during the Olympiad, it was a clear example because with the engine's evaluation, everyone was worried that he wouldn't be able to get through the opening stage. But he kept on making good moves, and the position was so complex and so difficult to handle for both sides, that even such a giant as Caruana couldn't handle it. I think this game is quite a good description of his style. What is really spectacular about him is his desire to learn. All he's thinking is what is ahead of him, not what he has achieved before. He's the one who's asking the most questions and looking for the answers, and just trying to get constantly better. This is just a perfect mindset!
Yusupov on Gukesh: I like Gukesh very much, he's always looking for the core of the position. He tries to understand things very carefully, so he's the one who puts the best questions. He always wants to go deeper, I like this drive very much, he's very eager to learn. I was surprised by his performance, but it should be like this! They need little bit time to gain some knowledge, but at the moment when they started using this knowledge, they are of course making a huge step forward. That's what happened to him on Olympiad, he was great and you cannot say where he will stop!
Gelfand on Gukesh: Gukesh is very impressive, I think his good point is also calculating very well. He is extremely resilient in difficult positions, so many times I saw that he was worse let's say, but the way he defended was really impressive.
Vishy Anand on Arjun Erigaisi
His rise has been incredibly fast. He was 2550 when we started out and he has gained almost 180 Elo points since then. He is the quietest of the lot. Very non violent off the board. At the board he is quite lethal. He has the healthy classical style. He can play quiet positions just as well. He gets the job done. Because he is so quiet you don't realize he is there and then his score speaks for itself! In many tournaments he just runs away with it - Abu Dhabi Masters, even the Wijk Aan Zee Challengers was very impressive. His chess is outstanding. Most of the top players in the world have seen what he is capable off and I think Levon Aronian especially does not enjoy his matches with Arjun [laughs].
Gajewski on Arjun: I really like him because he has a bit different style than most of them. He's very positional, but at the same time he's very good in complex positions. What is really fascinating about him is his calmness. He's so calm and so gentle, so I'd say he's the closest one to Carlsen in terms of style.
Gelfand on Arjun: I think that Arjun has a very good feeling of Initiative. From the first time I saw him in Chennai, I spotted it. I remember that he was very soft-spoken, he didn't talk much, the other guys were more active. But I remember when it was a dynamic position, he was calculating very precisely and whatever he was saying was correct. Probably this pandemic had an effect because players couldn't play for a few years, and the ones who were working more consistently and more cleverly, have been able to make more progress. Now we see the results of these guys! He's very confident!
Yusupov on Arjun: He didn't come so often in the training, but when he came, he was one of the best. He's an extremely good player, and he's progressing very quickly. His results keep growing and nobody knows where he will stop! Very impressive results, very well prepared, and a very talented player.
Vishy Anand on Praggnanandhaa
"I think Pragg's World number 50 thing is a little bit deceptive. I think his virtual rating, or his imaginary rating in my head is a bit higher even. Because he's beaten Magnus five times, he's beaten Giri, he's beaten Aronian, he's beating the top players in the world but he's doing it in an unrated format (online chess), so it kind of doesn't register. But his results I think indicate that he's comfortable playing at the top, and he has no complexes; he's playing them on equal terms – again, a lot of courage. One thing about all the WACA fellows is they play with a lot of courage.
When I was young, a first generation of people struggled with Viswanathan Anand. Of course, people always thought Viswanathan is my name and Anand is the family name. Maia Chiburanidze said "I'm not going to wish for this too long, I'm going to call you Vishy. Now I'm stuck with this name for 35 years, and I thought "I wonder what they're going to do with his name"? [crowd laughs] Because you have Praggnanandhaa and there's a "nya" as well to throw off people completely. It's beautiful that you can make it to a nickname "Pragg", and that becomes very nice. But everybody loves to try to say his name! I have met people from all over Europe and Africa who'll either say "Pragg", or they'll say "Praggnanandhaa", and you can see in their face, they're so relieved to finish the name.
His chess is very impressive, his accomplishments are there, again you see this fanaticism, this working ability. In fact, I don't keep up with them anymore because they work much too hard for me. I try to pop in once in a while, and maybe even steal one or two of the ideas [chuckles]. He's opened up a lot recently, I think he's more confident both on and off the chessboard. But there are 2 Pragg's – one is the general Pragg, and there's Pragg in his group with Ramesh and his gang of friends. The jokes go even much further there! For me, one of the best moments of the Olympiad was when they had the best team performances, which is individual and team performance combined. By coincidence, both Pragg and Vaishali were standing on the same bronze box. I've never seen anything like this – two siblings, men's bronze and women's bronze, and there they are together. I liked that a lot. He is a part of the Golden generation we have. There's a very nice photo of him being received in Chennai when he became a Grandmaster. That reminds me, when I came back as World Champion, they used to have receptions at the Chennai airport which were very sweet. But this one was amazing, they're all throwing him up literally, it is a great photo. "
Gajewski on Pragg: I think Praggnanandhaa will be the next one to show some spectacular performance in classical chess, because he has already proven how talented he is in all those online events. Once you start beating Magnus, it's clear that we are talking about some super talent. He's extremely good in calculation, he is very good. Technically, I think he has some areas to improve, but he's also fully dedicated to work, so it's just a matter of time.
Gelfand on Pragg: I think his main strength is his very good feelings of dynamic. He is excellent on coordinating pieces and getting utmost of the dynamic potential of pieces. It's his initial talent and he compliments it by calculating well and playing very well in different types of positions.
Yusupov on Pragg: Extremely good, strong in calculations, very good, very inventive player. He's also a little bit similar to Gukesh - if he gives some variation, even if it could be some mistake there, but this mistake is already on a very high level. It is not some blunder - it is missing some extremely fine defensive resource. Otherwise, his calculations are amazing! This is another big force, but you have a couple of others, that's the point! You can mention like 10 people and each country would be happy to have such a talent.
Vishy Anand on Vaishali
"The importance of what Vaishali is doing is that we had two pathbreakers, Humpy and Harika. After that, there's actually been a bit of a gap. When we started WACA, I was looking for a top junior on the female side, and she was the only one. She had the best rating at the time, and subsequently she's done very well, I think. The Bronze medal is a confirmation of that. Both Pragg and Vaishali not only had individual bronze medals, but also bronze medals as teams. The second thing is, she's very dedicated. I remember when I was speaking with Ramesh "What can we do with Vaishali, how do we go forward?" He said you don't have to doubt her commitment, she'll make time and she'll come. Maybe it's a girl thing, but she's always the first one to tell me her schedule and let me know about her availability for classes. She attends all the classes, goes through the material and follows up. There's a lot of dedication to get better. What I wonder is what is the relationship between the siblings. She is the big sister, does she get to boss him around, or is it the other way? I think she's very quiet as well in general, but she gets on with it and there's a couple of moments which I really enjoyed. In the online Olympiad last year, she had some crucial moments, but it was nerve-wracking following her in Warsaw. At some point, I thought she was going to do very well, and her results started to go crazy. But she was still determined till the end, winning games and so on. I don't think she has as many jokes as Pragg, but you know, what a family!"
Gajewski on Vaishali: She is just making steady progress. I mean, we are talking about a solid International Master level player. There is nothing spectacular about those results, but she's making steady progress and I kind of like it because when it's steady, it usually only goes in one direction. I think her being able to interact with her brother makes it all the nicer.
Yusupov on Vaishali: It has been a great experience with her, she's making real progress. There are many other girls who take my classes - Bhakti, Divya, Vantika, etc. I hope to inspire them - we work on these endings and difficult stuff. But that's what they need to do! I think this is very important for the development of women chess. All these girls are working very hard, they are already on a good level. I would say the Indian women team will have very good chances in the next few years!
Gelfand on Vaishali: She's great, she has also shown huge progress during the last years. She's balanced in all aspects, but endings and calculations are what she's very good at. I remember when I had a camp with the National team in the month of may, I took a test on Rook endgames, and she was the one who was ahead of many players of men's team. She exploited exactly the same game which was in this test, and she won an important game in the Olympiad.
Vishy Anand on Nihal Sarin
"For someone who plays a lot online, Nihal has an unusual style. His style is actually quite positional, he's able to work in quiet positions. That's not an obvious thing because for instance, I didn't have it when I was young. I was much better in sharper positions than in quiet ones. When I was young, it was the same as Nihal – I couldn't sit on the board for very long, because I was so bored waiting for my opponent to make a move. All chess players have this interest in not only what's happening in your game, but what's happening in the other games. It gets addictive to keep walking around, you feel you can come back and catch up. There are two things – he's of course got a solid style and technical understanding, but he's also a famous blitz player! I'll tell you one story: when we had this tata steel event in 2018, Hikaru told me "Why is Pragg in the Blitz and Nihal is in the Rapid?" Because Hikaru has played so many matches with Nihal, he had learned to fear him in Blitz.
Nihal is a great Blitz player, and a lot of people would acknowledge that. I would add that he's solid, but it doesn't mean that his style is only positional. He can calculate very well and very fast because of his online blitz habit. He was the highest rated in the group when we started the academy, and he had a tough phase last year, but he hung in there, he kept playing and this year it's gone well, and the Olympiad Gold was the crowning. But literally for him, it must've been what Khanty-Mansiysk was for me – a good tournament at the end of a difficult stretch. I expect a lot from him in the future as well."
Gajewski on Nihal: I'm happy to see that he's getting closer to 2700, because initially I just thought he is the best among them. Now, some of the guys are higher rated, but I think for him, it's only a matter of time before his strength will match his understanding. He's the guy who will take the most amount of time to give you an answer, but it is usually the right answer. We're still waiting for him to fully show it over the board, but already during the Olympiad, he did amazingly. I think the problem with the Olympiad was that everybody was so focused on Gukesh, they kind of missed that all of these guys gained like 15 points each, and they all had spectacular results.
Gelfand on Nihal: I think his big strength is technique. He's very solid, but so many times he exploits even minimal advantages to his benefit.
Yusupov on Nihal: He has very good understanding of chess already. I actually met him last time when he played a tournament in Armenia, and I was invited also to Armenia to do some training. So, we met personally which was nice! He's a very nice and modest person, and he works hard. In this tournament in Armenia, he was ill but still played the entire tournament and was unbeaten, so that was amazing. Everybody said, What would you do here if you would have normal conditions? This was his most amazing performance in a way, if you are ill and in such a bad shape, it's difficult to play. The opponents were very young and hungry wolves, they were very strong! Of course, they are coming from the same country, but everybody is a little bit different, they have their own individuality.
Vishy Anand on Raunak Sadhwani
"I played him in the Isle of Man in 2018. In the first round, I was paired with him and I didn't know what to expect. I didn't want to get too equal of a position, so I tried to mix it a little bit. But I got into trouble very soon, and he played a 3-4 move streak of the best move on every move. After he made the move, I realized I had missed something in my calculations and I was getting into deep trouble. I was very nervous at the prospect of losing to someone that young, and then he went into this phase where he started making the second-best move for a while. I escaped somehow, got into a slightly better ending, and then sat there very patiently and converted. It was a big scare, but later I realized it was the second time we had met, as I met him in Nagpur before.
By the way, he has also met Mr. Prakash Padukone, he has got this photo with him. He's met everyone! [smiles] When he got his GM title, he was an obvious pick for WACA. But he has a wild side, which is occasionally taking very big risks and do crazy stuff. I think in Kolkata he was doing this in many games. Not all of them paid out, but in a couple of them he hit some big ones. He's got this very aggressive streak. Nbd4 against Dominguez is a masterpiece. I think many people would see that it's possible, but to understand that it's desirable and necessary is the tough part. All chess players have this conflict where you want to do something pretty, but you want to be responsible and play the best move as well. In an important game, he understood that the most beautiful move is in fact the best move, he had to play it. During the pandemic, I remember he went to extreme lengths to play chess tournaments, which shows his dedication. But among all of them, I think he has this risk-taking side business, where occasionally he'll do something very risky. But it's also nice because it works well with your chess.
Gajewski on Raunak Sadhwani: Raunak is incredibly creative, and he enjoys playing in his original style. It is clear that there is some work ahead of him, but I think 2700 is clearly possible for him and he just needs to improve in some classical areas. But I'm happy to see already during the Olympiad, I think we have seen a different Raunak. We've seen him doing some great things online, over-the-board it was not that convincing, but already during the Olympiad he's shown that he is capable of making these real results.
Gelfand on Raunak Sadhwani: I think Raunak is maybe a more solid and mature player. Probably in openings he's better than others, he can make a lot of moves confidently, and kind of a big positional player.
Vishy Anand on Leon Mendonca
"As I mentioned, he was the last one to join because he was not a Grandmaster when I made the first list. Then he kept at it, and finished it by the end of the year. One thing that struck me when I was chatting with his father and him, is that they were simply enjoying themselves in Budapest! They were trapped there, but can you say "trapped" about two people who are having so much fun? They were playing tournaments in all these nice locations. Over the new year, when it was frozen everywhere I got some photos from them. For them it seemed like a picnic! They were having a blast, and sometime in the middle of 2021 I asked them "are you actually coming back to India?" I was sure his VISA would run out or something like that, so I was inquiring on what will it be. But it seems that Leon wanted to play chess so badly, and he felt that once he came back the reverse trip might not be possible because of COVID. So, he thought let me stay there, and finish as many tournaments as I can. He also plays the Violin, and I discovered his talent of mimicry today! I don't want to put him on the spot, but I enjoyed it and am almost motivated to try and practice a little bit myself. It was seriously good! I will not name the names, but it was seriously good and irresistible with such targets. I'll try it myself!"
Gajewski on Leon Mendonca: We are still waiting for him. It's like he's still 2570 but you know, what was Arjun's rating last year? So, at any moment he can explode and this is what we are hoping for.
Gelfand on Leon Mendonca: I think he's quite balanced. He knows his openings and he's solid positionally, but he also calculates well, so he is balanced.
Yusupov on Leon Mendonca: He is an extremely talented player
Vishy Anand on Savitha Shri
"I have been following her games recently. You can follow someone without realizing they're gaining that much rating so fast! It's a huge thing for WACA, because one of my disappointments is that I've not been able to find more female talent. I'm very happy that she has broken 2400 in such a young age, which means she has a lot of time to improve and get better. RB Ramesh and Shyam speak very highly of her, she is very dedicated and quite aggressive. She had quite a good result in the Olympiad as well. All in all, I'm very excited and I hope she'll not only do well but inspire more girls to come and join."
Trainers
The WestBridge Anand Chess Academy consists of four main trainers. They are Grzegorz Gajewski, Artur Yusupov, Sandipan Chanda and Boris Gelfand.
Vishy Anand on Artur Yusupov
"He's the oldest among all the trainers, he was a candidate when I was 14, and he was playing already in the Interzonals and Candidates Tournaments in the World Championship Cycle. He comes from something called the "Dvoretsky school", and I thought this component was very important. He brought his old training methods, which are useful, because you need some sort of base. Just dropping in with Computer analysis, you might not even understand what it's saying. But if you have a nice solid base, then you can build on that. So, I had this idea to ask him. By the way, he coaches many generations of students - he has been coaching full-timer for the last 20-25 years. He's a very close friend, but I was happy he was able to find time because he has quite a busy schedule. In fact, he's the most regular coach - he has done the most number of sessions. Every Wednesday, he locks in and he commits'. Artur is a genuinely nice person, I've never seen him angry at anyone. I think Sandipan and me agreed that he's Gandalf from Lord of the Rings [laughs]. What I felt that it's very easy to miss when you're young is endgames - so I asked him to go systematically over that."
Vishy Anand on Grzegorz Gajewski
"Gajewski and Sandipan are both very very creative thinkers in the sense that Gajewski had some training methods, especially with the opening stuff which I found very useful for the 7-8 years we were working together, till just before the pandemic. Just being with him and seeing how he approached openings, the level of scrutiny he puts into every single one, is in a sense improving it for them. I mean, everyone starts off a bit here and there and then you refine your method, you get better at it. Gajewski is very nice, he has got this trait of creative people doing many things, which I like. You kind of have to work around that with them. That was the case with me even when I was being coached by him, but I believe that many of our youngsters have benefitted in opening preparation with them. Both of them mostly train with them on Zoom. Gajewski has met them in many places, but I don't think any of them has met Artur. That'll be a big meeting one day!"
Vishy Anand on Sandipan Chanda
"He's a very close friend and a very nice guy. I like to tease him a lot! I think he's the one coach with whom I feel I have the liberty to say "well, can we teach it this way and that way, can we do this class", whatever I'll come up with, and he'll do it. I'll tell you some nice stories about Sandipan - my favorite story of Sandipan is: Once, he and Sasikiran were sharing a room. So one morning, Sasikiran woke up, got ready to go for a run, woke up Sandipan of course, and said "can you lock the door behind me when I go for a run?" Sandipan says "Okay". Sasikiran goes for his jog, poor Sandipan locks the door and goes back to sleep. One hour later, Sasi finishes his run, comes back and knocks on the door "Sandipan!" Sandipan gets up again, wakes up and opens the door. Sasi comes into the room and goes to the shower, Sandipan goes back to sleep. He's one of the most laid back guys! I think this story is nice, because I think all the players will recognize both of them in the story. Another of my favorite stories with him is with Surya Ganguly, another mutual friend and coach. He said "Quite often, I will send Sandipan an email, then I'll send him a letter telling him to answer his phone the next time I call him, and then I will tell him to check his email. He can be so laid back if he wants to! At the same time, he is unflappable almost anywhere. I've never seen him even remotely stressed. He really helped me 2 times - one was in 2007 when I was getting ready for my Mexico match, and second time in Khanty-Mansisk in 2014, he played a very big part. After the loss, I remember that there were so many critical problems that he had to sit and solve, and that was a very crucial part. I am always grateful to him for that."
Vishy Anand on Boris Gelfand
"Boris was obviously a very big rival of mine, we played for the WC title in 2012. But we've also been friends for a very long time. In a way, it's very nice to see many of these youngsters. They're also rivals and they will be rivals for a very long time, but they're also each others closest friends in many ways. It's like that with Boris and me, he was actually one of my nightmare opponents in the beginning. I lost my first 4 games against him! Then I don't know what happened - for 2 years I didn't play him, during which time I probably forgot how unpleasant he was (crowd laughs) as a chess player. I won one game, then I won a 2nd game, and suddenly my results against him improved. He challenged me for the World title in 2012, I got in by the skin of my teeth. I like to joke that whenever he comes there, he's the old man in the tournament because he's one and a half years older than me. Nowadays, I'm older than the next participant atleast by a decade, but Boris saves me from being the veteran over there. Gelfand I think is someone that has the Yusupov kind of chess upbringing - steeped in the Soviet methods, and I think the attitude to working. But Boris has kept up with the times! He works very consistently with the computers. I get him for more or less experience classes, where he shares his life experiences, stories and all these things. Because times change, tournaments change, methods change, but the experience you have sitting there actually doesn't change that much. Even Morphy would recognize our emotions, even if he didn't recognize our moves. I think that's the one thing I wanted Gelfand to convey, and what I try to convey. There's no point trying to say this is a better working method than that one, but you try to convey how you reacted to different situations."
A visit to the WestBridge Capital Office in Bangalore
On 7th of September, the young super talents of India, who are part of the WACA program as mentees visited the WestBridge office in Bangalore. Below you can find the vlog and a few pictures: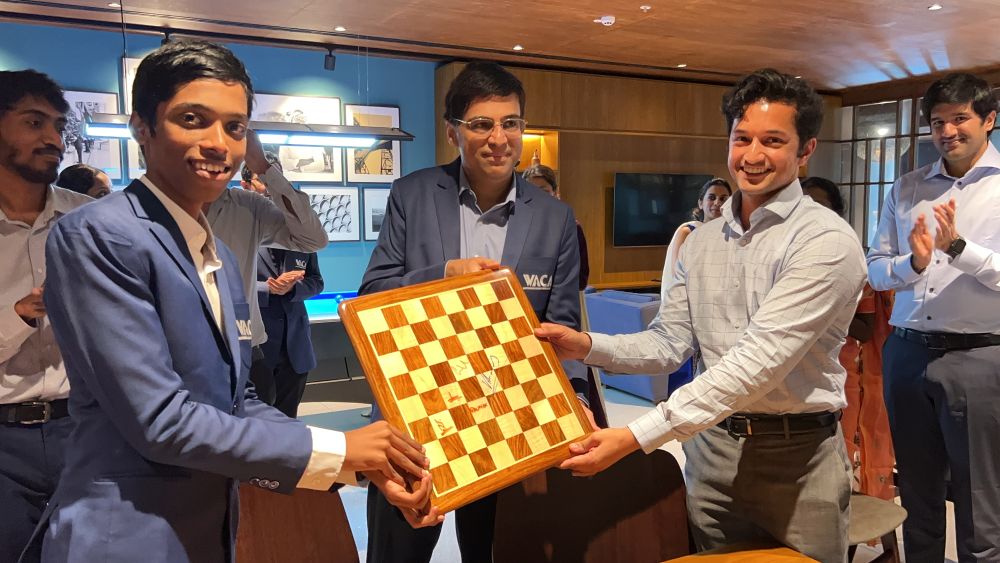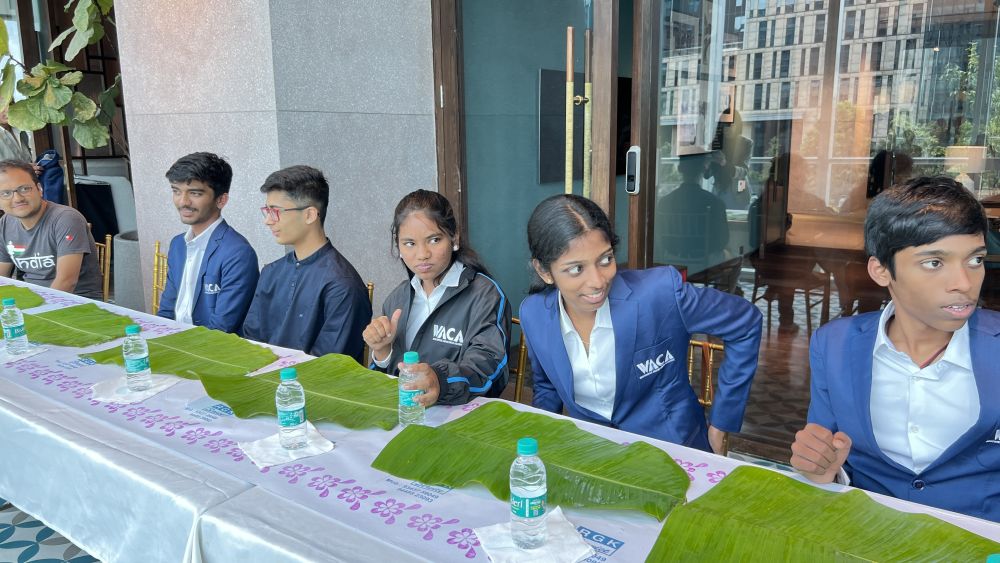 Special Thanks to Himank Ghosh for contributing to this article
---