Vishy's December #09: A rival and a fan!
Peter Svidler and Vishy Anand have had some great chess duels over the years, yet Svidler considers himself very much a fan of Vishy Anand. Right from the first time they met each other in the ChessBase office in the 90s to the current day when they still fight it out over the board, Svidler has been in awe of Vishy's abilities. In this article, Peter Svidler, an 8-time Russian Champion and a player who has fought at three Candidates events, talks about Vishy - his first meet with Anand, the Indian legend's contribution to the world of chess, what keeps Vishy going even at the age of 50 and more. This December, ChessBase India is celebrating the month as Vishy's December in honour of the Indian chess legend Vishy Anand turning 50 years old. If you have a story, experience or an anecdote related to Anand which you would like to share with the chess world, you can send it to us at chessbaseindia@gmail.com.
Everything about Anand is special
By Peter Svidler
My earliest clear memory of Vishy is playing blitz against him in ChessBase offices in Hamburg, late 90s, I want to say '97, but not 100%. I thought I was a good blitz player then, and had results to prove it. I think I scraped a point, maybe 1,5, out of the 7 or 8 games we played - and I was a left with a very clear impression that I only got those because Vishy didn't care enough to try hard. I don't feel so completely outclassed very often, in fact I'd struggle to remember a second such occasion.
Vishy is now 50 years old. He will be remembered as one of the all-time giants of the game. It would be hard for me to put into words exactly what I think is special about his chess - I'm very tempted to say all of it. But perhaps his biggest legacy is being an inspiration for generations of Indian kids to learn chess, and believe in themselves.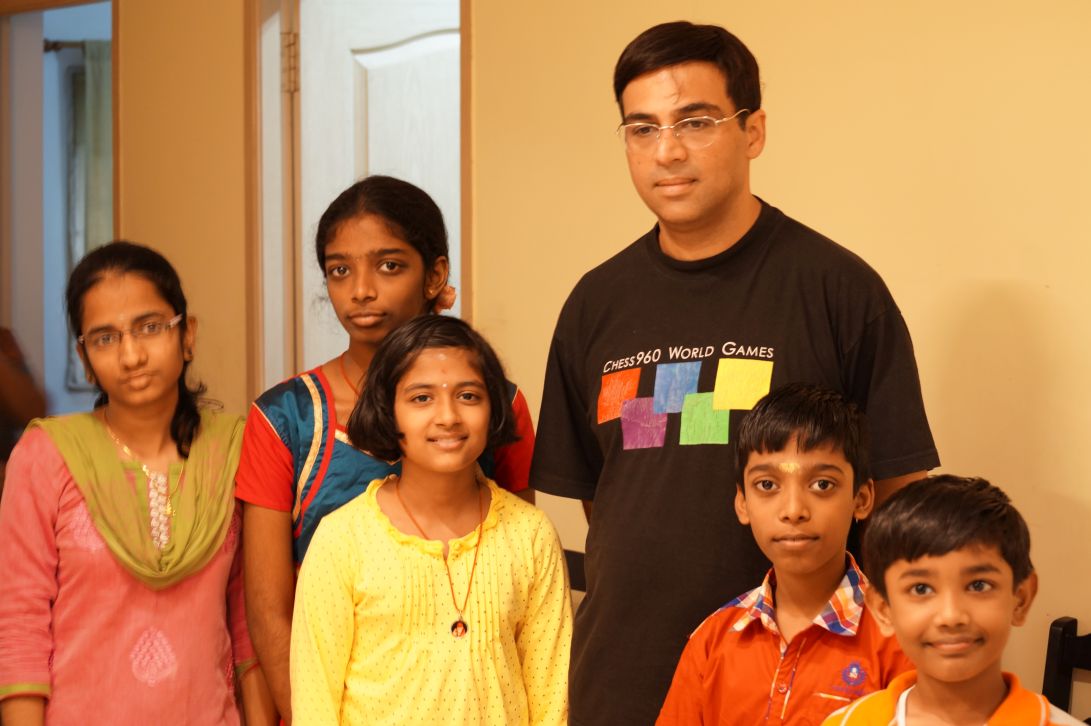 What is the secret of Vishy's longevity in chess? I wish I knew! It would be extremely useful knowledge to me at this stage. I think it might be a combination of tremendous natural gift, surrounding himself with people that care about him and are willing to help, and excellent resource management.
More than anything else, I would wish Vishy and his family health and wellbeing - and to continue doing what he's doing, inspiring all of us.
As for my favorite Vishy games - I wanted to name games 3 and 5 from Bonn, as examples of what Vishy does best. Tremendous targeted opening prep, and then excellent over-the-board play - all under the most intense pressure you can imagine, in a World Championship match.
Previous articles in Vishy's December
#01: Anand Viswanathanovich by Ravi Abhyankar
#02: Inspiration, teammate, second by Sandipan Chanda
#03: In India, chess = Anand by Sethuraman
#04: India having 65 GMs is unthinkable without Anand by Surya Ganguly
#05: Tyger Tyger burning bright by Upendra Rawat
#06: The Anand Files by Michiel Abeln
#07: From an 18-year-old talent to a 50-year-old legend by Frederic Friedel
#08: Last man standing by Vladimir Kramnik
Want to share an Anand story this December?
This entire December, ChessBase India is celebrating Vishy Anand's 50th birthday. We would like you to contribute any interesting story that you might have with Anand so that we can publish it on our newspage. In case you would like to share, you can do so from this google form link. Alternatively you can also send it to us via chessbaseindia@gmail.com
---