Vishy's December #14: From Soup of the Day to Mango Lassi
Vishy Anand was asked by Tania Sachdev at the Tata Steel Chess India 2019 - if you are stranded on an island and you have to choose one of the participants of the Grand Chess Tour to spend your time with, who would it be? Vishy smiled and in a flash said, "Anish Giri!" Vishy and Giri share a special bond with each other. While Anand was the World Champion, Anish was one of the rising talents in the world of chess. Giri used to admire Anand and learnt from his games. Over the years, this admiration hasn't diminished. In fact a new dimension of friendship has been added to their relationship. This #14 edition of Vishy's December is Anish Giri's dedication to one of the greatest champions that the game of chess has ever seen.
50 more years to Vishy
An interview with Anish Giri
Sagar Shah (SS): Do you remember your first meet with Vishy Anand? How was it?
Anish Giri (AG): Unless I am forgetting something earlier, the first time I remember being within the radius of 2 meters from Vishy Anand was in Wijk aan Zee tournament back when I played the C-group. I was having dinner with my friend in an Italian restaurant on the table just behind Vishy's and Aruna's. The legend and his wife cracked into laughter when I started having a loud dispute with the waitress about the menu. It was a little embarrassing, but I promise you, the menu said "Soup of the day", but every-day it was tomato soup! I still stand by what I fought for.
SS: When Anand was working for his match against Topalov in 2010, you travelled with Frederic to meet Vishy and work with him for a few days. How was the experience?
AG: The travel with Frederic? It felt endless. Bad Soden is in the middle of nowhere, and that time Justin Bieber's Baby was all the rage and it was coming out of every radio, both at the station and in the train. As for my meeting with Vishy Anand, it was a huge, eye opening experience. I thought I knew something and was getting better at chess and at preparation, but Vishy showed me that I was miles, miles away. I had surely wasted his time, he gained absolutely nothing from this meet, but I must have learnt so much, I am truly grateful.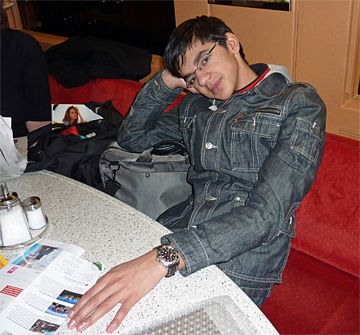 SS: From being his admirer to becoming his rival and competitor, how has been this transition been?
AG: My admiration for Vishy hasn't changed, apart from the fact that with my rating growing, I have gotten a little more daring and whereas at first I was too shy to speak to him, I now dare to ignite conversations. Playing him is always a challenge, he remains one of the world's best prepared player and he still treats us to some brilliant games on a regular basis.
SS: What do you think is the secret of Vishy's longevity?
AG: I think the ability to reinvent himself and keep developing and not do things the same way he did yesterday is one of Vishy's biggest qualities. Also, I could imagine if you are a legend and a multiple times world champion, there may be issues with motivation, but he seems to find ways to keep the fire inside burning.
SS: What do you think has been Anand's biggest contribution to world of chess?
AG: He has certainly reinvented chess in India. Within chess itself, first thing that comes to mind is his incredible professionalism and the hyper modern approach in preparation. He also keeps developing and adapting and doesn't just stick to his old ways or to what used to work, which is unique.
SS: In a recent interview at Tata Steel Chess India, Vishy said if he was stranded on an island or had to go out for a dinner he would choose you! Tell us a bit about the personal relation you share with Vishy.
AG: I take that as a compliment! Perhaps Vishy enjoys laughing at my stupidity - the thought often leaves my tongue before it has been properly processed and he has an excellent sense of humor. His favourite TV shows are Fawlty towers and Yes Minister! In both of them, the protagonists are also awkwardly comic.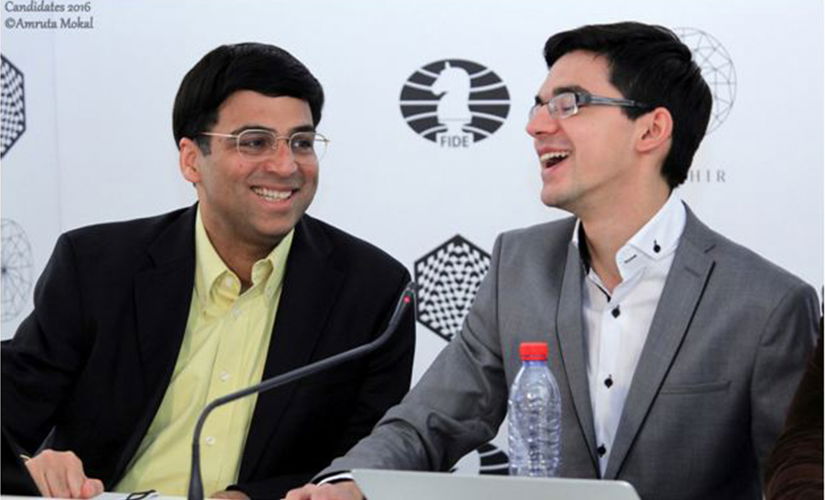 Actually we had a few dinners over the years - it is a little hobby of mine, to invite him to a local Indian restaurant anywhere in the world and see how many people recognize him there. And watch all what unfolds while drinking mango lassi.
[Ed- Anish Giri's love for Mango Lassi is well known in the chess world by now!]
Nothing better than an underserved mango lassi before the restday. #MallorcaGP pic.twitter.com/h1yXuHTUZV

— Anish Giri (@anishgiri) November 20, 2017
SS: Any other anecdote about Vishy that comes to your mind?
AG: There must be plenty, but it is always hard to come up with one on the spot. I don't know if this qualifies as an anecdote, but Aruna always reminds me how once in a restaurant in Bad Soden the owner thought I was their child!
SS: Vishy just turned 50 years old on 11th of December 2019. What are your wishes for him?
AG: What I wished him personally, was to remain at the top for 50 more years. Why not, he seems to be doing just fine so far!
Previous articles in Vishy's December
#01: Anand Viswanathanovich by Ravi Abhyankar
#02: Inspiration, teammate, second by Sandipan Chanda
#03: In India, chess = Anand by Sethuraman
#04: India having 65 GMs is unthinkable without Anand by Surya Ganguly
#05: Tyger Tyger burning bright by Upendra Rawat
#06: The Anand Files by Michiel Abeln
#07: From an 18-year-old talent to a 50-year-old legend by Frederic Friedel
#08: Last man standing by Vladimir Kramnik
#09: A rival and a fan by Peter Svidler
#10: I walked with a giant by Praful Zaveri
#12: My uncle a World Champion by Siddharth Viswanathan
#13: My great predecessors by Aditya Mittal
Want to share an Anand story this December?
This entire December, ChessBase India is celebrating Vishy Anand's 50th birthday. We would like you to contribute any interesting story that you might have with Anand so that we can publish it on our newspage. In case you would like to share, you can do so from this google form link. Alternatively you can also send it to us via chessbaseindia@gmail.com
You can also get the Vishy Anand 50th anniversary special t-shirt launched by ChessBase India. It comes in two colours - grey and white.
---