It was not Sandipan's day
Sandipan suffered his first loss of the tournament against Ukraine's strong GM Pavel Eljanov in round 7. In round 6, Sandipan held former World Cup winner legendary Gata Kamsky to a draw. After suffering a loss in round 5, making a short a draw in round 6, Sethuraman squashed his opponent of round 7 in just 11 moves. Padmini suffered her first loss in round 7 after scoring an emphatic victory in round 5 and a topsy-turvy draw in round 6. Gukesh scored three consecutive clinical victories and is now set to face Gata Kamsky in the penultimate round of the tournament. There is a five-way lead at the top with 6.0/7 between Pavel Eljanov, Anton Demchenko, Timur Gareyev, Sergei Azarov and Vitaliy Bernadskiy at 23rd OIBM Tegernsee in Germany. Photo: OIBM Official site
Eljanov stopped Sandipan's near perfect run
After drawing with Gata Kamsky in round 6, Sandipan was closing in on the leader, but he had a tough obstacle in the form of Pavel Eljanov. Sandipan relied on his trusty Dutch Defence. As usual he managed to equalize things with ease out of the gate. However he made a wrong pawn grab at a wrong time which tilted things in Eljanov's favor.
Eljanov - Sandipan, round 7
30...Qxa2 seems harmless at first. However a careful look reveals that there is an instant win for White.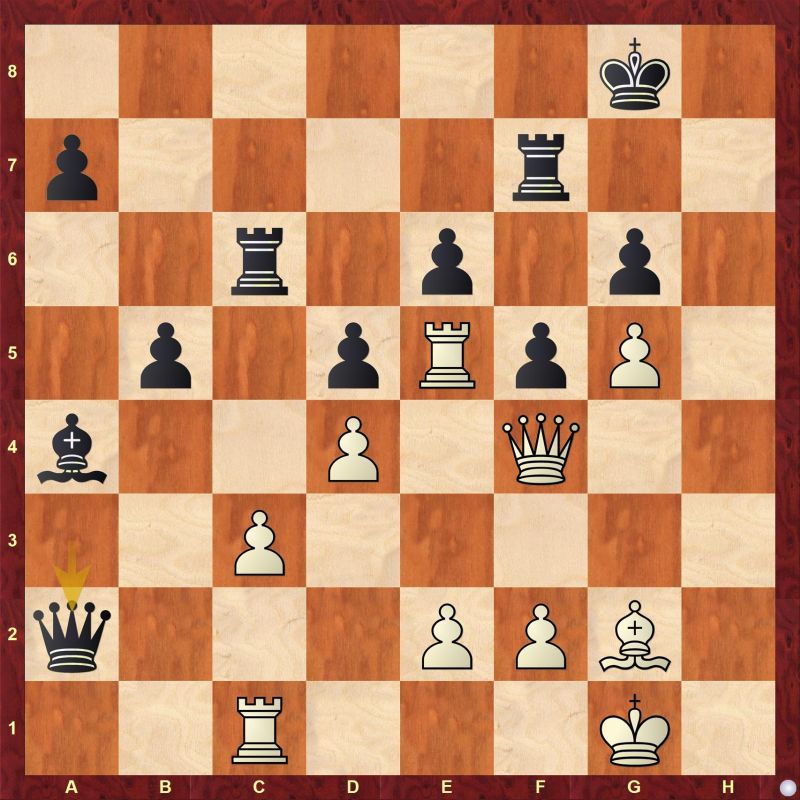 It is safe to assume that both players were in time trouble, thus both missed this simple tactic.
After Eljanov's 33.Rh6 , Sandipan had one last chance to prolong the inevitable but he missed that too.
In the previous round, Sandipan held former World Cup winner Gata Kamsky to draw. Sandipan opted for London system and kept creating chances for himself, however Kamsky is not the one to make a mistake easily. The game eventually liquidated into a knight vs bishop ending where draw was the only logical conclusion.
After losing the fifth round game, making a short draw in round 6 in just 25 moves, Sethuraman was definitely starving for a full point. He victimized IM Dieter Morawietz in a 11 move miniature.
This is what his friend Surya Sekhar Ganguly tweeted at the conclusion of his game
The four-time National Women's champion and Olympiad Gold medalist, IM Padmini Rout dominated her opponent Danny Yi in round 5. In round 6, she made a draw against GM Salvador G Del Rio De Angelis (ESP, 2491) in a topsy-turvy game.
Angelis - Padmini, round 6
You have to take every chance you get, sometimes half-chances too. Here Padmini opted for the most interesting continuation, 19...Nxf2. There is no immediate win for Black here, however black has enough against white's exposed king to exploit it eventually.
Black opted for the natural continuation of 20...Qd5 which allowed White to bounce back, except for the fact that Angelis could not find it.
Angelis missed an easy win 34...Re3 blunder and the game eventually ended up in a draw in an equal rook and few pawns endgame.
In round 7, Padmini gained an early advantage against GM Grzegorz Nasuta (POL, 2534)
Padmini - Nasuta, round 7
White continued with 19.Na6 and things started going in her direction, until she over pushed her passed pawn.
26.b7 momentarily nets white a piece but white cannot hold on to it for long and the eventual resultant position goes in favor of black and white loses control of the domination.
Gukesh got back to his winning ways by stringing three consecutive victories. To understand Gukesh's acumen, take a look at this position from his round 7 game.
Tomas - Gukesh, round 7
White's 22.f5 would have spooked any other kid, but Gukesh is not just another kid. He calmly made the right decision and overthrew any shred of possibility for an attack on his king side. The next sequence of moves completely turned things in Gukesh's favor and he won the game in just another seven moves.
Gukesh has a big task ahead of him now as he faces Gata Kamsky in the penultimate round. Fun fact: This will be Kamsky's third Indian opponent of the tournament and so far he has only managed to draw against both.
Round 7 results of Indian players
Round 8 pairings for Indian players
---