Bernadskiy wins 23rd OIBM, Sethuraman and Sandipan finish shared third
23rd OIBM Tegernsee witnessed Ukrainian domination as Vitaliy Bernadskiy and Pavel Eljanov claimed first and second position. Among the Indians, both Sethuraman and Sandipan scored 7.0/9 each and they finished shared third. After squandering multiple winning chances in the penultimate round, Sethuraman won his final round game with ease. In the last two rounds, Sandipan played some inspired chess and they are absolutely a must see where he showcases his creativity with sharp play. Padmini scored a 21-move miniature in the penultimate round and utilized her king beautifully in the last two rounds to finish at 6.5/9, being the only woman to finish in top 30. Photo: OIBM official site
Ukrainians dominate at Tegernsee
Tenth seed GM Vitaliy Bernadskiy (UKR, 2554) made a strong comeback after losing his sixth round game against GM Timur Gareyev (USA, 2591) and scored 7.5/9 to win the tournament. In the final round, he faced compatriot GM Pavel Eljanov (UKR, 2663) and they made a short draw to secure the top two places.
Sethu's miss in the penultimate round
After an 11-move blitzkrieg finish in round 7, Sethuraman got a winning position again and again, more like multiple times, but he squandered them all and the game eventually ended up in a draw.
Engel - Sethuraman, round 8
Of course Sethuraman opted for the correct continuation here and got decisive advantage but after a few moves, he made a strange decision
Here black went with 29...Qd7 which does not seem to be a bad move at first, but if you have that much advantage, keeping the d6 pawn at the cost of the queen exchange doesn't make a whole lot of sense. 29...Kf6 would have been a better continuation and perhaps a quicker and easier win for black.
Sandipan's symphony in his last two
It is no secret that Sandipan, given a chance will launch a devastating attack and smash his opponents. That is exactly what was portrayed in his last two games of the tournament.
Hess - Sandipan, round 8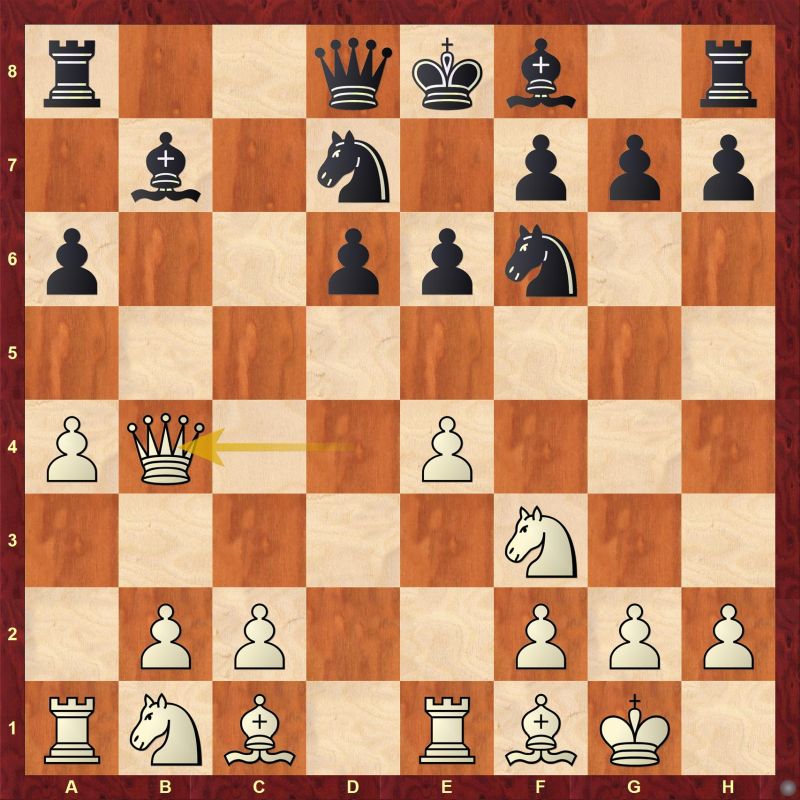 Sandipan continued here with 20...Rxf2 which is also winning and probably the most interesting continuation here. The computer says 20...Bxf2+ is the better continuation here and perhaps quicker too but I find it to be less humane.
Direct Queen sacrifices definitely look pretty, but sometimes indirect queen sacrifices are aesthetically pleasing.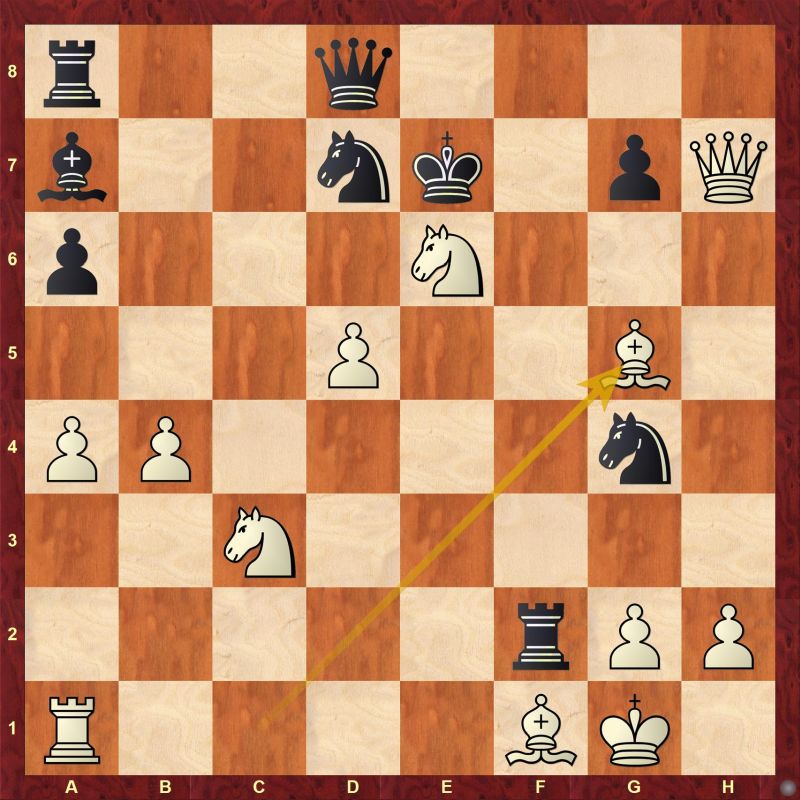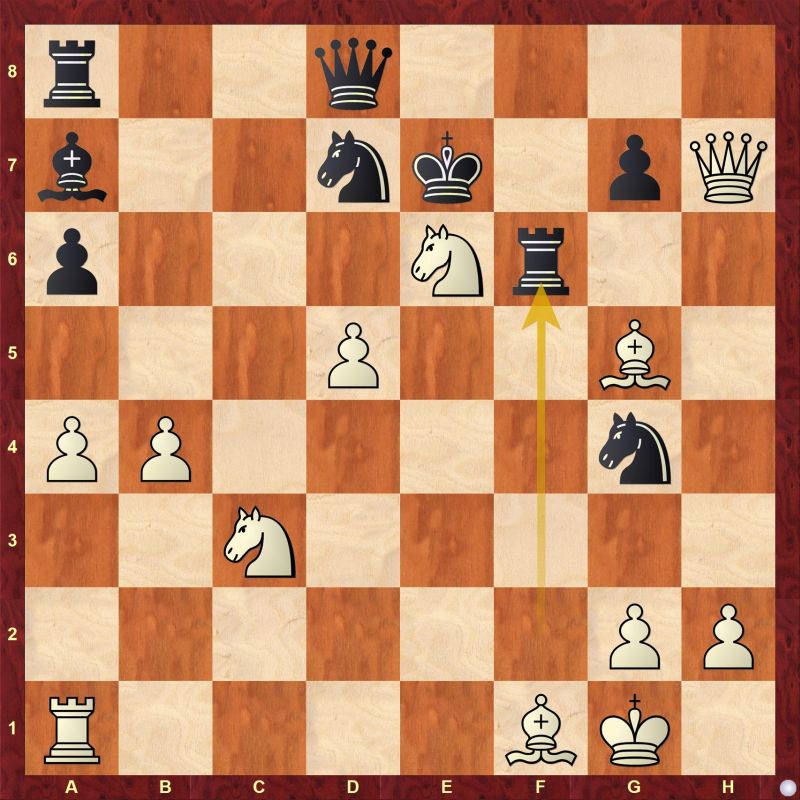 As unbelievable as it may seem, after 23...Rf6+ white could have escaped with a repetition. Unfortunately for white, he opted for the inferior variation with 24.Nc5 which was a point of no return for white and it all went downhill from there.
Fun fact: Did you notice that either sides queen-side rook remained only a spectator in the game?
After finishing Hess in just 31 moves in the penultimate round with a beautiful game, Sandipan was naturally quite confident and had all the momentum with him to finish the tournament on a high note.
Sandipan - Atakisi, round 9
White's move 17.f4 is definitely a well thought move and it shows that white is determined to go for a win only.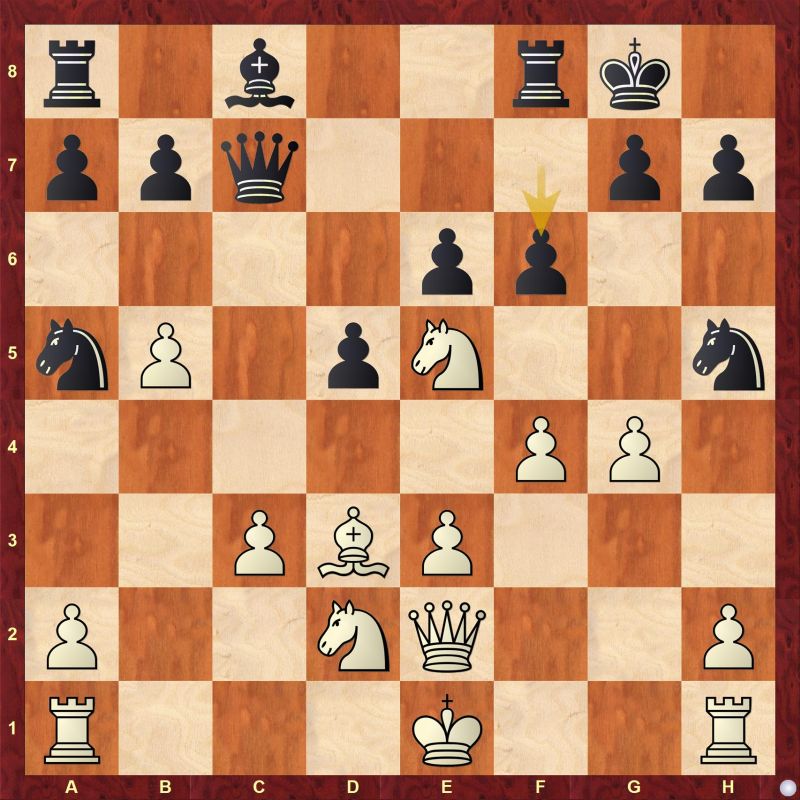 18.Nef3 maintains a decent advantage for white but that's not what Sandipan was aiming for. Like I said before, to finish on a high note, there has to be a symphony.
Sandipan was not willing to let his opponent stir up any trouble, how should white continue here to maintain the positional harmony?
Of course white was not concerned about how many pawns he is sacrificing. Can you think like Sandipan and find the continuation here?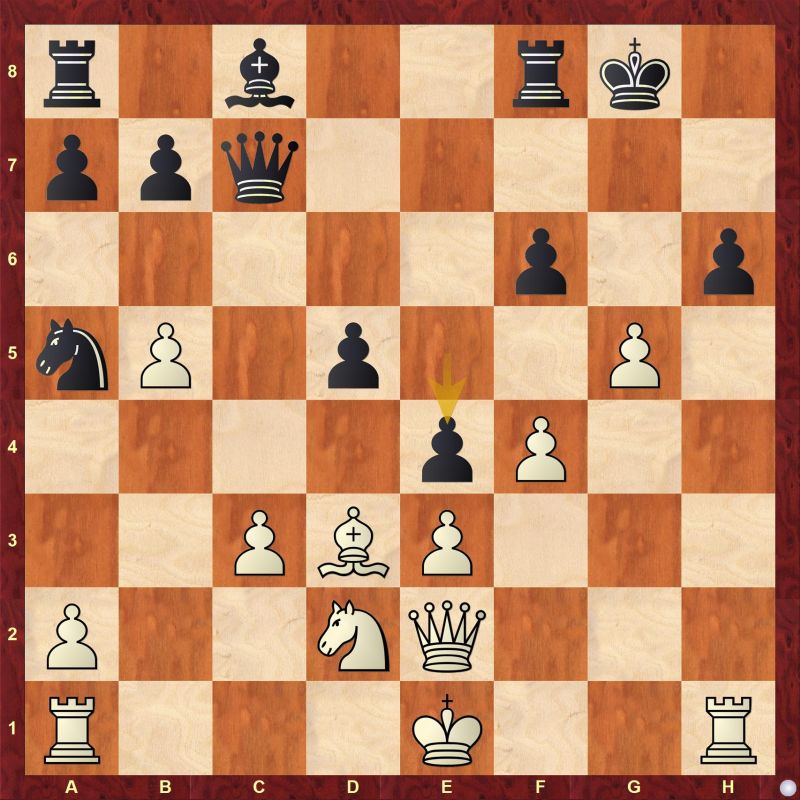 Black tries to put a gridlock in the center with 22...e4 but that can only favor white as it is white's king who is still at the center. So Sandipan launched the next stage of his attack involving the major pieces.
It is obvious that white is winning in this position but he must make sure not to go wrong. What is that saying of when you are launching an attack, make sure all pieces join the party?
Gukesh held Kamsky to a draw
Gukesh became the third Indian to hold Gata Kamsky to a draw in the tournament with the white pieces. However it wasn't an easy draw and at some point Kamsky had the opportunity to gain decisive advantage.
Gukesh - Kamsky, round 8
Time trouble could be a reason behind Kamsky's choice to play 30...N6xd5 when he could have gotten massive advantage with 30...R8xd5 and then it would be just a matter of time for him to convert it into a win. After 31.Rxd3, a bunch of pieces got exchanged and eventually the game petered out to a draw in another thirteen moves.
In the final round, Gukesh made a tepid draw in just 31 moves to finish with 6.5/9
Padmini's 21-move miniature
After suffering her first loss of the tournament in round 7, it was obvious she had no desire to show mercy to her opponent in the penultimate round. She went for an all-out attack and scored a thumping victory in just 21 moves.
Klaus - Padmini, round 8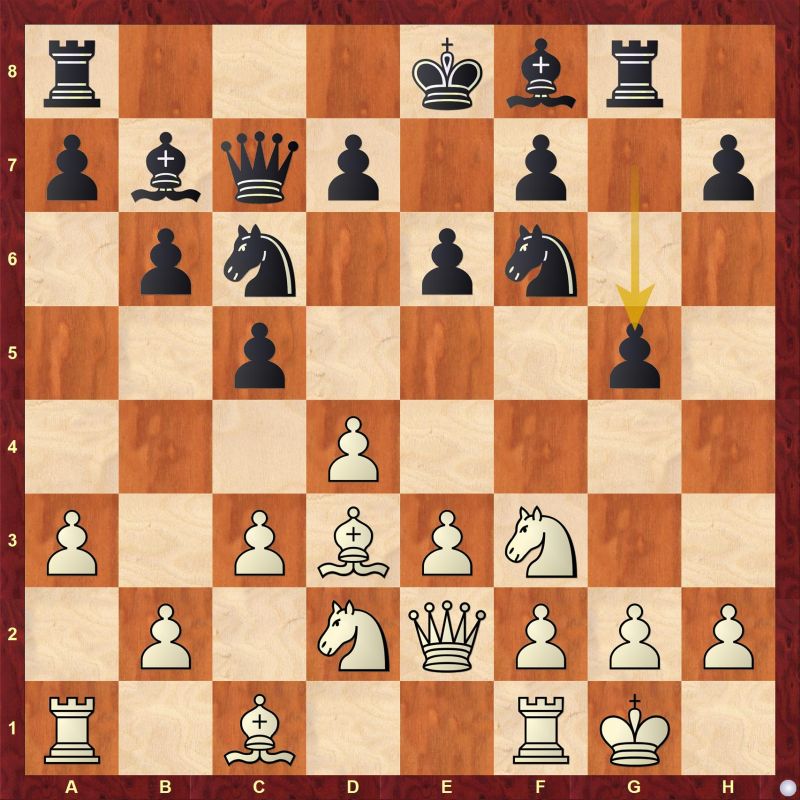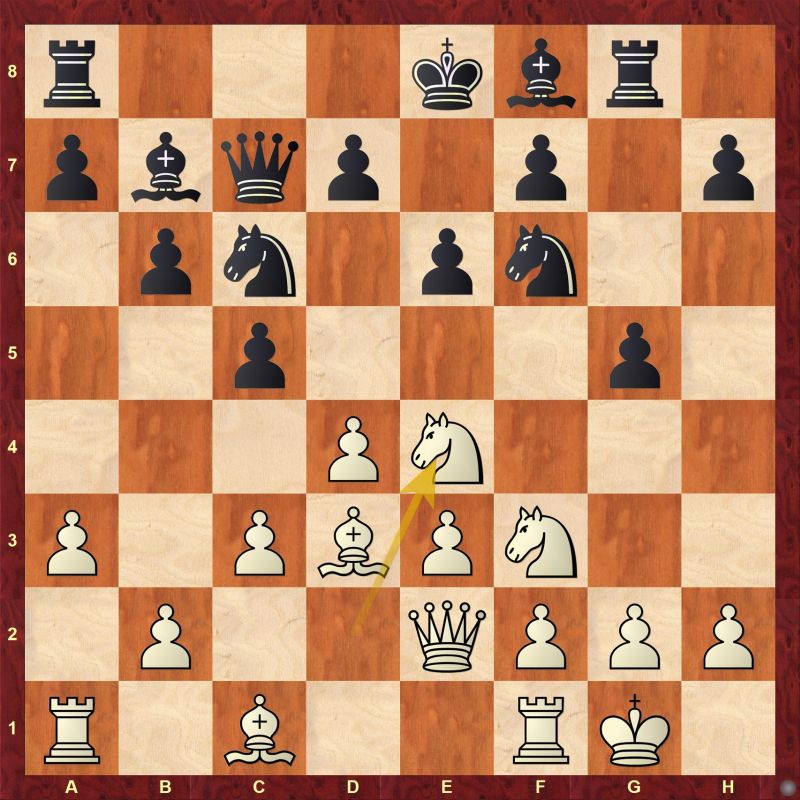 It was just a matter of time for black to convert her initiative into a decisive advantage and score the full point.
In the final round, Padmini used her king beautifully to score a victory.
Padmini - Gideon, round 9
In the above mentioned diagram, it seems like white cannot do much with the rook or the bishop to utilize the dark square weakness on the king side, but has its king to utilize it.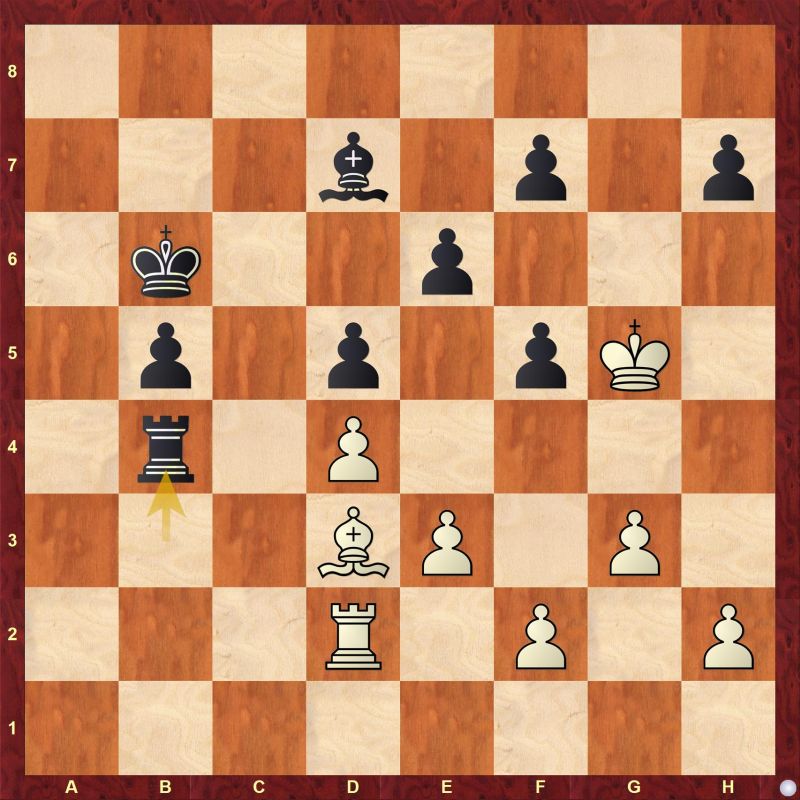 In the endgame, timing is critical. It is absolutely imperative that white captures black's king side pawns in the correct order else the passed b-pawn will prove to be a monster.
If you make the right choice here, then winning this shouldn't be a tall order for white.
12-year-old CM Prraneeth Vuppala who started the tournament with a draw against legendary Gata Kamsky, managed to score 6.5/9 and gain 77 Elo rating points.
Total 504 players from 26 different countries including 24 GMs and 23 IMs participated in this event from 26th October to 3rd November 2019 at Gmund am Tegernsee in Germany. It was organized by Tegernseer Tal Tourismus GmbH.
Final Standings
| | | | | | | | | | | | | |
| --- | --- | --- | --- | --- | --- | --- | --- | --- | --- | --- | --- | --- |
| Rk. | SNo | | | Name | sex | FED | RtgI | RtgN | Club/City | Pts. | TB1 | TB2 |
| 1 | 10 | | GM | Bernadskiy Vitaliy | | UKR | 2554 | 2580 | SV 1920 Hofheim | 7,5 | 2509 | 50,5 |
| 2 | 2 | | GM | Eljanov Pavel | | UKR | 2663 | 0 | | 7,5 | 2480 | 53,5 |
| 3 | 9 | | GM | Idani Pouya | | IRI | 2568 | 0 | | 7,0 | 2503 | 50,5 |
| 4 | 6 | | GM | Azarov Sergei | | BLR | 2586 | 0 | Minsk | 7,0 | 2494 | 51,5 |
| 5 | 5 | | GM | Gareyev Timur | | USA | 2591 | 0 | | 7,0 | 2485 | 52,0 |
| 6 | 4 | | GM | Sethuraman S.P. | | IND | 2624 | 0 | | 7,0 | 2447 | 48,5 |
| 7 | 8 | | GM | Peralta Fernando | | ARG | 2569 | 0 | Barcelona | 7,0 | 2436 | 51,0 |
| 8 | 20 | | GM | Vetoshko Volodymyr | | UKR | 2506 | 0 | | 7,0 | 2436 | 48,5 |
| 9 | 14 | | GM | Sandipan Chanda | | IND | 2529 | 2603 | SG Solingen | 7,0 | 2417 | 49,5 |
| 10 | 1 | | GM | Kamsky Gata | | USA | 2685 | 2672 | SF Deizisau | 7,0 | 2368 | 49,0 |
| 11 | 16 | | GM | Prusikin Michael | | GER | 2521 | 2507 | BCA Augsburg | 7,0 | 2364 | 48,5 |
| 12 | 19 | | IM | Engel Luis | | GER | 2507 | 2531 | Hamburger SK von 1830 | 7,0 | 2360 | 50,0 |
| 13 | 13 | | GM | Nasuta Grzegorz | | POL | 2534 | 2546 | Godesberger SK 1929 | 7,0 | 2354 | 46,5 |
| 14 | 18 | | GM | Asadli Vugar | | AZE | 2513 | 0 | | 6,5 | 2429 | 52,0 |
| 15 | 7 | | GM | Santos Latasa Jaime | | ESP | 2580 | 0 | Leon | 6,5 | 2402 | 49,5 |
| 16 | 22 | | IM | Krzyzanowski Marcin | | POL | 2500 | 0 | | 6,5 | 2390 | 49,0 |
| 17 | 17 | | GM | Gukesh D | | IND | 2520 | 0 | | 6,5 | 2384 | 49,0 |
| 18 | 29 | | GM | Womacka Mathias | | GER | 2436 | 2395 | SV 1920 Hofheim | 6,5 | 2352 | 48,5 |
| 19 | 12 | | GM | Shevchenko Kirill | | UKR | 2542 | 2591 | SC Emmendingen 1937 | 6,5 | 2334 | 46,0 |
| 20 | 30 | | IM | Bellia Fabrizio | | ITA | 2433 | 0 | | 6,5 | 2323 | 46,0 |
| 21 | 27 | | IM | Parvanyan Ashot | | GER | 2448 | 2461 | TuRa Harksheide von 1945 Norde | 6,5 | 2280 | 45,5 |
| 22 | 26 | | IM | Vogel Roven | | GER | 2456 | 2446 | USV TU Dresden | 6,5 | 2271 | 46,0 |
| 23 | 42 | | IM | WGM Padmini Rout | w | IND | 2394 | 2383 | Hamburger SK von 1830 eV | 6,5 | 2255 | 46,0 |
| 24 | 47 | | FM | Möhn Hans | | GER | 2370 | 2359 | USV TU Dresden | 6,5 | 2239 | 44,0 |
| 25 | 126 | | CM | Prraneeth Vuppala | | IND | 2149 | 0 | | 6,5 | 2215 | 40,5 |
---