Grenke Chess Classic: Caruana wins in style
In the final round of the Grenke Chess Classic, Fabiano Caruana shut down all possibilities of a possible tiebreak beating Nikita Vitiugov with a surprising novelty in the Petroff. With this win, Caruana remained a full point ahead of his nearest rival, world champion Magnus Carlsen. Carlsen was pitted against his former challenger Vishy Anand in the finale and had to satisfy himself with a draw. The remaining games, even though exciting, also ended peacefully. We have a report with pictures and games.
Caruana wins the three horse race!
In the last few months, if the Tata Steel Masters were to be excluded, Fabiano Caruana has been in terrific form. In the middle of December 2017, he won the London Chess Classic; last month he clinched the World Championship Candidates to become the official challenger to Magnus Carlsen for the world title; and now, he has won the Grenke Chess Classic a full point ahead of his nearest rival!
Going into the final round, there was a lot of talk about a possible tiebreak. Caruana was playing one of the three contenders for the title, Nikita Vitiugov – the other two being himself and Carlsen. Vitiugov, even though he was much lower rated than Caruana, had had a fantastic event in Grenke. Just like Caruana, he had remained unbeaten even after locking horns with some of the very best players in the world. In addition to this, it was Vitiugov who had the white pieces. Any sane predictor would put his money on a draw, given the situation.
But if this game were to end in a draw, Magnus Carlsen would get the opportunity to catch up with Caruana, if he could beat Anand that is. He also had the black pieces in this game. Against an opponent of Anand's caliber – even if Anand were in poor form – winning with black was not an easy task to accomplish. But had Carlsen succeeded, he would have earned the right to battle for the title in a tiebreak against Caruana. Had Vitiugov won against Caruana, Carlsen would play Vitiugov. But if Carlsen lost and Vitiugov won, Vitiugov would be the clear winner.
Possibilities were many, but Caruana shut them all down. He was half-a-point ahead, and registered an emphatic victory in the final round, leaving all his rivals and the possibilities a full point behind.
The game, too, was quite a remarkable one. Caruana, with the black pieces, went for the innocuous Petroff. Just five moves into the game, Caruana made a move that would make any grandmaster raise eyebrows. He moved his queen to d7, a square where it blocked its own bishop. Caruana said that he had hardly analyzed the move completely and was on his own just two moves after he made it. But the move did what a novelty is supposed to do: it caught the opponent off guard. Nikita Vitiugov was completely unfamiliar with the position just didn't know what he should play for. In a must win situation, this is not the kind of a position anyone would like to be in.
Vitiugov wasted some time in the middle game while manoeuvring his knight to the f3 square and allowed Caruana to plant a rook deep into his position on the d3 square. Caruana said after the game that by this point he was already very confident about his position. Over the next few moves, Vitiugov made a few more mistakes. By move 38, Caruana not only had a great position but also an extra exchange. Two moves later, Vitiugov resigned.
Caruana was delighted to have won the event. "It was a great tournament. I mean, at the end it just couldn't have gone better, the last few days. I was kind of expecting or hoping to just coast the last three games with like three draws. But somehow I managed to win two games with black which is very rare but also very positive," he said.
Just two rounds ago, Magnus Carlsen, after his game against Arkadij Naiditsch had said that he played the Sicilian Najdorf because he wanted to win. In the finale, Carlsen, who had the black pieces again against Vishy Anand, went for the Sicilian yet again. But much to Vishy's surprise, Carlsen went for the Classical variation of the opening. "I was surprised when his hand went to the knight," Anand said. However, the Classical Sicilian isn't an unexplored territory for Anand. So, even if he was surprised by Carlsen's choice, he clearly knew his way around.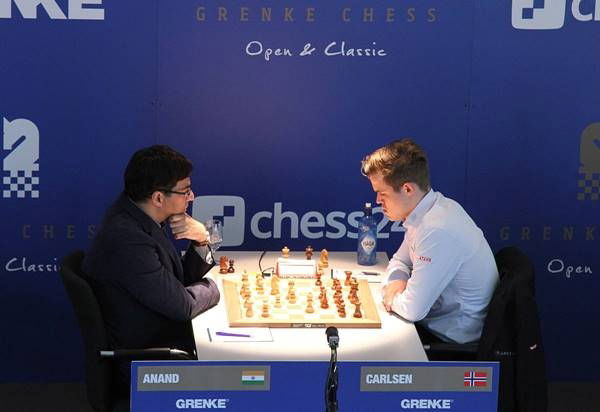 On his twelfth turn, Anand came up with a novelty that crippled black's kingside structure (something which is quite thematic in these lines of the Sicilian) by exchanging his bishop for Carlsen's knight. Carlsen, with his king stuck in the centre went on to castle 'by hand' walking his king to the b8 square. Neither side looked to be in trouble in the remainder of the game. A draw was agreed on move 41.
Remainder of the finale
The other three games were insignificant from the perspective of determining the winner and all of them were drawn. However, players did try making some winning attempts in all of the three.
Matthias Bluebaum was caught in Aronian's opening preparation in a Sicilian Ragozin and had to take each step carefully. This made him consume some time on his clock but, in the end, the young German GM was able to come out alive. Scoring 4.5/9 Bluebaum finished sixth in the final standings. Being the lowest rated player in the field, this is a phenomenal performance by the 20-year-old. His rating performance at the event was a stunning 2747 which has also earned him 14 rating points.
Bluebaum's compatriot, Georg Meier came very close to scoring his first win of the event in his final round game against French number one, Maxime Vachier-Lagrave. From the black side of a London System, Meier succeeded in catching MVL by surprise on with his 5…b5. As play progressed, the French number one had to walk on tightropes before he could settle for peace via move repetition on the 52nd move.
Hou Yifan and Arkadij Naiditsch played a Giuco Piano in which neither side could claim any advantage out of the opening. But on his 19th turn, Naiditsch tried to complicate matters with a temporary piece sacrifice. He did regain his piece almost immediately but the transaction lost him a pawn. Queens were exchanged soon afterwards and it seemed Hou Yifan might score her first win at Grenke in the final round. But in the ensuing knight endgame, she was unable to find the right continuation and had to settle for a draw after 64 moves.
Standings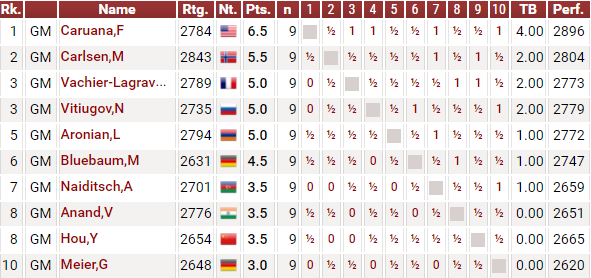 About the Author
Aditya Pai is an ardent chess fan, avid reader, and a film lover. He holds a Master's in English Literature and used to work as an advertising copywriter before joining the ChessBase India team.
Previous Reports on Grenke Chess Classic
Grenke Chess Classic R1: Carlsen faces his challenger in the inaugural round!
Grenke Chess Classic R2: Anand loses to MVL; Vitiugov keeps his lead
Grenke Chess Classic R3: MVL joins Vitiugov in the lead
Grenke Chess Classic R4: Caruana pulls off à la Carlsen!
Grenke Chess Classic: Carlsen finds a narrow escape
Grenke Chess Classic R6: A big upset for Anand
Grenke Chess Classic: Caruana takes sole lead
Grenke Chess Classic R8: Three contenders remain
Coverage on Firstpost
Grenke Chess Classic, Round 1: Hou Yifan holds Viswanathan Anand; Magnus Carlsen-Fabiano Caruana clash ends in draw
Grenke Chess Classic, Round 2: Viswanathan Anand loses to Maxime Vachier-Lagrave; Nikita Vitiugov on top
Grenke Chess Classic Round 3: Viswanathan Anand holds Levon Aronian; Maxime Vachier-Lagrave joins Nikita Vitiugov in the lead
Grenke Chess Classic Round 4: Viswanathan Anand plays out another draw; Fabiano Caruana new joint leaders
Grenke Chess Classic Round 5: Magnus Carlsen narrowly escapes defeat, Viswanathan Anand held by Fabiano Caruana
Grenke Chess Classic Round 6: Viswanathan Anand's chances look grim after major upset; Magnus Carlsen held
Grenke Chess Classic Round 7: Fabiano Caruana becomes clear leader after win over Maxime Vachier-Lagrave
Grenke Chess Classic Round 8: Viswanathan Anand shows good preparation to counter Arkadij Naiditsch's attack

---