Grenke Chess Classic R8: Three contenders remain
In the penultimate round of the Grenke Chess Classic, Fabiano Caruana held Levon Aronian to a draw to retain his half point lead over the rest of the field. Magnus Carlsen had a good chance to catch up with Caruana after this draw but his opponent, Nikita Vitiugov defended stubbornly and succeeded in splitting the point after 65 moves. In another interesting battle, Arkadij Naiditsch tried to generate a strong attack against Vishy Anand's king with the 6.e5 variation of the Giuco Piano. But the Madras Tiger was well prepared and gave the Azeri GM no chance to break through. Round 8 report.
Caruana takes it calmly
The penultimate round of the Grenke Chess Classic was a surprisingly quiet day. With all of the games drawn, Fabiano Caruana, who has been leading the field with a half point margin, inched a step closer to the title. Understandably, he wanted to play it safe with just two rounds to go. With Caruana's game drawn, both Vitiugov and Magnus Carlsen – who were playing each other – got a chance to catch up with Caruana in the lead. But for that to happen, one of them would have to win. Carlsen tried hard to convert the slightly better endgame but Vitiugov was up to the defensive task and held ground. Vishy Anand also showed a good bit of preparation in round 8 holding Arkadij Naiditsch to a draw with the black pieces.
The eighth round pitted Fabiano Caruana against Levon Aronian. Since he was already half a point ahead, he could either have tried to win all out in this round and bag the title with a round to spare or he could have played in a more solid and risk-free manner. Caruana chose the latter. With the white pieces, he went for the 5.Re1 variation of the Berlin Defence. This way, he avoided an immediate queen exchange which leads to a notoriously drawish endgame while still keeping a solid position.
The queen exchange wasn't avoided for long though. Queens were off the board within the next ten moves. Caruana still tried retaining some chances in the position by giving up a pawn to hamper white's development. Of course, Aronian did not intend on keeping the pawn. He returned it almost immediately and restored equality. A few exchanges later, and endgame with equal pawns and bishops of opposite colours was reached when the players decided to call it a day.
This relatively short draw by Caruana gave Magnus Carlsen, who was lurking half a point behind, a chance to catch up. Unfortunately for him, however, his position against Vitiugov did not have much to offer. Play had begun with an unusual Ruy Lopez which had some traits of the Italian Opening. By move 30, an endgame was reached where Carlsen seemed to have a small edge due to Vitiugov's crippled queeside pawns.
It is well known that Carlsen can be a nightmare for his opponents in such situations. Vitiugov, though, defended extremely well with his rook and bishop to not allow Carlsen any chance of making progress. Deploying the bishop to the defence of the kingside and a rook on the queen's wing, Vitiugov ensured that Carlsen's pieces were never able to exploit his weaknesses. After trying for 65 moves, Carlsen decided to sign the truce.
India's Viswanathan Anand showed some good bit of preparation in his game against Arkadij Naiditsch who side-stepped the usual Closed Italians and went for the Open variation in round 8. Staying true to his playing style and to the nature of the opening he had essayed, Naiditsch tried to generate a strong attack on Anand's king from the very start. On his 13th turn, he gave up a pawn and castled on the queenside in order to break through to the black king. But Anand was in great control in the position. He forced an exchange of queens well before Naiditsch could even begin his attack. Further, he returned his extra pawn at the perfect time to take control over the king rook file. In the resolving endgame, neither side had any chance of breaking into the enemy camp. A draw was agreed after 38 moves of play.
Maxime Vachier-Lagrave, after dropping off the top spot yesterday, was in a must win situation in the penultimate round if he wanted to keep his chances for title contention alive. He had the black pieces against Matthias Bluebaum. Given the young German's form, this was an uphill task for the French number one. Play began with a Symmetrical English where Bluebaum seemed eager to exchange queens early. Vachier-Lagrave avoided a queen exchange on the sixth move but just five moves later, queens were exchanged anyway. More pieces trades followed and steered the game into an endgame where both sides had a rook, a knight, a bishop and seven pawns. The existence of so many pawns on the board in an endgame meant that infiltration into the enemy camp for both sides was very difficult to achieve. On his 42nd turn, Bluebaum even offered to give up an exchange and still hold to a draw as the resulting position was a fortress. Vachier-Lagrave did not accept the offered exchange but a draw was agreed three moves later nonetheless.
Hou Yifan's game against Georg Meier opened with a Catalan and also featured an early queen trade. Meier had a slight edge in the position after the exchange of queens but Hou did not give him much of an opportunity to break through. The light-squared bishop and a pair of rooks was hacked off the board soon afterwards and a draw was agreed on move 33.
Going into the final round, three players – Fabiano Caruana, Magnus Carlsen and Nikita Vitiugov – have remained in contention for the title prize. Caruana, who is half a point ahead, is definitely the favourite out of the three. He will be playing Vitiugov with the black pieces in the final round. As for Magnus Carlsen, he will play his former world championship challenger, Vishy Anand. Considering his fantastic record against Anand and his current tournament situation, Carlsen will definitely go all out for a win. If Caruana wins, he will be the clear winner of the tournament. However, if he draws or loses while Carlsen wins, there will be a playoff. In case of a draw, Carlsen and Caruana will play the playoffs to determine the winner. If Caruana loses, Carlsen will face Vitiugov in the playoffs.
Standings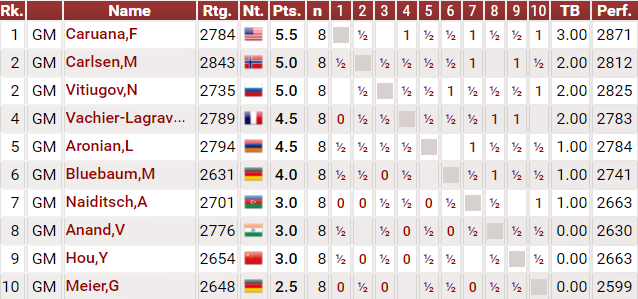 About the Author
Aditya Pai is an ardent chess fan, avid reader, and a film lover. He holds a Master's in English Literature and used to work as an advertising copywriter before joining the ChessBase India team.
Previous Reports on Grenke Chess Classic
Grenke Chess Classic R1: Carlsen faces his challenger in the inaugural round!
Grenke Chess Classic R2: Anand loses to MVL; Vitiugov keeps his lead
Grenke Chess Classic R3: MVL joins Vitiugov in the lead
Grenke Chess Classic R4: Caruana pulls off à la Carlsen!
Grenke Chess Classic: Carlsen finds a narrow escape
Grenke Chess Classic R6: A big upset for Anand
Grenke Chess Classic: Caruana takes sole lead
Coverage on Firstpost
Grenke Chess Classic, Round 1: Hou Yifan holds Viswanathan Anand; Magnus Carlsen-Fabiano Caruana clash ends in draw
Grenke Chess Classic, Round 2: Viswanathan Anand loses to Maxime Vachier-Lagrave; Nikita Vitiugov on top
Grenke Chess Classic Round 3: Viswanathan Anand holds Levon Aronian; Maxime Vachier-Lagrave joins Nikita Vitiugov in the lead
Grenke Chess Classic Round 4: Viswanathan Anand plays out another draw; Fabiano Caruana new joint leaders
Grenke Chess Classic Round 5: Magnus Carlsen narrowly escapes defeat, Viswanathan Anand held by Fabiano Caruana
Grenke Chess Classic Round 6: Viswanathan Anand's chances look grim after major upset; Magnus Carlsen held
Grenke Chess Classic Round 7: Fabiano Caruana becomes clear leader after win over Maxime Vachier-Lagrave

---