Unstoppable Abdumalik becomes Kazakhstan's first woman to earn a Grandmaster title
Zhansaya Abdumalik became Kazakhstan's first woman to earn a Grandmaster title by defeating Gunina in Round 9 of FIDE Gibraltar Women's Grand Prix. She has extended her lead by two points 7.5/9 and she is the only undefeated player of the tournament so far. Three players are at 5.5/9 and they are - Mariya Muzychuk, Kateryna Lagno and Gunay Mammadzada. Mariya suffered her first defeat of the event against Kashlinskaya. It will be interesting to see if either Kateryna Lagno or Anna Muzychuk can halt Abdumalik's momentum in the final two rounds of the event. Photo: David Llada/FIDE
Abdumalik is just a draw away from winning the tournament
Zhansaya Abdumalik once again extended her lead by beating Valentina Gunina in a long grueling match. With this victory she crossed the 2500 rating barrier and became Kazakhstan's first woman to become a Grandmaster as she had already fulfilled the GM-norm criteria. Now she just needs a draw to win the tournament, however she is ineligible to qualify to the Women's Candidates via GP as she is a reserve player in the Grand Prix.
Dzagnidze - Stefanova: 1-0
Dzagnidze got a completely commanding position in the middlegame against Stefanova.
The position is already quite difficult to play for black and 28...Qh2 did not help the case. After 29.g5 Ne8 30.Nf5 white got a decisive advantage and it was just a matter of time for white to convert it. White won the game in another twelve moves.
Did you know: Dzagnidze has not lost a game against Stefanova since December 2017.
Kashlinskaya - M Muzychuk: 1-0
Mariya played boldly against Kashlinskaya and it did not pay off.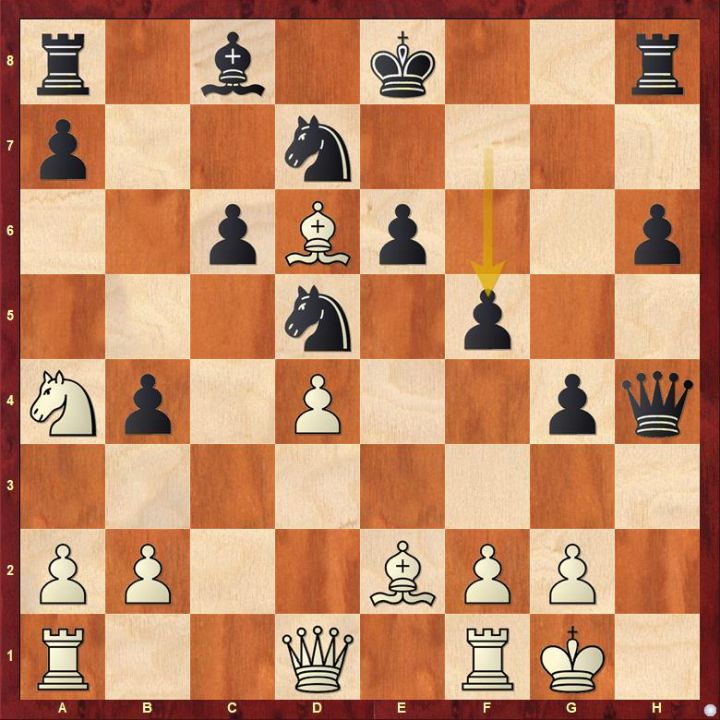 18...f5 was a bit bold and since f4, f3 or g3 is not flowing easily for black because the king is stranded at the center of the board, it turned out to be not the best idea. Instead black could have continued with 18...Rg8 perhaps.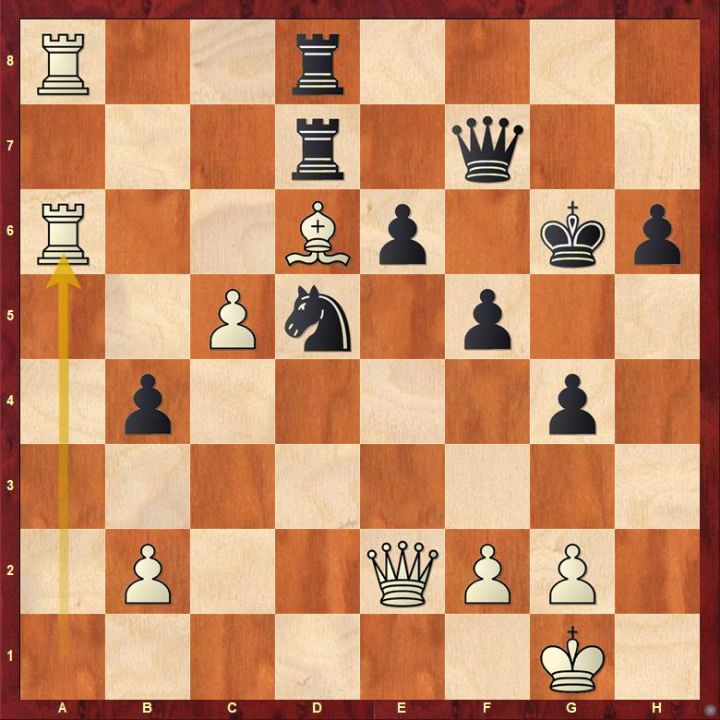 Black could have still continued with 31...Nf6. Sure the position is difficult but it's not over yet. Instead the game continued with 36...Nc7 which is a blunder because after 37.Rxd8 Rxd8 38.Bxc7 Qxc7 39.Qxh6+ leads to checkmate.
Did you know: This was second ever loss only for Mariya against Kashlinskaya. The only other defeat happened in 2014.
Gunina - Abdumalik: 0-1
Abdumalik won a long and grueling battle against Gunina.
White could have gone for an interesting continuation with 36.Nxf7 and after 36..Kxf7 37.Ra3 Bxh4 38.Bg5 it certainly looks good for white. However after 36...Qxf7 37.Rxc6 Rxb2 38.f3 white's position is good but it is not clear if white is getting something out of it anytime soon.
There was a way for black to untangle and get substantial advantage in the above diagram. How?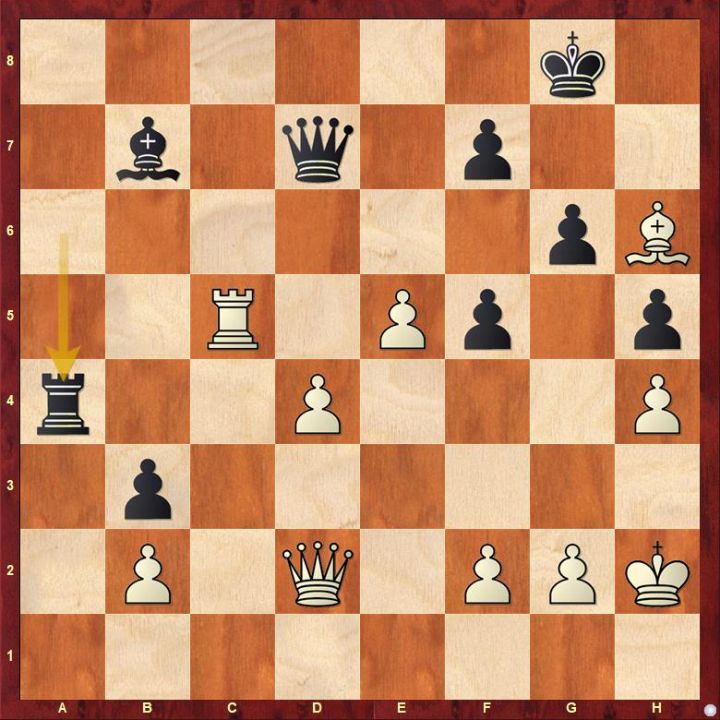 53.d5 would have been better for white than 53.Qg5. The central passed pawn was of more importance than h4.
Find out the winning plan for black here. It took some time but eventually Abdumalik found the correct plan, won the game and crossed the rating barrier to become Kazakhstan's first woman to earn Grandmaster title.
Chief Arbiter IA Ana Srebrnic tweeted about Abdumalik becoming a Grandmaster
Did you know: This was the second ever victory for Abdumalik against Gunina.
Lagno - Bulmaga: 1-0
Lagno scored a comfortable victory over Bulmaga as the latter blundered a pawn which crumbled her position.
21...d5 drops the pawn immediately after 22.Bxf6 Bxf6 23.Qxd5 and it is safe to say that white gets a winning position.
A Muzychuk - Mammadzada: 1-0
Anna Muzychuk scored a fine victory over Mammadzada and delayed her hopes to get a GM-norm. Anna outplayed her opponent in the endgame.
Did you know: Anna Muzychuk has never lost against Mammadzada in an over-the-board tournament.
Replay all Round 9 games
Replay the live stream
Round 9 Results
Dzagnidze - Stefanova: 1-0
Kashlinskaya - Mariya Muzychuk 1-0
Gunina - Abdumalik: 0-1
Lagno - Bulmaga: 1-0
Anna Muzychuk - Mammadzada: 1-0
Saduakassova - Paehtz: 0.5-0.5
Schedule
Everyday game starts at 6:30 p.m. IST except the last round which starts at 5:30 p.m. IST.
Links
---