Gibraltar GP R8: Mammadzada beats Lagno
Zhansaya Abdumalik has no intentions of slowing down as she beat Kashlinskaya in Round 8 of FIDE Gibraltar Women's GP to extend her sole lead by a full point 6.5/8. Both Mariya Muzychuk and Gunay Mammadzada are at shared second place with 5.5/8. Mariya drew with Dzagnidze, while Mammadzada beat Lagno convincingly ending her unbeaten run in the tournament. Paehtz drew with Anna Muzychuk to move to shared fourth place with Lagno 4.5/8. Round 9 starts today at 6:30 p.m. IST. With only three rounds left, it will be interesting to see if anyone can stop Abdumalik. Photo: David Llada/FIDE
Abdumalik extends her sole lead
IM Zhansaya Abdumalik extended her sole lead as she beat IM Alina Kashlinskaya in a grueling battle. She is now at 6.5/8, a full point ahead of former women's world champion GM Mariya Muzychuk and IM Gunay Mammadzada. The Azerbaijan no.1 woman defeated GM Kateryna Lagno to move to the shared second spot with 5.5/8.
Stefanova - Saduakassova: 1-0
In the endgame, Saduakassova lost too many pawns for a piece.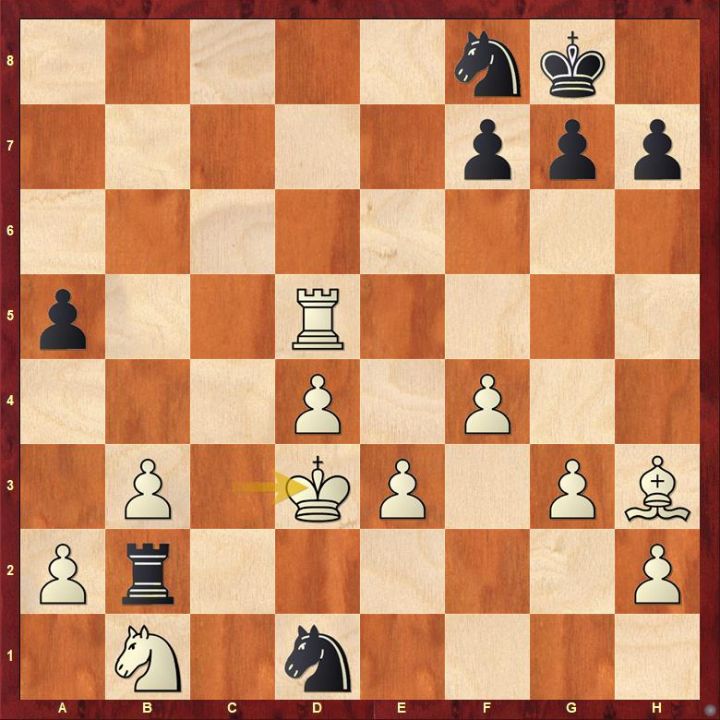 Perhaps black should have tried to repeat moves with Nf2 and Nd1+ to try and save the game because after 37...Rxb1 38.Rxa5, even though black might be able to recover a couple of pawns, the connected a and b passed pawns will prove to be menacing and that is exactly what happened in the game. Eventually Stefanova scored her second victory of the event.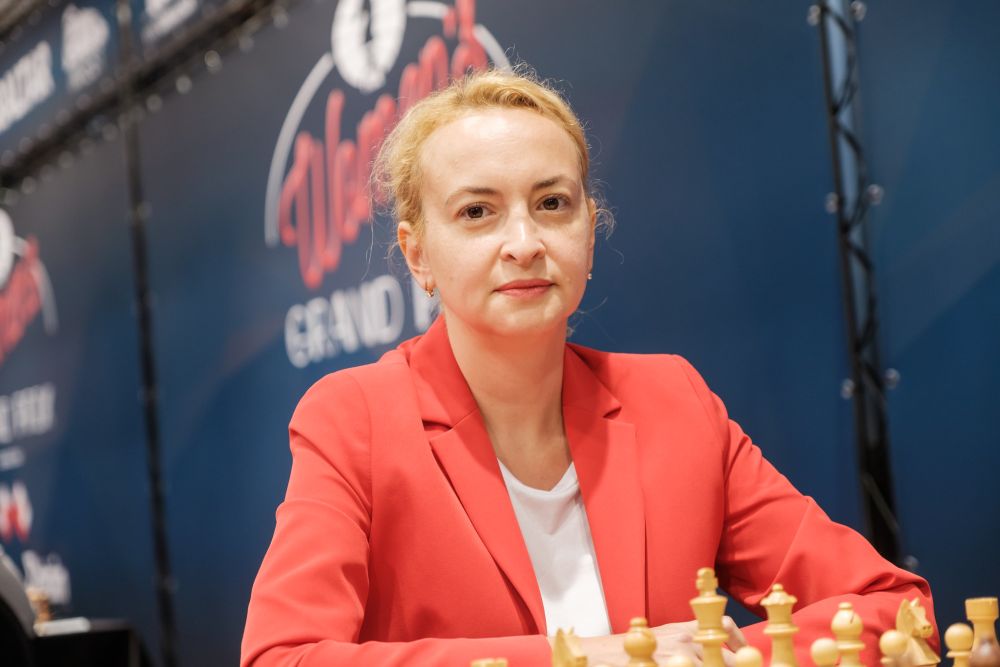 Fun fact: Stefanova's only loss against Saduakassova was in World Rapid Women's 2018 and that was the only year when they played against each other.
Fun fact: The last time Elisabeth Paehtz and Anna Muzychuk had a decisive game against each other was in April 2018 in a Blitz game.
Mammadzada - Lagno: 1-0
In the middlegame, Lagno made an incorrect exchange which helped her opponent Mammadzada.
19...Bxf3 only helps white as the d2-knight was lacking a good place to go to, moreover black doesn't have a lot of active pieces. Getting rid of the h5-bishop wasn't a great idea. Instead 19...Nd3 followed by c4 would have been a better idea. After 20.Nxf3 black made further mistake with 20...Qd3. White immediately took the f6-knight with 21.Bxf6 gxf6 22.Qxf6 and white is now in a completely commanding position. Black played 22...c4 and we get the following position:
Find out the best continuation for white in the above diagram.
Fun fact: The result between Mammadzada and Lagno have always been 1-0. This was Mammadzada's second win ever against Lagno, first one happened at the beginning of this year.
Bulmaga - Gunina: 0-1
Bulmaga made a positional mistake in the final moments of the seemingly equal queen, bishop and three pawns endgame.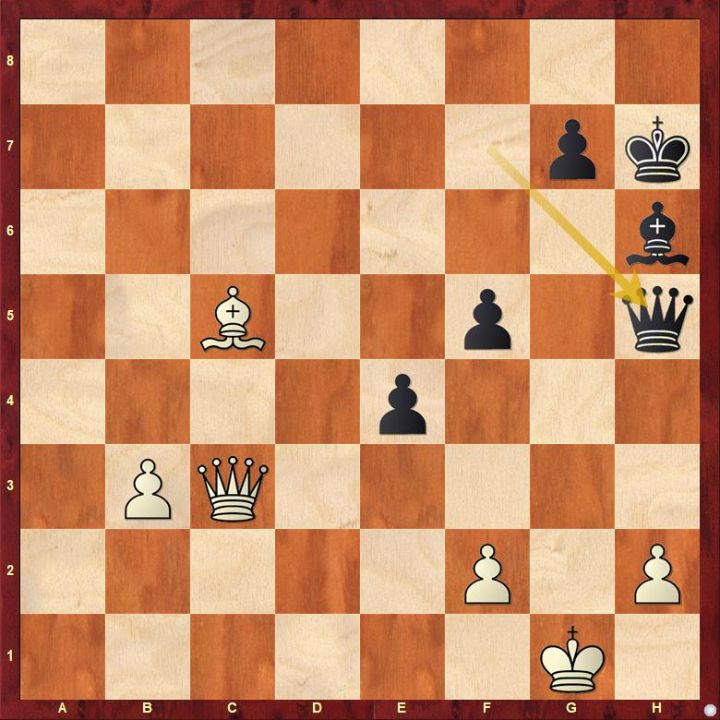 In the above diagram, white played the unprovoked 49.h3 preventing threats on h2 via Bf4. However there was a better way to do that because 49.h3 is met with 49...f4 and now white's position is doomed. Gunina won the game in another five moves, scoring her fourth victory of the event without making a single draw so far.
Fun fact: Gunina has won all three of her games against Bulmaga in an over-the-board tournament.
Abdumalik - Kashlinskaya: 1-0
Abdumalik and Kashlinskaya had a rollercoaster of an endgame where the latter had several chances to get back in the game and rectify her mistakes but she missed them all.
Black should have recaptured the c5-pawn as 34.Qe6+ Kh8 35.f4 is met by Qe4+ and black is not losing the e5-knight.
It is quite difficult for black to save this position in a practical game. The game went on with 57...Qb1 and white won the game in another five moves after 58.f5. Find out how black could have saved the game.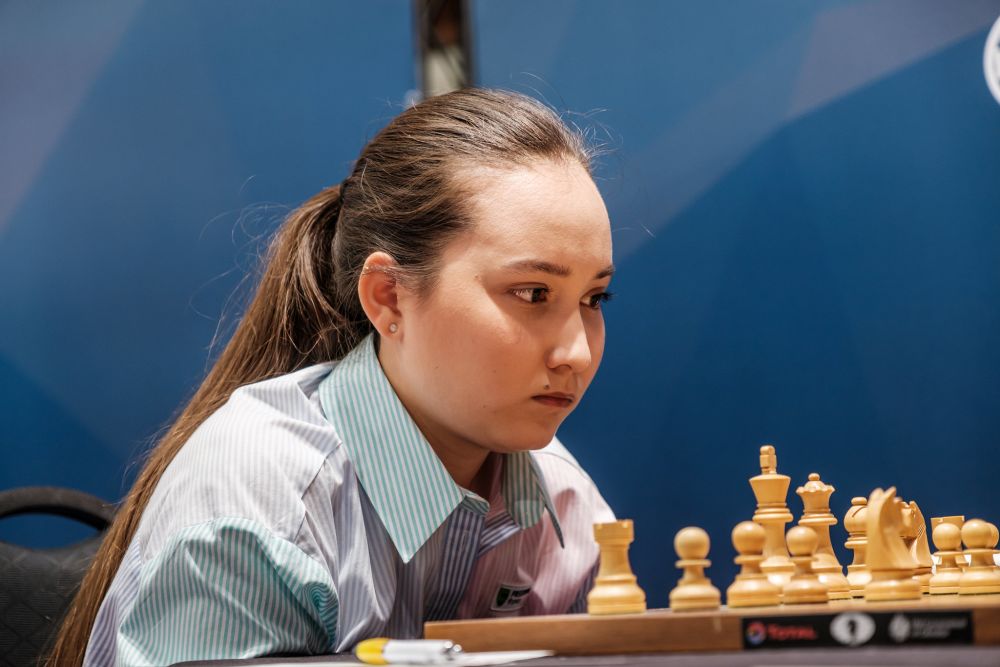 Fun fact: Both Abdumalik and Kashlinskaya now hold three victories against each other.
M Muzychuk - Dzagnidze: 0.5-0.5
Mariya Muzychuk had a well fought draw against Nana Dzagnidze.
Replay all Round 8 games
Replay the live stream
Round 8 Results
Stefanova - Saduakassova: 1-0
Paehtz - Anna Muzychuk 0.5-0.5
Mammadzada - Lagno: 1-0
Bulmaga - Gunina: 0-1
Abdumalik - Kashlinskaya: 1-0
Mariya Muzychuk - Dzagnidze: 0.5-0.5
Schedule
Everyday game starts at 6:30 p.m. IST except the last round which starts at 5:30 p.m. IST.
Links
---