Gibraltar GP R2: Abdumalik takes sole lead 2.0/2
Five games had decisive results in Round 2 of FIDE Gibraltar Women's GP. Abdumalik scored her second consecutive victory and became the sole leader with 2.0/2. Four other women also scored a victory each - Mariya Muzychuk, Lagno, Stefanova and Mammadzada. The only draw of the round was between Anna Muzychuk and Nana Dzagnidze. However, the most exciting game of the round was between the IMs - Gunay Mammadzada and Irina Bulmaga. It was won by the Azerbaijan no.1 woman. Round 3 starts today at 6:30 p.m. IST. Photo: John Saunders/FIDE
Five decisive games
Kazakhstan no.2 woman IM Zhansaya Abdumalik scored her second consecutive win, this time against Germany no.1 woman IM Elisabeth Paehtz where the former slowly outplayed her opponent positionally. Four women are at 1.5/2 and they all scored a victory each in Round 2. They are - GM Mariya Muzychuk, GM Kateryna Lagno, GM Antoaneta Stefanova and IM Gunay Mammadzada.
Stefanova - Gunina: 1-0
Stefanova's intention from the beginning of the game was to go for a win, Gunina's inaccuracies at critical moment only facilitated that.
Black needs to move the rook carefully here because a displacement of the rook might prove to be costly and that is exactly what happened in the game. After 20...Re6 21.Qh3 black made another mistake with 21...g6 and white seize the advantage with 22.Qh6 f6 23.Bxb5. White might have gained only a pawn but black's kingside also got weakened in the process. The former women's world champion had no trouble converting her advantage into a win. Black could have avoided all this with 20...Rg5
Lagno - Kashlinskaya: 1-0
Once again, IM Alina Kashlinskaya had a positional advantage for the better part of the game but after a miscalculation, GM Kateryna Lagno gained control of the position and wrecked her opponent's kingside.
Before the f5-knight becomes absolutely menacing, black needed to get rid of it immediately with 19...Bxf5. Instead Kashlinskaya took the harmless knight at a3. After 19...Bxa3 20.bxa3 black blundered with 20...Qxa3 allowing white to create further damage. Find out how. White had no trouble converting her advantage to a win, resulting in her opponent suffering second consecutive loss despite having a good position.
A Muzychuk - Dzagnidze: 0.5-0.5
The only game to end up in a draw in this round was between Anna Muzychuk and Nana Dzagnidze. Anna to create something but her opponent neutralized it without any difficulty.
As Anna mentioned in the post-match interview, g4 controls the light squares momentarily but at the cost of weakened dark squares. Black immediately went with 14...f5 and neither side got any chance to gain any substantial advantage.
Saduakassova - M Muzychuk: 0-1
Kazakhstan no.1 woman IM Dinara Saduakassova was playing fine against former women's world champion GM Mariya Muzychuk until the former misplayed in the endgame.
25.a4 is a bit dubious move. After 25...bxa4 white should have simply taken the knight at c4, instead the game continued with 26.Na1. The misplacement of the knight allowed black to play 26...Nd6 and after white offered a rook exchange with 27.Rxc7 black happily accepted it with 27...Rxc7 and 28.Rxc7 was met with 28...Rc8 which white could not decline due to back rank fork threat. The resultant knight endgame was winning for black which Mariya had no trouble in converting.
Paehtz - Abdumalik: 0-1
Abdumalik showed a very good understanding of the position and slowly outplayed her opponent Paehtz.
Try to think like Abdumalik and find out the correct plan for black in the above diagram.
Fun fact: Abdumalik-Paehtz have always had decisive results against each other in a tournament in their past six encounters.
Mammadzada - Bulmaga: 1-0
Perhaps the most interesting game of the day was between IM Gunay Mammadzada and IM Irina Bulmaga because it was the sharpest game of the round.
The game went on with 25.Rxe6 which is not the best move in the above diagram. What is the better move instead?
Black might be ahead by an exchange for two pawns but white has enough compensation for it. How should black continue after 26.exd5 ?
Black has a couple of checkmate threats here. What is the best way for white to neutralize it?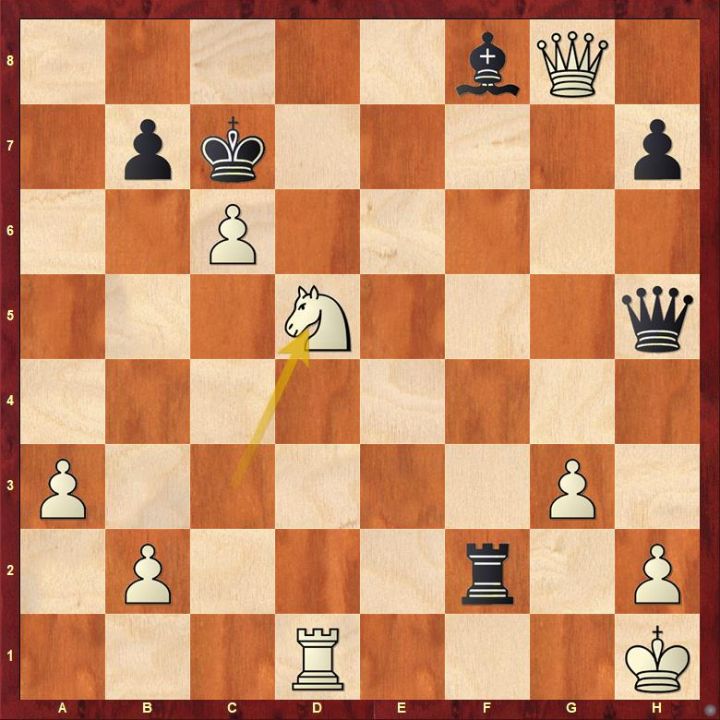 Black can win this because white has way too many checkmate threats to defend but where should black king find its safe haven?
It seems like white has managed to stop all checkmate threats. Well that is farthest from the truth as black is still winning. The question is how? White won the game eventually in another five moves, handing Bulmaga her second consecutive defeat in the tournament.
Fun fact: Mammadzada has never lost a game against Bulmaga in a tournament.
Replay all Round 2 games
Replay the live stream
Round 2 Results
Antoaneta Stefanova - Valentina Gunina: 1-0
Kateryna Lagno - Alina Kashlinskaya: 1-0
Anna Muzychuk - Nana Dzagnidze: 0.5-0.5
Dinara Saduakassova - Mariya Muzychuk: 0-1
Elisabeth Paehtz - Zhansaya Abdumalik: 0-1
Gunay Mammadzada - Irina Bulmaga: 1-0
Schedule
Everyday game starts at 6:30 p.m. IST except the last round which will be notified later.
Links
---