Gibraltar GP R6: Abdumalik and Mariya still in the lead 4.5/6
FIDE Gibraltar Women's GP headed to the only rest day of the event as both Abdumalik and Mariya Muzychuk maintained their lead with 4.5/6 each respectively. A battle between the leaders did not yield a decisive result as both of them are at the top of their game and neither made any significant mistake. Lagno drew with Saduakassova to move to sole third place with 4.0/6. She is followed by Dzagnidze, Paehtz and Mammadzada who are at 3.0/6 each respectively. Anna Muzychuk made a solid draw with Stefanova and she is now at 3.0/6. Today is a rest day. Round 7 starts tomorrow at 6:30 p.m. IST. Photo: David Llada/FIDE
Lagno moves to sole third place
Zhansaya Abdumalik and Mariya Muzychuk are playing fantastic in the event. So when they were paired against each other, the obvious outcome one can expect to be is a draw but it was not without a fight. Mariya tried her best to unsettle her opponent by pushing all her kingside pawns but Abdumalik was not going to falter easily. The game eventually ended up in a draw.
Stefanova - Anna Muzychuk: 0.5-0.5
Stefanova had a quiet draw with Anna Muzychuk.
Saduakassova - Lagno: 0.5-0.5
Saduakassova made her second draw of the event resulting in Lagno moving to sole third place with 4.0/6.
Fun fact: Saduakassova has only faced Lagno in World Rapid Women's and their last encounter was in 2018. The Kazakh no.1 is yet to lose a tournament game against Lagno.
Paehtz - Gunina: 0-1
Paehtz got a very good position against Gunina until she made an incorrect pawn push.
The game continued with 32.b6 which is tempting because Ba6 threat is there but black can give up an exchange at b6 eventually to reduce the intensity of the attack starting with 32...axb6. That is exactly what happened in the game. Instead white needed to defend the b5-pawn tactically and maintained the pressure on the queenside which is currently white's strong suit.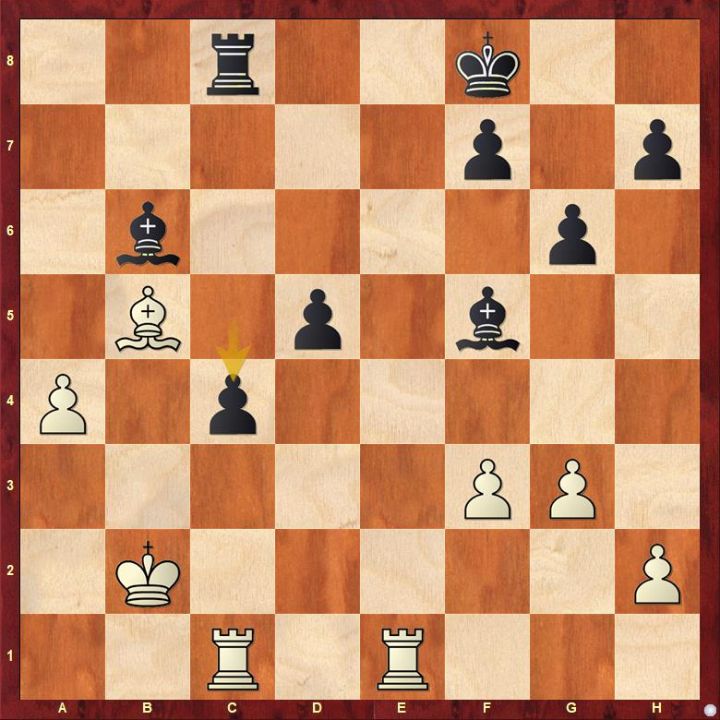 Black's bishop pair combined connected passed pawn proved to be menacing for white and black eventually won the game.
Mammadzada - Kashlinskaya: 1-0
Kashlinskaya lost a pawn in the middlegame due to miscalculation.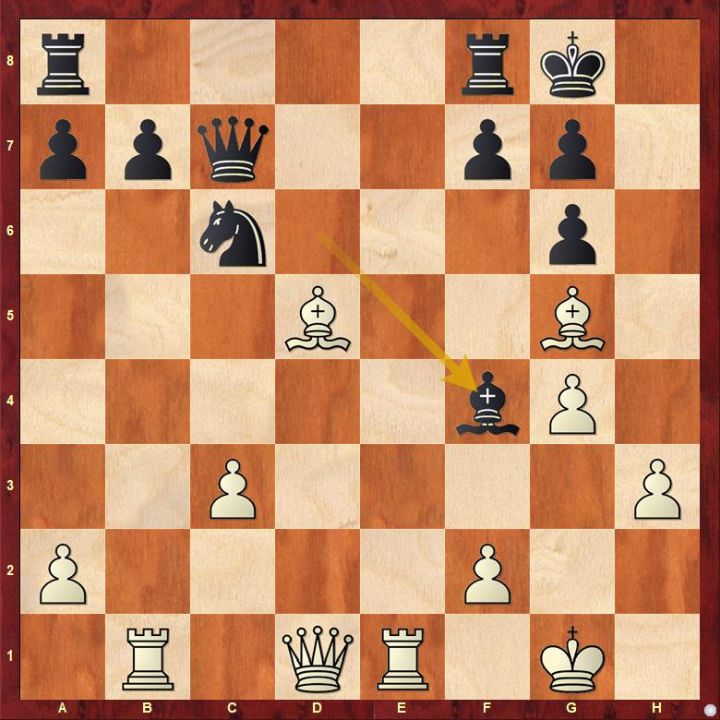 20...Bf4 is an unforced error. Black could have played 20...Rae8 instead. After 21.Bxf4 Qxf4 22.Rxb7 Rad8 white has 23.Qf3 and now black has no way to recover that lost pawn. Kashlinskaya lost one pawn too many and eventually arrived a lost bishop vs. knight endgame. This was her fourth loss of the event. Mammadzada for the first scored a victory against Kashlinskaya in a tournament.
Bulmaga - Dzagnidze: 0-1
Bulmaga lost to Dzagnidze after the latter unleashed a fantastic plan.
It is not easy for white to play solid after 16..f5. The game went on with 17.Kh1 Qf6 18.f3 Rb8 and white took 19.exf5. Instead of taking directly, black played the intermediate 19...d5 and the balance completely shifted in black's favor. Rest was just a matter of time and we all know that Dzagnidze can easily convert them.
Fun fact: Dzagnidze lost to Bulmaga only once in a tournament and they have always had decisive results in their encounter.
Abdumalik - M Muzychuk: 0.5-0.5
Tournament leaders Abdumalik and Mariya had a solid draw to maintain their lead with 4.5/6 each respectively.
Fun fact: Abdumalik has not lost a game against Mariya Muzychuk since World Rapid Women's 2018.
Replay all Round 6 games
Replay the live stream
Round 6 Results
Stefanova - Anna Muzychuk: 0.5-0.5
Saduakassova - Lagno: 0.5-0.5
Paehtz - Gunina: 0-1
Mammadzada - Kashlinskaya: 1-0
Bulmaga - Dzagnidze: 0-1
Abdumalik - Mariya Muzychuk: 0.5-0.5
Schedule
Everyday game starts at 6:30 p.m. IST except the last round which will be notified later.
Links
---