Sharan Rao wins 24th Grand Hotel Adriatico Open 2022
FM Sharan Rao scored an unbeaten 6.5/8 to win 24th Grand Hotel Adriatico Open 2022. He finished a half point ahead of the field. IM Miragha Aghayev (ITA) scored sole 6/8 to finish second. Four players finished at 5.5/8. Out of them, FM Antonio Loiacono (ITA) was placed third according to tie-breaks. He gained 27 Elo rating points in the process and won €500 along with a trophy as his first prize. This is Sharan's second overall, first Classical tournament victory of the year. He gained 17.8 Elo rating points at 26th HIT Open after this, taking his peak rating to 2350. The 21-year-old from Mangalore is final IM-norm and 50 rating points away from becoming India's next International Master. Photo: Fischer Scacchi Chieti
Sharan superb in Montesilvano, Italy
Sharan Rao started the year with one IM-norm and 2225 Elo rating. Nine months later, he has two IM-norms, career high rating of 2350 and two tournament triumphs in 2022. He is certainly having a fantastic 2022 and well on his way to become an International Master.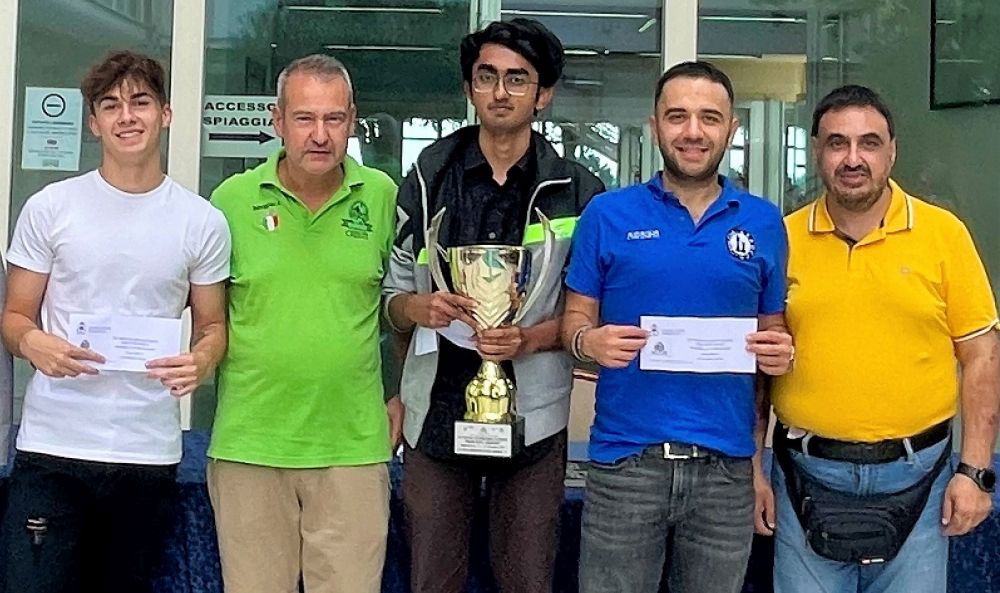 For more photos, please click here.
A total of 40 players from Austria, Estonia, France and India took part in the Open A (>1800) category. The tournament was organized by Circolo Scacchi R. Fischer Chieti from 10th to 15th September at Grand Hotel Adriatico in Montesilvano, Italy. The eight-round Swiss league tournament had a time control of 90 minutes + 30 seconds increment.
Final standings
Links
---