Bharath Subramaniyam wins 6th Vergani Cup December 2021 in a close finish
IM Bharath Subramaniyam H beat WGM Mary Ann Gomes in the final round to score an unbeaten 7.5/9 to win 6th Vergani Cup December 2021. GM Arjun Kalyan was leading the tournament since Round 5. A last round draw against WGM Nandhidhaa P V, cost Arjun the championship. He had to settle for the second place 7.0/9. IM Moksh Amit Doshi, Nandhidhaa and Mary scored 6.0/9 each. They were placed fifth to seventh respectively accoding to the tie-breaks. Bharath earned €700 and Arjun €500 as their respective prizes. Total prize fund was €3000. 13-year-old Arhan Chethan Anand gained a massive 148.8 Elo rating points. Photo: Rupali Mullick
Bharath's first International Open event triumph
IM Bharath Subramaniyam H won the crucial last round to finish a half point ahead of GM Arjun Kalyan who led the better part of the tournament. Thus, Bharath won his first International Open tournament in Cattolica, Italy.
Bharath - Manish, Round 3
Bharath launched a very nice attack 20.Nf6+ on IM Manish Anto Cristiano's kingside. Although there is nothing immediate for White, there is enough initiative after 20...Bxf6 21.exf6 g6 22.a3 which allows White to go for the nice knight sacrifice.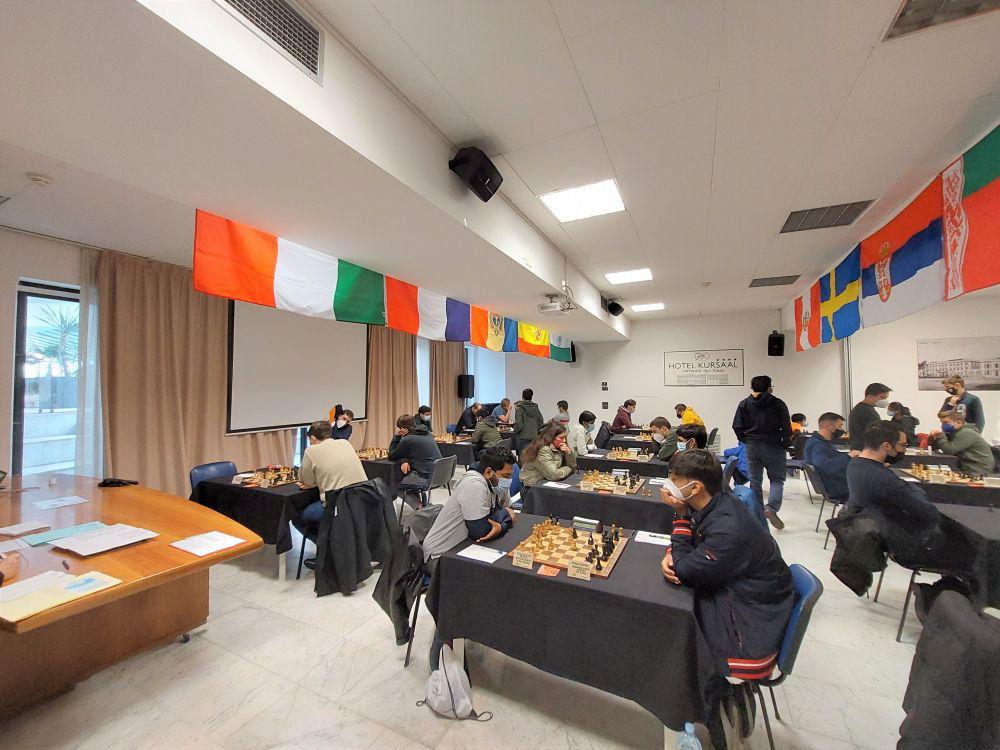 For more photos, please click here.
The tournament was organized by Grandiscacchi at Hotel Kursaal, Cattolica in Italy from 26th to 30th December. Total prize fund of the tournament was €3000 combining three categories. Time control was 90 minutes + 30 seconds increment + 15 minutes each after move no.40. There were double rounds on four days, except the first day 26th December.
Replay few games
Final standings in Group A
| | | | | | | | | | | |
| --- | --- | --- | --- | --- | --- | --- | --- | --- | --- | --- |
| Rk. | SNo | | | Name | sex | FED | Rtg | Pts. | K | rtg+/- |
| 1 | 3 | | IM | Bharath Subramaniyam H | | IND | 2479 | 7,5 | 10 | 17,4 |
| 2 | 1 | | GM | Arjun Kalyan | | IND | 2537 | 7,0 | 10 | 6,8 |
| 3 | 2 | | GM | Nikolov Momchil | | BUL | 2508 | 6,5 | 10 | 3,3 |
| 4 | 18 | | FM | Woelk Tom-Frederic | | GER | 2310 | 6,5 | 20 | 38,4 |
| 5 | 9 | | IM | Moksh Amit Doshi | | IND | 2368 | 6,0 | 20 | 26,8 |
| 6 | 15 | | WGM | Nandhidhaa P V | w | IND | 2313 | 6,0 | 20 | 18,8 |
| 7 | 10 | | WGM | Gomes Mary Ann | w | IND | 2354 | 6,0 | 10 | 5,0 |
| 8 | 17 | | | Kalogridis Antonios | | GRE | 2311 | 6,0 | 20 | 14,0 |
| 9 | 27 | | FM | Krasteva Beloslava | w | BUL | 2194 | 6,0 | 20 | 35,2 |
| 10 | 5 | | IM | Barp Alberto | | ITA | 2408 | 5,5 | 10 | -0,6 |
Links
---