Indians at the World Cup 2017: What went wrong and right
Seven Indians went to the World Cup 2017. If you look at the whole picture, we can say that this event was a failure for our players. None of them could go beyond the third round. However, on closer inspection you realize that there are so many positives that can be taken from this event. As one of the officials pointed out at the venue, "You can sense that India is becoming a super power, when you see Anand and Hari right at the top, and these hungry lions Vidit, Adhiban and Sethuraman capable of beating just about any top player on a given day!" We bring you the highlights of Indian performances.
Photos by Amruta Mokal
When the World Cup 2017 began we had expected at least two of our players to make it beyond round two. They were Viswanathan Anand and Harikrishna Pentala. Vishy Anand needs no introduction while Harikrishna has been over 2750 in the past and had once grazed the top ten chess rankings. As it turned out both of them got knocked out in round two. The two players who did move ahead to round three were Vidit Gujrathi and S.P. Sethuraman. And they were very close to getting to round four as well, before disaster struck.
Both Vidit Gujrathi and S.P. Sethuraman deserved to advance to the next round, but it was not to be. The Indian campaign at the World Cup 2017 ended with the third round. Let's analyze the performance of each of the seven Indians at the event:
Viswanathan Anand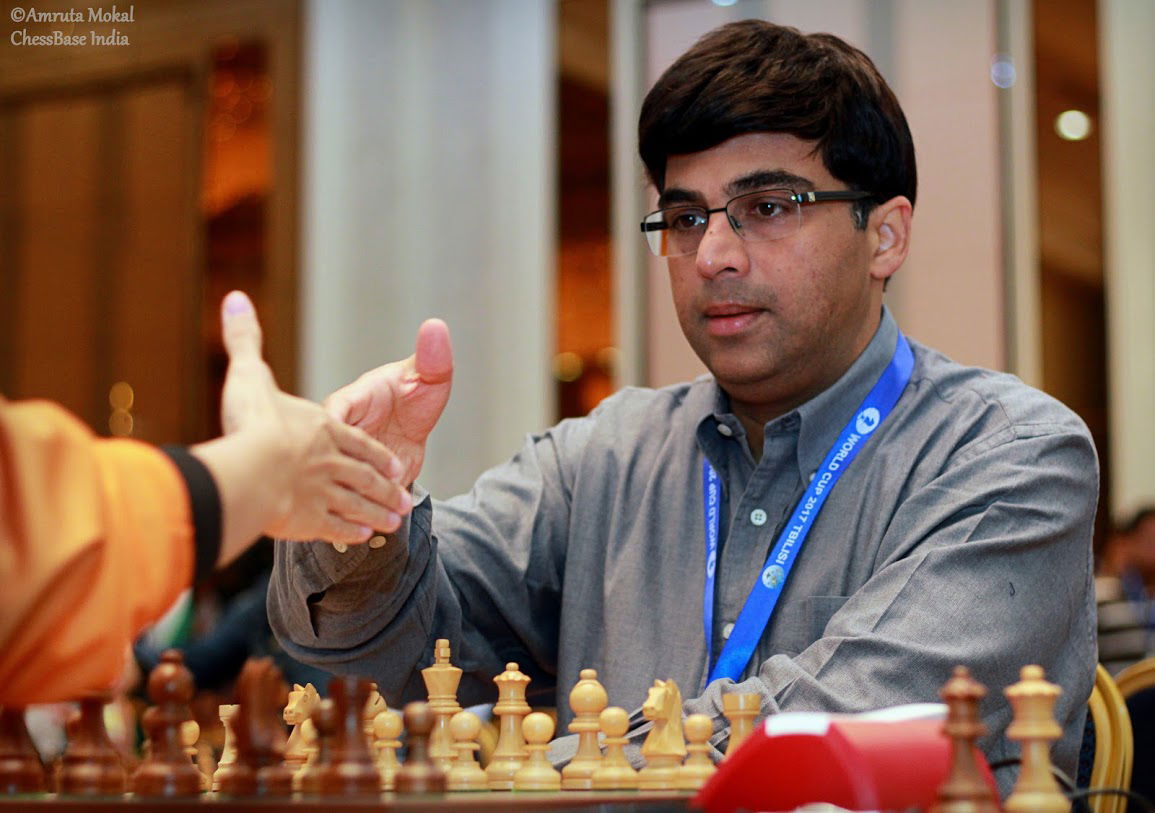 Anand describes his journey at the World Cup in one line, "Nc5 was a ridiculous decision in this format." And yes, I think this makes complete sense. Vishy was not his solid self in round one against Yeoh Li Tian as well, but he somehow made it to the second round. Against Anton Kovalyov, he had this very pleasant position with a slight edge. He could have pressed his opponent in various ways, but instead he went for this piece sacrifice which turned out to be incorrect. "Sometimes you brain is not screwed to your head and you do strange things. Afterwards you don't know why!"
Such is the unforgiving nature of this format, that this single loss was sufficient for Anand to be knocked out of the World Cup. He fought hard in the second game with the black pieces against Kovalyov, but the Canadian grandmaster was just too solid. Many say that Anand getting knocked out is an end of era. With Vishy we know that he can make a comeback just about anytime, but he not being in the Candidates and not fighting for the highest title is the first time in nearly a decade. Anand will next play in the Isle of Man International starting from 23rd of September and it will be interesting to see how he fares as Magnus Carlsen and Vladimir Kramnik are two other World Champions who would be playing there.
Pentala Harikrishna
Somewhere at the start of 2016 Harikrishna had reached a rating of 2768 and was world number ten at that point. The last year and a half has been not so great for him. He right now has a live rating of 2732 and is ranked 25th in the world. Hari has shown his class against many of the top players in the world beating the likes of Anish Giri, Shakhriyar Mamedyarov, Michael Adams and many more, but World Cup is a tournament where he has not been able to sustain the pressure. Just like 2015, he lost to Sethuraman in 2017 in the second round. Hari was also far from being impressive in the first round against Yuri Gonzalez Vidal and made it to the second round only after a prolonged fight.
Harikrishna played this year in the FIDE Grand Prix. The last leg will be held in Palma De Mallorca later this year. He has been invited to many super tournaments. He is gaining valuable experience in becoming one of the best grandmasters in the world. Although something still is lacking, we are sure that he will bridge the gap pretty soon. Experiences like the World Cup 2017, will only help Hari to find the flaws in his game and fix them.

Vidit Gujrathi
He is currently the biggest star in India's chess horizon. Not only did Vidit break into 2700 a few days ago, he has been able to improve his Elo graph and has moved to 2712! He is now ranked 37th in the world. At the World Cup, he hardly seemed to be in any difficulty against elite players like Le Quang Liem or Ding Liren. This is partly because of his work with Anish Giri. His opening preparation is so well mapped out, that it is literally impossible to surprise or take him into a position which he is unaware of.
His loss to Ding Liren was pretty unfortunate. He was winning in the first classical game and if he would have done that perhaps today it would have been him instead of Ding who is in the semi-finals. Vidit is just 22 years old and clearly has the talent to take his game to the next level. What he lacks is the killer instinct and self belief. The sooner he starts believing that he belongs right up there (2750+ zone), the faster he will be able to reach there.
Here's the game that could have helped Vidit beat Ding Liren and advance to the fourth round of the World Cup. Instead he just drew it and was knocked out in the tiebreaks.
B. Adhiban
If attitude was the only thing you required to gain Elo, then B. Adhiban would already have been world number one! The guys oozes with confidence. He can come back from losses as if nothing happened to him and he is intimidated by absolutely no one. What he lacks sometimes is the objectivity in his play. But this is something that he will gain in due time, this is for sure. Working with experienced coaches like Elizbar Ubilava will go a long way in removing the cobwebs that mar his game.
Chess is a psychological game. While you do battle with your opponents, many of the wars are often waged with your mind. And confidence helps you to win so many of these struggles. You do not doubt yourself, nor your ability. This is the reason why I feel Adhiban can become one of the best players in the world and within a few months cross the barrier of 2700.
Here is the game with Nepomniachtchi that led to Adhiban's elimination. The completely winning position that he botched up is something you must not try at home or in any tournament!
This is what Adhiban had to say after the tournament was over:
S. P. Sethuraman
It wouldn't be inappropriate to say that Sethu was the hero of the World Cup for India. He not only beat a former FIDE World Champion Ruslan Ponomariov, but he also managed to eliminate Harikrishna and very much had Anish Giri on the ropes. On the first day, while we were going to the opening ceremony I sat next to Sethu on the bus and we spoke about various topics. One of them was about him indulging and in yoga and pranayam to keep his mind cool. "I used to have very strong nerves earlier," said Sethu. "But recently I am facing huge difficulties in converting winning positions." And this was exactly the problem that stopped him from beating Anish Giri.
Sethuraman was clearly the better prepared player as compared to Anish. He was even playing better chess, but what made the difference was his poor conversion of winning positions. So you are outplaying a 2784 opponent at will. You are completely outpreparing him in an opening (Najdorf) where he is one of the world's leading expert. You can only imagine what will happen to Sethuraman's chess if he gains control on his nerves. 2700 in one year? That would mean nearly 70 Elo points, but I think this is highly possible.
Sethuraman played many good games at the event. But my favourite remains his win against Anish Giri in the second 25'+10" rapid game. Not only because he checkmates Anish Giri's king in the middlegame, but because he had already missed so many winning chances against the opponent, and yet he was able to keep his cool and make a strong comeback.
Karthikeyan Murali
India's two-time National champion Karthikeyan Murali was knocked out by Francesco Vallejo Pons in the first round of the World Cup 2017. However, he didn't bow out without a fight. After losing the first classical game, he came back and beat Vallejo in the second. He bowed out in the tiebreaks, but what a great learning experience for the 17-year-old. When Francesco Vallejo Pons was knocked out in the third round I caught up with him and asked him about Karthikeyan. He said, "The boy needs to work on his openings." Yes, Karthikeyan is a player who has almost reached 2600 on the basis of his middlegame strength. His openings are still at a very basic and unpolished stage according to me. Some work put in that direction will go a long way in making him join the Vidits, Adhibans and Sethuramans of India.
Deep Sengupta
This was Deep's first appearance at the World Cup. He played against the super solid Chinese grandmaster Wang Hao. Such opponents are always difficult to face. Deep showed good preparation and also managed to draw the first game with white pieces, but in the second one he gave his Chinese opponent just the kind of position he loves. In the end he had to pay the price and was knocked out.
For me the reason why Deep has never crossed 2600 is still unclear. He works really hard on chess, he has good understanding of the game and in general has strong nerves - this is seen in ample measure from his good last round results in many tournaments that he has won. Perhaps he just needs to get Adhiban's positive attitude and confidence flowing. This should enable him to first break the 2600 barrier and then move to greener pastures ahead.
Photos from the World Cup 2017 by Amruta Mokal
What's more important than playing for the country!
ChessBase India coverage of World Cup 2017:

Pairings for World Cup 2017 released
The FIDE World Cup 2017: The super seven Indians
Time to unleash the beast mode
1.1 Vishy Anand is the sole winner for India
1.2 Three Indians qualify to round two
1.3 Harikrishna and Adhiban weave their magic
2.1 Vidit's venomous Vietnamese victory
2.2 Vidit gives Anand to Indian fans
2.3 Sethuraman beats Harikrishna
3.1 Vidit misses his chance against Ding
ChessBase International coverage:
Magnus Carlsen plays in World Cup 2017
The most interesting match-ups for World Cup 2017
World Cup 2017: A glorious Opening ceremony
1.3 Nail biting chess and true sportsmanship
2.1 Magnus Carlsen having fun in Tbilisi
2.2 Anand and Karjakin knocked out
2.3 Ten 2700+ players knocked out
3.1 Can Magnus Carlsen save himself
3.2 World no. 35 eliminates world no. 1
4.2: Aronian and Ivanchuk set up round five clash
4.3: MVL's Narikala against Grischuk
5.1 Flawless Aronian crushes Chucky
5.2: Ding, Aronian, So advance to semi-finals
Firstpost articles:
FIDE World Cup 2017: Viswanathan Anand, P Harikrishna lead Indian charge at prestigious event
1.2 P Harikrishna bounces back in style to level score, Viswanathan Anand moves into Round 2
1.3 Pentala Harikrishna, B Adhiban ace the tie-breakers to ease into second round
2.1 Viswanathan Anand hurt by tactical error, P Harikrishna on back foot after drab draw
2.2 Viswanathan Anand suffers earliest exit in a knockout event, but Vidit Gujrathi on track
2.3 SP Sethuraman's technical skills too good for P Harikrishna; B Adhiban suffers defeat
3.1 Vidit Gujrathi settles for a draw after a tactical error, Sethu solid against Giri
---