Harikrishna and Adhiban weave their magic in tiebreaks!
Three Indians sat at the chess board for round one tiebreaks and two made it out alive, advancing to the second round. Harikrishna and Adhiban showed great bit of concentration and patience to beat their opponents Yuri Gonzalez and Nguyen Ngoc Truongson. Karthikeyan Murali fought hard, but was unable to beat his opponent in round two. Seven Indians went to Tbilisi and after the first round we still have five standing. Detailed report of the tiebreaks from the venue by Sagar Shah and Amruta Mokal.
Being a reporter at a tournament like the World Cup is not an easy task. 128 top players of the world are playing in one room. As soon as the games are done players come out of the tournament hall and as a journalist I should be ready to interview them. However, on the 5th of September somewhere around 6 p.m. I decided that I will take a short break from being a journalist and just witness the action unfolding as a spectator. I sat there in the playing hall, on the sidelines where seats have been arranged for the viewers.
The thing that I realized the amount of pressure on these players is simply humongous. You are facing an opponent who is skillful at the game of chess and trying to stop you from winning. At the same time the clock is ticking and one mistake can send you back packing. The tiebreaks are even more stressful as the time control is quite less. This is how the matches which were tied at 1:1 had to continue at the tiebreaks:
Time controls of the tiebreaks:
1) 2 games of 25'+10"
2) 2 games of 10'+10"
3) 2 games of 5'+3"
4) Armageddon with five minutes to white player and four for the black with no increment until move 60. Three second increment after that. White must win the game to qualify, while draw favours black.
Harikrishna vs Yuri Gonzalez Vidal
Harikrishna had to be like a tiger on the prowl. If he pounced too early his prey would run away. He had wait for a long time before his opponent cracked and Hari could take home the full point.
Game 1 of 25' + 10"
Game 2 of 25' +10"
This was the game where Hari was in some trouble, but calculated admirably to get out of the danger zone. Imagine the pressure, one wrong move and it's all over for him towards the end.
Game 1 of 10' +10"
Game 2 of 10' + 10"
The decisive game of the match and the most important position was the following:
Harikrishna has just given a check from c3. Black should have blocked it with Qf6. Instead Yuri played f6? which turned out to be the crucial error. Harikrishna was able to give Qc7+ and then wrap up the game, although to be fair, it was still not very clear after Kh8. But to Qc7+ Cuban GM played Be7 and Nf5+ was very strong.
The downside is that one Indian will be out after round two. But the upside is that one Indian will surely make it to round three!
Adhiban vs Nguyen Ngoc Truongson
Nguyen Ngoc Truongson has been Vietnamese number two for many years now behind Le Quang Liem. He is a formidable opponent, but Adhiban just didn't seem too worried about it. The Indian GM believed in his abilities and that was quite apparent from the interviews that he gave us. When I asked whether he knew his opponent was a strong blitz player, Adhiban said, "Then I must finish him off in the rapids!" And he did finish off his opponent in the rapid section. The two 25'+10" games ended in draws, but in the first 10" + 10' game Adhiban resorted to his favourite opening the King's Indian and simply outplayed and out calculated his opponent to checkmate his king right in the center of the board.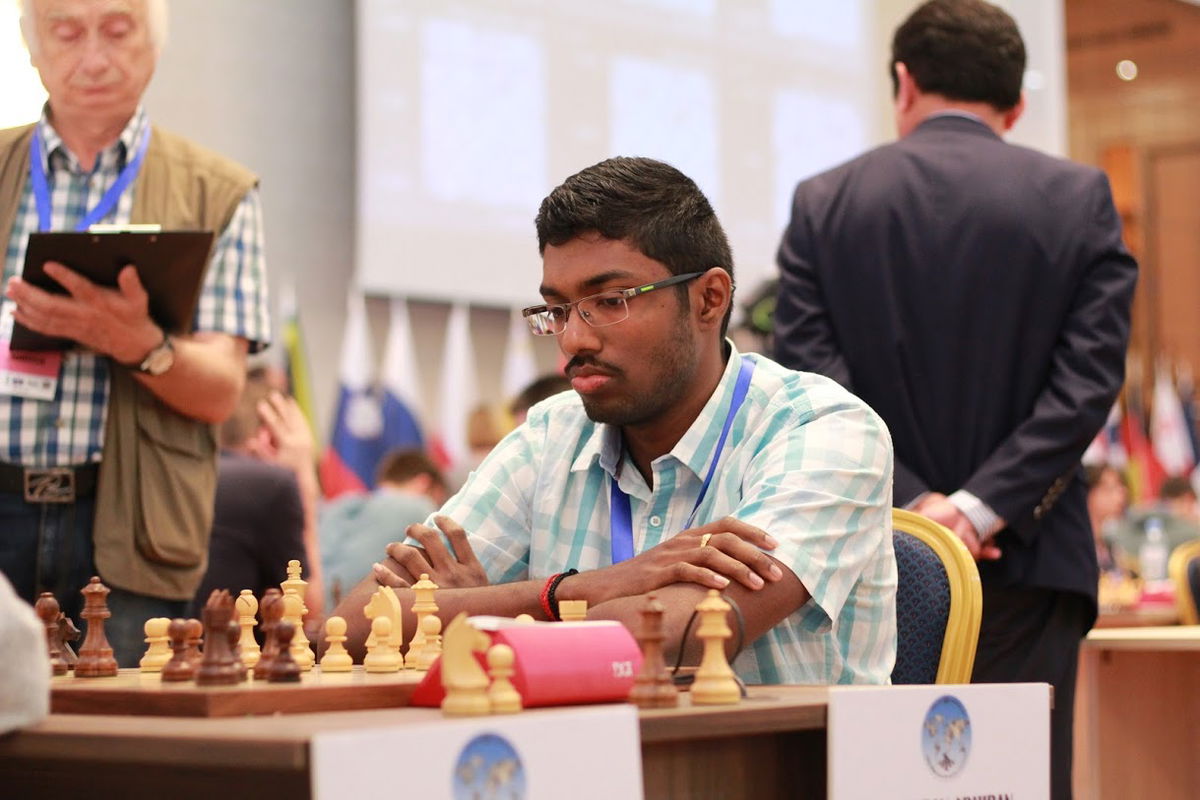 For Karthikeyan this tournament will be remembered as an event where he beat a 2700+ grandmaster. It was a great learning experience for the GM from Chennai.
Round three pairings: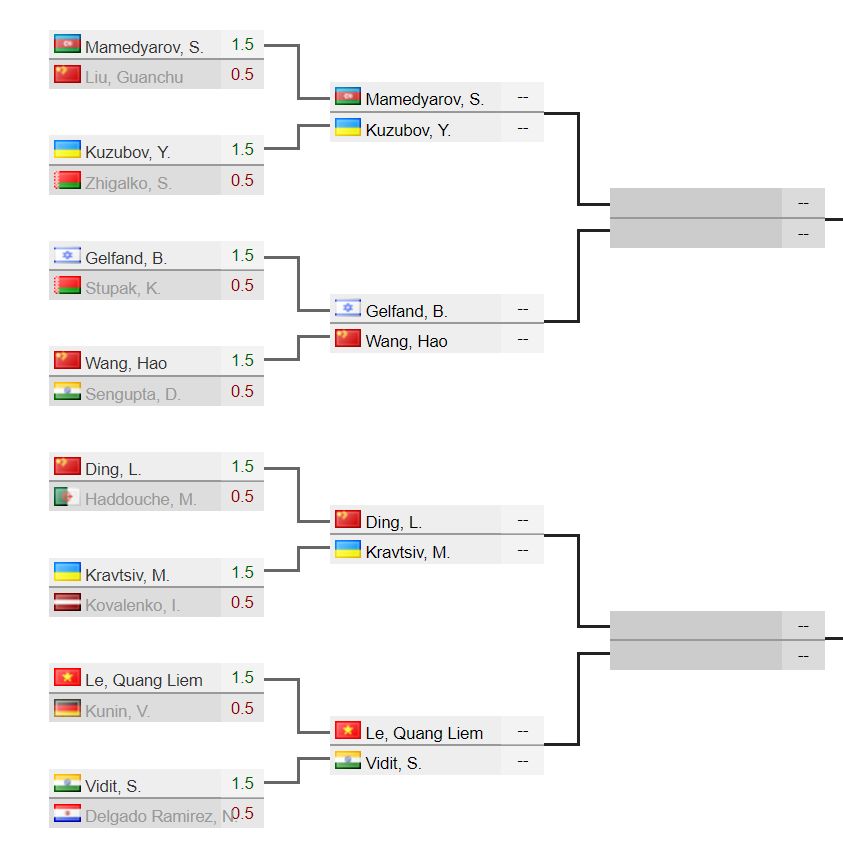 Round three will begin on 6th of September 2017 at 16.30 hours IST.
ChessBase India coverage of World Cup 2017:

Pairings for World Cup 2017 released
The FIDE World Cup 2017: The super seven Indians
Time to unleash the beast mode
1.1 Vishy Anand is the sole winner for India
1.2 Three Indians qualify to round two
1.3 Harikrishna and Adhiban weave their magic
ChessBase International coverage:
Magnus Carlsen plays in World Cup 2017
The most interesting match-ups for World Cup 2017
World Cup 2017: A glorious Opening ceremony
1.3 Nail biting chess and true sportsmanship
Firstpost articles:
FIDE World Cup 2017: Viswanathan Anand, P Harikrishna lead Indian charge at prestigious event
1.2 P Harikrishna bounces back in style to level score, Viswanathan Anand moves into Round 2
---