World Cup 2017 Round 1.2: Three Indians qualify to round two
The World Cup 2017 is a brutal contest. No matter what your rating is, if you make a mistake you will not be sparred. In such a situation six out of the seven Indians managed to survive and are still fighting in the city of Tbilisi after two days of competition. Anand drew his game and progressed to the next round. Vidit and Sethuraman scored wins and made it through. The real heroes were surely Pentala Harikrishna and Karthikeyan Murali who came back from a one point deficit. Adhiban, Hari and Karthikeyan will play in the tiebreaks tomorrow. Deep Sengupta was eliminated. A detailed report, with pictures, analysis, videos and much more.
Anand, Vidit, Sethu qualify ; Hari, Adhiban, Karthikeyan still in the fray
What do you do when you are trailing 1-0 in the match and your opponent is rated 150 points above you. Not only that, his rating is 2717 and you have never beaten a 2700+ player in your chess career. Sounds like a horrendous situation to be in, right? It might be the case with most of us, but not for a champion like Karthikeyan Murali. He rose to the occasion and scored a superb win over GM Francesco Vallejo Pons to equalize the scores 1:1 and take the match to a tiebreaker.
"I just didn't take too much pressure," says Karthikeyan. "I told myself that this is not my last tournament and that there are many more events to come in future." This thought process helped the 17-year-old to fight against his much experienced opponent and emerge victorious.
The game was very well played by Karthikeyan. He played with white against the accelerated Dragon and held a edge throughout the game. However, it was not sufficient to win. Vallejo seemed nervous as he made one inaccuracy after another and Karthikeyan converted the position without too many difficulties.
The Cuban GM Yuri Gonzalez had created the upset of the day by beating Harikrishna Pentala in the first round. He had the chance of a lifetime to advance to round two. He came to the board early, filled up his scoresheet and spoke with his friend Bruzon Batista. Harikrishna on the other hand came to the board early. He sat down and adjusted his pieces. His friend David Navara came to greet him. Hari shook hands, but it was clear that the Indian was in a no-nonsense mode. He wanted the game to begin and he wanted to crush his opponent.
Hari had a new idea prepared in the Breyer. He retreated his bishop to d2, in a position where others had always played Be3. Gonzalez made some errors and gave the Indian GM an outside a-passer. Hari pushed his pawn right upto a7 and finally brought his opponent to his knees.
After the game Hari quickly moved out from the hall and went to his room. Interviews and questions could wait. He had a more important task to achieve - to win the tiebreaks tomorrow. For sure, Hari is the favourite to win in the shorter time controls.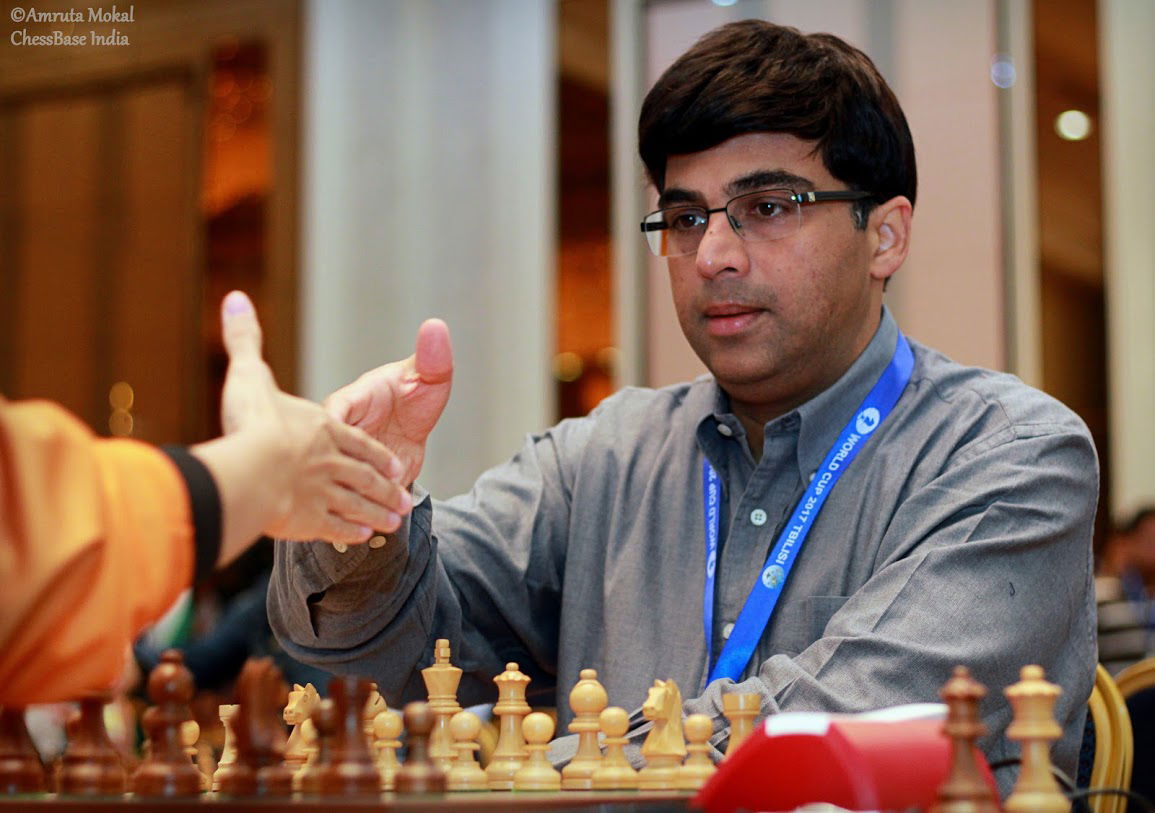 After Anand had won the first game against Malaysia number one Yeoh Li Tian with the black pieces, it seemed as if his progression to the second round would be natural and easy. However, Vishy found himself in grave difficulties in the middlegame and at some point was even lost. It was only through some tenacious defending and errors by his young opponent that he was able to salvage the half point. A clearly relieved Anand advanced to the second round, but Yeoh Li Tian was a happy young man. At the age of just 17 years he held Anand to a draw from the better position. Now that's something not many can boast about.
Anand will face GM Anton Kovalyov in round two.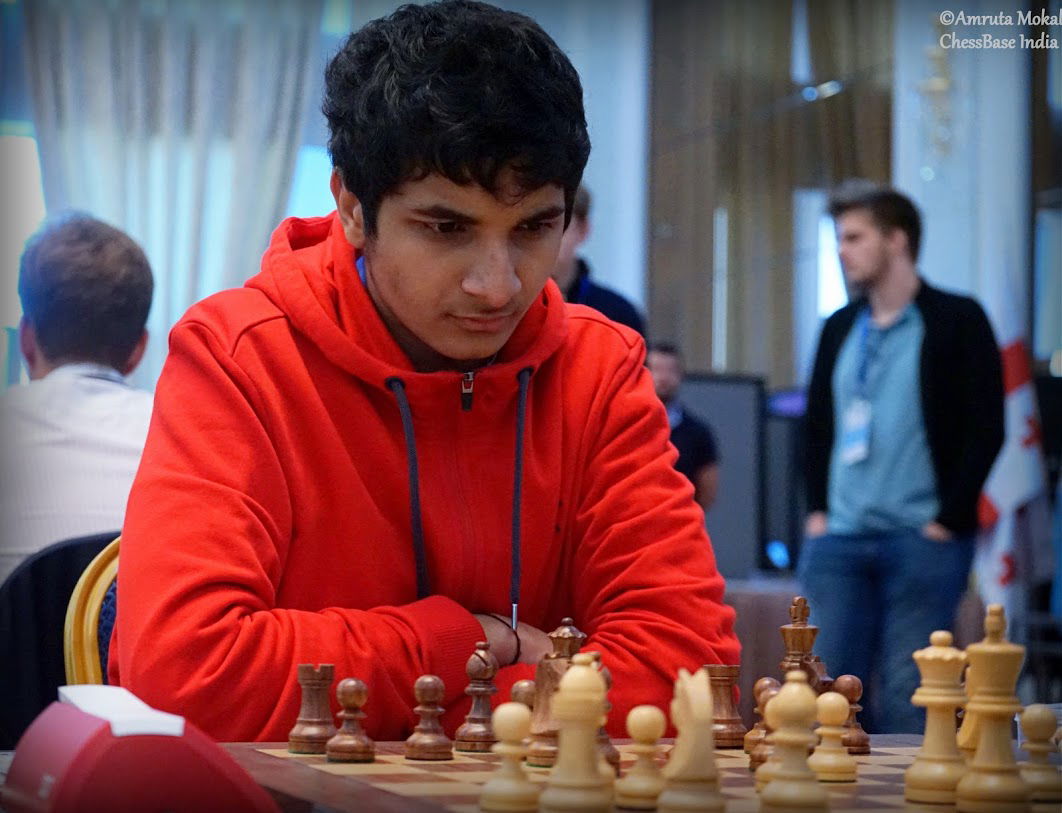 Vidit was quite depressed after his draw in the first game against Neuris Delgado Ramirez. He came back in the second game with some excellent bit of endgame technique. He was able to completely outplay his opponent and win the endgame in style. Vidit will now face GM Le Quang Liem in the second round.
Sethuraman opened the game with 1.e4 and Ponomariov opted for the normal closed Ruy Lopez. The former FIDE World Champion surprised his opponent right on move 9 with 9...a5
After playing some sublime chess, it seemed as if the young grandmaster from Chennai would easily win the game. But he started to falter. As he said after the game, perhaps it was the nervousness combined with time pressure that led him to make one mistake after another. At the end of the day, Ruslan Ponomariov was also not playing his best chess and made many mistakes, which helped Sethuraman to clinch the victory.
B. Adhiban made another tame draw against Nguyen Ngoc Truongson and now will face him in the rapid and blitz tiebreaks. In the interview after the game when Adhiban was asked whether he knew his opponent's blitz rating a few years ago was nearly 2800, the young GM from Chennai replied, "Well then I have to beat him in the rapids!" Always positive - that's Adhiban Baskaran for you.
Results of Indian players:
| | | | | |
| --- | --- | --- | --- | --- |
| White | Rating | | Black | Rating |
| Vishy Anand | 2794 | 0.5-0.5 | Yeoh Li Tian | 2478 |
| Harikrishna | 2741 | 1-0 | Yuri Gonzalez Vidal | 2547 |
| Neuris Ramirez | 2614 | 0-1 | Vidit Gujrathi | 2702 |
| Adhiban | 2670 | 0.5-0.5 | Nguyen Ngoc Truong Son | 2629 |
| Sethuraman | 2614 | 1-0 | Ruslan Ponomariov | 2694 |
| Wang Hao | 2701 | 1-0 | Deep Sengupta | 2589 |
| Karthikeyan Murali | 2574 | 1-0 | Francisco Vallejo Pons | 2717 |
The tiebreaks will begin on 5th of September 2017 at 16.30 hours IST.
ChessBase India coverage of World Cup 2017:

Pairings for World Cup 2017 released
The FIDE World Cup 2017: The super seven Indians
Time to unleash the beast mode
ChessBase International coverage:
Magnus Carlsen plays in World Cup 2017
The most interesting match-ups for World Cup 2017
World Cup 2017: A glorious Opening ceremony
Firstpost articles:
FIDE World Cup 2017: Viswanathan Anand, P Harikrishna lead Indian charge at prestigious event
---