Vidit misses his chance against Ding, Sethu makes a solid draw
We are now into the third round of the World Cup 2017. Our biggest hopes Vishy Anand and Pentala Harikrishna have been eliminated. However, two young guns Vidit Gujrathi and Sethuraman are keeping the Indian flag flying high. In fact Vidit could have made a very strong first game result by beating Ding Liren. However, he was not able to keep his nerves in the winning position and it ended in a draw. Sethuraman played a solid game against Anish Giri and now has the white pieces to press in the second game. We have game analysis as well as videos of the players.
Photos by Amruta Mokal
Ding Liren vs Vidit Gujrathi
Vidit has a very interesting style of playing chess. He makes all the logical moves. Take for example his first game against Ding Liren. If you go through it, you will realize that there was absolutely no move that even a player much below his Elo could not have made. But the difficulty lies in making all of those moves together! He made one strong move after another and before you even knew it, he had a completely winning position against the Chinese number one.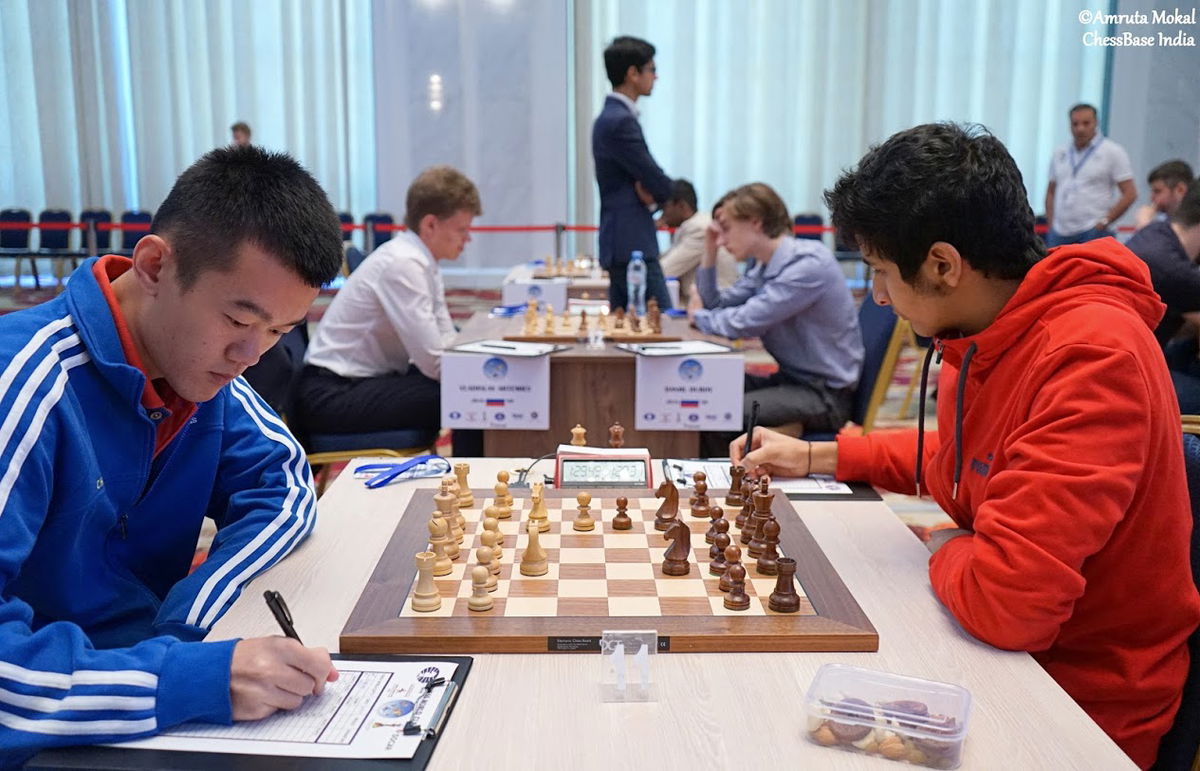 Seeing Vidit play this way, one gets the feeling that he can really match his wits against the best in the world. However, the one thing that is lacking is the ability to finish off your opponent. And this has been seen in ample measure in many of Vidit's previous games and also the one against Ding Liren on Saturday. After building up a fantastic position, he couldn't execute the final blow and the game ended in a draw.
Ding Liren vs Vidit Gujrathi
Just look at the knight on d5 and the bishop on g7 and the queen on f5. All so very beautifully placed. And now look at the king on g1, who is shuddering in the corner with fear. I am sure that Vidit understood that he was close to winning in this position. And sometimes, it's the awareness of this, that makes you feel nervous. The right idea would have been to reroute the bishop to d6 with ...Be5! With three pieces looking at White's king, there would be no way he could survive in the long run. However, Vidit got nervous and wanted to exchange the last active White piece. He played ...Rdb8 which seemed logical but failed tactically after Rxb8 Rxb8 Bh3! I think this was the move that Vidit had missed. If he takes the bishop the knight on d5 hangs. And that helped the Chinese player save himself from this mess that he was in. It was case of being so near yet so far.
When players miss such a winning position, it all comes down to a question of mental toughness. In the second game Vidit will have the white pieces. His opponent Ding Liren is a fighter. Can Vidit forget what happened in game one and begin afresh. We will have to wait and see!
Anish Giri vs S.P. Sethuraman
Sethuraman stuck to his classical 1...e5 in reply to Anish's 1.e4. The thing about this opening is that no matter how hard White tries he cannot really come up with an earth-shattering novelty. Giri found a new idea with Bb2, but Sethu never really was in danger and the game ended in a draw. Nothing substantial happened in the game, but this is an important result for India as Sethuraman who has the white pieces in game two can now try and push his opponent off the board.
Videos of Anish and Sethuraman
It is always interesting to see top players analysing the same game. You get to know how differently two people think about the same position.
Round three, game two will begin on 10th of September 2017 at 16.30 hours IST.
ChessBase India coverage of World Cup 2017:

Pairings for World Cup 2017 released
The FIDE World Cup 2017: The super seven Indians
Time to unleash the beast mode
1.1 Vishy Anand is the sole winner for India
1.2 Three Indians qualify to round two
1.3 Harikrishna and Adhiban weave their magic
2.1 Vidit's venomous Vietnamese victory
ChessBase International coverage:
Magnus Carlsen plays in World Cup 2017
The most interesting match-ups for World Cup 2017
World Cup 2017: A glorious Opening ceremony
1.3 Nail biting chess and true sportsmanship
2.1 Magnus Carlsen having fun in Tbilisi
Firstpost articles:
FIDE World Cup 2017: Viswanathan Anand, P Harikrishna lead Indian charge at prestigious event
1.2 P Harikrishna bounces back in style to level score, Viswanathan Anand moves into Round 2
1.3 Pentala Harikrishna, B Adhiban ace the tie-breakers to ease into second round
2.1 Viswanathan Anand hurt by tactical error, P Harikrishna on back foot after drab draw
---