Rajdeep and Arpita win 46th West Bengal State Junior 2018
Rajdeep Sarkar and Arpita Mukherjee win 46th West Bengal State Junior (under-19) 2018. Rajdeep scored 7.0/8, remained undefeated to clinch his second State title while Arpita scored an emphatic 7.5/8 to win the State Junior title for the 3rd time since 2014 after missing last year's edition. Last year's state champion Neelash Saha also scored 7.0/8 and finished at 2nd position due to a lower tie-break score. Koustav Chatterjee missed his 3rd State title in four months as he scored 6.5/8 and had to settle with 3rd position. Diya Chowdhury scored 6.5/8 and finished at 2nd position and Mehendi Sil scored 6.0/8 and finished 3rd. Photo: Swati Biswas
Rajdeep and Arpita victorious at 46th West Bengal State Junior 2018
IM-norm holder and former National under-17 champion, FM Rajdeep Sarkar won his second State title by scoring 7.0/8 and remained undefeated. His last triumph in State was in 2014 in under 13 category.
Asian Youth under-18 rapid Gold medal winner and two WIM-norm holder, Arpita Mukherjee became State Junior champion for the third time.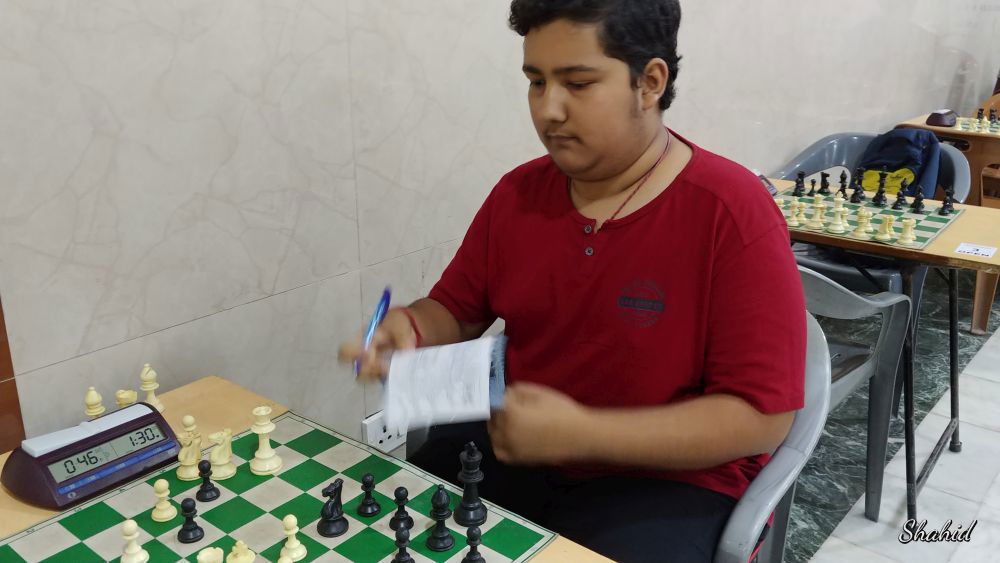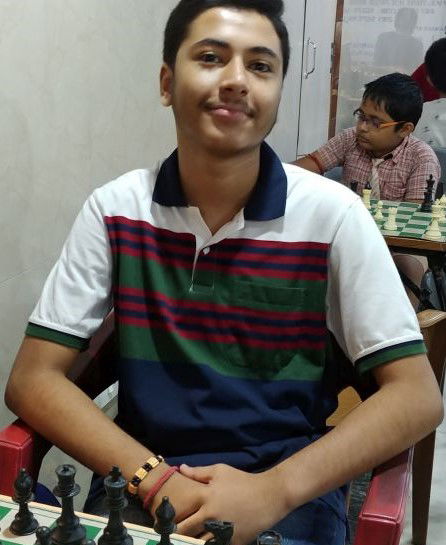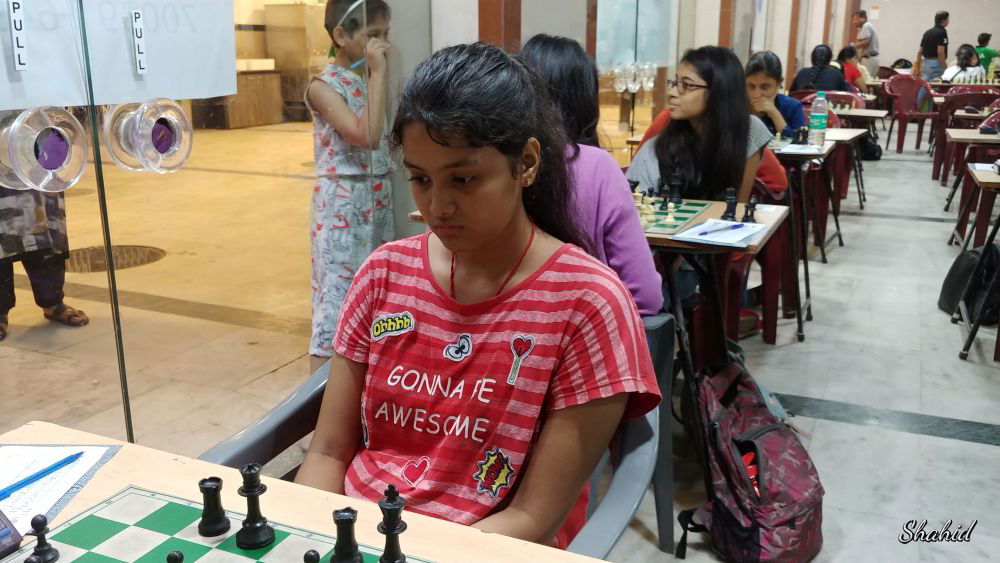 Prize Distribution Ceremony photos: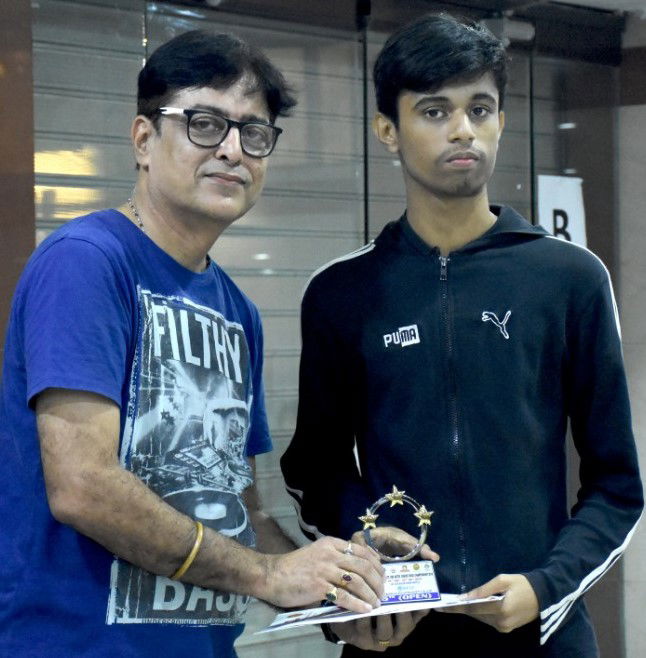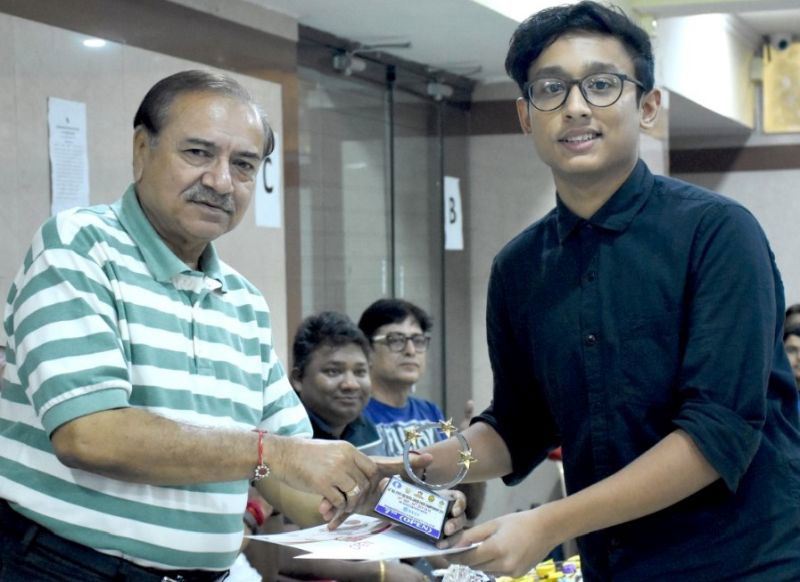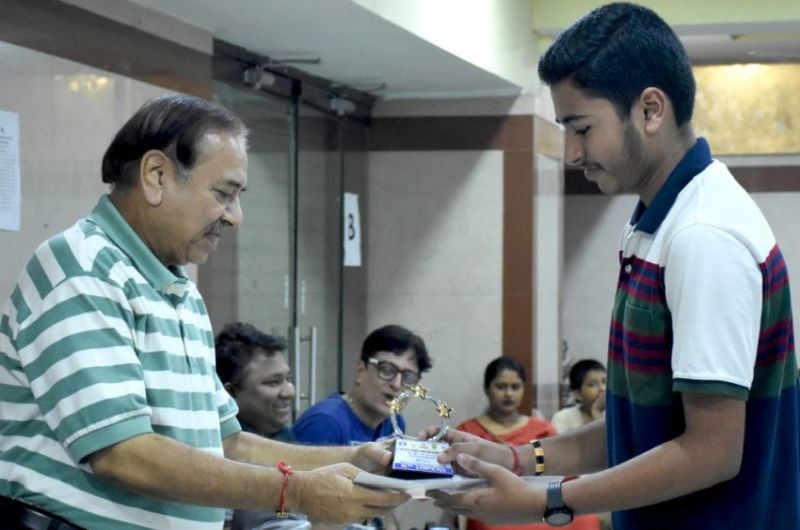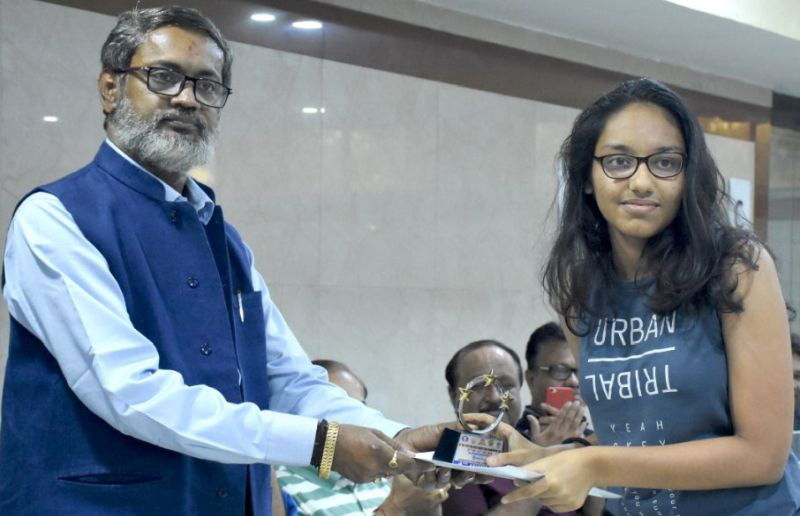 The 46th edition of West Bengal State Junior 2018 witnessed 190 boys and 59 girls participating from various district across the state. The tournament was organized by 64 Squares and Bengal Chess Association in association The Bhawanipur Education Society College from 29th September to 2nd October 2018.
Final Standings after 8 Rounds
| | | | | | | | | | | |
| --- | --- | --- | --- | --- | --- | --- | --- | --- | --- | --- |
| Rk. | SNo | | Name | FED | Rtg | Club/City | Pts. | TB1 | TB2 | TB3 |
| 1 | 3 | FM | Rajdeep Sarkar | IND | 2355 | | 7,0 | 0,5 | 45,5 | 38,75 |
| 2 | 1 | | Neelash Saha | IND | 2373 | Gb | 7,0 | 0,5 | 45,0 | 38,75 |
| 3 | 4 | | Koustav Chatterjee | IND | 2344 | | 6,5 | 0,0 | 46,0 | 36,50 |
| 4 | 5 | | Srijit Paul | IND | 2335 | Gb | 6,5 | 0,0 | 44,0 | 34,25 |
| 5 | 2 | | Kaustuv Kundu | IND | 2368 | | 6,5 | 0,0 | 43,5 | 34,25 |
| 6 | 11 | | Soumma Chakraborty | IND | 1909 | Paid | 6,5 | 0,0 | 40,5 | 31,50 |
| 7 | 8 | | Subhayan Kundu | IND | 2093 | | 6,0 | 0,0 | 45,0 | 31,50 |
| 8 | 6 | | Utsab Chatterjee | IND | 2149 | Sujit | 6,0 | 0,0 | 43,5 | 29,50 |
| 9 | 25 | | Bhattacharyya Soham | IND | 1635 | Pc | 6,0 | 0,0 | 41,0 | 27,50 |
| 10 | 10 | | Sarbojit Paul | IND | 1913 | Paid | 6,0 | 0,0 | 40,5 | 28,00 |
| 11 | 7 | | Saptorshi Gupta | IND | 2136 | Gb | 6,0 | 0,0 | 40,0 | 29,25 |
| 12 | 12 | | Sambarta Banerjee | IND | 1904 | | 6,0 | 0,0 | 39,5 | 29,00 |
| 13 | 13 | | Aditya Bikram Paul | IND | 1853 | | 6,0 | 0,0 | 39,5 | 28,50 |
| 14 | 30 | | Anish Rooj | IND | 1576 | Gb | 6,0 | 0,0 | 38,5 | 26,50 |
| 15 | 18 | | Souhardo Basak | IND | 1738 | Bank - Mail | 6,0 | 0,0 | 36,0 | 26,00 |
Final Standings after 8 Rounds
| | | | | | | | | | | |
| --- | --- | --- | --- | --- | --- | --- | --- | --- | --- | --- |
| Rk. | SNo | | Name | FED | Rtg | Club/City | Pts. | TB1 | TB2 | TB3 |
| 1 | 1 | WFM | Arpita Mukherjee | IND | 2207 | 500-Dist. Sel | 7,5 | 0,0 | 43,5 | 40,50 |
| 2 | 6 | | Diya Chowdhury | IND | 1577 | Gb | 6,5 | 0,0 | 44,0 | 33,50 |
| 3 | 4 | | Mehendi Sil | IND | 1633 | Gb | 6,0 | 0,0 | 41,5 | 30,50 |
| 4 | 5 | | Ananya Bothra | IND | 1586 | | 6,0 | 0,0 | 41,5 | 27,50 |
| 5 | 2 | | Ghosh Samriddhaa | IND | 1904 | Gb | 6,0 | 0,0 | 39,5 | 27,00 |
| 6 | 7 | | Anushka Gupta | IND | 1480 | Gb | 6,0 | 0,0 | 34,5 | 24,75 |
| 7 | 3 | | Sudipa Haldar | IND | 1697 | Pc | 5,5 | 2,0 | 44,5 | 27,50 |
| 8 | 8 | | Angira Choudhuri | IND | 1478 | Gb | 5,5 | 0,0 | 37,0 | 24,00 |
| 9 | 15 | | Srijita Sarkar | IND | 1257 | | 5,5 | 0,0 | 33,5 | 21,00 |
| 10 | 9 | | Yash Jyoti Bir | IND | 1415 | | 5,0 | 0,0 | 41,0 | 23,50 |
| 11 | 12 | | Prateeti Gorai | IND | 1347 | Neft | 5,0 | 0,0 | 40,5 | 22,00 |
| 12 | 13 | | Debarpita Ghosh | IND | 1301 | Gb | 5,0 | 0,0 | 37,0 | 19,50 |
| 13 | 21 | | Anwesha Saha | IND | 1206 | Nb | 5,0 | 0,0 | 37,0 | 18,50 |
| 14 | 11 | | Sinthia Sarkar | IND | 1369 | | 5,0 | 0,0 | 36,0 | 20,25 |
| 15 | 16 | | Sneha Halder | IND | 1245 | Am | 5,0 | 0,0 | 36,0 | 19,25 |
---