Ajay Karthikeyan and Divya Deshmukh are National Sub-Junior 2018 Champions
Ajay Karthikeyan of Tamil Nadu drew his final round game against defending champion Sankalp Gupta of Maharashtra, finished half point ahead at 9.0/11 and won his first national championship. Divya Deshmukh had already won the tournament at the conclusion of the penultimate round, so in spite of losing the last round, it did not affect the final outcome. Divya also finished half point ahead of everyone else in her group with a score of 9.0/11. In this report, we bring you games, positions, photos from the last round and prize distribution ceremony. Photo: Swati Biswas
Ajay Karthikeyan's first and Divya Deshmukh's second championship title at National Sub-Junior 2018
When we reached out to Ajay's coach, Srinivasa Rangan, this is what he had to say, "We are naturally happy and delighted. The interesting thing is he played a game in ACL (Academy Chess League) a day before he played a crucial game against top seed VS Rahul. He lost the ACL game because of a mouse slip but that kind of triggered him to do well in nationals after that. He won that game against VS Rahul"
Utsab Chatterjee continued his fantastic run, remained undefeated and finished at 8.5/11. Due to a better tie-break score, he clinched 2nd position. He also gained 55 ELO Rating points. Srihari L of Pondicherry also had a wonderful tournament as he gained a whopping 131 ELO Rating points, scored 8.5/11 and finished at 5th position.
Divya was worse out of the opening Vienna Game. Later she managed to equalize, however Poorna made a strong attack on her opponent's weakness which netted her the full point. Poorna Sri M K of Tamil Nadu finished at 8.5/11 and secured 4th position
When we reached out to Divya's parents, this is what they had to say, "We are very happy for Divya's title. I feel repeating the feat is creditable !! Divya has recently got WIM title as well. We hope she continues to work hard and keeps the learning process on."
Lakshmi C of Tamil Nadu gave her opponent Akshaya Bommini Mounika of Andhra Pradesh, one more chance later in the game where she could have equalized, but it was not Akshaya's day.
Despite suffering a loss in the fourth round, Meenatchi Rajam V of Tamil Nadu bounced back and finished at 8.5/11 to secure 3rd position. She also gained 148 ELO Rating points.
Photo Gallery: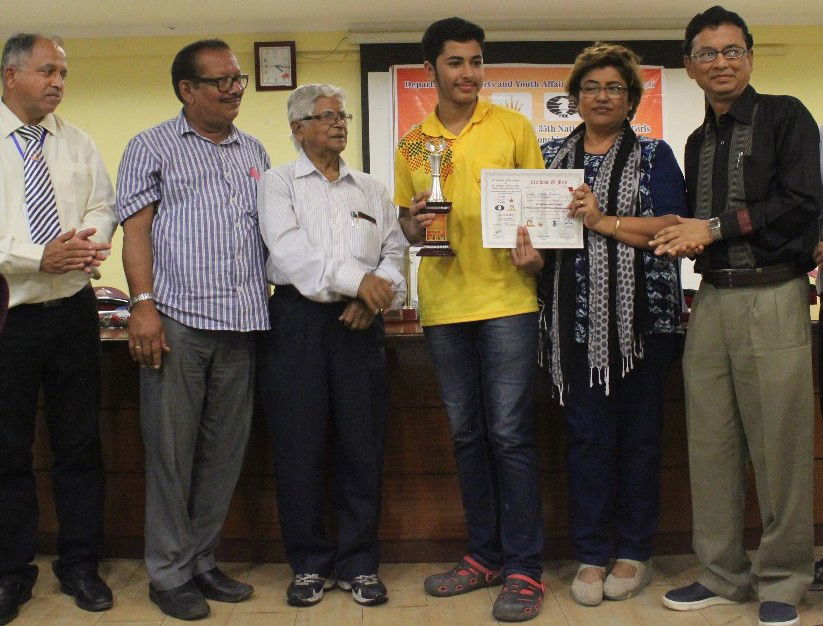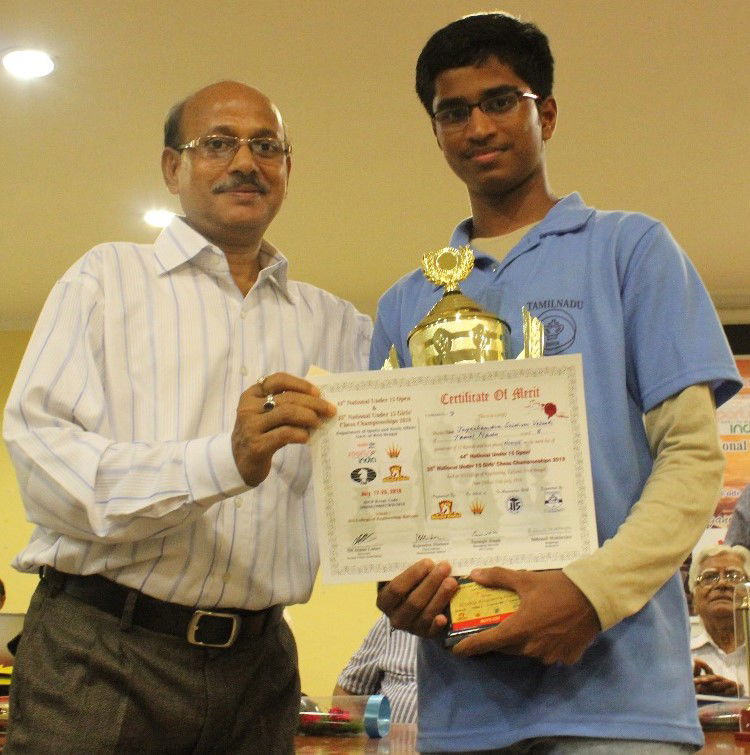 Total 240 players in the open category and 136 players in the girls category participated from over 20 different states across the country in 44th National Sub-Junior Open and 35th National Sub-Junior girls respectively. The tournament was organized by Bengal Chess Association from 17th to 25th July 2018 at JIS College of Engineering, Nadia, West Bengal.
Final round results in the open category
Round 11 on 2018/07/25 at 10:00AM
Final round results in the girls category
Round 11 on 2018/07/25 at 10.00 AM
Final Ranking in open category
| | | | | | | | | | | |
| --- | --- | --- | --- | --- | --- | --- | --- | --- | --- | --- |
| Rk. | SNo | | Name | FED | Rtg | Club/City | Pts. | TB1 | TB2 | TB3 |
| 1 | 10 | | Ajay Karthikeyan | IND | 2094 | Tamil Nadu | 9,0 | 0,0 | 74,0 | 79,5 |
| 2 | 11 | | Utsab Chatterjee | IND | 2094 | West Bengal | 8,5 | 0,0 | 79,5 | 84,5 |
| 3 | 2 | | Sankalp Gupta | IND | 2341 | Maharashtra | 8,5 | 0,0 | 78,0 | 84,0 |
| 4 | 3 | CM | Aronyak Ghosh | IND | 2310 | West Bengal | 8,5 | 0,0 | 74,5 | 78,5 |
| 5 | 22 | | Srihari L | IND | 1927 | Pondicherry | 8,5 | 0,0 | 74,0 | 79,0 |
| 6 | 4 | CM | Kushagra Mohan | IND | 2309 | Telangana | 8,5 | 0,0 | 74,0 | 78,5 |
| 7 | 5 | | Raahul V S | IND | 2292 | Tamil Nadu | 8,0 | 0,0 | 75,5 | 81,0 |
| 8 | 1 | | Koustav Chatterjee | IND | 2383 | West Bengal | 8,0 | 0,0 | 75,5 | 80,5 |
| 9 | 37 | | Jayachandra Srinivas Vellanki | IND | 1840 | Tamil Nadu | 8,0 | 0,0 | 75,5 | 80,0 |
| 10 | 41 | | Karthik Sai Ch | IND | 1810 | Telangana | 8,0 | 0,0 | 74,0 | 78,5 |
| 11 | 7 | CM | Mendonca Leon Luke | IND | 2241 | Goa | 8,0 | 0,0 | 72,0 | 77,5 |
| 12 | 66 | | Atri Chattopadhyay | IND | 1681 | West Bengal | 8,0 | 0,0 | 69,0 | 73,0 |
| 13 | 57 | | Tanmay Chopra | IND | 1732 | Delhi | 8,0 | 0,0 | 67,0 | 72,0 |
| 14 | 58 | | Jinan Jomon | IND | 1722 | Kerala | 8,0 | 0,0 | 63,0 | 67,5 |
| 15 | 8 | | Harshavardhan G B | IND | 2194 | Tamil Nadu | 7,5 | 0,0 | 75,0 | 80,5 |
| 16 | 6 | | Moksh Amit Doshi | IND | 2261 | Gujarat | 7,5 | 0,0 | 73,0 | 78,5 |
| 17 | 12 | | Soham Kamotra | IND | 2065 | Jammu Kashmir | 7,5 | 0,0 | 73,0 | 78,0 |
| 18 | 23 | | Sanjay D G | IND | 1921 | Tamil Nadu | 7,5 | 0,0 | 69,5 | 75,0 |
| 19 | 24 | | Vijay Shreeram P | IND | 1909 | Tamil Nadu | 7,5 | 0,0 | 69,5 | 74,0 |
| 20 | 13 | | Arpan Das (Jr) | IND | 1981 | West Bengal | 7,5 | 0,0 | 67,5 | 73,0 |
Final Ranking in girls category
| | | | | | | | | | | |
| --- | --- | --- | --- | --- | --- | --- | --- | --- | --- | --- |
| Rk. | SNo | | Name | FED | Rtg | Club/City | Pts. | TB1 | TB2 | TB3 |
| 1 | 1 | WFM | Divya Deshmukh | IND | 2203 | Maharashtra | 9,0 | 0,0 | 74,5 | 78,5 |
| 2 | 8 | WFM | Lakshmi C | IND | 1805 | Tamil Nadu | 8,5 | 0,0 | 73,0 | 78,5 |
| 3 | 29 | | Meenatchi Rajam V | IND | 1560 | Tamil Nadu | 8,5 | 0,0 | 67,5 | 72,5 |
| 4 | 15 | | Poorna Sri M.K | IND | 1715 | Tamil Nadu | 8,5 | 0,0 | 67,0 | 71,0 |
| 5 | 5 | WCM | Jyothsna L | IND | 1923 | Tamil Nadu | 8,0 | 0,0 | 75,5 | 80,5 |
| 6 | 3 | WCM | Mrudul Dehankar | IND | 2093 | Maharashtra | 8,0 | 0,0 | 73,5 | 78,5 |
| 7 | 2 | WFM | Salonika Saina | IND | 2113 | Odisha | 8,0 | 0,0 | 72,0 | 77,0 |
| 8 | 24 | | Sudipa Haldar | IND | 1589 | West Bengal | 8,0 | 0,0 | 68,0 | 72,5 |
| 9 | 7 | | Eesha Ajay Sarda | IND | 1830 | Maharashtra | 8,0 | 0,0 | 65,5 | 70,5 |
| 10 | 12 | WFM | Bommini Mounika Akshaya | IND | 1734 | Andhra Pradesh | 7,5 | 0,0 | 73,5 | 79,0 |
| 11 | 6 | | Bhagyashree Patil | IND | 1836 | Maharashtra | 7,5 | 0,0 | 73,0 | 78,5 |
| 12 | 9 | WCM | Bristy Mukherjee | IND | 1768 | West Bengal | 7,5 | 0,0 | 73,0 | 78,0 |
| 13 | 19 | | Divyabharathi Masanam | IND | 1644 | Tamil Nadu | 7,5 | 0,0 | 67,0 | 71,0 |
| 14 | 17 | | Achaya Vijayan | IND | 1676 | Tamil Nadu | 7,5 | 0,0 | 66,0 | 71,0 |
| 15 | 18 | | Arushi Kotwal | IND | 1662 | Jammu Kashmir | 7,5 | 0,0 | 65,5 | 69,5 |
| 16 | 16 | | Routray Priyanka | IND | 1683 | Odisha | 7,0 | 0,0 | 72,0 | 76,5 |
| 17 | 20 | | Sai Divya M | IND | 1641 | Andhra Pradesh | 7,0 | 0,0 | 70,0 | 75,0 |
| 18 | 22 | | Mehendi Sil | IND | 1601 | West Bengal | 7,0 | 0,0 | 68,5 | 73,5 |
| 19 | 13 | | Adane Narayani | IND | 1726 | Maharashtra | 7,0 | 0,0 | 68,0 | 73,5 |
| 20 | 4 | WCM | Jain Nityata | IND | 1945 | Madhya Pradesh | 7,0 | 0,0 | 67,0 | 72,0 |
Solution:
Related news:
Sankalp, Ajay, Utsab, Soham and Divya lead after round 8 in 44th National Sub-Junior 2018
Ajay maintains sole lead and Divya becomes champion with a round to spare in National Sub-Junior 2018
---