Arpita, Srishti, Akshaya and Priyanka are in a four-way lead
Arpita Mukherjee, Srishti Pandey, Bommini Mounika Akshaya and Priyanka K are in a four-way lead with a score of 6.0/7 each at the conclusion of round 7 of 34th National Junior girls 2019. Arpita, Srishti and Priyanka K all three scored wins in both round 6 and 7, only Akshaya made a draw which was winning for her and then she won her next round. In the open section, Mitrabha maintained his sole lead with 6.5/7, after being held for a draw by Aaryan Varshney in round 6. Aaryan and top seed Koustav Chatterjee are closely following behind at 6.0/7 each. Action packed round 6 and 7 report contains annotated games and photos. Photo: IA Jitendra Choudhary
Mitrabha maintains sole lead
It was the last double round of this tournament. IM Mitrabha Guha (WB, 2443) faced FM Aaryan Varshney (DEL, 2236) in round 6. Mitrabha opted for Open Catalan but Aaryan played solid and did not give any opportunity. Eventually the game liquidated into a Queen and bishop vs Queen and knight endgame which ended up in a draw after queens got exchanged and draw became the obvious result.
In the afternoon, Mitrabha faced his state mate IM Srijit Paul. The tournament leader made short work of Srijit in just 30 moves where the theory lasted for almost half of the game in Caro-Kann Advance variation.
Srijit - Mitrabha, round 7
It is quite surprising that despite having a pair of bishop, Srijit did not opt to open up the position. He continued here with 25.Bc5 probably to support the b4 pawn when he should have gone with 25.b5 Ne7 and followed by 26.f5 break to maximize his double bishop's potential.
White has a couple of interesting choices here in the form of 29.a5 and 29.fxe5. However Srijit went with 29.f5 and locked the position.
Earlier in round 6, Srijit beat FM Nitish Belurkar in a 22-move miniature.
In the battle between two state mates, Rajdeep and Koustav, pieces got exchanged at regular interval and the game ended up in a draw in just 30 moves.
In the afternoon round, Koustav sacrificed a pawn to gain initiative eventually trapping his opponent Gaurav's queen in another eight moves.
Kumar Gaurav of Bihar beat IM Anuj Shrivatri in round 6
In the afternoon, Gaurav made some questionable choice about his development of pieces for which he had to pay a heavy price.
Aaryan - Kumar Gaurav, round 7
Kumar Gaurav continued here with 15...Qf6 which is certainly not the right way as the minor pieces need to be developed first and connect the rooks to avoid any trouble.
Hemanth Raam had an opportunity to launch a devastating against IM Rajdeep Sarkar in round 7, however he completely missed it and took a step in the opposite direction.
Hemanth - Rajdeep, round 7
In the girls section, top seed WIM Priyanka Nutakki did not have the best day, first she drew with her state mate Toshali V from an advantegous position.
Nutakki - Toshali, round 6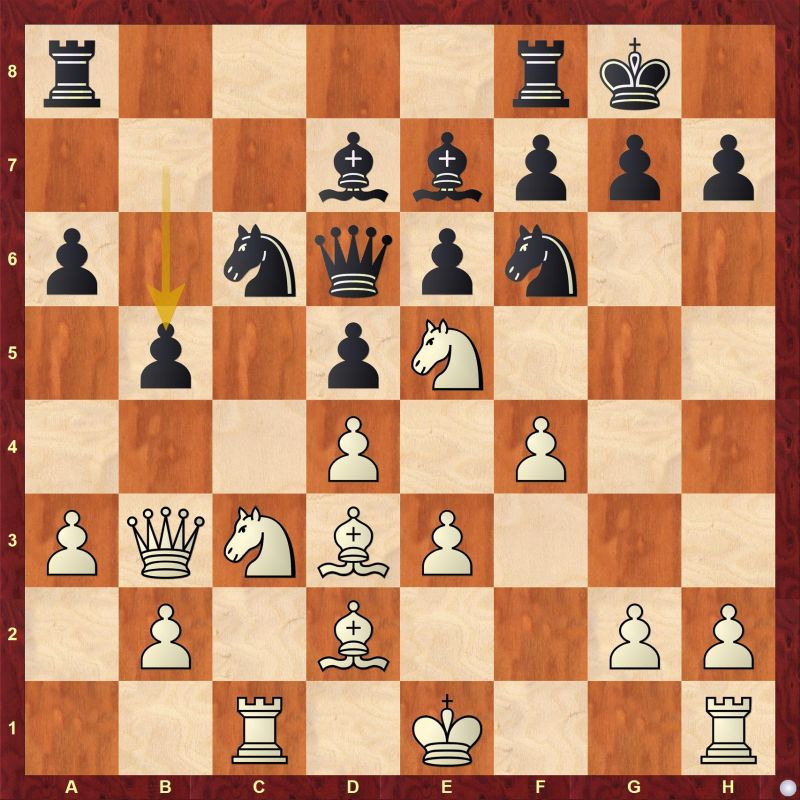 Priyanka opted for the correct continuation and gained clear advantage but she did not make the right decision at a critical moment.
In the battle of Priyankas, Priyanka K came out at the top and she became one of the four leaders at the conclusion of round 7.
Priyanka K - Priyanka N, round 7
Black continued here with 21...Rc5 ignoring the dark square weakness on the kingside. She should have done 21...Nc5 instead which temporarily prevents Ng5 ideas and future e6 threats too.
Second seeded WIM Arpita Mukherjee picked up two fine victories to join the leaders with 6.0/7. In the afternoon round, Arpita outplayed WIM Aakanksha Hagawane after the latter played too passively at the early middlegame.
Arpita - Aakanksha, round 8
Black should have continued with 14...Nxd5 instead and that would have been much more easier for black to play than the text.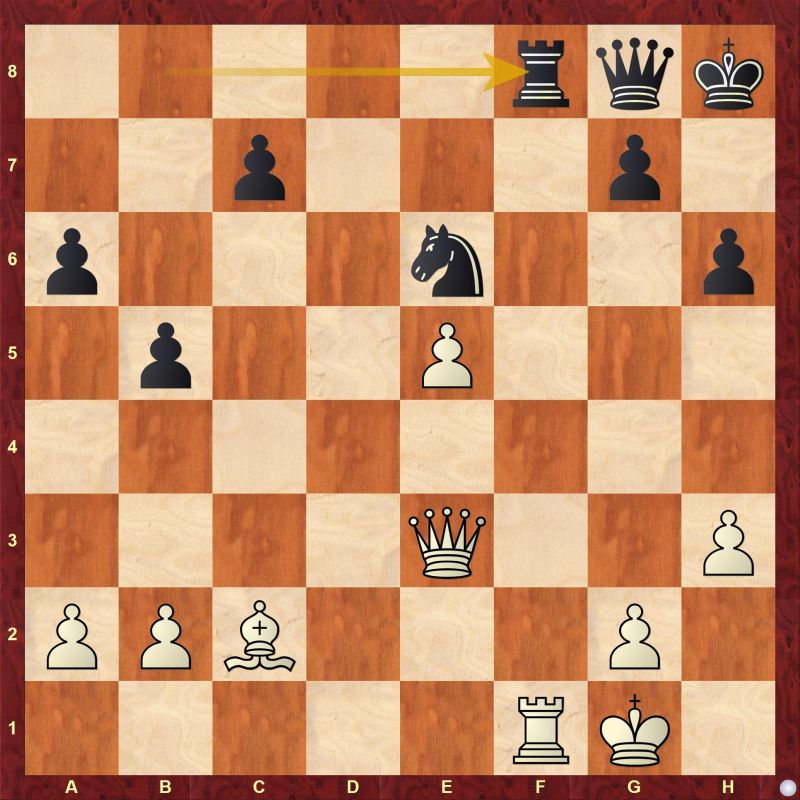 Srishti Pandey scored two consecutive victories without any difficulty by defeating Samriddhaa Ghosh and Vishwa Shah in round 6 and 7 respectively.
After missing a win against Vishwa Shah, Bommini Mounika Akshaya made a marathon 85-move draw in round 6. In the following round, she defeated Toshali V to become one of the leaders.
Akshaya - Vishwa, round 6
Akshaya regrettably missed the easy win and played 50.Bxd6 instead which equalized the position and diminished all chances for a quick win. The game went on for another 35 more moves before draw was agreed.
Toshali took a poisoned pawn in already inferior position and accelerated her positional demise.
Toshali - Akshaya, round 7
Toshali took the pawn and things went downhill since then.
Round 7 results in Open
Round 7 results in Girls
Round 8 pairings in Open
Round 8 pairings in Girls
---