Arpita Mukherjee wins Bronze in Asian Junior Girls Online 2020
WIM Arpita Mukherjee won a Bronze medal in Asian Junior Girls Online Championship 2020. She was the sole medal winner for India in this online edition of Asian Junior 2020. She is a former Asian Youth Under-18 and Commonwealth Under-20 Girls Gold medalist, scored 6.5/9 to make a podium finish. Reigning National Junior Girls Champion WFM Srishti Pandey and Asian Junior 2019 Silver and Bronze medalist WIM Aakanksha Hagawane both scored 5.5/9, they were placed fourth and sixth respectively according to tie-breaks. In the Open section, IM Mitrabha Guha was the only Indian to finish in top 10 by securing the ninth position with a score of 5.0/9 | Photo: Niklesh Jain
Arpita bags the only medal for India
Former Asian Youth Under-18 and Commonwealth Under-20 Girls Gold medalist, WIM Arpita Mukherjee scored 6.5/9 to win Bronze Asian Junior Girls Online Championship 2020. The tournament was held from 27th May to 4th June 2020 on chess .com with a time control of 10 mins + 2 seconds increment, organized by the Asian chess Federation and chess. com. Arpita was the sole medal winner for India. Reigning National Junior (Under-19) Girls champion WFM Srishti Pandey also scored 6.5/9, she was placed fourth according to the tie-break score. Current Asian Junior Girls Silver (Blitz) and Bronze (Standard) medalist WIM Aakanksha Hagawane scored 5.5/9 and finished sixth. In the Open section, IM Mitrabha Guha was the only one to have finished in top 10. He scored 5.0/9 and he was placed 9th.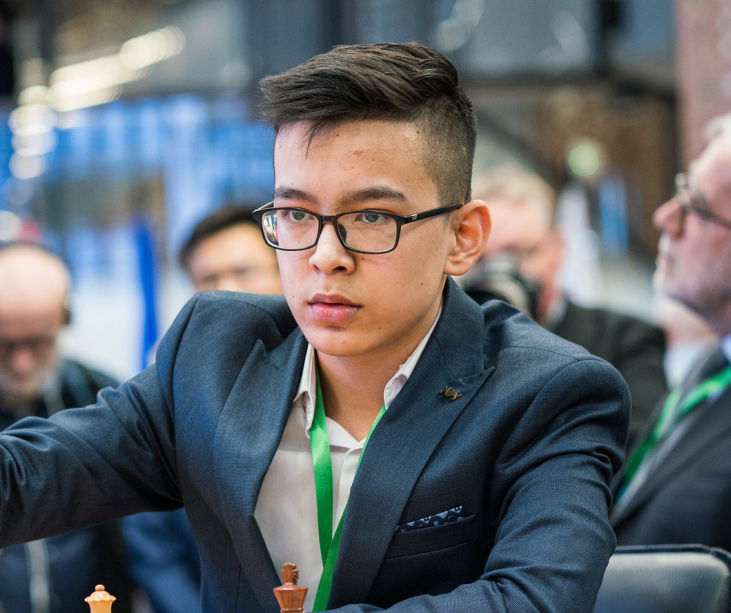 I caught up with Arpita to find out about her experience, best game and more.
Shahid Ahmed (SA): How did it feel to play Asian Junior Online tournament? Generally you are used to playing Asian and World events over the board, so how different it was for you?
Arpita Mukherjee (AM): First of all it was a nice experience. Yeah usually we all play Asian and World Events over-the-board but due to this pandemic situation playing over-the-board is kind of impossible nowadays. I won't say it was different, it was an interesting experience.
SA: You were informed about the event just a few days before hand, so were you surprised or prepared for any event?
AM: Honestly I was surprised. I wasn't prepared at all but yeah nowadays it became a habit to play like this.
SA: Were you okay with the 10+2 time control or you would have preferred something else?
AM: No, the time control was fine. I actually like to play blitz and rapid so I was excited.
SA: Do you think having a camera and mic switched in online tournaments is a good way to curb cheating?
AM: Yeah of course it's a nice way!
SA: Which was your best game from the tournament?
AM: Nice question. I think against Anahita Zahedifar in Round 6. I think against Altantuya Boldbaatar was also fine.
SA: Who was the toughest opponent you faced in the tournament?
AM: Of course Ning Kaiyu.
SA: Why of course?
AM: Because I felt she was really strong.
SA: How happy are you with your performance?
AM: I am not happy with mine moreover it was an average performance.
SA: So you had a higher expectation or you feel something went wrong in some game?
AM: I wasn't expecting anything. Yeah against Turmunkh it was better for me in the first half then I missed the chance and it was clearly a draw but I missed that too so I was very upset with myself.
SA: How did you recover after being upset with your missed opportunity?
AM: I was like I missed but now I can't do anything with that. So let me just now be calm and focused, I will analyze it after the tournament.
SA: Exactly a week before the tournament, Amphan Cyclone devastated the entire state. How did it affect you?
AM: It was pathetic, but mostly my house and electricity was there so it didn't affect me a lot but I felt very bad for those who was not having electricity for more than 92 hours. It was really heart breaking.
SA: Thank you Arpita for taking the time to answer all these questions, I wish you the best in your future endeavors
AM: Thank You!
The nine-round Swiss tournament witnessed the participation of over 200 participants from 43 countries across Asia.
Final Standings in Open
| | | | | | | | | | | |
| --- | --- | --- | --- | --- | --- | --- | --- | --- | --- | --- |
| Rk. | SNo | | | Name | FED | Rtg | Pts. | TB1 | TB2 | TB3 |
| 1 | 4 | | GM | Abdusattorov Nodirbek (ChessWarrior7197) | UZB | 2469 | 7,5 | 45,0 | 49,5 | 0,0 |
| 2 | 8 | | IM | Tahbaz Arash (Arash_Tahbaz) | IRI | 2302 | 6,5 | 43,5 | 47,0 | 0,0 |
| 3 | 1 | | GM | Vokhidov Shamsiddin (Vokhidov11) | UZB | 2538 | 6,0 | 44,5 | 48,0 | 0,0 |
| 4 | 14 | | IM | Batsuren Dambasuren (baag) | MGL | 2118 | 6,0 | 42,5 | 45,0 | 0,0 |
| 5 | 7 | | | Peng Xiongjian (NewCosmos) | CHN | 2364 | 6,0 | 40,5 | 43,0 | 0,0 |
| 6 | 6 | | GM | Tabatabaei M.Amin (amintabatabaeai) | IRI | 2381 | 6,0 | 39,0 | 41,0 | 0,0 |
| 7 | 2 | | GM | Maghsoodloo Parham (parhamov) | IRI | 2532 | 5,0 | 47,5 | 52,0 | 0,0 |
| 8 | 3 | | FM | Zhalmakhanov Ramazan (Zhalmakhanov_Ramazan) | KAZ | 2475 | 5,0 | 43,5 | 46,0 | 0,0 |
| 9 | 13 | | IM | Mitrabha Guha (mitrabhaa) | IND | 2122 | 5,0 | 42,5 | 45,0 | 0,0 |
| 10 | 5 | | GM | Liu Yan (temporarywork) | CHN | 2427 | 5,0 | 40,5 | 43,0 | 0,0 |
Final Standings in Girls
| | | | | | | | | | | |
| --- | --- | --- | --- | --- | --- | --- | --- | --- | --- | --- |
| Rk. | SNo | | | Name | FED | Rtg | Pts. | TB1 | TB2 | TB3 |
| 1 | 7 | | WIM | Ning Kaiyu (Qnmeng) | CHN | 1884 | 7,0 | 44,5 | 47,0 | 0,0 |
| 2 | 3 | | WIM | Munkhzul Turmunkh (munkhzul_turmunkh) | MGL | 2044 | 7,0 | 43,5 | 47,5 | 0,0 |
| 3 | 9 | | WIM | Arpita Mukherjee (chessdreamer2001) | IND | 1837 | 6,5 | 44,5 | 49,0 | 0,0 |
| 4 | 4 | | WFM | Pandey Srishti (Srisshhhtea) | IND | 1962 | 5,5 | 44,5 | 49,0 | 0,0 |
| 5 | 10 | | | Bai Xue (chess_littlebear) | CHN | 1825 | 5,5 | 44,0 | 44,5 | 0,0 |
| 6 | 8 | | WIM | Aakanksha Hagawane (aakankshachess) | IND | 1870 | 5,5 | 41,5 | 44,0 | 0,0 |
| 7 | 19 | | | Abrorova Sabrina (Sabrinachess2006) | TJK | 1302 | 5,5 | 38,0 | 38,5 | 0,0 |
| 8 | 1 | | WIM | Alinasab Mobina (Ama18) | IRI | 2143 | 5,0 | 43,0 | 45,5 | 0,0 |
| 9 | 12 | | WFM | Altantuya Boldbaatar (altantuya_tuya) | MGL | 1735 | 5,0 | 42,5 | 43,0 | 0,0 |
| 10 | 11 | | WFM | Singgih Diajeng Theresa (Chezzgirl04) | INA | 1823 | 5,0 | 41,0 | 44,5 | 0,0 |
Links
---