Mayank Chakraborty - 'The Awesome Kid' from Assam
10-year-old Mayank Chakraborty of Guwahati, Assam won his maiden National title by winning National under-11 open in New Delhi last month. In just over a week, he finished tied first, second place at National Schools under-10 open. Earlier this year he won Silver in Asian Youth under-10 open, few months later he won Gold and Bronze medal at Western Asia Youth and Junior. How did this boy do all that? By self learning, studying from various ChessBase videos, DVDs, youtube videos etc. For more than a year, he did not even have a single chess coach to guide him. Get to know more about this amazing kid from Assam in an interview where he also shares a few of his annotated games from National under-11 open and National Schools. Photo: IA Jitendra Choudhary
"For more than a year I am preparing all alone"
10-year-old Mayank Chakraborty from Guwahati, Assam is lately on a tremendous form. First he won National under-11 with a perfect comeback after losing his fifth round game and then winning the last six games in a row to win his maiden National title.
Four days after the completion of National under-11, Mayank went for National Schools at Aurangabad, Maharashtra where he scored unbeaten 8.0/9 and finished tied first. Due to his lower TB3 score, he was placed second.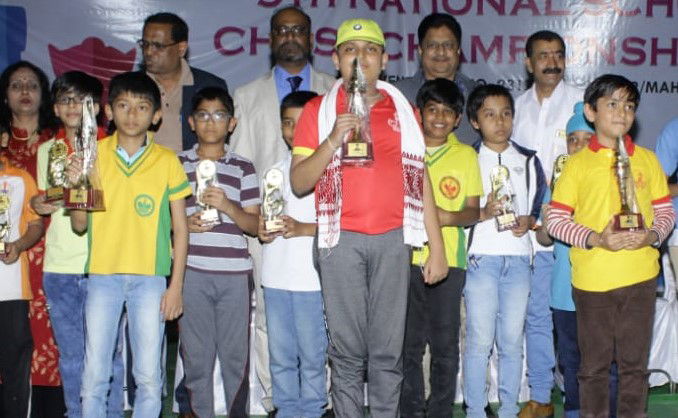 Here are a few annotated games by Mayank from National under-11 open and National Schools under-10 open
I conducted an interview with Mayank after both Nationals were concluded
Shahid Ahmed (SA): Congratulations Mayank for winning National under-11 open. How does it feel to win it? What was your ambition going into the tournament?
Mayank Chakraborty (MC): Great feeling on winning National Under-11 chess championship 2019. My ambition was just to be within top ten since there was my senior batch with many strong and experienced players.
SA: After losing the fifth round, you won six consecutive games, how did you manage to do that?
MC: My fifth round result was totally disappointing but my parents thoroughly encouraged me and I regained hope and form as well.
SA: Who was the toughest opponent you faced in the tournament?
MC: Koustav Dash.
SA: You have won Silver in Asian Youth, Gold and Bronze in Western Asia Youth and now National Championship in 2019. Which one is your favorite out of all of them?
MC: Winning a Silver medal for India in Asian youth U10 chess championship at Srilanka shall always be special to me as i was playing for my country for the first time.
SA: Who congratulated you first after becoming champion?
MC: My father and then my mother over phone.
SA: What was your parents' reaction? How much support do you get from them?
MC: Both of them were highly excited. My father usually accompanies me during the tournaments and my mother takes care of all my travel and tournament expenses as I don't have any sponsor.
SA: Which school and which grade do you study in and how much support do you get from them?
MC: I read in fifth standard in South Point school, Barshapara. My school supports me immensely as otherwise I would not be able to participate in the tournaments.
SA: Who is your coach?
MC: I remember since I didn't perform so well in my first under-9 Nationals in Haryana 2017, my mother bought me some reputed chess books and we started our journey of self study and training. I learned a lot from game analysis in ChessBase videos, DVD, youtube videos etc. Last year I had a couple of session with GM Saptarshi RoyChoudhury but could not continue due to financial constraints. Since more than a year now, I am preparing all alone without any coaching but only studying from chess materials.
SA: After winning National u-11, you secured tied first, runner-up position in National Schools u-10 open, that also based on TB3 score. Are you happy with your consistency in performance?
MC: I am happy more so, as I was suffering from high fever during my last round but I played and managed somehow not to lose the game. However I will be happier if I continue to improve and bring better results with advanced coaching and training.
SA: What's next for you?
MC: Delhi GM 2020 most likely.
SA: Thank you Mayank for speaking with ChessBase India, I wish you all the best in your future endeavors.
MC: Thank you.
---