Adamas University wins East Zone Inter University Men and Women Championships 2021 on debut
Adamas University won both Men and Women section of East Zone Inter University championships on their debut. In the Men's section, four teams - Adamas, University of Calcutta, L N Mithila University, Darbhanga and Jadavpur University, finished with the same score 10.0/12. They were placed first to fourth on tie-breaks. All four teams advanced to the Nationals. The Women's section was dominated by Adamas scoring 100%, 12.0/12, followed by University of Calcutta 10.0/12, Shahid Nand Kumar Patel University 8.0/12 and Manipur University 7.0/12. They secured second to fourth place respectively and qualified for the National University championships which will take place once the remaining Zonal Inter-University championships conclude. Photo: Adamas University
Top seed Adamas University finishes at the top
Jadavpur University has won the maximum number of East Zone University championship in the Men's section, a total of five times from 2012 to 2019. The Women's section were won by KIIT University (2018) and University of Calcutta (2019). Adamas ended the JU and CU duopoly by winning both Men and Women sections convincingly.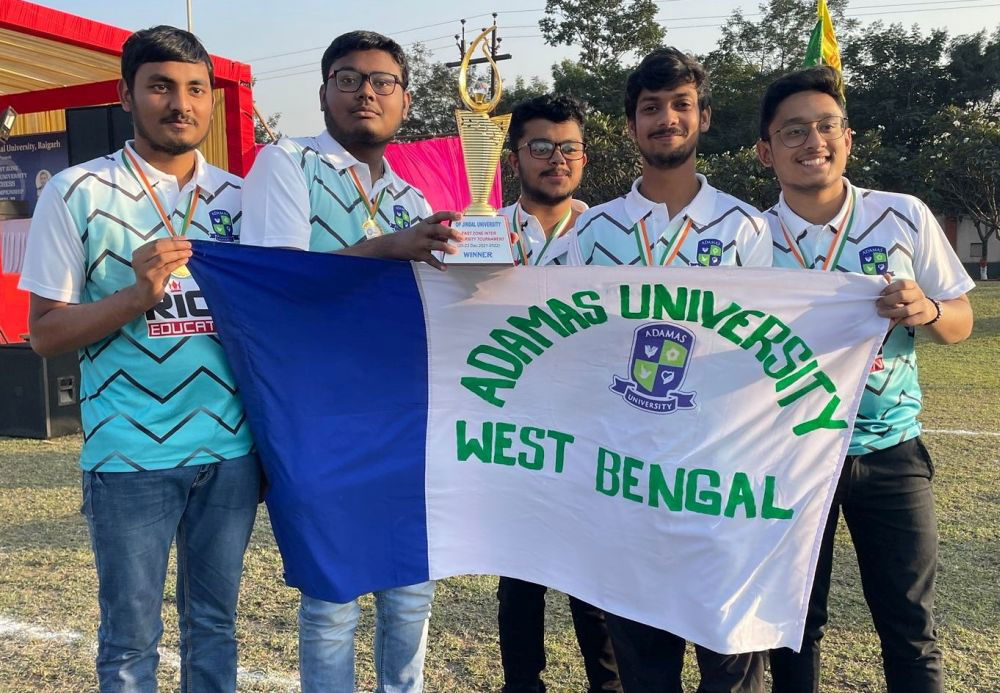 The top two boards of the Men's team - IM Neelash Saha and Subhayan Kundu anchored the team with an unbeaten 5.5/6 each, followed by Saurabh Anand who scored a valuable 5.0/6.
The Women's team had three players - WIM Arpita Mukherjee, Samriddhaa Ghosh and Asmita Das score 100%, 6.0/6 each. Bidisha Roy also scored an important 5.5/6.
The tournament was organized by OP Jindal University, Raigarh, Chattisgarh from 20th to 23rd December 2021 at the same place. A total of 24 teams in Men and 18 in Women took part in the six-round Swiss league tournament which had a time control of 60 minutes + 30 seconds increment.
Final standings Men
Final standing Women
---