PSPB makes a hat-trick of National Team wins in Open and Women
Petroleum Sports Promotion Board dominated 40th National Team Open and 18th National Team Women's championship 2020 as they won both event with a 100% score. Airports Authority of India secured second position in both Open and Women section with a score of 14.0/18 and 10.0/14 respectively. While RSPB B claimed the third position in Open with 13.0/18, Air India was placed third in the Women's section with a score of 10.0/14. Adhiban and Mary finished first on board #1, Sriram and Bala Kannamma on board #2, Karthikeyan and Sarayu on board #3, Lalith and Srija on board #4, Sai Agni and Arpita on board #5 in Open and Women's section respectively. Photo: IA Gopakumar Sudhakaran
PSPB wins both Open and Women's section with a 100% score
PSPB defeated Odisha A 3-1 in the final round en route their third consecutive National Teams title. Adhiban Baskaran made a quick work of Sidhant Mohapatra in just 30 moves. Karthikeyan Murali was the other victor for PSPB. Lalith Babu and Deep Sengupta were held to a draw by Rajesh Nayak and Baivab Mishra respectively.
Adhiban Baskaran (2654) scored a comfortable win over IM Sidhant Mohapatra (2367) in just 30 moves.
Karthikeyan scored a fantastic win over Utkal.
Utkal - Karthikeyan, Round 9
Black sacrificed his knight with 32...Nxd4 33.cxd4 now find out the correct continuation.
Rajesh Nayak (2169) defended his position quite well in difficult situation to hold a draw against GM Lalith Babu (2550).
Baivab Mishra (2206) made a hard fought draw with GM Deep Sengupta (2534). The game reached to a Queen ending with many pawns after 31 moves. The entire Queen endgame lasted for 38 moves before the game liquidated into a drawn king and pawn endgame. However Baivab had a winning opportunity which he missed.
Baivab - Deep, Round 9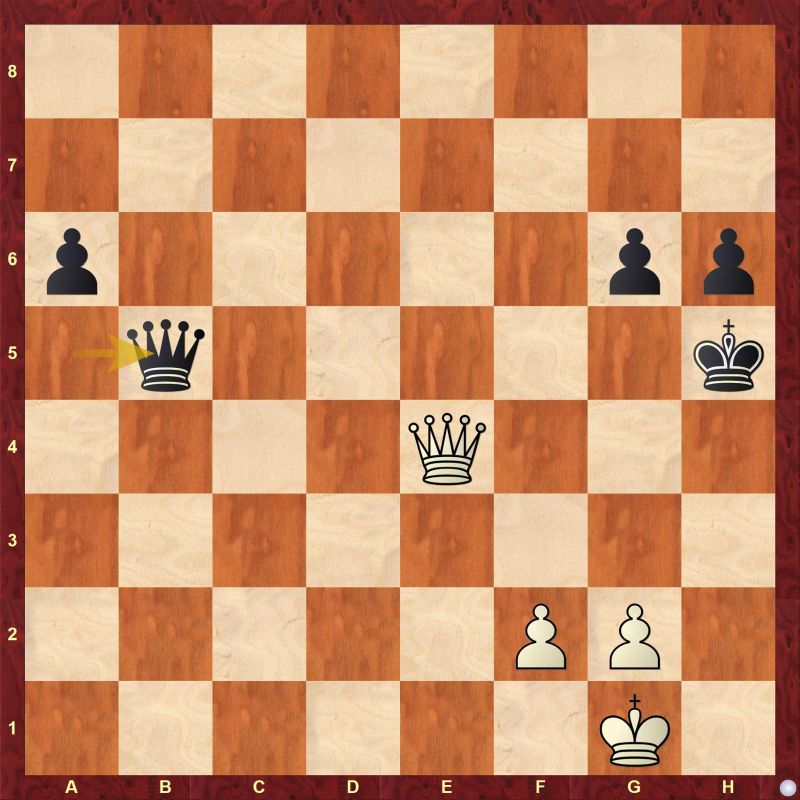 Black's last move 50...Qb5 is a mistake, Baivab could not manage to capitalize on the mistake and played 51.f4 which allowed black to get back into the game. The winning continuation was 51.g3 threatening checkmate and sooner than later black would be forced to give up the queen to save checkmate.
AAI whitewashed Gujarat A 4-0 in the final round to finish at second place with a score of 14.0/18.
Air India drew with RSPB B 2-2. All games ended up in quick draw where the shortest draw lasted 10 moves and highest was 31 moves. RSPB B managed to secure third position by scoring 13.0/18.
RSPB A had a well contested draw 2-2 with Telangana. IM Vignesh N R (2436) held GM Arjun Erigaisi (2563) and IM Rahul Srivasthava P (2474) held GM Swapnil Dhopade (2495) to a draw respectively. GM Harsha Bharathakoti and GM Deepan Chakravarthy were the sole victors each for their respective teams Telangana and RSPB A.
Both Vignesh and Arjun tried to one-up each other, while both sides enjoyed advantage in the game for quite some time, neither side was able to extract enough for a full point. The game liquidated into a Rook and opposite color bishop endgame where draw seemed to be the natural result.
GM Harsha Bharathakoti (2495) scored a fine win over IM P Shyamnikhil (2460).
GM Deepan Chakravarthy (2545) also scored a comfortable victory over FM Vinay Kumar Matta (2319)
IM Rahul Srivasthav P (2474) held GM Swapnil Dhopade (2495) to a draw.
PSPB won the Women's championship with a 100% score for third consecutive year
PSPB won the Women's section with a 100% score and a round to spare for three years in-a-row, making a hat-trick with their triumph in 18th National Women's Team championship. In the final round, PSPB whitewashed young team Kerala 4-0.
Mary Ann Gomes defeated reigning National under-11 girls champion Anupam Sreekumar with ease after the latter made a tactical error.
Padmini Rout won her game against Anjitha Krishnakumar without any difficulty.
Rakshitta Ravi scored an easy win against Sheena E
Nisha scored a comfortable win in just 35 moves against Prajeesha K.
AAI whitewashed Gujarat A 4-0 to secure the second position.
Although Telangana lost to Tamil Nadu 1.5-2.5, but Kheerthi Ganta (1683) held V Varshini (2242) to a draw and reigning National under-13 girls champion Sarayu Velpula (1867) shocked WGM Vaishali R (2383).
Varshini - Kheerthi, Round 7
Varshini had decisive advantage but she misplayed and Kheerthi seized the opportunity to salvage a draw.
Reigning National under-13 girls champion Sarayu Velpula completely outplayed WGM Vaishali R in the queen-less middle game and scored a win in just 35 moves after being ahead in material.
Air India whitewashed LIC 4-0 to secure third position.
Swati Ghate became another victim of wearing wrist watch during a game rule as she forgot to take it off before her game. As we reported earlier, her opponent Tania Sachdev did not claim the win and arbiters implemented the rule which was done with Adhiban before. Full details here.
Prize Distribution Ceremony photos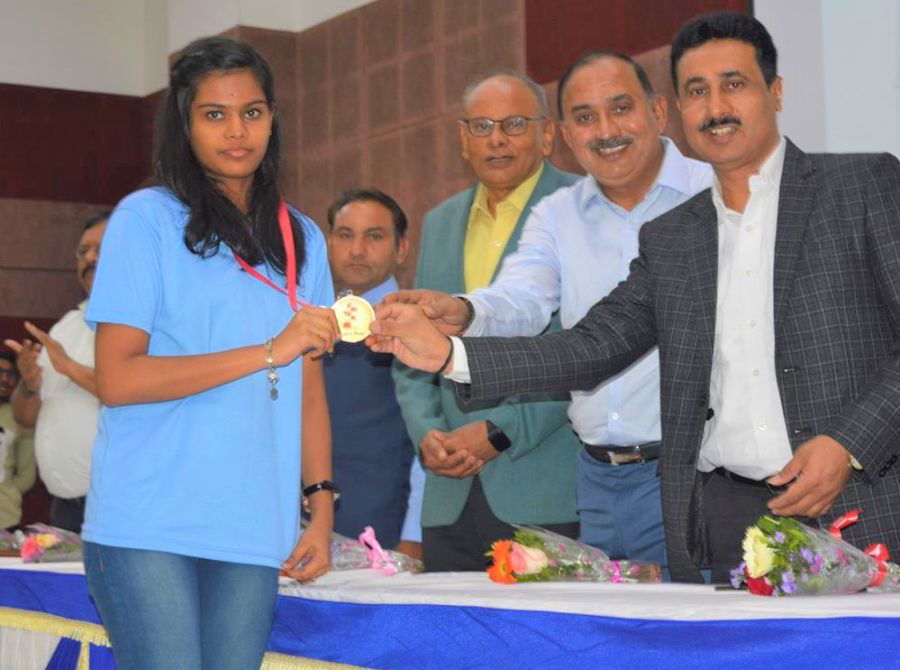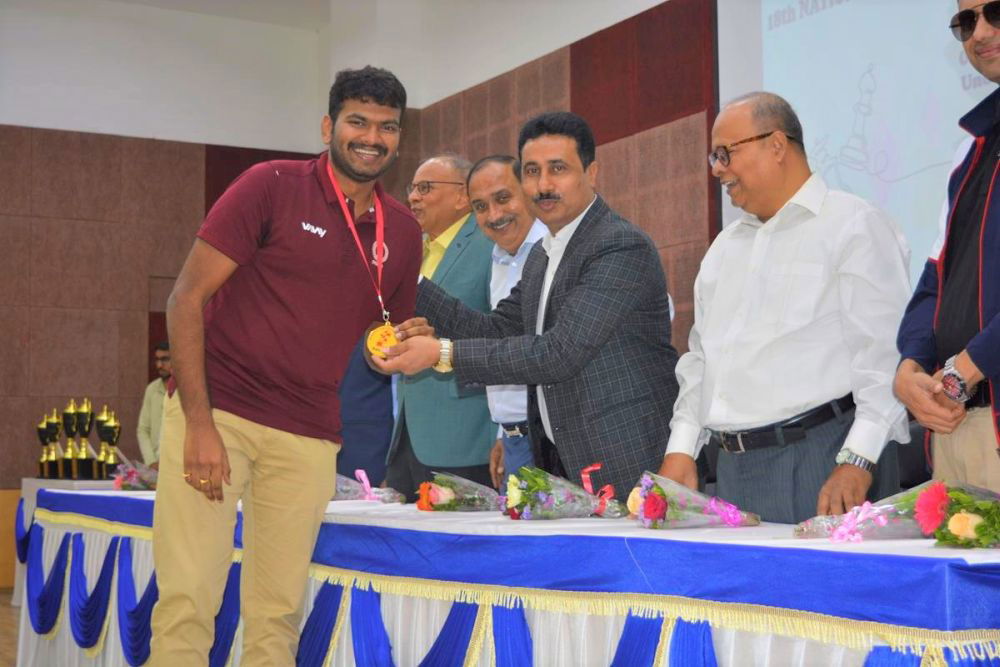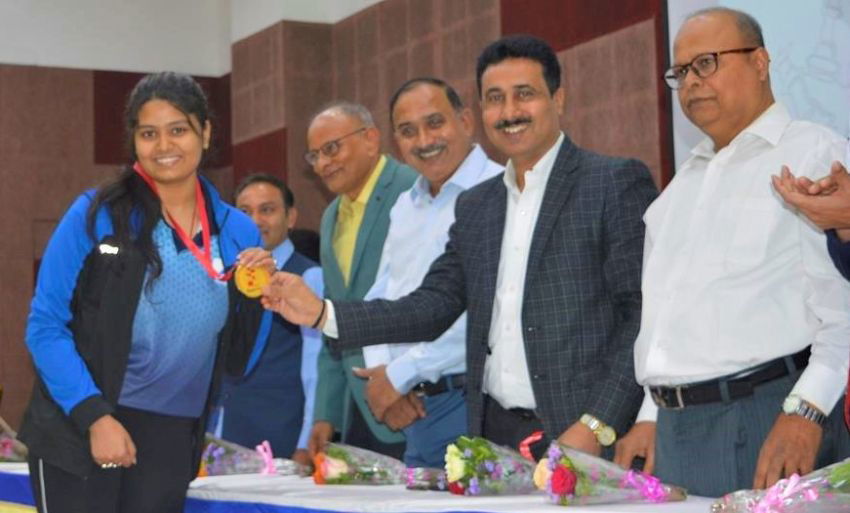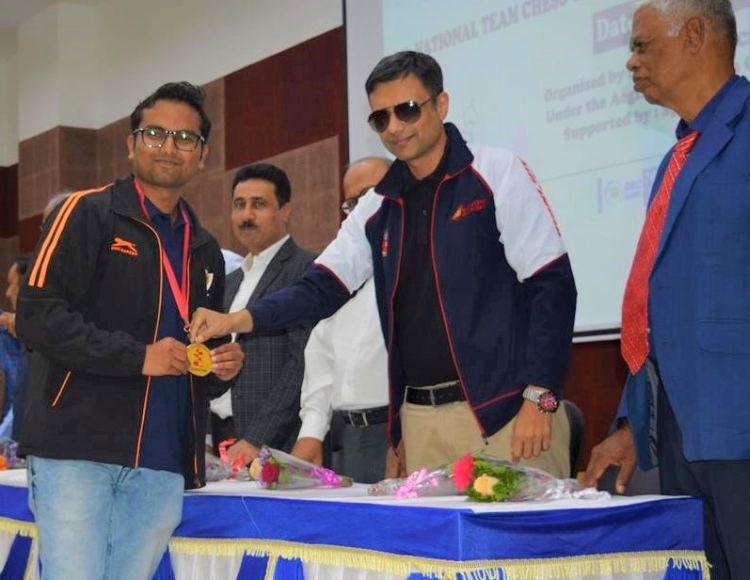 A special thanks to IA Gopakumar Sudhakaran for sending photos daily and also the entire prize distribution ceremony.
Replay completed games in Open
Replay completed games in Women
Round 9 results in Open
Bo.
1
Petroleum SPB
Rtg
-
7
Odisha A
Rtg
3 : 1
1.1
GM
2654
-
IM
2367
1 - 0
1.2
GM
2602
-
2336
1 - 0
1.3
GM
2550
-
2169
½ - ½
1.4
GM
2534
-
2206
½ - ½
Bo.
3
Airports Authority of India
Rtg
-
9
Gujarat A
Rtg
4 : 0
2.1
IM
2472
-
2152
1 - 0
2.2
GM
2597
-
1983
1 - 0
2.3
GM
2518
-
1956
1 - 0
2.4
IM
2310
-
1942
1 - 0
Bo.
5
Air India SPB
Rtg
-
6
Railways SPB B
Rtg
2 : 2
3.1
IM
2403
-
IM
2443
½ - ½
3.2
GM
2485
-
IM
2426
½ - ½
3.3
GM
2425
-
GM
2438
½ - ½
3.4
IM
2158
-
GM
2432
½ - ½
Bo.
2
Railways SPB A
Rtg
-
4
Telangana
Rtg
2 : 2
4.1
IM
2436
-
GM
2563
½ - ½
4.2
IM
2460
-
GM
2495
0 - 1
4.3
GM
2545
-
FM
2319
1 - 0
4.4
GM
2495
-
IM
2474
½ - ½
Bo.
11
Tamil Nadu A
Rtg
-
17
Delhi A
Rtg
1½:2½
5.1
1850
-
1586
1 - 0
5.2
2074
-

| | |
| --- | --- |
| | Mayank, Sharma Nandkishore |

1711
½ - ½
5.3
IM

| | |
| --- | --- |
| | Ramnathan, Balasubramaniam |

2200
-
1891
0 - 1
5.4
1957
-
1900
0 - 1
Final standings in Open
| | | | | | | | | | | | |
| --- | --- | --- | --- | --- | --- | --- | --- | --- | --- | --- | --- |
| Rk. | SNo | Team | Games | + | = | - | TB1 | TB2 | TB3 | TB4 | TB5 |
| 1 | 1 | Petroleum SPB | 9 | 9 | 0 | 0 | 18 | 28,5 | 0 | 179,5 | 604,3 |
| 2 | 3 | Airports Authority of India | 9 | 6 | 2 | 1 | 14 | 25,0 | 0 | 179,5 | 522,0 |
| 3 | 6 | Railways SPB B | 9 | 6 | 1 | 2 | 13 | 24,0 | 0 | 175,5 | 484,3 |
| 4 | 2 | Railways SPB A | 9 | 5 | 2 | 2 | 12 | 23,5 | 0 | 178,0 | 484,3 |
| 5 | 4 | Telangana | 9 | 5 | 2 | 2 | 12 | 22,0 | 0 | 185,5 | 475,8 |
| 6 | 8 | Delhi B | 9 | 5 | 2 | 2 | 12 | 21,5 | 0 | 173,0 | 425,3 |
| 7 | 17 | Delhi A | 9 | 6 | 0 | 3 | 12 | 19,0 | 0 | 170,5 | 354,5 |
| 8 | 7 | Odisha A | 9 | 5 | 1 | 3 | 11 | 23,0 | 0 | 166,0 | 435,3 |
| 9 | 15 | Madhya Pradesh | 9 | 5 | 1 | 3 | 11 | 22,0 | 0 | 147,5 | 372,0 |
| 10 | 5 | Air India SPB | 9 | 5 | 1 | 3 | 11 | 21,5 | 0 | 181,5 | 439,3 |
Round 7 results in Women
Bo.
1
Petroleum SPB
Rtg
-
8
Kerala
Rtg
4 : 0
1.1
WGM
2344
-
1745
1 - 0
1.2
IM
2372
-
1445
1 - 0
1.3
WIM
2214
-
1731
1 - 0
1.4
IM
2191
-
1417
1 - 0
Bo.
6
Telangana
Rtg
-
3
Tamil Nadu B
Rtg
1½:2½
2.1
1728
-
WFM
2194
0 - 1
2.2
1683
-
WIM
2242
½ - ½
2.3
1867
-
WGM
2383
1 - 0
2.4
1361
-
WIM
2255
0 - 1
Bo.
2
Air India SCB
Rtg
-
7
LIC
Rtg
4 : 0
3.1
IM
2404
-
WGM
2170
1 - 0
3.2
IM
2397
-
WGM
2136
1 - 0
3.3
IM

| | |
| --- | --- |
| | Vijayalakshmi, Subbaraman |

2331
-
1154
1 - 0
3.4
WGM
2162
-
WFM
1583
1 - 0
Bo.
4
Airports Authority of India
Rtg
-
9
Gujarat A
Rtg
4 : 0
4.1
WIM
2212
-
1512
1 - 0
4.2
WIM
2230
-
1479
1 - 0
4.3
WIM
2339
-
WFM
1961
1 - 0
4.4
WIM
2201
-
WCM
1585
1 - 0
Final standings in Women
| | | | | | | | | | | | |
| --- | --- | --- | --- | --- | --- | --- | --- | --- | --- | --- | --- |
| Rk. | SNo | Team | Games | + | = | - | TB1 | TB2 | TB3 | TB4 | TB5 |
| 1 | 1 | Petroleum SPB | 7 | 7 | 0 | 0 | 14 | 21,0 | 0 | 104,0 | 346,3 |
| 2 | 4 | Airports Authority of India | 7 | 5 | 0 | 2 | 10 | 21,0 | 0 | 98,5 | 272,3 |
| 3 | 2 | Air India SCB | 7 | 5 | 0 | 2 | 10 | 20,0 | 0 | 106,5 | 312,0 |
| 4 | 3 | Tamil Nadu B | 7 | 5 | 0 | 2 | 10 | 19,5 | 0 | 106,5 | 314,3 |
| 5 | 5 | Tamil Nadu A | 7 | 4 | 0 | 3 | 8 | 16,5 | 0 | 94,0 | 223,3 |
| 6 | 6 | Telangana | 7 | 4 | 0 | 3 | 8 | 14,5 | 0 | 100,0 | 197,0 |
| 7 | 11 | Bihar A | 6 | 3 | 0 | 3 | 8 | 12,5 | 0 | 81,5 | 106,3 |
| 8 | 9 | Gujarat A | 7 | 3 | 1 | 3 | 7 | 15,0 | 0 | 98,5 | 201,8 |
| 9 | 7 | LIC | 7 | 3 | 1 | 3 | 7 | 14,0 | 0 | 96,5 | 198,8 |
| 10 | 13 | Gujarat D | 6 | 2 | 1 | 3 | 7 | 13,5 | 0 | 78,0 | 108,8 |
---