National Teams 2020 Day 3: AAI, Tamil Nadu B and PSPB in the lead
AAI maintained their lead by beating Air India by 3-1. Only IM Harshit Raja of AAI suffered a loss against GM Srinath Narayanan of AI. PSPB defeated Telangana 3-1 without losing a single game. GM Abhijeet Gupta and GM Lalith Babu were held to a draw by GM Harsha Bharathakoti and IM Rahul Srivatshav P respectively. RSPB A whitewashed Odisha B by 4-0 and Gujarat D lost to RSPB B by 0.5-3.5. In the Women's section, PSPB and Tamil Nadu B are the leaders at the conclusion of Round 3. PSPB defeated AAI by 2.5-1.5, Mary Ann Gomes was held to a draw by Priyanka Nutakki and Rakshitta Ravi lost to Srija Seshadri. Tamil Nadu B defeated Air India. Tania Sachdev was the only victor from her team in Round 3. Photo: IA Gopakumar Sudhakaran
AAI and PSPB take joint lead in Open section
Adhiban made a strong comeback and completely unleashed his 'Beast mode' on the board against already off-form GM Arjun Erigaisi of Telangana. Karthikeyan Murali also scored another victory this time over FM Vinay Kumar. Abhijeet Gupta and Lalith Babu was held to a draw by GM Harsha Bharathakoti and IM Rahul Srivatshav P respectively. Thus resulting in PSPB winning against Telangana by 3-1.
Adhiban - Erigaisi, Round 4
Adhiban in his typical way pounced at the opportunity and played 21.Nxg5. Obviously the knight cannot be taken for dire consequences. Arjun continued with 21...Qb6.
White continued with 22.Nxf7 and rest was just a matter of technique for convert it into a full point.
Harsha Bharathakoti (2495) played some solid chess to hold Abhijeet Gupta (2608) to a draw.
Karthikeyan Murali scored a comfortable victory against Vinay Kumar Matta.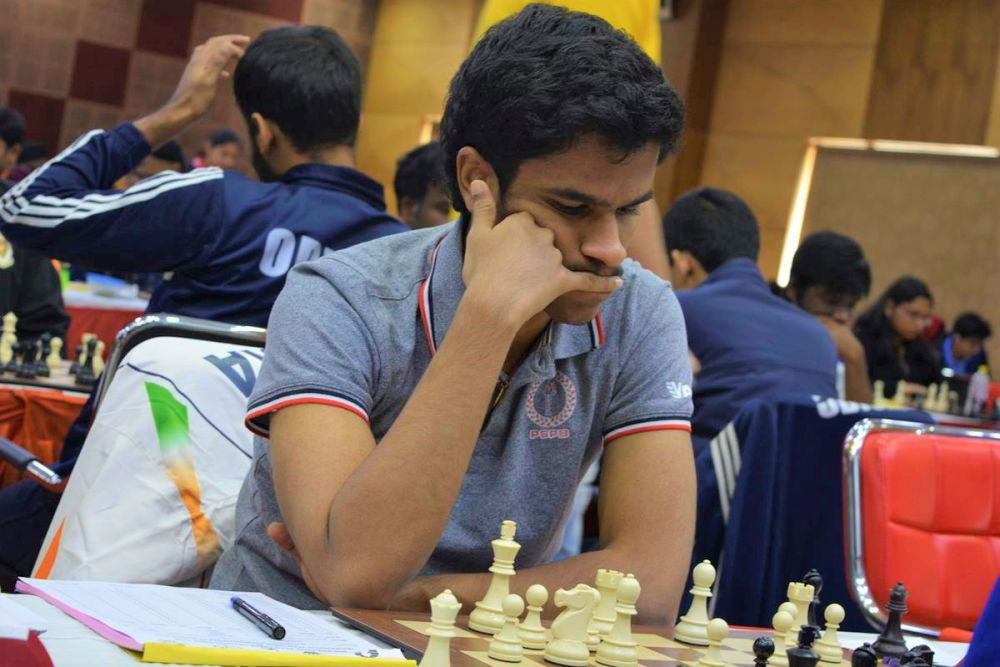 Whenever the position seemed to go a bit out of hands, IM Rahul Srivatshav P (2474) managed to find resources and save the game. In a game where the Rook, Knight and few pawns endgame lasted for 32 moves out of the 63 moves played in the entire game, Rahul kept his cool and did not make any big mistake.
GM Srinath Narayanan of Air India made short work of IM Harshit Raja of AAI in just 29 moves. Unfortunately for Srinath that was the only victory registered for his team. IM Swayangsu Satyapragyan, GM Swayams Mishra and GM Tejas Bakre lost to GM Abhimanyu Puranik, GM Visakh N R and Harshavardhan G B respectively.
Satyapragyan blundered a pawn early in the Giuco Piano opening which made his position difficult to play. Abhimanyu was ready to launch an attack which eventually gave him total domination and won the game in just 29 moves.
Satyapragyan - Abhimanyu, Round 4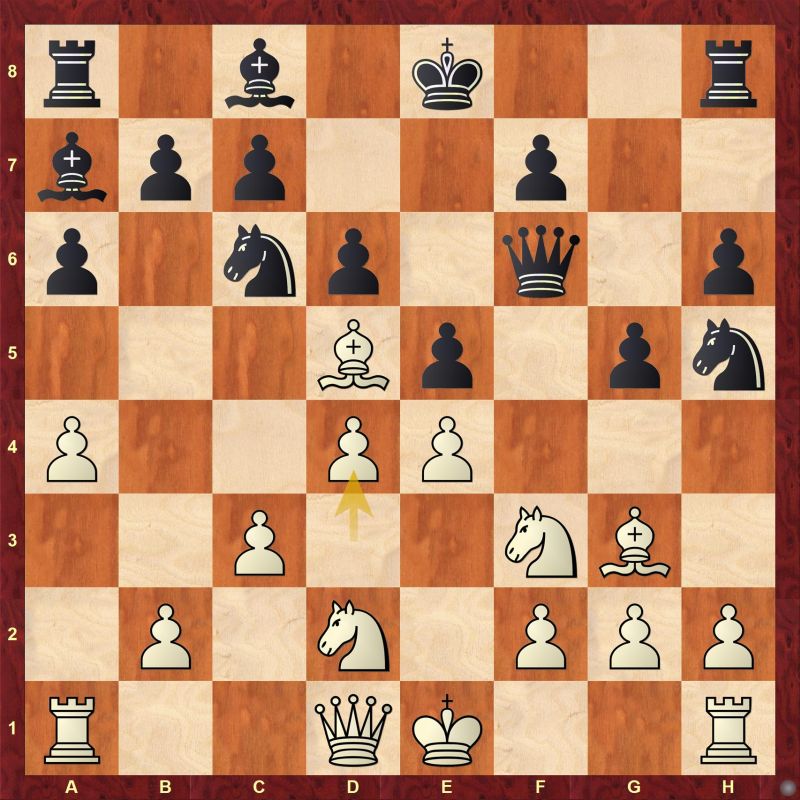 Abhimanyu opted for the correct continuation with 13...Nxg3 and gained the d4 pawn shortly.
In an already difficult position, Swayams made a tactical error against Visakh N R.
Visakh - Swayams, Round 4
Visakh made the correct sacrifice with 23.Nxf7, however later he missed a relatively quicker victory.
Despite getting a huge advantage out of the opening, GM Tejas Bakre was unable to capitalize on it against Harshavardhan G B who is lately on terrific form.
Tejas - Harshavardhan, Round 4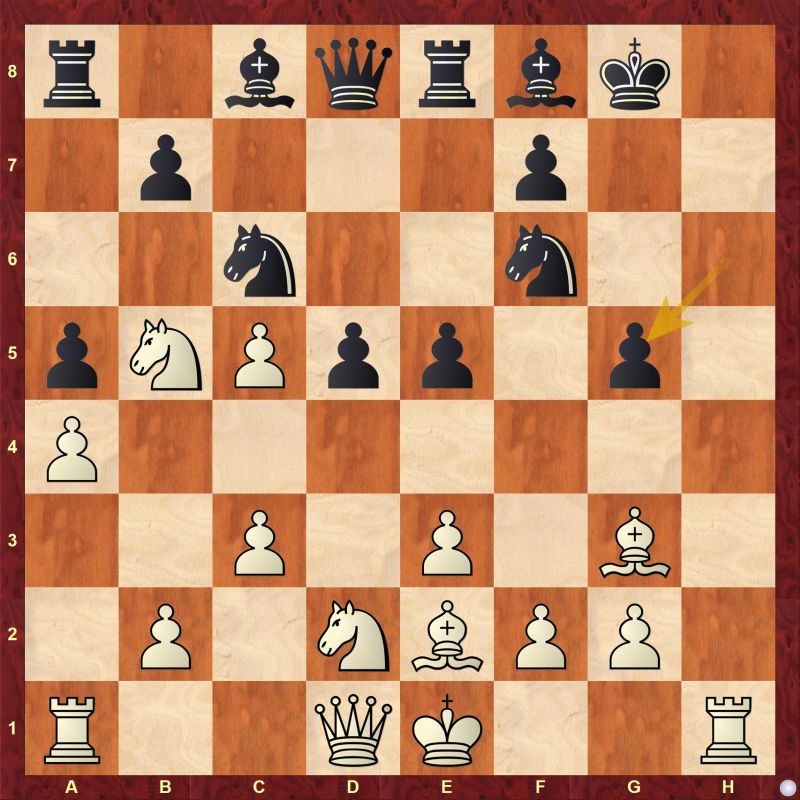 White continued with 17.Nb3 and eventually the advantage faded.
The average winning move per game for RSPB A against Odisha B was 30 moves. This just shows how strong RSPB A was against their opponents.
Joy Chauhan (1864) of Gujarat D held IM C R G Krishna (2443) to a draw. He played quite solid and did not give any chances to his titled opponent. Joy's rest of the teammates lost their games, resulting in Gujarat D losing to RSPB B by 0.5-3.5
Tamil Nadu B and PSPB are in the joint lead in Women's section
WIM Priyanka Nutakki (2212) of AAI held WGM Mary Ann Gomes (2344) of PSPB to a draw and WGM Srija Seshadri (2205) defeated WIM Rakshitta Ravi (2214). IM Padmini Rout (2372) and IM Soumya Swaminathan (2369) picked up decisive victories each against WIM Aakanksha Hagawane (2230) and WIM Nandhidhaa P V (2339) respectively, allowing PSPB to win against AAI by narrowest margin 2.5-1.5
Tamil Nadu B defeated second seed Air India by 3-1. IM Tania Sachdev scored the lone victory for her team as rest of the teammates lost their respective games.
Team LIC lost to Telangana by 1.5-2.5 . WGM Kiran Manisha Mohanty was the lone victor of her team. WGM Swati Ghate (2136) was held to a draw by Kheerthi Ganta (1683).
Replay completed games
Round 4 results in Open
Bo.
1
Petroleum SPB
Rtg
-
4
Telangana
Rtg
3 : 1
1.1
GM
2654
-
GM
2563
1 - 0
1.2
GM
2608
-
GM
2495
½ - ½
1.3
GM
2602
-
FM
2319
1 - 0
1.4
GM
2550
-
IM
2474
½ - ½
Bo.
3
Airports Authority of India
Rtg
-
5
Air India SPB
Rtg
3 : 1
2.1
IM
2472
-
GM
2535
0 - 1
2.2
GM
2597
-
IM
2403
1 - 0
2.3
GM
2518
-
GM
2485
1 - 0
2.4
2377
-
GM
2425
1 - 0
Bo.
2
Railways SPB A
Rtg
-
18
Odisha B
Rtg
4 : 0
3.1
IM
2436
-
1910
1 - 0
3.2
IM
2470
-
1950
1 - 0
3.3
IM
2460
-
1846
1 - 0
3.4
GM
2545
-
1357
1 - 0
Bo.
12
Gujarat D
Rtg
-
6
Railways SPB B
Rtg
½ :3½
4.1
1864
-
IM
2443
½ - ½
4.2
2071
-
IM
2426
0 - 1
4.3
2154
-
GM
2438
0 - 1
4.4
1830
-
GM
2432
0 - 1
Round 5 pairings in Open
No.
SNo
Team
Pts.
MP
Res.
:
Res.
MP
Pts.
Team
SNo
1
3
Airports Authority of India
13½
8
:
8
12½
Petroleum SPB
1
2
8
Delhi B
11
6
:
6
13
Railways SPB A
2
3
4
Telangana
10½
6
:
6
11
Gujarat A
9
4
5
Air India SPB
11
6
:
6
12
Odisha A
7
5
6
Railways SPB B
13
6
:
6
10
Delhi A
17
Round 3 results in Women
Bo.
1
Petroleum SPB
Rtg
-
4
Airports Authority of India
Rtg
2½:1½
1.1
WGM
2344
-
WIM
2212
½ - ½
1.2
IM
2372
-
WIM
2230
1 - 0
1.3
WGM
2369
-
WIM
2339
1 - 0
1.4
WIM
2214
-
WGM
2205
0 - 1
Bo.
3
Tamil Nadu B
Rtg
-
2
Air India SCB
Rtg
3 : 1
2.1
WIM
2175
-
IM
2404
1 - 0
2.2
WIM
2242
-
IM
2397
0 - 1
2.3
WGM
2383
-
IM

| | |
| --- | --- |
| | Vijayalakshmi, Subbaraman |

2331
1 - 0
2.4
WIM
2255
-
WGM
2162
1 - 0
Bo.
7
LIC
Rtg
-
6
Telangana
Rtg
1½:2½
3.1
WGM
2170
-
1728
1 - 0
3.2
WGM
2136
-
1683
½ - ½
3.3
WFM
1583
-
1867
0 - 1
3.4
1148
-
1361
0 - 1
Bo.
5
Tamil Nadu A
Rtg
-
11
Bihar A
Rtg
3½: ½
4.1
1747
-
1468
1 - 0
4.2
2095
-
1234
1 - 0
4.3
1615
-
1662
½ - ½
4.4
1602
-
1511
1 - 0
Round 4 pairings in Women
No.
SNo
Team
Pts.
MP
Res.
:
Res.
MP
Pts.
Team
SNo
1
3
Tamil Nadu B
10½
6
:
6
9
Petroleum SPB
1
2
2
Air India SCB
8½
4
:
4
7½
Telangana
6
3
4
Airports Authority of India
9½
4
:
4
6
Odisha
10
4
8
Kerala
8½
4
:
4
8
Tamil Nadu A
5
5
11
Bihar A
3½
2
:
3
7
LIC
7
---