PSPB wins National Teams 2020 Open and Women with a round to spare
PSPB has done it again. For the third consecutive year, PSPB has won National Teams 2020 in both Open and Women's section, with a round to spare. They just need to play the last round as a formality as the result is irrelevant for their championship standings. Delhi A got whitewashed 0-4 by PSPB in Open and LIC lost to the PSPB 1.5-2.5 in Women's. RSPB B is at the second position, followed closely by AAI in Open, four teams AAI, Tamil Nadu B, Air India and Telangana are tied at the second spot in the Women's section. In the final round it will be interesting to see who takes the remaining podium positions after PSPB as has been the case for the past two years. Photo: IA Gopakumar Sudhakaran
PSPB dominates for the third consecutive year in-a-row
Since 2018 PSPB has been dominant in both National Team Open and Women. They have won each time with a round to spare in each section. In the penultimate round, Delhi A lost to PSPB 0-4. Adhiban, Abhijeet, Lalith and Deep all four of them scored comfortable victories. Karthikeyan was rested for the first time in the tournament after playing seven consecutive games. The final round is just a formality for PSPB as mathematically neither RSPB A nor AAI can catch up with them.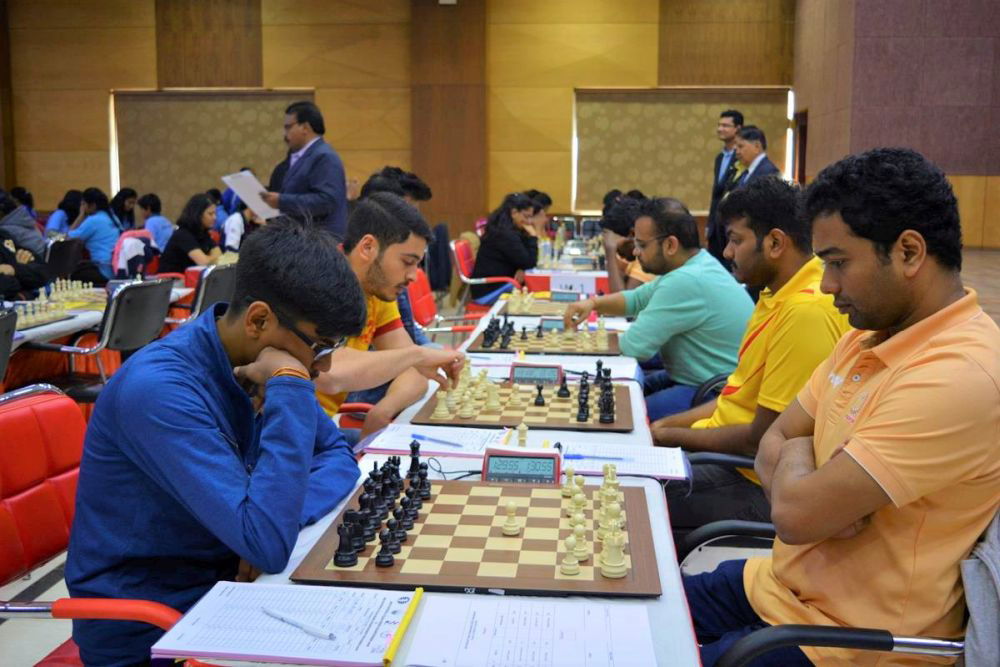 Adhiban won his game in his signature style against Jatinder Kapoor (1586).
Jatinder - Adhiban, Round 8
Find out the best continuation for white after 22.Rb1.
Abhijeet Gupta scored a comfortable victory against Mayank Sharma (1711).
Lalith scored an easy victory in 33 moves against Sanchit Anand (1891).
Deep scored a fine victory in 37 moves against Aansh Gupta (1900).
The fight for the second place is still open. AAI drew with RSPB A without having a single game drawn. Harshit and Abhimanyu picked up the win for AAI, while Deepan and Swapnil scored their wins each for RSPB A.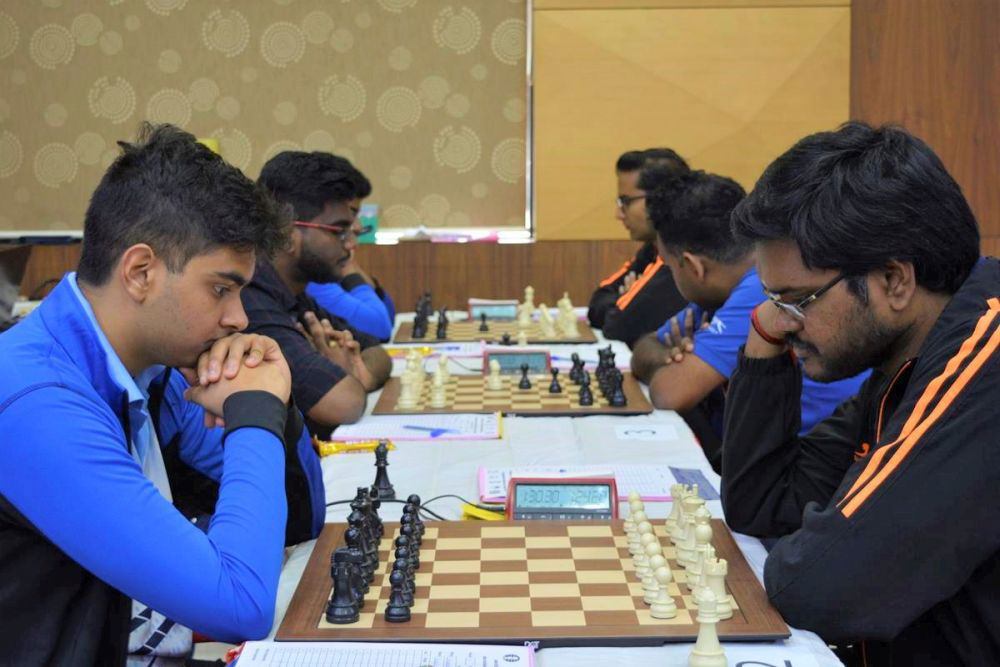 Harshit Raja beat Ravi Teja with some sharp play in 34 moves.
Harshit - Ravi, Round 8
IM P Shyamnikhil lost to GM Abhimanyu Puranik after losing a pawn in the endgame.
Deepan scored a hard fought victory over Visakh N R. The game reached to a double knight vs rook endgame just after 33 moves, Deepan won the game using the correct technique and capitalized on Visakh's blunder in the next 31 moves.
Visakh - Deepan, Round 8
Swapnil Dhopade scored a fine victory over IM Sai Agni Jeevitesh J. In the Rook and few pawns endgame, Swapnil showcased the correct technique.
Swapnil - Sai Agni, Round 8
RSPB B beat Telangana 2.5-1.5. C R G Krishna, Sayantan Das and Thejkumar drew with Arjun Erigaisi, Harsha Bharathakoti and Vinay Kumar Matta. Arghyadip Das scored the decisive victory for his team RSPB B when he beat Rahul Srivasthav P
FM Vinay Kumar Matta (2319) held GM Thejkumar M S (2438) to a draw.
Arghyadip capitalized on Rahul's blunder in the end and provided the team an important victory.
FM Prasenjit Dutta (2285) of Delhi B held IM Sidhant Mohapatra (2367) of Odisha A and Nilsu Pattanayak (1950) of Odisha A held IM Swayangsu Satyapragyan (2403) to a draw respectively.
PSPB Women's team also make a hat-trick with a round to spare
PSPB Women's team clinched their third consecutive National Team's title with a round to spare. In the penultimate round LIC lost to PSPB 1.5-2.5, Soumya and Rakshitta scored the wins for the team, Mary drew with Kiran and Padmini lost to Swati.
Padmini had a completely winning position against Swati. However she made an incorrect decision at a critical moment which allowed her opponent to equalize.
Padmini - Swati, Round 6
Black has made a bluff with 26...g5, a final attempt to stir up trouble. White continued with 27.Nf5 which allowed black to get back in the game with 27...gxf4
The fight for second place is still on as Air India beat AAI 3-1 to tie at the second spot with along with AAI, Tamil Nadu B and Telangana. Bhakti and Meenakshi beat Priyanka and Srija, Tania and Vijayalakshmi drew with Aakanksha and Nandhidhaa respectively.
Bhakti dominated in her game against Priyanka as the latter misplayed the opening and then couldn't get back in the game.
Tamil Nadu B defeated Tamil Nadu A 3.5-0.5 and Kerala lost to Telangana 1.5-2.5 to join AAI and AI at the shared second place heading into the final round.
Replay completed games in Open
Replay completed games in Women
Round 8 results in Open
Bo.
17
Delhi A
Rtg
-
1
Petroleum SPB
Rtg
0 : 4
1.1
1586
-
GM
2654
0 - 1
1.2

| | |
| --- | --- |
| | Mayank, Sharma Nandkishore |

1711
-
GM
2608
0 - 1
1.3
1891
-
GM
2550
0 - 1
1.4
1900
-
GM
2534
0 - 1
Bo.
3
Airports Authority of India
Rtg
-
2
Railways SPB A
Rtg
2 : 2
2.1
IM
2472
-
IM
2470
1 - 0
2.2
GM
2597
-
IM
2460
1 - 0
2.3
GM
2518
-
GM
2545
0 - 1
2.4
IM
2310
-
GM
2495
0 - 1
Bo.
6
Railways SPB B
Rtg
-
4
Telangana
Rtg
2½:1½
3.1
IM
2443
-
GM
2563
½ - ½
3.2
IM
2426
-
GM
2495
½ - ½
3.3
GM
2438
-
FM
2319
½ - ½
3.4
IM
2458
-
IM
2474
1 - 0
Bo.
8
Delhi B
Rtg
-
7
Odisha A
Rtg
2 : 2
4.1
FM
2285
-
IM
2367
½ - ½
4.2
2093
-
2336
0 - 1
4.3
2169
-
2169
1 - 0
4.4
2100
-
2206
½ - ½
Bo.
5
Air India SPB
Rtg
-
18
Odisha B
Rtg
3½: ½
5.1
GM
2535
-
1910
1 - 0
5.2
IM
2403
-
1950
½ - ½
5.3
GM
2485
-
1846
1 - 0
5.4
IM
2158
-
1357
1 - 0
Round 9 pairings in Open
| | | | | | | | | | | | |
| --- | --- | --- | --- | --- | --- | --- | --- | --- | --- | --- | --- |
| No. | SNo | Team | Pts. | MP | Res. | : | Res. | MP | Pts. | Team | SNo |
| 1 | 1 | Petroleum SPB | 25½ | 16 | | : | | 11 | 22 | Odisha A | 7 |
| 2 | 3 | Airports Authority of India | 21 | 12 | | : | | 10 | 21½ | Gujarat A | 9 |
| 3 | 5 | Air India SPB | 19½ | 10 | | : | | 12 | 22 | Railways SPB B | 6 |
| 4 | 2 | Railways SPB A | 21½ | 11 | | : | | 11 | 20 | Telangana | 4 |
| 5 | 11 | Tamil Nadu A | 19 | 10 | | : | | 10 | 16½ | Delhi A | 17 |
| 6 | 10 | LIC | 20 | 9 | | : | | 10 | 19 | Delhi B | 8 |
Round 6 results in Women
Bo.
7
LIC
Rtg
-
1
Petroleum SPB
Rtg
1½:2½
1.1
WGM
2170
-
WGM
2344
½ - ½
1.2
WGM
2136
-
IM
2372
1 - 0
1.3
1154
-
WGM
2369
0 - 1
1.4
WFM
1583
-
WIM
2214
0 - 1
Bo.
2
Air India SCB
Rtg
-
4
Airports Authority of India
Rtg
3 : 1
2.1
IM
2404
-
WIM
2212
1 - 0
2.2
IM
2397
-
WIM
2230
½ - ½
2.3
IM

| | |
| --- | --- |
| | Vijayalakshmi, Subbaraman |

2331
-
WIM
2339
½ - ½
2.4
WGM
2162
-
WGM
2205
1 - 0
Bo.
3
Tamil Nadu B
Rtg
-
5
Tamil Nadu A
Rtg
3½: ½
3.1
WFM
2194
-
1747
1 - 0
3.2
WIM
2175
-
2095
½ - ½
3.3
WIM
2242
-
1615
1 - 0
3.4
WIM
2255
-
1602
1 - 0
Bo.
8
Kerala
Rtg
-
6
Telangana
Rtg
1½:2½
4.1
1745
-
1728
1 - 0
4.2
1445
-
1683
½ - ½
4.3
1731
-
1867
0 - 1
4.4
1816
-
1361
0 - 1
Round 7 pairings in Women
| | | | | | | | | | | | |
| --- | --- | --- | --- | --- | --- | --- | --- | --- | --- | --- | --- |
| No. | SNo | Team | Pts. | MP | Res. | : | Res. | MP | Pts. | Team | SNo |
| 1 | 1 | Petroleum SPB | 17 | 12 | | : | | 6 | 13½ | Kerala | 8 |
| 2 | 6 | Telangana | 13 | 8 | | : | | 8 | 17 | Tamil Nadu B | 3 |
| 3 | 2 | Air India SCB | 16 | 8 | | : | | 7 | 14 | LIC | 7 |
| 4 | 4 | Airports Authority of India | 17 | 8 | | : | | 7 | 15 | Gujarat A | 9 |
---